Best Time To Visit Colorado Springs
Explore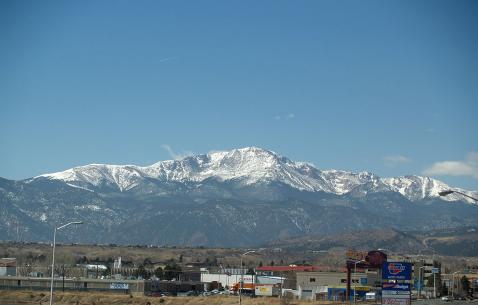 Best Time To Go To Colorado Springs
Colorado Springs basically has a semi-arid climate. Due to its location near the Rocky Mountains, the city receives warm winds during the winters but then has drastic variations in daily weather. The area is also one of the most lighting prone areas in USA.
Winter: The months of November to March are the coldest months of the year with temperatures around 2-3 degree Celsius.
Spring: April and May bring with them the spring season and the temperatures are pretty cool.
Summer: Summer starts from June and ends in August. These months also see high amounts of rainfall.
Autumn: In September and October the weather again begins to start getting a little cold.
The best time to visit Colorado Springs undoubtedly would be spring season in the months of April and May. September and October is also preferable as the weather isn't too cold and one can expect fewer crowds and cheap accommodation.
Best time to go to Colorado Springs Attractions

: Everyday 6:00 AM - 2:00 PM
: Everyday 6:00 AM - 2:00 PM
: Everyday 6:00 AM - 2:00 PM
: Everyday 6:00 AM - 2:00 PM
: Everyday 6:00 AM - 2:00 PM
: Everyday 6:00 AM - 2:00 PM
: Everyday 6:00 AM - 2:00 PM
: Everyday 6:00 AM - 2:00 PM
: Everyday 6:00 AM - 2:00 PM
: Everyday 6:00 AM - 2:00 PM
: Everyday 6:00 AM - 2:00 PM
: Everyday 6:00 AM - 2:00 PM

: Everyday 9:00 AM - 1:00 PM
: Everyday 9:00 AM - 1:00 PM
: Everyday 9:00 AM - 1:00 PM
: Everyday 9:00 AM - 1:00 PM
: Everyday 9:00 AM - 1:00 PM
: Everyday 9:00 AM - 1:00 PM
: Everyday 9:00 AM - 1:00 PM
: Everyday 9:00 AM - 1:00 PM
: Everyday 9:00 AM - 1:00 PM
: Everyday 9:00 AM - 1:00 PM
: Everyday 9:00 AM - 1:00 PM
: Everyday 9:00 AM - 1:00 PM

: Everyday 9:00 AM - 2:00 PM
: Everyday 9:00 AM - 2:00 PM
: Everyday 9:00 AM - 2:00 PM
: Everyday 9:00 AM - 2:00 PM
: Everyday 9:00 AM - 2:00 PM
: Everyday 9:00 AM - 2:00 PM
: Everyday 9:00 AM - 2:00 PM
: Everyday 9:00 AM - 2:00 PM
: Everyday 9:00 AM - 2:00 PM
: Everyday 9:00 AM - 2:00 PM
: Everyday 9:00 AM - 2:00 PM
: Everyday 9:00 AM - 2:00 PM

: Everyday 9:00 AM - 3:00 PM
: Everyday 9:00 AM - 3:00 PM
: Everyday 9:00 AM - 3:00 PM
: Everyday 9:00 AM - 3:00 PM
: Everyday 9:00 AM - 3:00 PM
: Everyday 9:00 AM - 3:00 PM
: Everyday 9:00 AM - 3:00 PM
: Everyday 9:00 AM - 3:00 PM
: Everyday 9:00 AM - 3:00 PM
: Everyday 9:00 AM - 3:00 PM
: Everyday 9:00 AM - 3:00 PM
: Everyday 9:00 AM - 3:00 PM

: Tuesday, Thursday, Saturday 10:00 AM - 2:00 PM
: Tuesday, Thursday, Saturday 10:00 AM - 2:00 PM
: Tuesday, Thursday, Saturday 10:00 AM - 2:00 PM
: Tuesday, Thursday, Saturday 10:00 AM - 2:00 PM
: Tuesday, Thursday, Saturday 10:00 AM - 2:00 PM
: Tuesday, Thursday, Saturday 10:00 AM - 2:00 PM
: Tuesday, Thursday, Saturday 10:00 AM - 2:00 PM
: Tuesday, Thursday, Saturday 10:00 AM - 2:00 PM
: Tuesday, Thursday, Saturday 10:00 AM - 2:00 PM
: Tuesday, Thursday, Saturday 10:00 AM - 2:00 PM
: Tuesday, Thursday, Saturday 10:00 AM - 2:00 PM
: Tuesday, Thursday, Saturday 10:00 AM - 2:00 PM

: Everyday 5:00 AM - 3:00 PM
: Everyday 5:00 AM - 3:00 PM
: Everyday 5:00 AM - 3:00 PM
: Everyday 5:00 AM - 3:00 PM
: Everyday 5:00 AM - 3:00 PM
: Everyday 5:00 AM - 3:00 PM
: Everyday 5:00 AM - 3:00 PM
: Everyday 5:00 AM - 3:00 PM
: Everyday 5:00 AM - 3:00 PM
: Everyday 5:00 AM - 3:00 PM
: Everyday 5:00 AM - 3:00 PM
: Everyday 5:00 AM - 3:00 PM

: Everyday 5:00 AM - 1:00 PM
: Everyday 5:00 AM - 1:00 PM
: Everyday 5:00 AM - 1:00 PM
: Everyday 5:00 AM - 1:00 PM
: Everyday 5:00 AM - 1:00 PM
: Everyday 5:00 AM - 1:00 PM
: Everyday 5:00 AM - 1:00 PM
: Everyday 5:00 AM - 1:00 PM
: Everyday 5:00 AM - 1:00 PM
: Everyday 5:00 AM - 1:00 PM
: Everyday 5:00 AM - 1:00 PM
: Everyday 5:00 AM - 1:00 PM

: Everyday 7:00 AM - 2:00 PM
: Everyday 7:00 AM - 2:00 PM
: Everyday 7:00 AM - 2:00 PM
: Everyday 7:00 AM - 2:00 PM
: Everyday 7:00 AM - 2:00 PM
: Everyday 7:00 AM - 2:00 PM
: Everyday 7:00 AM - 2:00 PM
: Everyday 7:00 AM - 2:00 PM
: Everyday 7:00 AM - 2:00 PM
: Everyday 7:00 AM - 2:00 PM
: Everyday 7:00 AM - 2:00 PM
: Everyday 7:00 AM - 2:00 PM

: Everyday 11:00 AM - 7:00 PM
: Everyday 11:00 AM - 7:00 PM
: Everyday 11:00 AM - 7:00 PM
: Everyday 11:00 AM - 7:00 PM
: Everyday 11:00 AM - 7:00 PM
: Everyday 11:00 AM - 7:00 PM
: Everyday 11:00 AM - 7:00 PM
: Everyday 11:00 AM - 7:00 PM
: Everyday 11:00 AM - 7:00 PM
: Everyday 11:00 AM - 7:00 PM
: Everyday 11:00 AM - 7:00 PM
: Everyday 11:00 AM - 7:00 PM

: Everyday 11:00 AM - 3:00 PM
: Everyday 11:00 AM - 3:00 PM
: Everyday 11:00 AM - 3:00 PM
: Everyday 11:00 AM - 3:00 PM
: Everyday 11:00 AM - 3:00 PM
: Everyday 11:00 AM - 3:00 PM
: Everyday 11:00 AM - 3:00 PM
: Everyday 11:00 AM - 3:00 PM
: Everyday 11:00 AM - 3:00 PM
: Everyday 11:00 AM - 3:00 PM
: Everyday 11:00 AM - 3:00 PM
: Everyday 11:00 AM - 3:00 PM

: Everyday 10:00 AM - 2:00 PM
: Everyday 10:00 AM - 2:00 PM
: Everyday 10:00 AM - 2:00 PM
: Everyday 10:00 AM - 2:00 PM
: Everyday 10:00 AM - 2:00 PM
: Everyday 10:00 AM - 2:00 PM
: Everyday 10:00 AM - 2:00 PM
: Everyday 10:00 AM - 2:00 PM
: Everyday 10:00 AM - 2:00 PM
: Everyday 10:00 AM - 2:00 PM
: Everyday 10:00 AM - 2:00 PM
: Everyday 10:00 AM - 2:00 PM

: Everyday 6:00 AM - 2:00 PM
: Everyday 6:00 AM - 2:00 PM
: Everyday 6:00 AM - 2:00 PM
: Everyday 6:00 AM - 2:00 PM
: Everyday 6:00 AM - 2:00 PM
: Everyday 6:00 AM - 2:00 PM
: Everyday 6:00 AM - 2:00 PM
: Everyday 6:00 AM - 2:00 PM
: Everyday 6:00 AM - 2:00 PM
: Everyday 6:00 AM - 2:00 PM
: Everyday 6:00 AM - 2:00 PM
: Everyday 6:00 AM - 2:00 PM

: Tuesday to Saturday 11:00 AM - 2:00 PM
: Tuesday to Saturday 11:00 AM - 2:00 PM
: Tuesday to Saturday 11:00 AM - 2:00 PM
: Tuesday to Saturday 11:00 AM - 2:00 PM
: Tuesday to Saturday 11:00 AM - 2:00 PM
: Tuesday to Saturday 11:00 AM - 2:00 PM
: Tuesday to Saturday 11:00 AM - 2:00 PM
: Tuesday to Saturday 11:00 AM - 2:00 PM
: Tuesday to Saturday 11:00 AM - 2:00 PM
: Tuesday to Saturday 11:00 AM - 2:00 PM
: Tuesday to Saturday 11:00 AM - 2:00 PM
: Tuesday to Saturday 11:00 AM - 2:00 PM

: Friday to Sunday 9:00 AM - 2:00 PM
: Friday to Sunday 9:00 AM - 2:00 PM
: Everyday 9:00 AM - 2:00 PM
: Everyday 9:00 AM - 2:00 PM
: Everyday 9:00 AM - 2:00 PM
: Everyday 9:00 AM - 2:00 PM
: Everyday 9:00 AM - 2:00 PM
: Everyday 9:00 AM - 2:00 PM
: Everyday 9:00 AM - 2:00 PM
: Friday to Sunday 9:00 AM - 2:00 PM

: Everyday 10:00 AM - 3:00 PM
: Everyday 10:00 AM - 3:00 PM
: Everyday 10:00 AM - 3:00 PM
: Everyday 10:00 AM - 3:00 PM
: Everyday 10:00 AM - 3:00 PM
: Everyday 10:00 AM - 3:00 PM
: Everyday 10:00 AM - 3:00 PM
: Everyday 10:00 AM - 3:00 PM
: Everyday 10:00 AM - 3:00 PM
: Everyday 10:00 AM - 3:00 PM
: Everyday 10:00 AM - 3:00 PM
: Everyday 10:00 AM - 3:00 PM

: Monday to Saturday 10:00 AM - 2:00 PM
: Monday to Saturday 10:00 AM - 2:00 PM
: Monday to Saturday 10:00 AM - 2:00 PM
: Monday to Saturday 10:00 AM - 2:00 PM
: Monday to Saturday 10:00 AM - 2:00 PM
: Monday to Saturday 10:00 AM - 2:00 PM
: Monday to Saturday 10:00 AM - 2:00 PM
: Monday to Saturday 10:00 AM - 2:00 PM
: Monday to Saturday 10:00 AM - 2:00 PM
: Monday to Saturday 10:00 AM - 2:00 PM
: Monday to Saturday 10:00 AM - 2:00 PM
: Monday to Saturday 10:00 AM - 2:00 PM

: Everyday 6:00 AM - 3:00 PM
: Everyday 6:00 AM - 3:00 PM
: Everyday 6:00 AM - 3:00 PM
: Everyday 6:00 AM - 3:00 PM
: Everyday 6:00 AM - 3:00 PM
: Everyday 6:00 AM - 3:00 PM
: Everyday 6:00 AM - 3:00 PM
: Everyday 6:00 AM - 3:00 PM
: Everyday 6:00 AM - 3:00 PM
: Everyday 6:00 AM - 3:00 PM
: Everyday 6:00 AM - 3:00 PM
: Everyday 6:00 AM - 3:00 PM

:
:
:
:
:
: Wednesday to Saturday 10:00 AM - 1:00 PM
: Wednesday to Saturday 10:00 AM - 1:00 PM
:
:
:
:

: Tuesday to Saturday 10:00 AM - 3:00 PM
: Tuesday to Saturday 10:00 AM - 3:00 PM
: Tuesday to Saturday 10:00 AM - 3:00 PM
: Tuesday to Saturday 10:00 AM - 3:00 PM
: Tuesday to Saturday 10:00 AM - 3:00 PM
: Tuesday to Saturday 10:00 AM - 3:00 PM
: Tuesday to Saturday 10:00 AM - 3:00 PM
: Tuesday to Saturday 10:00 AM - 3:00 PM
: Tuesday to Saturday 10:00 AM - 3:00 PM
: Tuesday to Saturday 10:00 AM - 3:00 PM
: Tuesday to Saturday 10:00 AM - 3:00 PM
: Tuesday to Saturday 10:00 AM - 3:00 PM

: Tuesday to Saturday 11:30 AM - 4:00 PM
: Tuesday to Saturday 11:30 AM - 4:00 PM
: Tuesday to Saturday 11:30 AM - 4:00 PM
: Tuesday to Saturday 11:30 AM - 4:00 PM
: Tuesday to Saturday 11:30 AM - 4:00 PM
: Tuesday to Saturday 11:30 AM - 4:00 PM
: Tuesday to Saturday 11:30 AM - 4:00 PM
: Tuesday to Saturday 11:30 AM - 4:00 PM
: Tuesday to Saturday 11:30 AM - 4:00 PM
: Tuesday to Saturday 11:30 AM - 4:00 PM
: Tuesday to Saturday 11:30 AM - 4:00 PM
: Tuesday to Saturday 11:30 AM - 4:00 PM

: Everyday 6:00 PM - 8:30 PM
: Everyday 6:00 PM - 8:30 PM
: Everyday 6:00 PM - 8:30 PM
: Everyday 6:00 PM - 8:30 PM
: Everyday 6:00 PM - 8:30 PM
: Everyday 6:00 PM - 8:30 PM
: Everyday 6:00 PM - 8:30 PM
: Everyday 6:00 PM - 8:30 PM
: Everyday 6:00 PM - 8:30 PM
: Everyday 6:00 PM - 8:30 PM
: Everyday 6:00 PM - 8:30 PM
: Everyday 6:00 PM - 8:30 PM

: Everyday 11:00 AM - 3:00 PM
: Everyday 11:00 AM - 3:00 PM
: Everyday 11:00 AM - 3:00 PM
: Everyday 11:00 AM - 3:00 PM
: Everyday 11:00 AM - 3:00 PM
: Everyday 11:00 AM - 3:00 PM
: Everyday 11:00 AM - 3:00 PM
: Everyday 11:00 AM - 3:00 PM
: Everyday 11:00 AM - 3:00 PM
: Everyday 11:00 AM - 3:00 PM
: Everyday 11:00 AM - 3:00 PM
: Everyday 11:00 AM - 3:00 PM

: Wednesday to Sunday 10:00 AM - 3:00 PM
: Wednesday to Sunday 10:00 AM - 3:00 PM
: Wednesday to Sunday 10:00 AM - 3:00 PM
: Wednesday to Sunday 10:00 AM - 3:00 PM
: Everyday 10:00 AM - 3:00 PM
: Everyday 10:00 AM - 3:00 PM
: Everyday 10:00 AM - 3:00 PM
: Everyday 10:00 AM - 3:00 PM
: Wednesday to Sunday 10:00 AM - 3:00 PM
: Wednesday to Sunday 10:00 AM - 3:00 PM
: Wednesday to Sunday 10:00 AM - 3:00 PM
: Wednesday to Sunday 10:00 AM - 3:00 PM

: Everyday 9:00 AM - 6:00 PM
: Everyday 9:00 AM - 6:00 PM
: Everyday 9:00 AM - 6:00 PM
: Everyday 9:00 AM - 6:00 PM
: Everyday 9:00 AM - 6:00 PM
: Everyday 9:00 AM - 6:00 PM
: Everyday 9:00 AM - 6:00 PM
: Everyday 9:00 AM - 6:00 PM
: Everyday 9:00 AM - 6:00 PM
: Everyday 9:00 AM - 6:00 PM
: Everyday 9:00 AM - 6:00 PM
: Everyday 9:00 AM - 6:00 PM

: Everyday 9:00 AM - 5:00 PM
: Everyday 9:00 AM - 5:00 PM
: Everyday 9:00 AM - 5:00 PM
: Everyday 9:00 AM - 5:00 PM
: Everyday 9:00 AM - 5:00 PM
: Everyday 9:00 AM - 5:00 PM
: Everyday 9:00 AM - 5:00 PM
: Everyday 9:00 AM - 5:00 PM
: Everyday 9:00 AM - 5:00 PM
: Everyday 9:00 AM - 5:00 PM
: Everyday 9:00 AM - 5:00 PM
: Everyday 9:00 AM - 5:00 PM

: Everyday 9:00 AM - 2:00 PM
: Everyday 9:00 AM - 2:00 PM
: Everyday 9:00 AM - 2:00 PM
: Everyday 9:00 AM - 2:00 PM
: Everyday 9:00 AM - 2:00 PM
: Everyday 9:00 AM - 2:00 PM
: Everyday 9:00 AM - 2:00 PM
: Everyday 9:00 AM - 2:00 PM
: Everyday 9:00 AM - 2:00 PM
: Everyday 9:00 AM - 2:00 PM
: Everyday 9:00 AM - 2:00 PM
: Everyday 9:00 AM - 2:00 PM

: Tuesday to Friday 10:00 AM - 2:00 PM
: Tuesday to Friday 10:00 AM - 2:00 PM
: Tuesday to Friday 10:00 AM - 2:00 PM
: Tuesday to Friday 10:00 AM - 2:00 PM
: Tuesday to Friday 10:00 AM - 2:00 PM
: Tuesday to Friday 10:00 AM - 2:00 PM
: Tuesday to Friday 10:00 AM - 2:00 PM
: Tuesday to Friday 10:00 AM - 2:00 PM
: Tuesday to Friday 10:00 AM - 2:00 PM
: Tuesday to Friday 10:00 AM - 2:00 PM
: Tuesday to Friday 10:00 AM - 2:00 PM
: Tuesday to Friday 10:00 AM - 2:00 PM