Best Time To Visit Coolangatta
Explore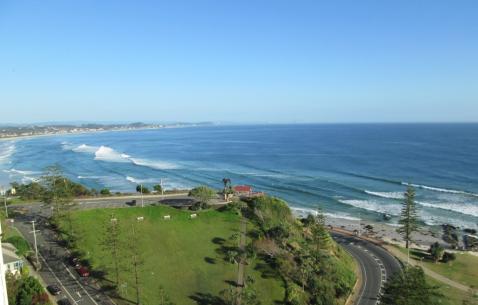 Best Time To Go To Coolangatta
The best time to visit Coolangatta is from January to March and from October to December when the weather is pleasant and cheerful.
Summers: Summer comes in the months of December till February, is mild and gently hot, good for hitting the beach and enjoying surfing and sun bathing over there.
Monsoon: Coolangatta receives heavy showers during the months of March to May and is generally wet and humid.
Winters: Winters are a bit cooler, but never lose the warmth of sun. Generally cold during the night, the season extends from June to August.
Spring: Gentle winds blow during the months of September to November and nice vegetation can be seen near the roadsides and in parks. Most of the sports and markets are organized during this time.
Best time to go to Coolangatta Attractions

: Everyday 9:00 AM - 2:00 PM
: Everyday 9:00 AM - 2:00 PM
: Everyday 9:00 AM - 2:00 PM
: Everyday 9:00 AM - 2:00 PM
: Everyday 9:00 AM - 2:00 PM
: Everyday 9:00 AM - 2:00 PM
: Everyday 9:00 AM - 2:00 PM
: Everyday 9:00 AM - 2:00 PM
: Everyday 9:00 AM - 2:00 PM
: Everyday 9:00 AM - 2:00 PM
: Everyday 9:00 AM - 2:00 PM
: Everyday 9:00 AM - 2:00 PM

: Everyday 9:00 AM - 2:00 PM
: Everyday 9:00 AM - 2:00 PM
: Everyday 9:00 AM - 2:00 PM
: Everyday 9:00 AM - 2:00 PM
: Everyday 9:00 AM - 2:00 PM
: Everyday 9:00 AM - 2:00 PM
: Everyday 9:00 AM - 2:00 PM
: Everyday 9:00 AM - 2:00 PM
: Everyday 9:00 AM - 2:00 PM
: Everyday 9:00 AM - 2:00 PM
: Everyday 9:00 AM - 2:00 PM
: Everyday 9:00 AM - 2:00 PM

: Monday to Friday 10:00 AM - 3:00 PM
: Monday to Friday 10:00 AM - 3:00 PM
: Monday to Friday 10:00 AM - 3:00 PM
: Monday to Friday 10:00 AM - 3:00 PM
: Monday to Friday 10:00 AM - 3:00 PM
: Monday to Friday 10:00 AM - 3:00 PM
: Monday to Friday 10:00 AM - 3:00 PM
: Monday to Friday 10:00 AM - 3:00 PM
: Monday to Friday 10:00 AM - 3:00 PM
: Monday to Friday 10:00 AM - 3:00 PM
: Monday to Friday 10:00 AM - 3:00 PM
: Monday to Friday 10:00 AM - 3:00 PM

: Everyday 8:00 AM - 3:00 PM
: Everyday 8:00 AM - 3:00 PM
: Everyday 8:00 AM - 3:00 PM
: Everyday 8:00 AM - 3:00 PM
: Everyday 8:00 AM - 3:00 PM
: Everyday 8:00 AM - 3:00 PM
: Everyday 8:00 AM - 3:00 PM
: Everyday 8:00 AM - 3:00 PM
: Everyday 8:00 AM - 3:00 PM
: Everyday 8:00 AM - 3:00 PM
: Everyday 8:00 AM - 3:00 PM
: Everyday 8:00 AM - 3:00 PM

: Everyday 11:00 AM - 1:00 PM
: Everyday 11:00 AM - 1:00 PM
: Everyday 11:00 AM - 1:00 PM
: Everyday 11:00 AM - 1:00 PM
: Everyday 11:00 AM - 1:00 PM
: Everyday 11:00 AM - 1:00 PM
: Everyday 11:00 AM - 1:00 PM
: Everyday 11:00 AM - 1:00 PM
: Everyday 11:00 AM - 1:00 PM
: Everyday 11:00 AM - 1:00 PM
: Everyday 11:00 AM - 1:00 PM
: Everyday 11:00 AM - 1:00 PM

: Everyday 11:00 AM - 11:00 PM
: Everyday 11:00 AM - 11:00 PM
: Everyday 11:00 AM - 11:00 PM
: Everyday 11:00 AM - 11:00 PM
: Everyday 11:00 AM - 11:00 PM
: Everyday 11:00 AM - 11:00 PM
: Everyday 11:00 AM - 11:00 PM
: Everyday 11:00 AM - 11:00 PM
: Everyday 11:00 AM - 11:00 PM
: Everyday 11:00 AM - 11:00 PM
: Everyday 11:00 AM - 11:00 PM
: Everyday 11:00 AM - 11:00 PM

: Monday to Friday 10:00 AM - 5:00 PM; Saturday 10:00 AM - 1:00 PM
: Monday to Friday 10:00 AM - 5:00 PM; Saturday 10:00 AM - 1:00 PM
: Monday to Friday 10:00 AM - 5:00 PM; Saturday 10:00 AM - 1:00 PM
: Monday to Friday 10:00 AM - 5:00 PM; Saturday 10:00 AM - 1:00 PM
: Monday to Friday 10:00 AM - 5:00 PM; Saturday 10:00 AM - 1:00 PM
: Monday to Friday 10:00 AM - 5:00 PM; Saturday 10:00 AM - 1:00 PM
: Monday to Friday 10:00 AM - 5:00 PM; Saturday 10:00 AM - 1:00 PM
: Monday to Friday 10:00 AM - 5:00 PM; Saturday 10:00 AM - 1:00 PM
: Monday to Friday 10:00 AM - 5:00 PM; Saturday 10:00 AM - 1:00 PM
: Monday to Friday 10:00 AM - 5:00 PM; Saturday 10:00 AM - 1:00 PM
: Monday to Friday 10:00 AM - 5:00 PM; Saturday 10:00 AM - 1:00 PM
: Monday to Friday 10:00 AM - 5:00 PM; Saturday 10:00 AM - 1:00 PM

: Everyday 9:00 AM - 11:00 AM
: Everyday 9:00 AM - 11:00 AM
: Everyday 9:00 AM - 11:00 AM
: Everyday 9:00 AM - 11:00 AM
: Everyday 9:00 AM - 11:00 AM
: Everyday 9:00 AM - 11:00 AM
: Everyday 9:00 AM - 11:00 AM
: Everyday 9:00 AM - 11:00 AM
: Everyday 9:00 AM - 11:00 AM
: Everyday 9:00 AM - 11:00 AM
: Everyday 9:00 AM - 11:00 AM
: Everyday 9:00 AM - 11:00 AM

: Everyday 9:00 AM - 3:00 PM
: Everyday 9:00 AM - 3:00 PM
: Everyday 9:00 AM - 3:00 PM
: Everyday 9:00 AM - 3:00 PM
: Everyday 9:00 AM - 3:00 PM
: Everyday 9:00 AM - 3:00 PM
: Everyday 9:00 AM - 3:00 PM
: Everyday 9:00 AM - 3:00 PM
: Everyday 9:00 AM - 3:00 PM
: Everyday 9:00 AM - 3:00 PM
: Everyday 9:00 AM - 3:00 PM
: Everyday 9:00 AM - 3:00 PM

: Everyday 9:00 AM - 3:00 PM
: Everyday 9:00 AM - 3:00 PM
: Everyday 9:00 AM - 3:00 PM
: Everyday 9:00 AM - 3:00 PM
: Everyday 9:00 AM - 3:00 PM
: Everyday 9:00 AM - 3:00 PM
: Everyday 9:00 AM - 3:00 PM
: Everyday 9:00 AM - 3:00 PM
: Everyday 9:00 AM - 3:00 PM
: Everyday 9:00 AM - 3:00 PM
: Everyday 9:00 AM - 3:00 PM
: Everyday 9:00 AM - 3:00 PM

: Monday, Tuesday, Wednesday, Friday, Saturday 9:00 AM - 5:30 PM; Thursday 9:00 AM - 9:00 PM; Sunday 10:00 AM - 4:00 PM
: Monday, Tuesday, Wednesday, Friday, Saturday 9:00 AM - 5:30 PM; Thursday 9:00 AM - 9:00 PM; Sunday 10:00 AM - 4:00 PM
: Monday, Tuesday, Wednesday, Friday, Saturday 9:00 AM - 5:30 PM; Thursday 9:00 AM - 9:00 PM; Sunday 10:00 AM - 4:00 PM
: Monday, Tuesday, Wednesday, Friday, Saturday 9:00 AM - 5:30 PM; Thursday 9:00 AM - 9:00 PM; Sunday 10:00 AM - 4:00 PM
: Monday, Tuesday, Wednesday, Friday, Saturday 9:00 AM - 5:30 PM; Thursday 9:00 AM - 9:00 PM; Sunday 10:00 AM - 4:00 PM
: Monday, Tuesday, Wednesday, Friday, Saturday 9:00 AM - 5:30 PM; Thursday 9:00 AM - 9:00 PM; Sunday 10:00 AM - 4:00 PM
: Monday, Tuesday, Wednesday, Friday, Saturday 9:00 AM - 5:30 PM; Thursday 9:00 AM - 9:00 PM; Sunday 10:00 AM - 4:00 PM
: Monday, Tuesday, Wednesday, Friday, Saturday 9:00 AM - 5:30 PM; Thursday 9:00 AM - 9:00 PM; Sunday 10:00 AM - 4:00 PM
: Monday, Tuesday, Wednesday, Friday, Saturday 9:00 AM - 5:30 PM; Thursday 9:00 AM - 9:00 PM; Sunday 10:00 AM - 4:00 PM
: Monday, Tuesday, Wednesday, Friday, Saturday 9:00 AM - 5:30 PM; Thursday 9:00 AM - 9:00 PM; Sunday 10:00 AM - 4:00 PM
: Monday, Tuesday, Wednesday, Friday, Saturday 9:00 AM - 5:30 PM; Thursday 9:00 AM - 9:00 PM; Sunday 10:00 AM - 4:00 PM
: Monday, Tuesday, Wednesday, Friday, Saturday 9:00 AM - 5:30 PM; Thursday 9:00 AM - 9:00 PM; Sunday 10:00 AM - 4:00 PM

: Monday to Wednesday 6:00 AM - 9:30 PM; Friday, Saturday 6:00 AM - 11:00 PM; Thursday, Sunday 6:00 AM - 10:00 PM
: Monday to Wednesday 6:00 AM - 9:30 PM; Friday, Saturday 6:00 AM - 11:00 PM; Thursday, Sunday 6:00 AM - 10:00 PM
: Monday to Wednesday 6:00 AM - 9:30 PM; Friday, Saturday 6:00 AM - 11:00 PM; Thursday, Sunday 6:00 AM - 10:00 PM
: Monday to Wednesday 6:00 AM - 9:30 PM; Friday, Saturday 6:00 AM - 11:00 PM; Thursday, Sunday 6:00 AM - 10:00 PM
: Monday to Wednesday 6:00 AM - 9:30 PM; Friday, Saturday 6:00 AM - 11:00 PM; Thursday, Sunday 6:00 AM - 10:00 PM
: Monday to Wednesday 6:00 AM - 9:30 PM; Friday, Saturday 6:00 AM - 11:00 PM; Thursday, Sunday 6:00 AM - 10:00 PM
: Monday to Wednesday 6:00 AM - 9:30 PM; Friday, Saturday 6:00 AM - 11:00 PM; Thursday, Sunday 6:00 AM - 10:00 PM
: Monday to Wednesday 6:00 AM - 9:30 PM; Friday, Saturday 6:00 AM - 11:00 PM; Thursday, Sunday 6:00 AM - 10:00 PM
: Monday to Wednesday 6:00 AM - 9:30 PM; Friday, Saturday 6:00 AM - 11:00 PM; Thursday, Sunday 6:00 AM - 10:00 PM
: Monday to Wednesday 6:00 AM - 9:30 PM; Friday, Saturday 6:00 AM - 11:00 PM; Thursday, Sunday 6:00 AM - 10:00 PM
: Monday to Wednesday 6:00 AM - 9:30 PM; Friday, Saturday 6:00 AM - 11:00 PM; Thursday, Sunday 6:00 AM - 10:00 PM
: Monday to Wednesday 6:00 AM - 9:30 PM; Friday, Saturday 6:00 AM - 11:00 PM; Thursday, Sunday 6:00 AM - 10:00 PM

: Everyday 6:30 AM - 4:00 PM
: Everyday 6:30 AM - 4:00 PM
: Everyday 6:30 AM - 4:00 PM
: Everyday 6:30 AM - 4:00 PM
: Everyday 6:30 AM - 4:00 PM
: Everyday 6:30 AM - 4:00 PM
: Everyday 6:30 AM - 4:00 PM
: Everyday 6:30 AM - 4:00 PM
: Everyday 6:30 AM - 4:00 PM
: Everyday 6:30 AM - 4:00 PM
: Everyday 6:30 AM - 4:00 PM
: Everyday 6:30 AM - 4:00 PM

: Everyday 9:00 AM - 5:00 PM
: Everyday 9:00 AM - 5:00 PM
: Everyday 9:00 AM - 5:00 PM
: Everyday 9:00 AM - 5:00 PM
: Everyday 9:00 AM - 5:00 PM
: Everyday 9:00 AM - 5:00 PM
: Everyday 9:00 AM - 5:00 PM
: Everyday 9:00 AM - 5:00 PM
: Everyday 9:00 AM - 5:00 PM
: Everyday 9:00 AM - 5:00 PM
: Everyday 9:00 AM - 5:00 PM
: Everyday 9:00 AM - 5:00 PM

: Everyday 7:00 AM - 8:00 PM
: Everyday 7:00 AM - 8:00 PM
: Everyday 7:00 AM - 8:00 PM
: Everyday 7:00 AM - 8:00 PM
: Everyday 7:00 AM - 8:00 PM
: Everyday 7:00 AM - 8:00 PM
: Everyday 7:00 AM - 8:00 PM
: Everyday 7:00 AM - 8:00 PM
: Everyday 7:00 AM - 8:00 PM
: Everyday 7:00 AM - 8:00 PM
: Everyday 7:00 AM - 8:00 PM
: Everyday 7:00 AM - 8:00 PM