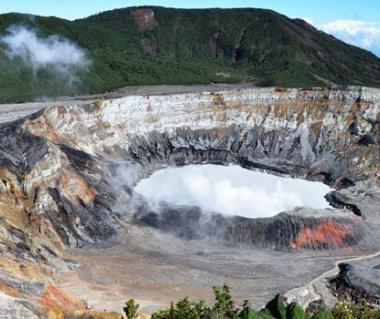 Costa Rica Trip Planner
Plan your customized trip plan for Costa Rica. Choose from Top Toursim cities and tourist attarctions of Costa Rica using trip planner.
Costa Rica Overview
Costa Rica's mild climate and diverse cultures and varied landscape make it the ideal country to spend your next holiday exploring. Its pristine beaches, active volcanoes, starkly contrasting landscapes, breathtaking beauty and large amounts of biodiversity all make Costa Rica the ideal holiday spot.
Climate:
Costa Rica has a Mediterranean type of climate and there are only really two seasons in Costa Rica. Wet or rainy season and dry season. You can expect the dry season between April and October and will normally experience warm, consistent days during these months. The wet season is from November to March and it really is wet - 82% of annual rainfall wet.
Best Time to Travel
Costa Rica is high season is from December to April when tourists, especially from the Northern Hemisphere, come to escape the blistering cold that is often experienced at this time of year. If you come during this period of time you won't have nearly as much as rain but you will have to pay more and have longer lines and dozens of other tourists at any given time. If you don't mind the rain and want to go to Costa Rica to experience eco-tourism, you should consider going in the wetter months as this will save you cash and it will be more peaceful.
Travel Information: Getting To and Around Costa Rica
There are two main airports in Costa Rica, Daniel Odubar International Airport in Liberia and Juan Santamaria International Airport in San Jose and you can use whichever is most convenient to get to Costa Rica. When you are in Costa Rica, the easiest and most reliable way to get around is by bus. You can rent a car or motorcycle, but you will need an International Driving Permit and be over 21. Renting a car isn't advised as thieves can easily spot a rental car and you run the risk of getting your belongings stolen from the car.
Where To Stay
Where you stay while you are in Costa Rica depends on the type of holiday you enjoy having. There are hotels like the Costa Rica Marriot in San Jose, resorts also try Arenas del Mar in Manuel Antonio, and eco-resorts (Arenal Observatory Lodge in La Fortuna for example).
What to See
Costa Rica is known for its natural beauty. Visit their magnificent beaches (some of the best beaches in the country are along the Guanacaste Coast), protected rainforests and you can also try the Tortuguero National Park and active volcanoes (Poas Volcano has a boiling acid lake in its crater) for a truly eco-friendly and educational holiday.
Festivals and events
Festivals form part of the Costa Rican culture and tradition, most of their festivals are religious and some of them include;
Dia de San Jose (Day of San Jose) – is celebrated every year in March on the 19th. The dress code will kbe the same for most people, this is one of their biggest days in the year.
Semana Santa (Holy Week) – held at the end of March every year. Some people will go to the beach and some spend the day at home.
Fiesta de la Virgen del Mar (Festival of the Virgin of the Sea) – celebrated in July.
Dia de Guanacaste (Guanacaste Day) – a day of music and dance, bull fighting and cattle shows, 25 June of every year.
September 15 is Independence Day and is also celebrated every year.
Where to be
There many places to go for night entertainment in Costa Rica, you will find more than 120places, so the place you choose will depend on your individual preference and taste. Below are some of the popular spots to choose from;
El Cuartel de la Boca del Monte – this is a popular spot that draws crowds from all walks of life. They host live bands especially on Friday nights, very popular with university students and the youths.
Club Vertigo – a good place to chill out after hours, nice music and the entry fee can be expensive; it depends on the guest DJ on a specific night.
Jazz Café – if you are looking for cool jazz music, from a different band every night, go to the Jazz Café. Even the legendary jazz musicians have performed here. The entrance fee depends on the artist who is performing.
Monkey Bar – go to a lady's night on Fridays and you will definitely enjoy every moment.
Beach House – here you eat, you drink and you go surfing as well, 3in1. They play live calypso music from Thursday to Saturday.
Eat outs
You find more than 300 restaurants in Costa Rica, below are a few popular eat outs that you may want to try out;
Colbert Restaurant – a French restaurant with nice views, the food is fresh and delicious and don't forget they also have a good wine list.
Restaurant Coral Reef – this is a place for fish lovers, located next to Coco's Bar.
Café Milagro – they serve the best cappuccino and espresso. You will definitely enjoy.
Restaurant Carolina – attracts tourists, nature guides and expatriates. The food is local and served fresh, you will enjoy.
Searching for something specific?