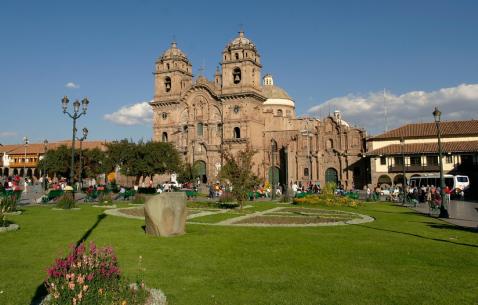 Cusco is a fascinating city in southeastern Peru which is best known to be the capital of the famous Inca Empire. The rich history and culture of the city listed it among the UNESCO World Heritage Sites and it is one of the most visited cities in Peru. The comfortable city is within a close vicinity of other major Inca sites like Machu Picchu and the Sacred Valley of the Incas, making it a perfect starting spot for Inca tours. The area was once occupied by the Killke people from 900 to 1200. However, the area came under the Inca rule during the 13th century and Cusco became the capital as well as a significant political, cultural and economic centre of the Inca Empire. The sleepy little city transformed into the powerful capital of a vast empire and thrived till the 16th century. The 16th-century saw the Spanish conquest of South America. The Spanish explorers invaded the city in 1533 and gained control over Cusco because of their arms and horses, employing superior military technology. Following the downfall of the Inca Empire, Cusco became the centre of Spanish colonisation and spread of Christianity in the Andean world. Today Cisco is a vibrant city that stands of layers of cultures and boasts well-preserved colonial architecture, remnants of a rich and complex history, remains of indigenous Quechua culture, a number of ruins, historic sights, fine buildings and palaces, magnificent churches, panoramic views of the Andes, a plethora of museums and art galleries, lively markets, outstanding performing arts, exciting festivals and events, sightseeing tours, outdoor activities, a glorious past and a rich culture. The ruins, Baroque churches and palaces all give us a glimpse into a time when the city was a major superpower and there was a significant impact of the Spanish as well as the Inca culture in the area. A visit to Cusco would take you back in time as you explore the hidden secrets of the capital of one of the greatest, and most mysterious civilisations to ever exist.
Essential travel information and Cusco tips for your visit
Cusco Time Zone – Peru Time Zone (UTC-05:00)
Currency – The currency used in Cusco is Sol.
Electricity – Peru uses 220 Volts, 60 Hz alternating current as the power source. Plugs and sockets have ungrounded 2 Pin connections (Type A) or ungrounded 2 pin connections (Type C).
Internet – 3G, Wi-Fi connections are available in almost all the hotels in the city.
Languages – Majority of Peruvians are bilingual and speak an indigenous language like Quechua and Aymara along with Spanish.
Security – Police – 105, Emergency – 133, Tourist Police - +51 (84) 235123
Tipping: Tipping is not very common in Peru and Peruvians do not usually tip. Most restaurants and bars include a gratuity of 10% in the bill. However, you can tip an extra 10% for a good service.
If you're trekking to Machu Picchu, don't fly in the day before you leave. You need time to acclimatise so spend 2-3 days in town first.
Cusco is 3,399 metres (11,151 feet) above sea level so take it easy on your first day there.
Don't take pictures of people without asking. This should be standard procedure anywhere you go but Cusco locals are particularly sensitive to this. Be respectful.
Avoid drinking tap water in Peru. Make sure you have all the recommended vaccinations before you leave for Peru.
Don't go to bars/clubs alone. Be alert and sensible at all times.
Always negotiate the fare before you get onto a cab. Don't let the taxi driver tip you off.
Do not touch the stray dogs. They might be infected with rabies and other diseases.
Peru is all about walking, hiking and exploring so remember to carry comfortable footwear.
Make sure you dress appropriately and modestly as men here can sometimes assume that showing skin means something more than just a fashion statement and there are also traditionally religious people that don't condone certain dress codes.
Remember to bring sunscreen to prevent sunburns.
Don't use the words 'indio or indios" to refer to natives. These words are considered derogatory.
Don't wear jewellery out in public, as this will make you a possible target of crime.
Cusco Trip Planner
Plan your customized day by day trip plan for Cusco. Choose from various experinces categories as adventure, romantic and family and kids friendly for your trip using using Cusco trip planner.
The best tours and activities in the city, guided by experts to give you a local insight to the best of Cusco