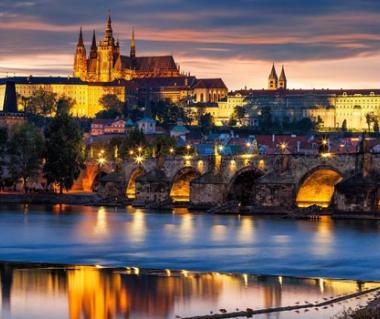 Czech Republic Trip Planner
Plan your customized trip plan for Czech Republic. Choose from Top Toursim cities and tourist attarctions of Czech Republic using trip planner.
Czech Republic Overview
The Czech Republic, as a part of Middle (Central) Europe, is squeezed between Germany, Austria, Slovakia, and Poland. The Czech Republic was born in 1993, after the dissolution of Czechoslovakia. If you're a night bird and keen on being entertained, Prague is perfect; if you're mad about the history and want to visit some of the best museums, cathedrals, and chateaux in Europe, you'll have plenty to ogle at. And there are lots of mountains, forests, lakes, and rivers for anybody who's fond of the great outdoors.
Getting in and Around
Air: There are four international airports in the Czech Republic, the largest one is in the capital city of Prague. Others are in Ostrava, Karlovy Vary, and Brno. All airports are well connected to most other European capitals (and some cities outside Europe too). More than twenty airlines, including the national carrier, Ceske Aerolinie, fly to Prague.
Rail:- If you're going to the Czech Republic from another European country, then it makes a lot of sense to travel by train- it works out pretty cheap, and is convenient too, international trains arrive at Prague's main station Praha-hlavni nadrazi or at Holesovice and Smichov stations.
Best time to visit the Czech Republic
The Czech Republic has bitterly cold winters, so it's best to avoid the country during this time, especially between December and February. Late spring to autumn- around May to October- is the most pleasant time to visit, but remember that the temperature rarely, if ever, goes above 25 degree C. If you can, time your trip for July- the weather's at its warmest then.
What to see The Czech Republic
The Czech Republic has a number of towns and cities that are well known across the world - and Prague and Karlovy Vary are the best known of all. Prague, the capital of the country, is also its most vibrant city, full of museums, cathedrals, cafes, and markets that teem with life. It's a city that combines history with the present- a city known for its Baroque churches as it is for its jazz concerts.
Searching for something specific?