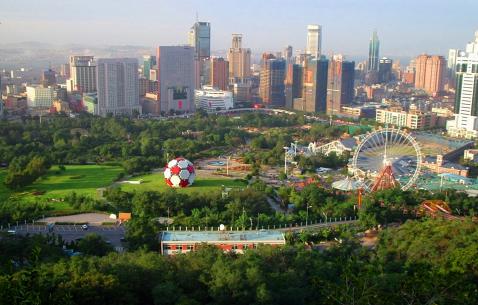 The Best Things To Do in Dalian
Dalian is one of the largest port cities in northern China. Compared to the historic cities of China such as Beijing, Xian, Nanjing or Luoyang, Dalian is a young city with only a 100-year history. It is the trading and financial hub of the north-eastern China, rightly being given the title of 'Hong Kong of Northern China' and The Pearl of Northern China. The city is one of the most vibrant and romantic cities in the world, boasting numerous gardens, festivals and fairs, amusement parks, museums, biological reserves, mountains, beaches, islands, coastal reefs and scenic spots.
The city is alive and thriving, and the energy is contagious. One of the best ways to make the most of the fast-paced metropolis is to indulge in some of the best things to do in Dalian which include a plethora of natural sights and parks that take you a bit closer to nature and are sure to encapsulate with their beauty and charm, like Xinghai Square, Laohutan Scenic Park, Tiger Beach, Binhai Road Scenic Drive, Labor Park, Bangchuidao Island, Jinshitan Scenic Area, Dalian Coast National Geological Park, Jinlong Temple Forest Park, Xiangshui Temple and the Grand Black Mountain. The city has numerous entertainment and amusement opportunities to spend some quality leisure time like the Dalian Discovery Kingdom, Ocean Park, Ji Di Guan - Pole Aquarium, Sun Asia Ocean World and Polar World, Dalian Marine Science Museum and the Dalian Forest Zoo. The city offers several markets and shopping districts like Qingniwaqiao, Tianjinjie Pedestrian Street, Renmin Road and Xian Road, that cater to the shopaholics. The city is host to many annual festivals including Dalian Cherry Blossom Festival, Dalian Software Trade Fair, China International Beer Festival, Dalian Sand Beach Culture Festival and Dalian International Fashion Festival. Other top attractions in Dalian include Zhongshan Square, Dalian Natural History Museum, Haizhiyun Park Dalian, Jinlong Temple Forest Park and Lvshun Museum. The laid-back atmosphere and the scenic beauty makes a perfect setting explore the infinite sights, activities, and attractions of Dalian.
Explore the travel planning tool for your visit to Dalian and create a flawless plan in few simple steps!
29 Tourist Attractions in Dalian

Must see places in Dalian ranked on popularity. Here is the complete list of best attractions in Dalian and point of interests to visit.
Tourist Attractions Near Dalian
Find Your Dalian Attractions on Map
Types of Things To Do in Dalian
Find more attractions and places to visit in Dalian under these things to do categories.
What To Do in Dalian: Day-Wise Ideas
Find what not to miss in Dalian! Recommended Dalian itineraries and vacation ideas created by travelers across the world.