Best Time To Visit Delhi
Explore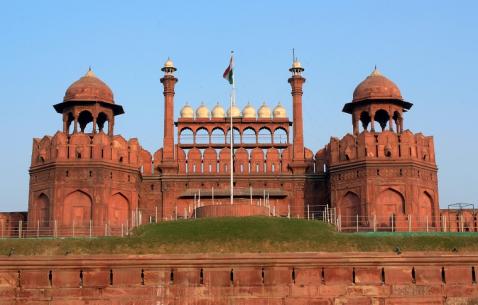 Best Time To Go To Delhi
Delhi experiences five distinct climates in a year.
Spring (February to March): The temperature during this season ranges between 20 degree Celsius and 25 degree Celsius. During day, the weather remains sunny and pleasant while at night, the weather becomes cool.
Summer (April to June): During this season, the temperature becomes extremely high, i.e. 45 degree Celsius. The weather becomes unbearable, specially during day time.
Monsoon (July to early September): The temperature ranges between 30 degree Celsius and 35 degree Celsius. The weather is usually hot and humid because of rainfall.
Autumn (Late September to end of November): The temperature is usually between 20 and 30 degree Celsius. The weather becomes bearable as compare to summer and monsoon.
Winter (December to January): Delhi experiences chilly winter and temperature sometimes drops down to 5 degree Celsius.
Among all these seasons, autumn and spring can be considered as the best time to visit Delhi.
Best time to go to Delhi Attractions

: Everyday 9:00 AM - 3:00 PM
: Everyday 9:00 AM - 3:00 PM
: Everyday 9:00 AM - 3:00 PM
: Everyday 9:00 AM - 3:00 PM
: Everyday 9:00 AM - 3:00 PM
: Everyday 9:00 AM - 3:00 PM
: Everyday 9:00 AM - 3:00 PM
: Everyday 9:00 AM - 3:00 PM
: Everyday 9:00 AM - 3:00 PM
: Everyday 9:00 AM - 3:00 PM
: Everyday 9:00 AM - 3:00 PM
: Everyday 9:00 AM - 3:00 PM

: Tuesday to Sunday 10:00 AM - 2:00 PM
: Tuesday to Sunday 10:00 AM - 2:00 PM
: Tuesday to Sunday 10:00 AM - 2:00 PM
: Tuesday to Sunday 10:00 AM - 2:00 PM
: Tuesday to Sunday 10:00 AM - 2:00 PM
: Tuesday to Sunday 10:00 AM - 2:00 PM
: Tuesday to Sunday 10:00 AM - 2:00 PM
: Tuesday to Sunday 10:00 AM - 2:00 PM
: Tuesday to Sunday 10:00 AM - 2:00 PM
: Tuesday to Sunday 10:00 AM - 2:00 PM
: Tuesday to Sunday 10:00 AM - 2:00 PM
: Tuesday to Sunday 10:00 AM - 2:00 PM

: Everyday 7:00 PM - 9:30 PM
: Everyday 7:00 PM - 9:30 PM
: Everyday 7:00 PM - 9:30 PM
: Everyday 7:00 PM - 9:30 PM
: Everyday 7:00 PM - 9:30 PM
: Everyday 7:00 PM - 9:30 PM
: Everyday 7:00 PM - 9:30 PM
: Everyday 7:00 PM - 9:30 PM
: Everyday 7:00 PM - 9:30 PM
: Everyday 7:00 PM - 9:30 PM
: Everyday 7:00 PM - 9:30 PM
: Everyday 7:00 PM - 9:30 PM

: Tuesday to Sunday 10:00 AM - 5:00 PM
: Tuesday to Sunday 10:00 AM - 5:00 PM
: Tuesday to Sunday 10:00 AM - 5:00 PM
: Tuesday to Sunday 10:00 AM - 5:00 PM
: Tuesday to Sunday 10:00 AM - 5:00 PM
: Tuesday to Sunday 10:00 AM - 5:00 PM
: Tuesday to Sunday 10:00 AM - 5:00 PM
: Tuesday to Sunday 10:00 AM - 5:00 PM
: Tuesday to Sunday 10:00 AM - 5:00 PM
: Tuesday to Sunday 10:00 AM - 5:00 PM
: Tuesday to Sunday 10:00 AM - 5:00 PM
: Tuesday to Sunday 10:00 AM - 5:00 PM

: Tuesday to Sunday 10:00 AM - 3:00 PM
: Tuesday to Sunday 10:00 AM - 3:00 PM
: Tuesday to Sunday 10:00 AM - 3:00 PM
: Tuesday to Sunday 10:00 AM - 3:00 PM
: Tuesday to Sunday 10:00 AM - 3:00 PM
: Tuesday to Sunday 10:00 AM - 3:00 PM
: Tuesday to Sunday 10:00 AM - 3:00 PM
: Tuesday to Sunday 10:00 AM - 3:00 PM
: Tuesday to Sunday 10:00 AM - 3:00 PM
: Tuesday to Sunday 10:00 AM - 3:00 PM
: Tuesday to Sunday 10:00 AM - 3:00 PM
: Tuesday to Sunday 10:00 AM - 3:00 PM

: Everyday 9:00 AM - 3:00 PM
: Everyday 9:00 AM - 3:00 PM
: Everyday 9:00 AM - 3:00 PM
: Everyday 9:00 AM - 3:00 PM
: Everyday 9:00 AM - 3:00 PM
: Everyday 9:00 AM - 3:00 PM
: Everyday 9:00 AM - 3:00 PM
: Everyday 9:00 AM - 3:00 PM
: Everyday 9:00 AM - 3:00 PM
: Everyday 9:00 AM - 3:00 PM
: Everyday 9:00 AM - 3:00 PM
: Everyday 9:00 AM - 3:00 PM

: Everyday 7:00 AM - 5:00 PM
: Everyday 7:00 AM - 5:00 PM
: Everyday 7:00 AM - 5:00 PM
: Everyday 7:00 AM - 5:00 PM
: Everyday 7:00 AM - 5:00 PM
: Everyday 7:00 AM - 5:00 PM
: Everyday 7:00 AM - 5:00 PM
: Everyday 7:00 AM - 5:00 PM
: Everyday 7:00 AM - 5:00 PM
: Everyday 7:00 AM - 5:00 PM
: Everyday 7:00 AM - 5:00 PM
: Everyday 7:00 AM - 5:00 PM

: Monday to Friday 10:00 AM - 4:00 PM
: Monday to Friday 10:00 AM - 4:00 PM
: Monday to Friday 10:00 AM - 4:00 PM
: Monday to Friday 10:00 AM - 4:00 PM
: Monday to Friday 10:00 AM - 4:00 PM
: Monday to Friday 10:00 AM - 4:00 PM
: Monday to Friday 10:00 AM - 4:00 PM
: Monday to Friday 10:00 AM - 4:00 PM
: Monday to Friday 10:00 AM - 4:00 PM
: Monday to Friday 10:00 AM - 4:00 PM
: Monday to Friday 10:00 AM - 4:00 PM
: Monday to Friday 10:00 AM - 4:00 PM

: Everyday 9:00 AM - 9:00 PM
: Everyday 9:00 AM - 9:00 PM
: Everyday 9:00 AM - 9:00 PM
: Everyday 9:00 AM - 9:00 PM
: Everyday 9:00 AM - 9:00 PM
: Everyday 9:00 AM - 9:00 PM
: Everyday 9:00 AM - 9:00 PM
: Everyday 9:00 AM - 9:00 PM
: Everyday 9:00 AM - 9:00 PM
: Everyday 9:00 AM - 9:00 PM
: Everyday 9:00 AM - 9:00 PM
: Everyday 9:00 AM - 9:00 PM

: Everyday 7:00 AM - 5:00 PM
: Everyday 7:00 AM - 5:00 PM
: Everyday 7:00 AM - 5:00 PM
: Everyday 7:00 AM - 5:00 PM
: Everyday 7:00 AM - 5:00 PM
: Everyday 7:00 AM - 5:00 PM
: Everyday 7:00 AM - 5:00 PM
: Everyday 7:00 AM - 5:00 PM
: Everyday 7:00 AM - 5:00 PM
: Everyday 7:00 AM - 5:00 PM
: Everyday 7:00 AM - 5:00 PM
: Everyday 7:00 AM - 5:00 PM

: Everyday 7:00 AM - 4:00 PM
: Everyday 7:00 AM - 4:00 PM
: Everyday 7:00 AM - 4:00 PM
: Everyday 7:00 AM - 4:00 PM
: Everyday 7:00 AM - 4:00 PM
: Everyday 7:00 AM - 4:00 PM
: Everyday 7:00 AM - 4:00 PM
: Everyday 7:00 AM - 4:00 PM
: Everyday 7:00 AM - 4:00 PM
: Everyday 7:00 AM - 4:00 PM
: Everyday 7:00 AM - 4:00 PM
: Everyday 7:00 AM - 4:00 PM

: Everyday 10:00 AM - 4:00 PM
: Everyday 10:00 AM - 4:00 PM
: Everyday 10:00 AM - 4:00 PM
: Everyday 10:00 AM - 4:00 PM
: Everyday 10:00 AM - 4:00 PM
: Everyday 10:00 AM - 4:00 PM
: Everyday 10:00 AM - 4:00 PM
: Everyday 10:00 AM - 4:00 PM
: Everyday 10:00 AM - 4:00 PM
: Everyday 10:00 AM - 4:00 PM
: Everyday 10:00 AM - 4:00 PM
: Everyday 10:00 AM - 4:00 PM

: Everyday 10:00 AM - 8:00 PM
: Everyday 10:00 AM - 8:00 PM
: Everyday 10:00 AM - 8:00 PM
: Everyday 10:00 AM - 8:00 PM
: Everyday 10:00 AM - 8:00 PM
: Everyday 10:00 AM - 8:00 PM
: Everyday 10:00 AM - 8:00 PM
: Everyday 10:00 AM - 8:00 PM
: Everyday 10:00 AM - 8:00 PM
: Everyday 10:00 AM - 8:00 PM
: Everyday 10:00 AM - 8:00 PM
: Everyday 10:00 AM - 8:00 PM

: Everyday 10:00 AM - 8:00 PM
: Everyday 10:00 AM - 8:00 PM
: Everyday 10:00 AM - 8:00 PM
: Everyday 10:00 AM - 8:00 PM
: Everyday 10:00 AM - 8:00 PM
: Everyday 10:00 AM - 8:00 PM
: Everyday 10:00 AM - 8:00 PM
: Everyday 10:00 AM - 8:00 PM
: Everyday 10:00 AM - 8:00 PM
: Everyday 10:00 AM - 8:00 PM
: Everyday 10:00 AM - 8:00 PM
: Everyday 10:00 AM - 8:00 PM

: Everyday 7:00 AM - 6:00 PM
: Everyday 7:00 AM - 6:00 PM
: Everyday 7:00 AM - 6:00 PM
: Everyday 7:00 AM - 6:00 PM
: Everyday 7:00 AM - 6:00 PM
: Everyday 7:00 AM - 6:00 PM
: Everyday 7:00 AM - 6:00 PM
: Everyday 7:00 AM - 6:00 PM
: Everyday 7:00 AM - 6:00 PM
: Everyday 7:00 AM - 6:00 PM
: Everyday 7:00 AM - 6:00 PM
: Everyday 7:00 AM - 6:00 PM

: Everyday 5:00 AM - 6:00 PM
: Everyday 5:00 AM - 6:00 PM
: Everyday 5:00 AM - 6:00 PM
: Everyday 5:00 AM - 6:00 PM
: Everyday 5:00 AM - 6:00 PM
: Everyday 5:00 AM - 6:00 PM
: Everyday 5:00 AM - 6:00 PM
: Everyday 5:00 AM - 6:00 PM
: Everyday 5:00 AM - 6:00 PM
: Everyday 5:00 AM - 6:00 PM
: Everyday 5:00 AM - 6:00 PM
: Everyday 5:00 AM - 6:00 PM

: Everyday 9:00 AM - 8:00 PM
: Everyday 9:00 AM - 8:00 PM
: Everyday 9:00 AM - 8:00 PM
: Everyday 9:00 AM - 8:00 PM
: Everyday 9:00 AM - 8:00 PM
: Everyday 9:00 AM - 8:00 PM
: Everyday 9:00 AM - 8:00 PM
: Everyday 9:00 AM - 8:00 PM
: Everyday 9:00 AM - 8:00 PM
: Everyday 9:00 AM - 8:00 PM
: Everyday 9:00 AM - 8:00 PM
: Everyday 9:00 AM - 8:00 PM

: Monday, Tuesday, Wednesday, Thursday, Saturday, Sunday 9:00 AM - 1:00 PM
: Monday, Tuesday, Wednesday, Thursday, Saturday, Sunday 9:00 AM - 1:00 PM
: Monday, Tuesday, Wednesday, Thursday, Saturday, Sunday 9:00 AM - 1:00 PM
: Monday, Tuesday, Wednesday, Thursday, Saturday, Sunday 9:00 AM - 1:00 PM
: Monday, Tuesday, Wednesday, Thursday, Saturday, Sunday 9:00 AM - 1:00 PM
: Monday, Tuesday, Wednesday, Thursday, Saturday, Sunday 9:00 AM - 1:00 PM
: Monday, Tuesday, Wednesday, Thursday, Saturday, Sunday 9:00 AM - 1:00 PM
: Monday, Tuesday, Wednesday, Thursday, Saturday, Sunday 9:00 AM - 1:00 PM
: Monday, Tuesday, Wednesday, Thursday, Saturday, Sunday 9:00 AM - 1:00 PM
: Monday, Tuesday, Wednesday, Thursday, Saturday, Sunday 9:00 AM - 1:00 PM
: Monday, Tuesday, Wednesday, Thursday, Saturday, Sunday 9:00 AM - 1:00 PM
: Monday, Tuesday, Wednesday, Thursday, Saturday, Sunday 9:00 AM - 1:00 PM

: Everyday 6:00 AM - 8:00 PM
: Everyday 6:00 AM - 8:00 PM
: Everyday 6:00 AM - 8:00 PM
: Everyday 6:00 AM - 8:00 PM
: Everyday 6:00 AM - 8:00 PM
: Everyday 6:00 AM - 8:00 PM
: Everyday 6:00 AM - 8:00 PM
: Everyday 6:00 AM - 8:00 PM
: Everyday 6:00 AM - 8:00 PM
: Everyday 6:00 AM - 8:00 PM
: Everyday 6:00 AM - 8:00 PM
: Everyday 6:00 AM - 8:00 PM

: Everyday 9:00 AM - 4:00 PM
: Everyday 9:00 AM - 4:00 PM
: Everyday 9:00 AM - 4:00 PM
: Everyday 9:00 AM - 4:00 PM
: Everyday 9:00 AM - 4:00 PM
: Everyday 9:00 AM - 4:00 PM
: Everyday 9:00 AM - 4:00 PM
: Everyday 9:00 AM - 4:00 PM
: Everyday 9:00 AM - 4:00 PM
: Everyday 9:00 AM - 4:00 PM
: Everyday 9:00 AM - 4:00 PM
: Everyday 9:00 AM - 4:00 PM

: Everyday 9:00 AM - 4:00 PM
: Everyday 9:00 AM - 4:00 PM
: Everyday 9:00 AM - 4:00 PM
: Everyday 9:00 AM - 4:00 PM
: Everyday 9:00 AM - 4:00 PM
: Everyday 9:00 AM - 4:00 PM
: Everyday 9:00 AM - 4:00 PM
: Everyday 9:00 AM - 4:00 PM
: Everyday 9:00 AM - 4:00 PM
: Everyday 9:00 AM - 4:00 PM
: Everyday 9:00 AM - 4:00 PM
: Everyday 9:00 AM - 4:00 PM

: Everyday 6:00 AM - 8:00 PM
: Everyday 6:00 AM - 8:00 PM
: Everyday 6:00 AM - 8:00 PM
: Everyday 6:00 AM - 8:00 PM
: Everyday 6:00 AM - 8:00 PM
: Everyday 6:00 AM - 8:00 PM
: Everyday 6:00 AM - 8:00 PM
: Everyday 6:00 AM - 8:00 PM
: Everyday 6:00 AM - 8:00 PM
: Everyday 6:00 AM - 8:00 PM
: Everyday 6:00 AM - 8:00 PM
: Everyday 6:00 AM - 8:00 PM

: Everyday 00:1 AM - :30 AM; Everyday 00:1 AM - :30 AM | 5:00 PM - 11:59 PM
: Everyday 00:1 AM - :30 AM; Everyday 00:1 AM - :30 AM | 5:00 PM - 11:59 PM
: Everyday 00:1 AM - :30 AM; Everyday 00:1 AM - :30 AM | 5:00 PM - 11:59 PM
: Everyday 00:1 AM - :30 AM; Everyday 00:1 AM - :30 AM | 5:00 PM - 11:59 PM
: Everyday 00:1 AM - :30 AM; Everyday 00:1 AM - :30 AM | 5:00 PM - 11:59 PM
: Everyday 00:1 AM - :30 AM; Everyday 00:1 AM - :30 AM | 5:00 PM - 11:59 PM
: Everyday 00:1 AM - :30 AM; Everyday 00:1 AM - :30 AM | 5:00 PM - 11:59 PM
: Everyday 00:1 AM - :30 AM; Everyday 00:1 AM - :30 AM | 5:00 PM - 11:59 PM
: Everyday 00:1 AM - :30 AM; Everyday 00:1 AM - :30 AM | 5:00 PM - 11:59 PM
: Everyday 00:1 AM - :30 AM; Everyday 00:1 AM - :30 AM | 5:00 PM - 11:59 PM
: Everyday 00:1 AM - :30 AM; Everyday 00:1 AM - :30 AM | 5:00 PM - 11:59 PM
: Everyday 00:1 AM - :30 AM; Everyday 00:1 AM - :30 AM | 5:00 PM - 11:59 PM

: Tuesday to Sunday 9:30 AM - 3:30 PM
: Tuesday to Sunday 9:30 AM - 3:30 PM
: Tuesday to Sunday 9:30 AM - 3:30 PM
: Tuesday to Sunday 9:30 AM - 3:30 PM
: Tuesday to Sunday 9:30 AM - 3:30 PM
: Tuesday to Sunday 9:30 AM - 3:30 PM
: Tuesday to Sunday 9:30 AM - 3:30 PM
: Tuesday to Sunday 9:30 AM - 3:30 PM
: Tuesday to Sunday 9:30 AM - 3:30 PM
: Tuesday to Sunday 9:30 AM - 3:30 PM
: Tuesday to Sunday 9:30 AM - 3:30 PM
: Tuesday to Sunday 9:30 AM - 3:30 PM

: Monday to Saturday 11:00 AM - 5:00 PM
: Monday to Saturday 11:00 AM - 5:00 PM
: Monday to Saturday 11:00 AM - 5:00 PM
: Monday to Saturday 11:00 AM - 5:00 PM
: Monday to Saturday 11:00 AM - 5:00 PM
: Monday to Saturday 11:00 AM - 5:00 PM
: Monday to Saturday 11:00 AM - 5:00 PM
: Monday to Saturday 11:00 AM - 5:00 PM
: Monday to Saturday 11:00 AM - 5:00 PM
: Monday to Saturday 11:00 AM - 5:00 PM
: Monday to Saturday 11:00 AM - 5:00 PM
: Monday to Saturday 11:00 AM - 5:00 PM

: Everyday 5:00 AM - 10:00 AM
: Everyday 5:00 AM - 10:00 AM
: Everyday 5:00 AM - 10:00 AM
: Everyday 5:00 AM - 10:00 AM
: Everyday 5:00 AM - 10:00 AM
: Everyday 5:00 AM - 10:00 AM
: Everyday 5:00 AM - 10:00 AM
: Everyday 5:00 AM - 10:00 AM
: Everyday 5:00 AM - 10:00 AM
: Everyday 5:00 AM - 10:00 AM
: Everyday 5:00 AM - 10:00 AM
: Everyday 5:00 AM - 10:00 AM

: Everyday 10:00 AM - 4:00 PM
: Everyday 10:00 AM - 4:00 PM
: Everyday 10:00 AM - 4:00 PM
: Everyday 10:00 AM - 4:00 PM
: Everyday 10:00 AM - 4:00 PM
: Everyday 10:00 AM - 4:00 PM
: Everyday 10:00 AM - 4:00 PM
: Everyday 10:00 AM - 4:00 PM
: Everyday 10:00 AM - 4:00 PM
: Everyday 10:00 AM - 4:00 PM
: Everyday 10:00 AM - 4:00 PM
: Everyday 10:00 AM - 4:00 PM

: Tuesday to Sunday 10:00 AM - 4:00 PM
: Tuesday to Sunday 10:00 AM - 4:00 PM
: Tuesday to Sunday 10:00 AM - 4:00 PM
: Tuesday to Sunday 10:00 AM - 4:00 PM
: Tuesday to Sunday 10:00 AM - 4:00 PM
: Tuesday to Sunday 10:00 AM - 4:00 PM
: Tuesday to Sunday 10:00 AM - 4:00 PM
: Tuesday to Sunday 10:00 AM - 4:00 PM
: Tuesday to Sunday 10:00 AM - 4:00 PM
: Tuesday to Sunday 10:00 AM - 4:00 PM
: Tuesday to Sunday 10:00 AM - 4:00 PM
: Tuesday to Sunday 10:00 AM - 4:00 PM

: Everyday 10:00 AM - 8:00 PM
: Everyday 10:00 AM - 8:00 PM
: Everyday 10:00 AM - 8:00 PM
: Everyday 10:00 AM - 8:00 PM
: Everyday 10:00 AM - 8:00 PM
: Everyday 10:00 AM - 8:00 PM
: Everyday 10:00 AM - 8:00 PM
: Everyday 10:00 AM - 8:00 PM
: Everyday 10:00 AM - 8:00 PM
: Everyday 10:00 AM - 8:00 PM
: Everyday 10:00 AM - 8:00 PM
: Everyday 10:00 AM - 8:00 PM

: Everyday 11:00 AM - 9:00 PM
: Everyday 11:00 AM - 9:00 PM
: Everyday 11:00 AM - 9:00 PM
: Everyday 11:00 AM - 9:00 PM
: Everyday 11:00 AM - 9:00 PM
: Everyday 11:00 AM - 9:00 PM
: Everyday 11:00 AM - 9:00 PM
: Everyday 11:00 AM - 9:00 PM
: Everyday 11:00 AM - 9:00 PM
: Everyday 11:00 AM - 9:00 PM
: Everyday 11:00 AM - 9:00 PM
: Everyday 11:00 AM - 9:00 PM