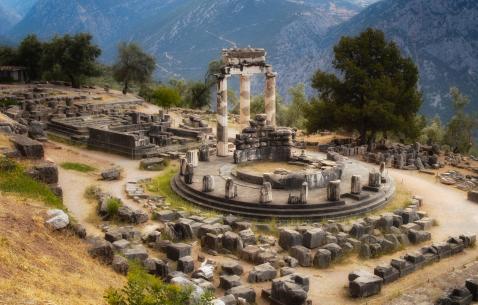 In Ancient Greece, it was believed that Delphi, nestled at the foot of the Mt. Parnassos was the centre of the world. The world's most famous oracle resided here. It's said the god Apollo himself led the Cretan to Delphi, accompanying their ships as a dolphin, after he'd killed the legendary Python that guarded it.
But there's a sign of human presence here long before the Cretes arrived. The Korykeion Andron, a cave in the mountain, revealed the Neolithic remains here. Later, a Mycenaean settlement and cemetery was discovered. In 8th century BC, the cult of Apollo developed the sanctuary and Oracle, followed by temples of Apollo and Athena. Ruled by the tribal coalition known as the Amphictyonic League for two hundred years, Delphi fought for freedom, and later became the most famous Oracle of the time.
Then came the wars. The Aetolians and the Romans conquered Delphi in their times. Delphi was briefly integrated into the burgeoning Christian sect, but destroyed by the Christian Roman emperor Theodosius I in the 3rd Century AD. A village grew over the site. It wasn't until the 19th century that Delphi was rediscovered. Maintained today by the Greek Archaeological Service and the French School at Athens, Delphi has become an indispensable item on tourist vacation itinerary planners, especially for any with an interest in ancient history.
Essential travel information and Delphi tips for your visit
Time Zone
UTC/GMT -5 hours (Eastern Standard Time)
Daylight saving time: +1 hour
Electricity
Voltage: 230 V
Frequency: 50 Hz
Power sockets: type F. Will work with plug types C and E.
Languages
Common Languages: Greek, English, German, French, Spanish, and Italian.
Reagional Laguages: Cretan, Cappadocian, Pontic, Maniot, Tsakonian, Yevanic.
Minority Languages: Turkish, Macedonian, Albanian (Arvanitika) and (Standard Albanian), Romani, Bulgarian, Armenian, Aromanian, Ladino.
Essential Info
Internet: Most hotels and some restaurants have Wi-Fi.
Currency: EUR (euro)
Security: Police:100, Ambulance: 166, Fire Brigade:199, Coast Guard: 108, Forest Fire: 191 and European Emergency service: 112
Off-Beaten Path: During winter the nearby town of Arachnova is a popular ski resort.
Tipping: Rounding off the payment amount (for example, paying EUR 10 for a EUR 9.20 bill) is enough. Ask to see if restaurants allow staff to keep tips.
Completely safe. Take standard travel precautions.
Delphi Trip Planner
Plan your customized day by day trip plan for Delphi. Choose from various experinces categories as adventure, romantic and family and kids friendly for your trip using using Delphi trip planner.