Best Time To Visit Dieppe
Explore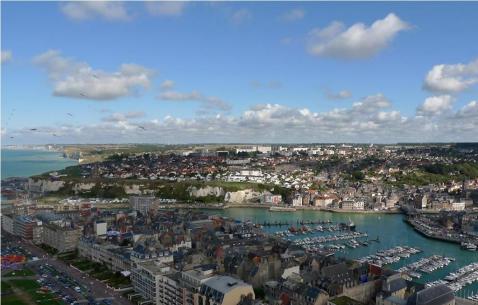 Best Time To Go To Dieppe
Dieppe experiences temperate maritime climate, similar to that of Southern Coast of England.
Summer (Mid June – Mid September): Generally longer and warmer, the temperature rises up to 19°C on an average in this season.
Winter (December – February): The weather in winter is cold and overcast; and the average high is 7°C where the low can reach around 2°C on an average.
Spring (March – May): Spring is mild and colourful with moderate rainfall. The average temperature can be around 13°C.
Autumn (September – November): The average temperature is around 14°C in autumn with chances of high downpours expected in November.
Dieppe looks cheerful and lively all through the year, but the summer months (June to September) would be the best time to visit.
Best time to go to Dieppe Attractions

: Monday, Wednesday, Thursday, Friday, Saturday, Sunday 2:00 PM - 5:00 PM
: Monday, Wednesday, Thursday, Friday, Saturday, Sunday 2:00 PM - 5:00 PM
: Monday, Wednesday, Thursday, Friday, Saturday, Sunday 2:00 PM - 5:00 PM
: Monday, Wednesday, Thursday, Friday, Saturday, Sunday 2:00 PM - 5:00 PM
: Monday, Wednesday, Thursday, Friday, Saturday, Sunday 2:00 PM - 5:00 PM
: Monday, Wednesday, Thursday, Friday, Saturday, Sunday 2:00 PM - 5:00 PM
: Monday, Wednesday, Thursday, Friday, Saturday, Sunday 2:00 PM - 5:00 PM
: Monday, Wednesday, Thursday, Friday, Saturday, Sunday 2:00 PM - 5:00 PM
: Monday, Wednesday, Thursday, Friday, Saturday, Sunday 2:00 PM - 5:00 PM
: Monday, Wednesday, Thursday, Friday, Saturday, Sunday 2:00 PM - 5:00 PM
: Monday, Wednesday, Thursday, Friday, Saturday, Sunday 2:00 PM - 5:00 PM
: Monday, Wednesday, Thursday, Friday, Saturday, Sunday 2:00 PM - 5:00 PM

: Everyday 2:00 PM - 6:00 PM
: Everyday 2:00 PM - 6:00 PM
: Everyday 2:00 PM - 6:00 PM
: Everyday 2:00 PM - 6:00 PM
: Everyday 2:00 PM - 6:00 PM
: Everyday 2:00 PM - 6:00 PM
: Everyday 2:00 PM - 6:00 PM
: Everyday 2:00 PM - 6:00 PM
: Everyday 2:00 PM - 6:00 PM
: Everyday 2:00 PM - 6:00 PM
: Everyday 2:00 PM - 6:00 PM
: Everyday 2:00 PM - 6:00 PM

: Everyday 2:00 PM - 6:00 PM
: Everyday 2:00 PM - 6:00 PM
: Everyday 2:00 PM - 6:00 PM
: Everyday 2:00 PM - 6:00 PM
: Everyday 2:00 PM - 6:00 PM
: Everyday 2:00 PM - 6:00 PM
: Everyday 2:00 PM - 6:00 PM
: Everyday 2:00 PM - 6:00 PM
: Everyday 2:00 PM - 6:00 PM
: Everyday 2:00 PM - 6:00 PM
: Everyday 2:00 PM - 6:00 PM
: Everyday 2:00 PM - 6:00 PM

: Everyday 10:00 AM - 5:00 PM
: Everyday 10:00 AM - 5:00 PM
: Everyday 10:00 AM - 5:00 PM
: Everyday 10:00 AM - 5:00 PM
: Everyday 10:00 AM - 5:00 PM
: Everyday 10:00 AM - 5:00 PM
: Everyday 10:00 AM - 5:00 PM
: Everyday 10:00 AM - 5:00 PM
: Everyday 10:00 AM - 5:00 PM
: Everyday 10:00 AM - 5:00 PM
: Everyday 10:00 AM - 5:00 PM
: Everyday 10:00 AM - 5:00 PM

: Everyday 3:00 PM - 5:00 PM
: Everyday 3:00 PM - 5:00 PM
: Everyday 3:00 PM - 5:00 PM
: Everyday 3:00 PM - 5:00 PM
: Everyday 3:00 PM - 5:00 PM
: Everyday 3:00 PM - 5:00 PM
: Everyday 3:00 PM - 5:00 PM
: Everyday 3:00 PM - 5:00 PM
: Everyday 3:00 PM - 5:00 PM
: Everyday 3:00 PM - 5:00 PM
: Everyday 3:00 PM - 5:00 PM
: Everyday 3:00 PM - 5:00 PM

:
:
: Saturday, Sunday 2:00 PM - 5:00 PM
: Monday, Wednesday, Thursday, Friday, Saturday, Sunday 2:00 PM - 5:00 PM
: Monday, Wednesday, Thursday, Friday, Saturday, Sunday 2:00 PM - 5:00 PM
: Monday, Wednesday, Thursday, Friday, Saturday, Sunday 2:00 PM - 5:00 PM
: Monday, Wednesday, Thursday, Friday, Saturday, Sunday 2:00 PM - 5:00 PM
:

: Everyday 7:00 AM - 7:00 PM
: Everyday 7:00 AM - 7:00 PM
: Everyday 7:00 AM - 7:00 PM
: Everyday 7:00 AM - 7:00 PM
: Everyday 7:00 AM - 7:00 PM
: Everyday 7:00 AM - 7:00 PM
: Everyday 7:00 AM - 7:00 PM
: Everyday 7:00 AM - 7:00 PM
: Everyday 7:00 AM - 7:00 PM
: Everyday 7:00 AM - 7:00 PM
: Everyday 7:00 AM - 7:00 PM
: Everyday 7:00 AM - 7:00 PM

:
:
:
: Everyday 10:00 AM - 7:00 PM; Everyday 10:00 AM - 7:00 PM | 2:00 PM - 6:00 PM
: Everyday 10:00 AM - 7:00 PM; Everyday 10:00 AM - 7:00 PM | 2:00 PM - 6:00 PM
: Everyday 10:00 AM - 7:00 PM; Everyday 10:00 AM - 7:00 PM | 2:00 PM - 6:00 PM
: Everyday 10:00 AM - 7:00 PM; Everyday 10:00 AM - 7:00 PM | 2:00 PM - 6:00 PM
: Everyday 10:00 AM - 7:00 PM; Everyday 10:00 AM - 7:00 PM | 2:00 PM - 6:00 PM
: Saturday, Sunday 10:00 AM - 7:00 PM; Saturday, Sunday 10:00 AM - 7:00 PM | 2:00 PM - 6:00 PM
: Saturday, Sunday 10:00 AM - 7:00 PM; Saturday, Sunday 10:00 AM - 7:00 PM | 2:00 PM - 6:00 PM
:

: Everyday 2:00 PM - 5:00 PM
: Everyday 2:00 PM - 5:00 PM
: Everyday 2:00 PM - 5:00 PM
: Everyday 2:00 PM - 5:00 PM
: Everyday 2:00 PM - 5:00 PM
: Everyday 2:00 PM - 5:00 PM
: Everyday 2:00 PM - 5:00 PM
: Everyday 2:00 PM - 5:00 PM
: Everyday 2:00 PM - 5:00 PM
: Everyday 2:00 PM - 5:00 PM
: Everyday 2:00 PM - 5:00 PM
: Everyday 2:00 PM - 5:00 PM

: Everyday 2:00 PM - 4:00 PM
: Everyday 2:00 PM - 4:00 PM
: Everyday 2:00 PM - 4:00 PM
: Everyday 11:00 AM - 3:00 PM
: Everyday 11:00 AM - 3:00 PM
: Everyday 11:00 AM - 3:00 PM
: Everyday 11:00 AM - 3:00 PM
: Everyday 11:00 AM - 3:00 PM
: Everyday 2:00 PM - 4:00 PM
: Everyday 2:00 PM - 4:00 PM
: Everyday 2:00 PM - 4:00 PM
: Everyday 2:00 PM - 4:00 PM

:
: Wednesday to Sunday 2:30 PM - 6:00 PM
: Wednesday to Sunday 2:30 PM - 6:00 PM
: Wednesday to Sunday 2:30 PM - 6:00 PM
: Tuesday to Sunday 2:30 PM - 6:00 PM
: Tuesday to Sunday 2:30 PM - 6:00 PM
: Tuesday to Sunday 2:30 PM - 6:00 PM
: Tuesday to Sunday 2:30 PM - 6:00 PM
: Wednesday to Sunday 2:30 PM - 6:00 PM
: Wednesday to Sunday 2:30 PM - 6:00 PM
: Wednesday to Sunday 2:30 PM - 6:00 PM

: Everyday 10:00 AM - 4:00 PM
: Everyday 10:00 AM - 4:00 PM
: Everyday 10:00 AM - 4:00 PM
: Everyday 10:00 AM - 4:00 PM
: Everyday 10:00 AM - 4:00 PM
: Everyday 10:00 AM - 4:00 PM
: Everyday 10:00 AM - 4:00 PM
: Everyday 10:00 AM - 4:00 PM
: Everyday 10:00 AM - 4:00 PM
: Everyday 10:00 AM - 4:00 PM
: Everyday 10:00 AM - 4:00 PM
: Everyday 10:00 AM - 4:00 PM

:
:
:
:
:
: Everyday 2:00 PM - 5:00 PM
: Everyday 2:00 PM - 5:00 PM
: Everyday 2:00 PM - 5:00 PM
: Everyday 2:00 PM - 5:00 PM
:
:
:

: Everyday 6:00 AM - 6:00 PM
: Everyday 6:00 AM - 6:00 PM
: Everyday 6:00 AM - 6:00 PM
: Everyday 6:00 AM - 6:00 PM
: Everyday 6:00 AM - 6:00 PM
: Everyday 6:00 AM - 6:00 PM
: Everyday 6:00 AM - 6:00 PM
: Everyday 6:00 AM - 6:00 PM
: Everyday 6:00 AM - 6:00 PM
: Everyday 6:00 AM - 6:00 PM
: Everyday 6:00 AM - 6:00 PM
: Everyday 6:00 AM - 6:00 PM

: Monday to Friday 11:00 AM - 5:00 PM
: Monday to Friday 11:00 AM - 5:00 PM
: Monday to Friday 11:00 AM - 5:00 PM
: Monday to Friday 11:00 AM - 5:00 PM
: Monday to Friday 11:00 AM - 5:00 PM
: Monday to Friday 11:00 AM - 5:00 PM
: Monday to Friday 11:00 AM - 5:00 PM
: Monday to Friday 11:00 AM - 5:00 PM
: Monday to Friday 11:00 AM - 5:00 PM
: Monday to Friday 11:00 AM - 5:00 PM
: Monday to Friday 11:00 AM - 5:00 PM
: Monday to Friday 11:00 AM - 5:00 PM

: Everyday 9:00 AM - 6:00 PM
: Everyday 9:00 AM - 6:00 PM
: Everyday 9:00 AM - 6:00 PM
: Everyday 9:00 AM - 6:00 PM
: Everyday 9:00 AM - 6:00 PM
: Everyday 9:00 AM - 6:00 PM
: Everyday 9:00 AM - 6:00 PM
: Everyday 9:00 AM - 6:00 PM
: Everyday 9:00 AM - 6:00 PM
: Everyday 9:00 AM - 6:00 PM
: Everyday 9:00 AM - 6:00 PM
: Everyday 9:00 AM - 6:00 PM

: Everyday 8:00 AM - 7:00 PM
: Everyday 8:00 AM - 7:00 PM
: Everyday 8:00 AM - 7:00 PM
: Everyday 8:00 AM - 7:00 PM
: Everyday 8:00 AM - 7:00 PM
: Everyday 8:00 AM - 7:00 PM
: Everyday 8:00 AM - 7:00 PM
: Everyday 8:00 AM - 7:00 PM
: Everyday 8:00 AM - 7:00 PM
: Everyday 8:00 AM - 7:00 PM
: Everyday 8:00 AM - 7:00 PM
: Everyday 8:00 AM - 7:00 PM