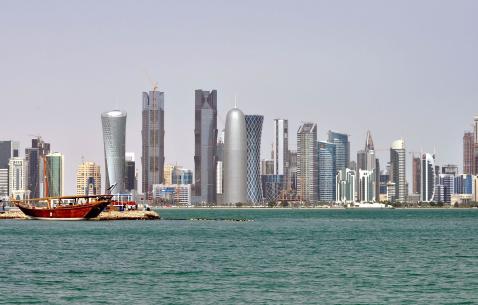 Doha is perhaps one of the best gifts of the Qatari government not only to its own people but also to the rest of the world. A city known for its shawarmas and mystical souqs, Doha has overtime become the next it destination for experiencing modernization clinging onto age old traditions and values.
With the new residential island in place, Doha's blueprint is probably more colorful than most existing cities. Doha has also, overtime, transformed itself very beautifully from a place full of local values to a place of international recognition. You have everything here- Right from the humble souqs to the biggest of malls. The age old houses in certain areas to sky kissing buildings in the new ones.
Like the rest of the Middle East, Doha holds its traditions very close to its core. Even so, it has very well fit in the new world of art, development and welcomes people from all nationalities with arms wide open. Shopaholics swear by the wide range of shopping that you can undertake and transform your wardrobe with bright colors from the vibrancy of the local markets.
Doha also pretty much never sleeps. The malls are open late until the midnight. Specially during Ramadan, you will see the city camouflage under a large blanket of liveliness and literally see it light up with vibrancy passing in the air.
But if you think that shopping is all you have to do in Doha, then remember that the mosques here promise you a tranquillity that you will experience literally nowhere else. Apart from this, the museums are to take you through a journey from history to the present day scenario and that is a journey you would not want to miss. Even sports wise, this capital of Qatar has not lagged behind at all. It has developed itself as one of the most frequented sporting zones in the Middle East and with the FIFA 2022 on the cards, Doha is sure to become a full- fledged sporting destination.
With its hidden charms and layers of traditions on top of modernization, the land of the Sheikhs represents their royalty by welcoming you to enjoy an extravagant experience like no other.
Essential travel information and Doha tips for your visit
Time Zone: Doha follows the AST (Arabia Standard Time).
Currency: Qatari Riyal
Electricity and Internet
Electrical sockets (outlets) in the State of Qatar (Dawlat Qatar) usually supply electricity at between 220 and 240 volts AC.
If you're plugging in an appliance that was built for 220-240 volt electrical input, or an appliance that is compatible with multiple voltages, than you will need an adaptor.
Voltage: 220-240 Volts (U.S./Canada are 110-120 Volts)
Primary Socket Types: British BS-1363, Indian
Multi-voltage appliances (laptops, etc.): Plug adapter
Click socket type links to view adapter for that type
110-120V electronics: Plug adapter + step-down transformer
Hair dryers, curling irons, etc.: Plug adapter + voltage converter.
The internet speed in Doha is the second highest in Qatar.
Languages
The official language of Qatar is Arabic, but you will also find a lot of people who speak English, especially to interact with tourists or when they are doing business.
Security Emergency contact numbers
Police, Fire, Ambulance – 999
Telephone Directory - 180
Kahramaa – 991
International calls – 150
Internet Service - 111
Traffic & Patrol Police Department – 4890666
Hamad Hospital – +974 4392111
Flight Enquiries - +974 4622999
Doha Airport - +974 4656666
General Post Office - +974 4466000
Doha Seaport - +974 4464660
Qatar Tourism Authority - +974 4411555
Qatar Telecom (Q-Tel) - +974 4400400
Directorate of Immigration, Passports and Naturalization - +974 882882
Qatar General Electricity and Water Corporation - +974 4494444
Al Jazeera Satellite Channel - +974 4890890
Qatar Radio and Television - +974 4894444
Weather Info - +974 9001009
Tourist traps
It is better to keep your belongings with you at all times, especially while travelling to the local souqs.
The women should be covered as it is respectful to the culture. Qatar welcomes foreigners as they are even otherwise.
People take their culture very seriously here and as a tourist you should visit with utmost respect for it too.
Single women should be aware of the foreigners living here. Lot of single women have complained about men following them.
Off-beaten Path
Walk around the old buildings to discover a less glamorous Doha.
Go to the Bird Souqs.
Tipping
Most of the restaurants in Doha include a service charge with the bill. However the waiters do not usually receive it. Therefore, it's sed to leave a tip of about 10-15% in restaurants. If dining in hotels, it is not necessary to tip, but it's a appreciated nevertheless.
Usually tour guides in Qatar are tipped about 18-30 Riyals a day. You could also tip the driver a few riyals if you are happy with their service. In Qatar, tipping a taxi driver is recommended; a minimum of 5-10 Riyals tip is well received.
Customs
Qatari's traditional food constitutes mainly of seafood. Popular dishes are Hummus, Tabouleh, Motabel, Ghuzi, etc. Alcohol is usually not available at restaurants. If you do want alcohol you may have to visit bars in hotels.
Women visiting restaurants or public areas must dress properly showing least skin as possible.
Alcohol in restaurants and pork meat are not allowed (only halal food). Halal food is food permitted under the Islamic dietary guideline.
Doha Trip Planner
Plan your customized day by day trip plan for Doha. Choose from various experinces categories as adventure, romantic and family and kids friendly for your trip using using Doha trip planner.
The best tours and activities in the city, guided by experts to give you a local insight to the best of Doha