Dorado Tourism
Explore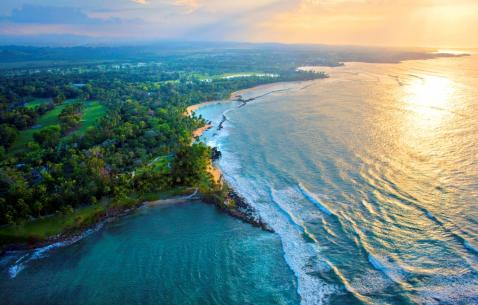 Accommodations with

See All
Visit Dorado - Best of Dorado
Dorado, in Puerto Rico, has golfing greens of such an emerald green, a seaside that sparkles so much like sapphire and a beach filled with sands so golden that it could be possible to mistake it for the fabled goldmine of El Dorado. Indeed, this small town's beauty would make one wonder whether the mythical land of gold and jewels was fashioned after it. Laurence Rockefeller developed much of the area and created a beach side resort dedicated to attract eco-tourism. A drive down the bay will gives you brilliant views of the Atlantic and you can make your way to one of the golfing greens, casinos or even make a short trip to San Juan, which is just ten miles away.
The town is in the northern region of Puerto Rico and borders the Atlantic Ocean. Dorado was once a ward of Toa Baja, a nearby town. Over many years, the ward grew in size and strength and in 1842, the town of Dorado came into being. A town square with an administrative building and church was soon built and Jacinto López Martínez became the town's first official mayor. At 60 square kilometers and a population of just over 34,017, the city is still stands proudly, and is regarded as one of the best tourist destinations in the country. This started in the early 20th century when Laurence Rockefeller purchased huge plots of land which later transformed into the Dorado Beach Hotel and Golf Club. Today, the same hotel is a Ritz-Carlton hotel and the entire city is peppered with luxury accommodations, tournament-ready golf courses and multi-cuisine restaurants. The town calls itself the cleanest in Puerto Rico and it has charmed numerous visitors who soon become regulars to the city.
There are all kinds of activities that one can take pleasure in, ranging from the sporty to the indulgent.
Sport lovers would find Dorado a dream, especially if they're staying in the Dorado Beach Resort. It's best employ a travel guide here though. By doing so, you'll gain access to a number of opportunities to flex your muscles, whether it's in the water, under it or on the golf greens. Want to strap on a giant kite and propel yourself into the air and onto the waves at quick intervals? Then kite surfing with Goodwinds Kitesurf will be your game. How about dipping into the cool waters of Dorado Beach and go snorkeling for the first time? You can tee up at any of the resorts world-class golf courses and feel like a pro while driving through al 18 holes. Even the angler out here will have a good time catching snappers and groupers out in the sea. Most of Dorado's tourist attractions are outdoorsy.
If your body is weary and you still feel stiff from your journey in, you can visit one of the towns' state of the art spas. Let them knead your muscles and calm you down. Steam massages, oil massages, pedicures and all kinds of pampering will put you in the right mood for some adventure.
Puerto Rican cuisine is one of the most tantalizing in the world, with flavours from Africa, the Americas and Europe. Tender, spicy meats and juicy salads are marinated in a myriad of gentle spices and cooked to perfection, with most restaurants specializing in Caribbean and Spanish fare. Restaurants, like La Terazza, are authentic, friendly and are sure to treat your taste buds to all kinds of Puerto Rican delights.
The green forest land of Dorado and the sweet little animals that live within are all visible to those who travel via zip line. This is an exciting, albeit unusual, way to explore an area's wildlife and the aesthetically pleasing sights compliment the exhilarating experience.
There are numerous historical points of interest, such as the Casa del Rey, the oldest building in the town. There's the Monumento a Las Raices and the Museo del Plata which attract tourists who desire to learn more about the area's cultural heritage.
You can drive to the city of San Juan, which is just 10 miles away.
Explore the best travel planner for your visit to Dorado and create a flawless plan in few simple steps!
More about Dorado
Trip plans for Dorado