15 Best Things To Do in Dubai
The City of Gold -Dubai, has literally everything you would want to see from the world's tallest building to the most luxurious infrastructure alongside many amazing islands all made by man. This city is most definitely known to be a wonderfully global emirate with a spectacular number of people from every corner of the world who reside and work as well as greatly represent a wide variety of cultures. The Dubai Skyline is such a marvelous sight to see. The vast desert lands have several canals and marine areas. There is an abundance of upcoming man-made islands that are uniquely designed. This city of Gold is known to never be consistent at being monotonous but it is most certainly known for the fact that no financial crisis could hinder it from reaching higher heights.
Make sure to check out these top 15 highlights of experiences in Dubai you would never want to miss out on. Most certainly, you would create some of the most memorable moments of your life at these spots. Don't forget to check them out!
Here's the list of tourist attractions and 15 best things to do in Dubai:
1. Burj Al Arab
Being a widely known touristic hot spot, Burj Al Arab is known to be one of the major five hotels worldwide. Located on an island triangular in shape and creatively designed by man, this landmark makes a highly luxurious landscape. The sail-shaped structure stands out by reaching a great height of 321 meters above sea level displaying magnificent views of the Arabian Gulf. Embrace the beauty of the interior in gold and some of the most delicious authentic cuisines that will leave you lost for words. Make sure to check out the spectacular helipad of Burj Al Arab that even Roger Federer could not abstain from.
2. Burj Khalifa
The most remarkable building in the world came into being by a number of visionary views and absolute science. The project consisted of a number of brainstorming statistics and figures. Burj Khalifa is not only 2,716.5 feet but more than 160 stories, making it the tallest building in the world, the tallest free-standing structure in the world, highest occupied floor in the world and so much more. This elevator travels the longest distance in the world. Stop by and witness this amazing height that will chase your fears away and leave you longing to stay!
3. The Dubai Frame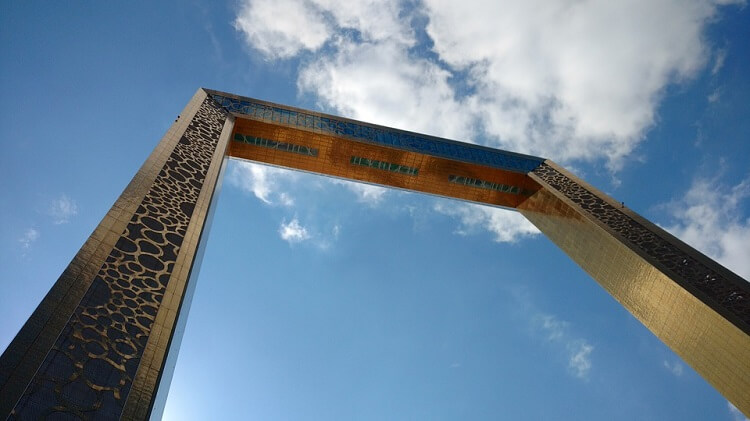 Photo: pixabay.com
The truly majestic thing one can see is the "Dubai Frame Exhibition", which recounts the tale of how Dubai Frame arose. At this point you will be guided through a strange drapery of fog. On the opposite side is a perfect little historical center – the "Past Dubai Gallery" – which demonstrates the Dubai of yesteryear utilizing projections and many media shows. It is nothing but an extremely thrilling, enchanting experience (yet no photography is permitted now). Once you have strolled through the historical center, you will be approached to sit tight for the following accessible lift, which will lead you up 48 stories in 75 seconds. The lift includes a glass board, so you can watch the perspectives unfurl as you get nearer to the best.
4. Desert Safari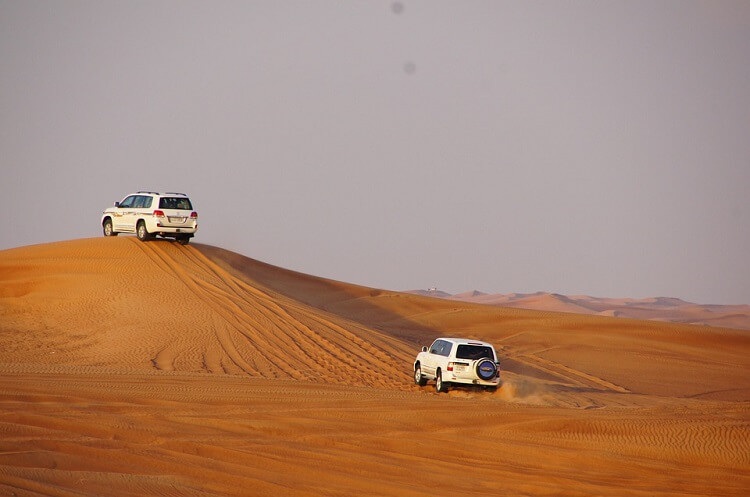 Photo: pixabay.com
An absolute necessity for anyone who is going to visit the UAE. A memory to impart to your family and companions back home, for this is one safari you cannot do back home. This visit only occurs in the evening over the Dubai desert with a few photographs amid an energizing rise drive. The drive proceeds over the dunes. You stop to watch the wonderful dusk before achieving firm ground where you have the chance to complete a camel ride, sand boarding and experiment with a henna artist close by. Fulfill your cravings by a tasty grill supper and shisha (the popular Arabic smoke pipe) while enjoying a fascinating belly dance performance.
5. La Mer
La Mer Dubai is the latest, shoreline side advancement with shops, diners, entertainment and waterside amenities. It has been created by engineer Meraas, who additionally created City Walk and Box Park. There is a North and a South shoreline bit of La Mer, which makes it super simple to stroll between the 2 areas. Further, there is a third piece of La Mer known as The Wharf that will open in January 2018 which will consist of a fun-filled waterpark and an elegant silver screen!
6. Palm Jumeriah
The Palm Jumeirah is a noteworthy illustration. Seen from above, the artificial island takes after a stylish palm tree, which was worked from recovered land mass and a progression of man-made archipelagos. Palm Jumeirah consists of Dubai's most lavish resorts, including Atlantis The Palm, Jumeirah Zabeel Saray, and many more. It is additionally pressed with fabulous eating choices worth stopping by, for example, The 101 Dining Lounge regardless of whether you are not residing at one of the numerous resorts.
The Palm is very much lively: with streets, passages and public transport. You can without much of a stretch access the different lodgings, eateries and attractions on the island. You can likewise bounce on board the Palm Monorail that races to Atlantis. Cruising around Palm Jumeirah in a yacht or speedboat is additionally a well-known alternative, with numerous private visiting organizations to look over. Adrenaline junkies can even skydive over the island for a really extraordinary affair.
7. Skydive Dubai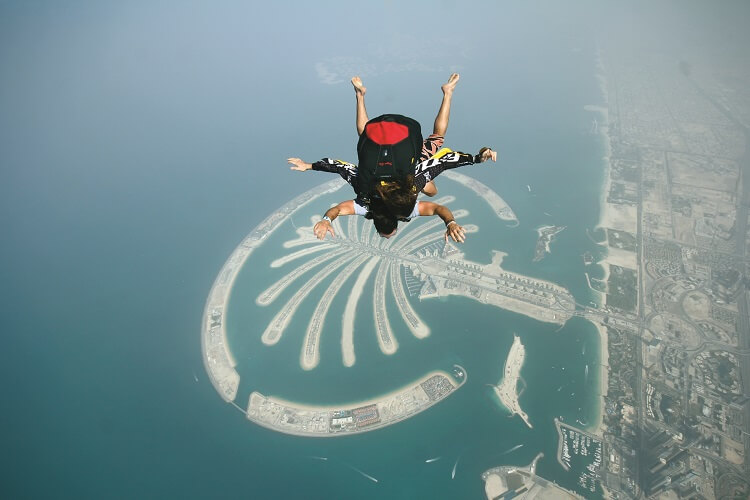 Photo: wikimedia.org
A breathtaking Skydive from 13,000 feet over the Palm Jumeirah is a mind blowing experience and ought to be on everybody's plan for the day. Experienced skydivers can likewise benefit of training, a full-benefit fixing space, and free load sorting out. The Desert Campus obliges thrill seekers who wish to complete a skydive to figure out how to skydive solo, for the individuals who wish to advance past a permit. For starters, there are significantly more alternatives to progress with a committed flight school which offers development skydiving, free fly, overhang, and wingsuit instruction at the Desert Campus as well as free load sorting out. Teachers at both of Skydive Dubai's drop zones are the most experienced on the planet. Numerous are world record holders, and all rational and committed to training new students.
8. Go Fishing
Have the ton of fun you so deserve directly under the sun! Individuals here are exceptionally energetic for fishing and that feeling of opportunity in the vast ocean, that new sea breeze that conveys a sweet smile to your face, and that sentiment being on a get-away from your routine is the motivation behind why fishing is such a fabulous sport in Dubai!
9. Dubai Dolphinarium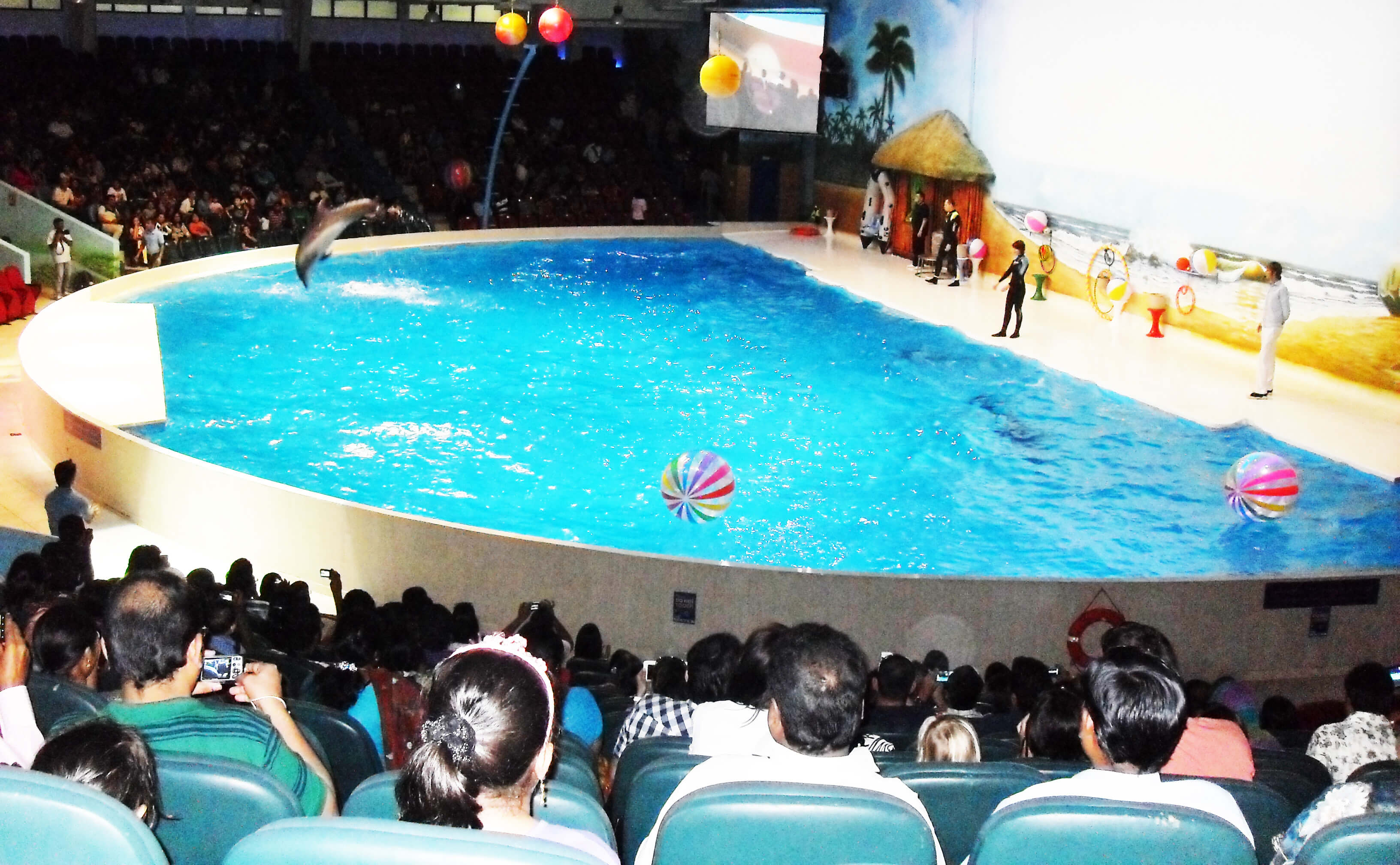 Photo: wikipedia.org
The Dubai Dolphinarium comprises some of the most remarkable indoor travelers' attractions in UAE and is currently a standout amongst the most adored Dubai vacation destinations. Searching for activities in Dubai? The Dolphinarium comprises of one of the best interesting attractions you can visit with your family and companions! Go for the Dolphin and Seal Show. Watch and ponder with dolphins and seals exhibitions in UAE's Only Dolphin Show. Don't miss The Bird Show. Be enamored by the most astounding winged creatures in the Middle East as they perform. Swim with Dolphins. Appreciate an energizing day as you embrace, kiss and hit the dance floor with these mind boggling vertebrates.
10. Dubai Miracle Gardens
The Miracle Gardens is a stand-out in the locale and on the planet for such an exceptional show fulfilling the indulgent open air recreational goal. The perfect place to surprise your loved ones and the hot spot for a lovely Valentine's Day with your Valentine. Enjoy the vast enchanting floral views and amazing fragrances of Mother Nature.
11. Go shopping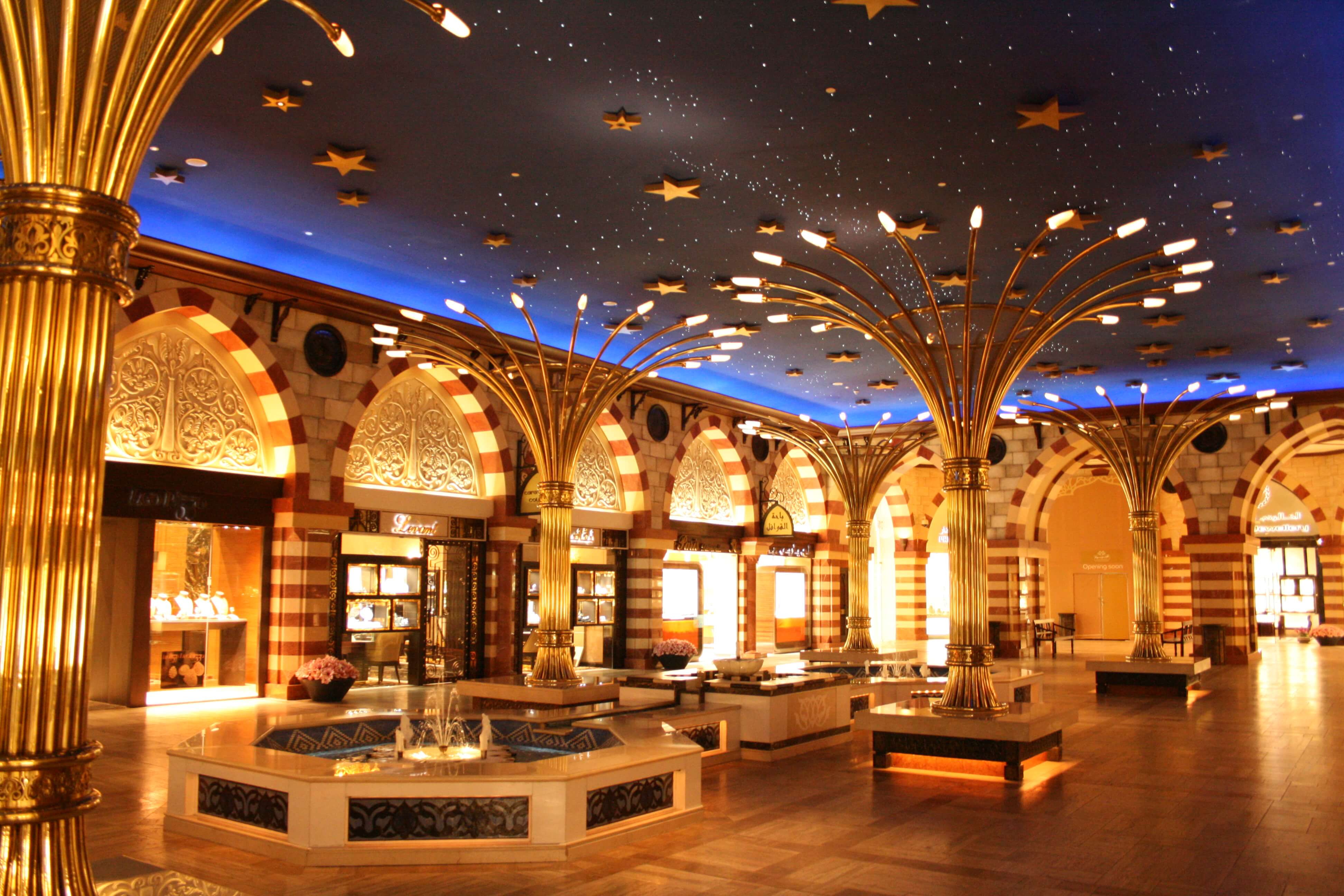 Photo: wikimedia.org
Grab the chance to purchase during the fabulous sales at The Dubai mall, City walk Jumeriah, The outlet village Jebel Ali, Mall of emirates Al Barsha, Mercato mall Jumeriah, Ibn Battuta mall Jebel ali, Dubai marina mall, Dubai outlet mall, Burjuman center Bur dubai, Mirdif city center, and ofcourse the shopping festivals at Dubai Festival city!
12. Visit Gevora Hotel
Sheikh Zayed Road now has the world's new tallest hotel and it significantly surpasses JW Marriott Marquis by one metre. A must visit!
13. Visit a nightclub
Dubai is known to be rich in nightlife culture. Walk into a nightclub and party hard.
14. Check out a fine dine destination
Home to a wide variety of fine dine cuisines, Dubai ensures you don't run out of options if you consider yourself to be a huge foodie!
15. Etihad Museum
Learn all you need to know about the history of the UAE at Dubai's latest cultural center which is none other than the Etihad Museum. The lovely white roof of the museum was thought of to resemble the shape of the constitution. It has seven columns that are indicative of the pens used to make this agreement. Etihad Museum has a library, an education center, a temporary exhibition hall and a restaurant.