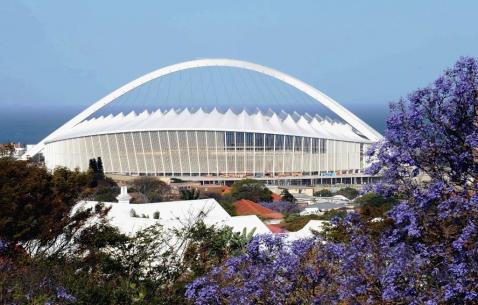 The history of this now magnificent city is controversial. Once upon a time, Durban enforced the harshest apartheid laws on it's mixed population, keeping the races strictly segregated. The British, who at the time called it Port Natal, founded it. They brought in the original Indian sugar cane plantation workers as indentured servants, creating what has now become the highest concentration of Indians outside of Asia.
Once the Apartheid era was over however, Durban quickly revamped it's image to become the very poster child for secularity and progressive thinking. The city now unabashedly celebrates its mixed cultural heritage.
Apart from the magnificent Marine World, there isn't much to do in the city limits. Durban's main attractions are the lovely beaches kissing the Indian Ocean, around which most of the city's entertainment and hangout spots are based. Outside the city though, the wonders of South Africa and it's Zulu heritage come into play. Be sure to check out the Valley of a Thousand Hills.
Essential travel information and Durban tips for your visit
Tip 10% of your restaurant bill.
Keep your valuables safe in a locker somewhere
Smart casual wear is almost universally accepted.
Ask permission before you photograph someone.
Don't wear ostentatious items in public,
Don't use the words "negro" or "blacks"
Do not call Afrikaaners dutchment
The best tours and activities in the city, guided by experts to give you a local insight to the best of Durban