15 Best Things To Do in Dusseldorf
Nah... Not Dumbledore! It's City with glory of history and modernization! Düsseldorf …
Düsseldorf is a city situated at the west of Germany. The city is famous for fashion industry and art scene. The Rhine River divides the history and modern era in the city. To the east old town and to the west modern commercial area are situated beautifully.
1. Altstadt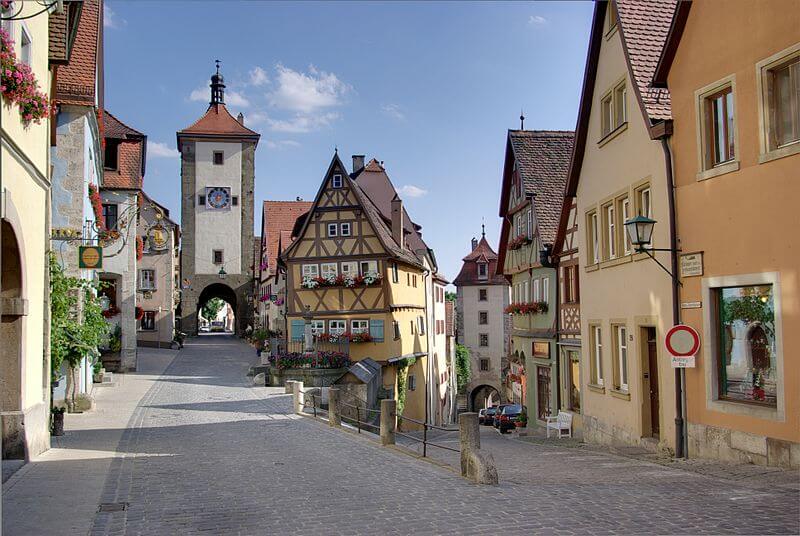 Image Source: wikipedia.org
The old town, chiefly known as Altstadt, has preserved its historical beauty in all its glory and that's what makes it a must-watch place. The center of the town is Marktplatz where town hall and statue of Elector John William II are famous sites. Along with them the other attractions include Castle tower, Museums, the neighbor district Ehernhof and home to the domed Tonhalle.
2. Königsallee
The most elegant shopping street in Düsseldorf, also known as "Ko" is often compared to Avenue Montaigne in Paris. Extravagant boutiques, luxurious shopping arcades, art galleries, restaurants and café continues to drag mass of tourists since the 18th century. A 31 meter wide water canal covered with trees on both sides adds spectacular beauty to the Konigsallee, which ends at the beautiful Triton fountain.
3. Aquazoo Löbbecke Museum Düsseldorf

Image Source: wikimedia.org
Well this place is something! Yes a must visit! This museum is a unique combination of a zoo, an aquarium and a natural history museum. The 25 themed rooms are reserved for the biodiversity starting from first borne sea organisms to their spreads in sea and other habitats. The magnificent sperm whale skeleton is the hero of this museum. Along with that a large shark aquarium, living coral reefs, fish species, crocodiles, insects, amphibians and reptiles add ravishing beauty to the museum. The museums also works on conservation and breeding projects for endangered species and biodiversity.
4. Rheinturm
Let's hear it for the icon of Düsseldorf. It is the pride of Düsseldorf's cityscape. A telecommunication tower rising up to 240.5 meter, facilitates you the gorgeous view of Düsseldorf city from its sightseeing desk. Food is first! So even at this height you can get delicious food from tower restaurant to add some taste & energy to your day.
5. Schloss Benarth
A spontaneous baroque palace, constructed in 17th century, Schloss Benarth is a piece of glorious German history. The chief attractions of the palace are interior of the whole palace, huge park, the main building known as "Museum Corps de Logis", Museum of landscape art & Natural science museum.
6. Düsseldorf-Kaiserswerth

Image Source: wikimedia.org
Built in 19th century, Kaiserswerth is counted as oldest and richest structure set on the lap of Rhine. The baroque accent in structures, the Excellency and picture perfect sights make this place a center of attraction for tourists and archeologists. The ancient history suggests that this used to be an oldest church. The place is mostly in ruins, still manages to stand strong and impressive just like its 4 meter thick walls.
7. Rheinuferpromenade
When the sun is at its brightest at the shores of River Rhine, The whole promenade on the bank is luminous and breathtaking. It was built in 20th century, but became more exquisite place for wonderers and tourists when the traffic was diverted underground. The beautiful sceneries, park next to promenade and street café shops steals the show and make promenade a sunny day place to visit.
8. Hofgarten
Set as the crown of Düsseldorf, This beautiful park spreads in 65 acre, beginning from north of the city through Old town and Königsallee to the lap of River Rhine. The park was designed in English landscape style. Which now, is rich with many streams and meadows and ancient buildings. Along with the eye-catching landscapes, the park is also home for various modern sculptures and monuments, specially the creations of Henry Moore.
9. Düssel

Image Source: wikimedia.org
A small affluent stream of river Rhine, which flows through Neander valley. The special thing about the valley is that the fossil of first Neanderthal man where found here. At Düsseldorf this river makes river delta. Which makes a beautiful scenery in Düsseldorf. At the bank, beautiful landscapes and wild amputees catch the attraction of the tourists and nature lovers.
10. St. Lambertus
Built in 14th century .The twisting tower of this church is the definition of Düsseldorf's skyline. Its appearance wasn't intentional but affected due to fire that caught the tower in 18th century, though there are many superstitious stories about the twisted look of tower. Let's not fall for them and enjoy the views and architecture of this beautiful church.
11. Burgplatz
The place was initially named for the castle which stood till the 19th century. Burgplatz is now a place for hang out and coffee and chat time place for friends. The floors of the tower were initially built in 14th century, the 15th century came up with third and fifth one was created in 18th century. The place has a museum singing the glory of the old city, Rhine River's ecosystem and history of Germany.
12. Wildpark im Grafenberger Wald
Set on the east of the city, this park is in a 200-year-old beech forest. In park, several local German species of deer, mouflon, wild boars, pheasant and wildcats wonder and prosper in their natural habitat, Ahh the perks are, you can feed them apples and grains. This park has 3km guided walking trail which facilitates tourist to enjoy the beautiful surroundings and various animal and plant species.
13. Neanderthal Museum

Image Source: wikimedia.org
Accommodated at the purlieu of the city, this museum is the home of human history and culture. It can surely take you to the sours of great history of mankind through its extravagant collection of human fossil and sculpture of the first man! I mean who doesn't get fascinated by the monuments of the ancestors and their lifestyles! Along with that the sea of archaeological information never fails to drag archeology lovers to the museum.
14. Schlossturm
The schlossturm is the palace tower set on the Shore of Rhine River. It is the only preserved section of city's palace and holds the pride of being the landmark of the state capital. The oldest inland shipping museums in Germany is set inside The Schlossturm, Which exhibits river ecology, shopping and ship building history, trade and travel and lively portraits.
15. Film Museum
As per the name suggests, it is the home for the glorious history of music and movie making technology. Throughout its periphery it portraits lively history of movies, and rare vintage film technology. It also exhibits portraits of famous movie figures like Marline Moore, set designs, props and beautiful costumes. A pseudo film studio and special effect section provides you the idea of creativity and efforts in movie making. It also consists an archive, a library and a small cinema screen with day-to-day screenings. You can have the feel of Hollywood studio and vintage era amidst the premises of the film museum.
Are you looking for a Dusseldorf travel itinerary? Create an itinerary within minutes, on your own!
Top-Rated Tourist Attractions in Dusseldorf, Germany
Must see places in Dusseldorf ranked on popularity. Here is the complete list of best attractions in Dusseldorf and point of interests to visit.
Tourist Attractions Near Dusseldorf
Find Your Dusseldorf Attractions on Map
Types of Things To Do in Dusseldorf
Find more attractions and places to visit in Dusseldorf under these things to do categories.
Top Dusseldorf Activities And Tours
Explore the best things to do in Dusseldorf. These are the most preferred tourist activities.
Find more places to see in Dusseldorf
Schloß Benrath

Benrather Schloßallee 100-106

Historic and Protected Sites

Villa Hügel

Hügel 15

Historic and Protected Sites

Margarethenhöhe

Hoher Weg 15

Historic and Protected Sites

TauchRevierGasometer

Emscherstraße 71

Historic and Protected Sites

Junkerburg

Historic and Protected Sites

Schloss Broich

Am Schloss Broich 28

Historic and Protected Sites
View On Map
Aussichtsturm Hülser Berg

Mountains

Witte Heiner, Berg Ann-Christin

Kirschbaumstraße 15

Mountains

Glässner Elektro

Lohmühler Berg 1A

Mountains

Berg, Rüdiger

Düsseldorfer Straße 195

Mountains
View On Map
Broich-Speldorfer Wald

Forests

Duisburger Stadtwald

Forests
View On Map
Fühlinger See

Stallagsbergweg 9

Lakes

Grüner See

Am Seeufer 80

Lakes

Sechs-Seen-Platte

Kalkweg 262

Lakes
View On Map
Neanderthal Museum

Talstraße 300

Museums

Langen Foundation

Raketenstation Hombroich 1

Museums

Landmarks

Cubus Kunsthalle GmbH & Co

Friedrich-Wilhelm-Straße 64

Museums

Rheinisches Industriemuseum

Merscheider Straße 297

Museums

Stiftung Insel Hombroich

Minkel 2

Museums

Landmarks

Museum Insel Hombroich

Minkel 2

Museums
View On Map
Pumpkin Island

Kohnacker 200

Amusement Parks

Bars

Landschaftspark Duisburg-Nord

Emscherstraße 71

Amusement Parks

Familienparadies Ittertal

Ittertalstraße 50

Amusement Parks

Restaurants

Freizeitpark Niederheider Wäldchen

Bonner Straße 121

Amusement Parks

Play Automaten GmbH

Neusser Straße 288

Amusement Parks

T.E.W. Tanz und Erlebniswelt Verwaltung GmbH

Duisburger Straße 185

Amusement Parks

Restaurants
View On Map
Sushi Factory

Nürnberger Straße 40

Asian

Bars

FCUK Yoga Bar

Emmastraße 13

Bars

Restaurants

Palazzo

Königstraße 39

Italian

Pizza

Bars

The Pogs - Irish Pub

Bahnhofstraße 31

Bars

Restaurants

Saarner Hof

Düsseldorfer Straße 79

Restaurants

Bars

Franky's Bar

Ruhrufer 5

Restaurants

Bars
View On Map
Casino Duisburg

Landfermannstraße 6

Casinos and Gaming

Merkur-Spielothek

Corneliusstraße 101

Casinos and Gaming

Merkur-Spielothek

Am Wehrhahn 17

Casinos and Gaming

Merkur-Spielothek

Hochstraße 60

Casinos and Gaming

Westdeutsche Spielbanken GmbH & Co

Landfermannstraße 6

Casinos and Gaming

Casino Royal

Gerichtsstraße 40

Casinos and Gaming
View On Map
Schloss Eller

Heidelberger Straße 42

Natural Parks

Playgrounds

Falknerei Bergisch Land

Grüne 1

Natural Parks

Freunde und Förderer Ohligser Vogelpark

Baverter Straße 58

Natural Parks
View On Map
Show More
What To Do in Dusseldorf: Day-Wise Ideas
Find what not to miss in Dusseldorf! Recommended Dusseldorf itineraries and vacation ideas created by travelers across the world.