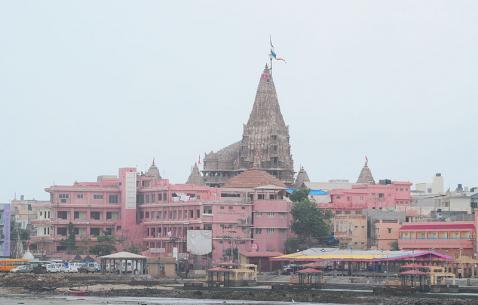 Located in the state of Gujarat in India, Dwarka is a treasure trove of history and culture. The holy atmosphere of the city is the main reason why thousands of pilgrims and tourists visit the city every year. Dwarka is one of the four Chardhams (Hindu pilgrimage sites) and is one of the Sapta Puri (seven religious and ancient cities in India). Dwarka is famous for being the kingdom of Lord Krishna and is often considered as the first capital of Gujarat.
Wherever you go, this city sings the tales of Lord Krishna in all its glory. Dwarka is dotted with beautifully articulated ancient temples and holy sites. This justifies why the city is named 'Dwarka', as Dwarka literally translated in Sanskrit means 'gateway to heaven'. Dwarka plays a vital role in the ancient mythology of 'Mahabharata'. Dwarka is like a paradise for the devotees of Lord Krishna. It is undoubtedly one of the most sacred and pure cities in India.
A visit to Dwarka is incomplete without soaking in the local flavor of the city. The city does not have many lavish restaurants to eat at. But the local eateries and restaurants are more than enough to satisfy your taste buds. The taste of authentic Gujarati dishes blended with the purity of this city is an unfathomable combination to have. The dishes like Khamman Dhokla, thepala, khandvi, hahdwoh, and khichdi are must haves when you visit Dwarka. An authentic Gujarati Thali is offered at many restaurants.
Janmashtami is celebrated on a grand level in Dwarka. This is one of the best times to experience the city at its best. The ancient temples in the city surrounded by a coastal area make up for a unique tourist destination. The city is a treat for history buffs as well.
Essential travel information and Dwarka tips for your visit
Time Zone: UTC/GMT+5:30 hours
Currency: Indian Rupee (₹)
Electricity and Internet: The voltage is 220 V/ 50 Hz. Wi-Fi is available in luxury hotels and local networks too offer 4-G and 3-G facilities in the city.
Languages: Gujarati, Hindi
Security: General Enquiry (197), Police (100), Fire (101)
Tipping: Tipping is not mandatory but is expected for good service.
Customs: Remove your footwear before entering temple premises.