Visit Echuca - Best of Echuca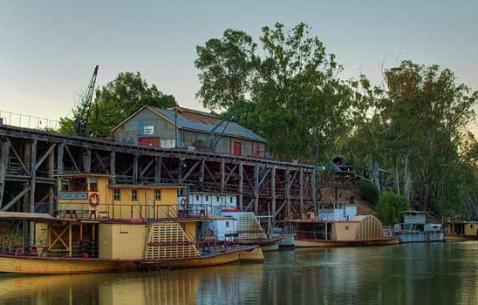 Echuca (/əˈtʃuːkə/ ə-CHOO-kə) is a town located on the banks of the Murray River and Campaspe River in Victoria, Australia. The border town of Moama is adjacent on the northern side of the Murray River in New South Wales. Echuca is the administrative centre and largest settlement in the Shire of Campaspe. As of the 2011 census, Echuca had a population of 13,708. The population of the combined Echuca and Moama townships was estimated be 20,365 at June 2015. Echuca, an Aboriginal name meaning "Meeting of the Waters" is indicative of the role rivers have played in the town's existence. Echuca is situated close to the junction of the Goulburn, Campaspe and Murray Rivers. Its position at the closest point of the Murray to Melbourne contributed to its development as a thriving river port city during the 19th century.
Wikipedia
A place in , is an interesting place to visit, given its unique culture, history and character. Get in the character of the city, this city requires at least of 1 to 2 number of days of exploration.
Yes,it is that simple really! Enjoy your trip! Keep travelling!
Are you looking for a Echuca travel itinerary? Create an itinerary within minutes, on your own!
Echuca Tourist Information