Best Time To Visit Eger
Explore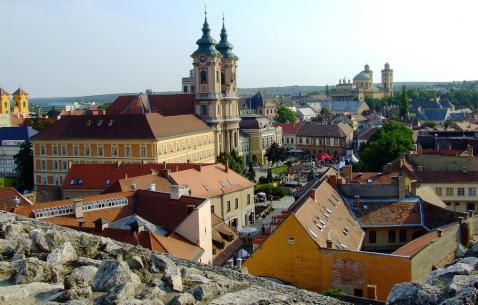 Best Time To Go To Eger
Eger lies in a mountainous area but in spite of that, the town has a pleasant temperate climate with warm summers and moderately cold winters.
Shoulder Season: March, April, May, June, September and October.
Winter (low season): November, December, January and February.
Summer (July and August): These are the hottest months as well as a high tourist season. The prices of the attractions go high and the accommodations are also difficult to find.
The best time to visit Eger is late spring (April to June) and early autumn months (September and October).
Best time to go to Eger Attractions

: Everyday 8:00 AM - 5:00 PM
: Everyday 8:00 AM - 5:00 PM
: Everyday 8:00 AM - 5:00 PM
: Everyday 8:00 AM - 5:00 PM
: Everyday 8:00 AM - 5:00 PM
: Everyday 8:00 AM - 5:00 PM
: Everyday 8:00 AM - 5:00 PM
: Everyday 8:00 AM - 5:00 PM
: Everyday 8:00 AM - 5:00 PM
: Everyday 8:00 AM - 5:00 PM
: Everyday 8:00 AM - 5:00 PM
: Everyday 8:00 AM - 5:00 PM

: Everyday 10:00 AM - 6:00 PM
: Everyday 10:00 AM - 6:00 PM
: Everyday 10:00 AM - 6:00 PM
: Everyday 10:00 AM - 6:00 PM
: Everyday 10:00 AM - 6:00 PM
: Everyday 10:00 AM - 6:00 PM
: Everyday 10:00 AM - 6:00 PM
: Everyday 10:00 AM - 6:00 PM
: Everyday 10:00 AM - 6:00 PM
: Everyday 10:00 AM - 6:00 PM
: Everyday 10:00 AM - 6:00 PM
: Everyday 10:00 AM - 6:00 PM

: Monday to Saturday 8:30 AM - 5:00 PM; Sunday 1:00 PM - 4:00 PM
: Monday to Saturday 8:30 AM - 5:00 PM; Sunday 1:00 PM - 4:00 PM
: Monday to Saturday 8:30 AM - 5:00 PM; Sunday 1:00 PM - 4:00 PM
: Monday to Saturday 8:30 AM - 5:00 PM; Sunday 1:00 PM - 4:00 PM
: Monday to Saturday 8:30 AM - 5:00 PM; Sunday 1:00 PM - 4:00 PM
: Monday to Saturday 8:30 AM - 5:00 PM; Sunday 1:00 PM - 4:00 PM
: Monday to Saturday 8:30 AM - 5:00 PM; Sunday 1:00 PM - 4:00 PM
: Monday to Saturday 8:30 AM - 5:00 PM; Sunday 1:00 PM - 4:00 PM
: Monday to Saturday 8:30 AM - 5:00 PM; Sunday 1:00 PM - 4:00 PM
: Monday to Saturday 8:30 AM - 5:00 PM; Sunday 1:00 PM - 4:00 PM
: Monday to Saturday 8:30 AM - 5:00 PM; Sunday 1:00 PM - 4:00 PM
: Monday to Saturday 8:30 AM - 5:00 PM; Sunday 1:00 PM - 4:00 PM

: Everyday 10:00 AM - 3:00 PM
: Everyday 10:00 AM - 3:00 PM
: Everyday 10:00 AM - 3:00 PM
: Everyday 10:00 AM - 3:00 PM
: Everyday 10:00 AM - 3:00 PM
: Everyday 10:00 AM - 3:00 PM
: Everyday 10:00 AM - 3:00 PM
: Everyday 10:00 AM - 3:00 PM
: Everyday 10:00 AM - 3:00 PM
: Everyday 10:00 AM - 3:00 PM
: Everyday 10:00 AM - 3:00 PM
: Everyday 10:00 AM - 3:00 PM

: Everyday 10:00 AM - 7:00 PM
: Everyday 10:00 AM - 7:00 PM
: Everyday 10:00 AM - 7:00 PM
: Everyday 10:00 AM - 7:00 PM
: Everyday 10:00 AM - 7:00 PM
: Everyday 10:00 AM - 7:00 PM
: Everyday 10:00 AM - 7:00 PM
: Everyday 10:00 AM - 7:00 PM
: Everyday 10:00 AM - 7:00 PM
: Everyday 10:00 AM - 7:00 PM
: Everyday 10:00 AM - 7:00 PM
: Everyday 10:00 AM - 7:00 PM

: Everyday 9:00 AM - 5:30 PM
: Everyday 9:00 AM - 5:30 PM
: Everyday 9:00 AM - 5:30 PM
: Everyday 9:00 AM - 5:30 PM
: Everyday 9:00 AM - 5:30 PM
: Everyday 9:00 AM - 5:30 PM
: Everyday 9:00 AM - 5:30 PM
: Everyday 9:00 AM - 5:30 PM
: Everyday 9:00 AM - 5:30 PM
: Everyday 9:00 AM - 5:30 PM
: Everyday 9:00 AM - 5:30 PM
: Everyday 9:00 AM - 5:30 PM

: Everyday 4:30 PM - 7:00 PM
: Everyday 4:30 PM - 7:00 PM
: Everyday 4:30 PM - 7:00 PM
: Everyday 4:30 PM - 7:00 PM
: Everyday 4:30 PM - 7:00 PM
: Everyday 4:30 PM - 7:00 PM
: Everyday 4:30 PM - 7:00 PM
: Everyday 4:30 PM - 7:00 PM
: Everyday 4:30 PM - 7:00 PM
: Everyday 4:30 PM - 7:00 PM
: Everyday 4:30 PM - 7:00 PM
: Everyday 4:30 PM - 7:00 PM

: Everyday 4:30 PM - 4:00 PM
: Everyday 4:30 PM - 4:00 PM
: Everyday 4:30 PM - 4:00 PM
: Everyday 4:30 PM - 4:00 PM
: Everyday 4:30 PM - 4:00 PM
: Everyday 4:30 PM - 4:00 PM
: Everyday 4:30 PM - 4:00 PM
: Everyday 4:30 PM - 4:00 PM
: Everyday 4:30 PM - 4:00 PM
: Everyday 4:30 PM - 4:00 PM
: Everyday 4:30 PM - 4:00 PM
: Everyday 4:30 PM - 4:00 PM

: Everyday 10:00 AM - 2:00 PM
: Everyday 10:00 AM - 2:00 PM
: Everyday 10:00 AM - 2:00 PM
: Everyday 10:00 AM - 2:00 PM
: Everyday 10:00 AM - 2:00 PM
: Everyday 10:00 AM - 2:00 PM
: Everyday 10:00 AM - 2:00 PM
: Everyday 10:00 AM - 2:00 PM
: Everyday 10:00 AM - 2:00 PM
: Everyday 10:00 AM - 2:00 PM
: Everyday 10:00 AM - 2:00 PM
: Everyday 10:00 AM - 2:00 PM

: Everyday 11:00 AM - 2:00 PM
: Everyday 11:00 AM - 2:00 PM
: Everyday 11:00 AM - 2:00 PM
: Everyday 11:00 AM - 2:00 PM
: Everyday 11:00 AM - 2:00 PM
: Everyday 11:00 AM - 2:00 PM
: Everyday 11:00 AM - 2:00 PM
: Everyday 11:00 AM - 2:00 PM
: Everyday 11:00 AM - 2:00 PM
: Everyday 11:00 AM - 2:00 PM
: Everyday 11:00 AM - 2:00 PM
: Everyday 11:00 AM - 2:00 PM

: Everyday 9:30 AM - 2:00 PM
: Tuesday to Sunday 9:30 AM - 2:00 PM
: Tuesday to Sunday 9:30 AM - 2:00 PM
: Tuesday to Sunday 9:30 AM - 2:00 PM
: Tuesday to Sunday 9:30 AM - 2:00 PM
: Tuesday to Sunday 9:30 AM - 2:00 PM
: Tuesday to Sunday 9:30 AM - 2:00 PM
: Tuesday to Sunday 9:30 AM - 2:00 PM
: Tuesday to Sunday 9:30 AM - 2:00 PM
: Saturday, Sunday 9:30 AM - 2:00 PM

: Everyday 9:00 AM - 4:00 PM
: Everyday 9:00 AM - 4:00 PM
: Everyday 10:00 AM - 5:00 PM
: Everyday 10:00 AM - 5:00 PM
: Everyday 10:00 AM - 5:00 PM
: Everyday 10:00 AM - 5:00 PM
: Everyday 10:00 AM - 5:00 PM
: Everyday 10:00 AM - 5:00 PM
: Everyday 10:00 AM - 5:00 PM
: Everyday 10:00 AM - 5:00 PM
: Everyday 9:00 AM - 4:00 PM
: Everyday 9:00 AM - 4:00 PM

: Everyday 10:00 AM - 4:00 PM
: Everyday 10:00 AM - 4:00 PM
: Everyday 10:00 AM - 4:00 PM
: Everyday 10:00 AM - 4:00 PM
: Everyday 10:00 AM - 4:00 PM
: Everyday 10:00 AM - 4:00 PM
: Everyday 10:00 AM - 4:00 PM
: Everyday 10:00 AM - 4:00 PM
: Everyday 10:00 AM - 4:00 PM
: Everyday 10:00 AM - 4:00 PM
: Everyday 10:00 AM - 4:00 PM
: Everyday 10:00 AM - 4:00 PM

: Saturday, Sunday 10:00 AM - 3:00 PM
: Saturday, Sunday 10:00 AM - 3:00 PM
: Everyday 10:00 AM - 3:00 PM
: Everyday 10:00 AM - 3:00 PM
: Everyday 10:00 AM - 3:00 PM
: Everyday 10:00 AM - 3:00 PM
: Everyday 10:00 AM - 3:00 PM
: Everyday 10:00 AM - 3:00 PM
: Everyday 10:00 AM - 3:00 PM
: Saturday, Sunday 10:00 AM - 3:00 PM
: Saturday, Sunday 10:00 AM - 3:00 PM
: Saturday, Sunday 10:00 AM - 3:00 PM

: Everyday 7:30 AM - 3:00 PM
: Everyday 7:30 AM - 3:00 PM
: Everyday 7:30 AM - 3:00 PM
: Everyday 7:30 AM - 3:00 PM
: Everyday 7:30 AM - 3:00 PM
: Everyday 7:30 AM - 3:00 PM
: Everyday 7:30 AM - 3:00 PM
: Everyday 7:30 AM - 3:00 PM
: Everyday 7:30 AM - 3:00 PM
: Everyday 7:30 AM - 3:00 PM
: Everyday 7:30 AM - 3:00 PM
: Everyday 7:30 AM - 3:00 PM

: Everyday 24 Hrs
: Everyday 24 Hrs
: Everyday 24 Hrs
: Everyday 24 Hrs
: Everyday 24 Hrs
: Everyday 24 Hrs
: Everyday 24 Hrs
: Everyday 24 Hrs
: Everyday 24 Hrs
: Everyday 24 Hrs
: Everyday 24 Hrs
: Everyday 24 Hrs

: Everyday 24 Hrs
: Everyday 24 Hrs
: Everyday 24 Hrs
: Everyday 24 Hrs
: Everyday 24 Hrs
: Everyday 24 Hrs
: Everyday 24 Hrs
: Everyday 24 Hrs
: Everyday 24 Hrs
: Everyday 24 Hrs
: Everyday 24 Hrs
: Everyday 24 Hrs

: Everyday 24 Hrs
: Everyday 24 Hrs
: Everyday 24 Hrs
: Everyday 24 Hrs
: Everyday 24 Hrs
: Everyday 24 Hrs
: Everyday 24 Hrs
: Everyday 24 Hrs
: Everyday 24 Hrs
: Everyday 24 Hrs
: Everyday 24 Hrs
: Everyday 24 Hrs

: Everyday 24 Hrs
: Everyday 24 Hrs
: Everyday 24 Hrs
: Everyday 24 Hrs
: Everyday 24 Hrs
: Everyday 24 Hrs
: Everyday 24 Hrs
: Everyday 24 Hrs
: Everyday 24 Hrs
: Everyday 24 Hrs
: Everyday 24 Hrs
: Everyday 24 Hrs

: Everyday 24 Hrs
: Everyday 24 Hrs
: Everyday 24 Hrs
: Everyday 24 Hrs
: Everyday 24 Hrs
: Everyday 24 Hrs
: Everyday 24 Hrs
: Everyday 24 Hrs
: Everyday 24 Hrs
: Everyday 24 Hrs
: Everyday 24 Hrs
: Everyday 24 Hrs

: Everyday 24 Hrs
: Everyday 24 Hrs
: Everyday 24 Hrs
: Everyday 24 Hrs
: Everyday 24 Hrs
: Everyday 24 Hrs
: Everyday 24 Hrs
: Everyday 24 Hrs
: Everyday 24 Hrs
: Everyday 24 Hrs
: Everyday 24 Hrs
: Everyday 24 Hrs

: Everyday 24 Hrs
: Everyday 24 Hrs
: Everyday 24 Hrs
: Everyday 24 Hrs
: Everyday 24 Hrs
: Everyday 24 Hrs
: Everyday 24 Hrs
: Everyday 24 Hrs
: Everyday 24 Hrs
: Everyday 24 Hrs
: Everyday 24 Hrs
: Everyday 24 Hrs

: Everyday 24 Hrs
: Everyday 24 Hrs
: Everyday 24 Hrs
: Everyday 24 Hrs
: Everyday 24 Hrs
: Everyday 24 Hrs
: Everyday 24 Hrs
: Everyday 24 Hrs
: Everyday 24 Hrs
: Everyday 24 Hrs
: Everyday 24 Hrs
: Everyday 24 Hrs

: Everyday 24 Hrs
: Everyday 24 Hrs
: Everyday 24 Hrs
: Everyday 24 Hrs
: Everyday 24 Hrs
: Everyday 24 Hrs
: Everyday 24 Hrs
: Everyday 24 Hrs
: Everyday 24 Hrs
: Everyday 24 Hrs
: Everyday 24 Hrs
: Everyday 24 Hrs

: Everyday 24 Hrs
: Everyday 24 Hrs
: Everyday 24 Hrs
: Everyday 24 Hrs
: Everyday 24 Hrs
: Everyday 24 Hrs
: Everyday 24 Hrs
: Everyday 24 Hrs
: Everyday 24 Hrs
: Everyday 24 Hrs
: Everyday 24 Hrs
: Everyday 24 Hrs

: Everyday 24 Hrs
: Everyday 24 Hrs
: Everyday 24 Hrs
: Everyday 24 Hrs
: Everyday 24 Hrs
: Everyday 24 Hrs
: Everyday 24 Hrs
: Everyday 24 Hrs
: Everyday 24 Hrs
: Everyday 24 Hrs
: Everyday 24 Hrs
: Everyday 24 Hrs

: Everyday 24 Hrs
: Everyday 24 Hrs
: Everyday 24 Hrs
: Everyday 24 Hrs
: Everyday 24 Hrs
: Everyday 24 Hrs
: Everyday 24 Hrs
: Everyday 24 Hrs
: Everyday 24 Hrs
: Everyday 24 Hrs
: Everyday 24 Hrs
: Everyday 24 Hrs

: Everyday 24 Hrs
: Everyday 24 Hrs
: Everyday 24 Hrs
: Everyday 24 Hrs
: Everyday 24 Hrs
: Everyday 24 Hrs
: Everyday 24 Hrs
: Everyday 24 Hrs
: Everyday 24 Hrs
: Everyday 24 Hrs
: Everyday 24 Hrs
: Everyday 24 Hrs

: Everyday 24 Hrs
: Everyday 24 Hrs
: Everyday 24 Hrs
: Everyday 24 Hrs
: Everyday 24 Hrs
: Everyday 24 Hrs
: Everyday 24 Hrs
: Everyday 24 Hrs
: Everyday 24 Hrs
: Everyday 24 Hrs
: Everyday 24 Hrs
: Everyday 24 Hrs