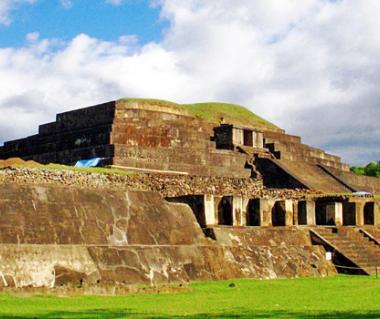 El Salvador Trip Planner
Plan your customized trip plan for El Salvador. Choose from Top Toursim cities and tourist attarctions of El Salvador using trip planner.
El Salvador Overview
This country has a lot of goodness packed into a small area. It's South America's smallest yet most densely populated country. Despite its rather violent recent past, the country is welcoming to tourists who play safe. Yes, this isn't a place for backpackers, but there's a lot else to do. The reasons to visit are very basic.
Nature! Whether is the fantastic Caribbean coastline or the unfortunately deforested highlands, El Salvador has a lot to offer to you outdoor types. There are hardly any tourists in the off season (and there's no real off season). Go lake boating, white water rafting, trekking or simply ambling around. The country's small, so given a week and a good itinerary, you'll cover everything.
Culture! A mix of Spanish, Mayan, Christian and a little bit of everything else, El Salvador is a perfect example of what happens when the people are equally accepting of multiple heritages. The festivals throughout the year in key places ensure a chance to experience a colourful riot almost whenever you go. The souvenirs sell like mad.
CLIMATE AND BEST TIME TO VISIT:
May to October is the wet season, and it almost always rains only after dark. November to April is the dry season. It's usually constantly warm and humid at the coast; constantly cool at the mountains. In the area between these extremes the temperatures fluctuate wildly, reaching almost heat stroke levels (38°C) in the summer.
Most people will recommend visiting in December or during Easter, but then you'll miss out on a lot of other flavors the nation has to offer. It really depends on what you want to do. Visit during the rains to catch the waves, and during the summer if you want to catch the wildlife. There's no point in warning you against the crowd seasons, because the festive spirit itself is the main attraction then.
GETTING IN:
El Salvador is generally uncomplicated as far as visas go. Whichever country has The El Salvador Consulate can apply there for a visa. Others can usually purchase a visa upon entry by flight, though some might need one before entering. A Tourist Card called the CA-4 can also be issued that is valid for Guatemala, Honduras and Nicaragua as well. Only a few countries fly into El Salvador International Airport at Comalapa (USA, Spain, Mexico).
The best part: El Salvador's official currency is now the USD.
GETTING AROUND:
The bus system, while colourful, is nearly entirely unregulated. There is no central authority governing it. It's actually extremely cheap and usually jam packed with travellers. But the best way to get around carries its own set of dangers. If you look rich, you're likely to be robbed, so make sure your precious belongings are secure and well hidden. Tica Bus and Pullmantur are two bus services that are reputedly safer. Within cities, getting a rental isn't a bad idea.
EAT AND DRINK:
Mayan cuisine is deeply infused into El Salvador cuisine, as is Spanish. Most meals will have rice and beans. The food is mostly indigenously grown. Since the country has a coastline, that means lots of seafood too. One of the nation's favorite foods is a seafood, coconut and rice stew called a rundown. The national dish is Pupusa. It's essentially a stuffed tortilla containing pork mince and cheese. Away from the coast and into the highlands you'll find a greater variety of meat: beef, chicken and mutton. But everywhere in the country, corn is involved in one way or the other. Tamales are cornmeal patties. Nacatamales are banana leaves stuffed with cornmeal fritters. Guirilas are fried corn pancakes. You're almost certainly never eating corn after a visit to El Salvador. People rarely have vegetables but instead focus on fruits.
The drinks are mostly fruit based. There's a sugar cane based soft-drink called colachampan; 'minutes', a combination of crushed ice and syrup; horchata, a nutty spicy drink; ensalada, a near liquid pineapple based mixed fruit salad; and of course, coconut with vodka. The only other alcohol drunk on a wide scale seems to be beer.
ACCOMODATION AND SAFETY:
Most towns and cities will have a fair scatter of budget to luxury hotels, so there's a price range for everyone. And that's where you should stick. El Salvador had a stark reputation for being one of the world's most homicidal nations, and tourists are warned against travelling alone along highways. Also do not be accustomed to carrying expensive and shiny items on display, or wearing brand or designer clothing. The best thing to do is to blend in. Do not tour offbeat areas. Always keep an ID strapped safely to your person. Whichever hotel you stay at, make sure that your valuables are locked and put them in the safe. This is strange for a country that's generally also regarded as the friendliest in the world.
FESTIVALS:
Easter/Samana Santa: A weeklong event, the near-carnival is actually a religious event filled with parades and exotic performances.
Panchimalco: The Palm and Flower Festival in May was once used to commemorate the first rains, it is now a Catholic festival with nevertheless Mayan undertones. The entire country is filled with a gaiety at this time.
Fiestas Julias: Celebrated in Santa Ana in July, in honor of their patron saint, St. Anna. It's an outstanding party with parades, religious mass and fire-based performances.
San Miguel Carnival: In other words, visit San Miguel in November. Over a million people attend; it's said the festival powers a great proportion of San Miguel's economy.
Balls of Fire Festival: Held on August 31st, the festival very literally celebrates the inception of the town of Nejapa, which was established post a population displacement caused by the eruption of the volcano El Playon. And yes, there's lots of fire.
Searching for something specific?