Best Time To Visit Eskisehir
Explore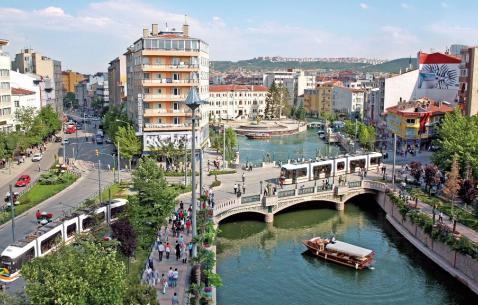 Best Time To Go To Eskisehir
Weather in Eskisehir, Turkey is best described as continental with warm summer and semi-arid climate for a major part of the year.
Spring: April and May is considered spring season and is a good time to visit if you mind high temperatures.
Summer: June, July and August is peak Summer with highest temperature raging to 40 degrees Celsius in July. This is considered the best time to visit Eskisehir.
Winter: November to March is winter season with January being the coldest at 20 degrees Celsius on an average.
Autumn: September and October is autumn season with average temperature of 34 degrees Celsius.
Best time to go to Eskisehir Attractions

: Everyday 10:00 AM - 3:00 PM
: Everyday 10:00 AM - 3:00 PM
: Everyday 10:00 AM - 3:00 PM
: Everyday 10:00 AM - 3:00 PM
: Everyday 10:00 AM - 3:00 PM
: Everyday 10:00 AM - 3:00 PM
: Everyday 10:00 AM - 3:00 PM
: Everyday 10:00 AM - 3:00 PM
: Everyday 10:00 AM - 3:00 PM
: Everyday 10:00 AM - 3:00 PM
: Everyday 10:00 AM - 3:00 PM
: Everyday 10:00 AM - 3:00 PM

: Monday to Friday 10:00 AM - 11:00 AM; Monday to Friday 10:00 AM - 11:00 AM | 2:00 PM - 4:00 PM
: Monday to Friday 10:00 AM - 11:00 AM; Monday to Friday 10:00 AM - 11:00 AM | 2:00 PM - 4:00 PM
: Monday to Friday 10:00 AM - 11:00 AM; Monday to Friday 10:00 AM - 11:00 AM | 2:00 PM - 4:00 PM
: Monday to Friday 10:00 AM - 11:00 AM; Monday to Friday 10:00 AM - 11:00 AM | 2:00 PM - 4:00 PM
: Monday to Friday 10:00 AM - 11:00 AM; Monday to Friday 10:00 AM - 11:00 AM | 2:00 PM - 4:00 PM
: Monday to Friday 10:00 AM - 11:00 AM; Monday to Friday 10:00 AM - 11:00 AM | 2:00 PM - 4:00 PM
: Monday to Friday 10:00 AM - 11:00 AM; Monday to Friday 10:00 AM - 11:00 AM | 2:00 PM - 4:00 PM
: Monday to Friday 10:00 AM - 11:00 AM; Monday to Friday 10:00 AM - 11:00 AM | 2:00 PM - 4:00 PM
: Monday to Friday 10:00 AM - 11:00 AM; Monday to Friday 10:00 AM - 11:00 AM | 2:00 PM - 4:00 PM
: Monday to Friday 10:00 AM - 11:00 AM; Monday to Friday 10:00 AM - 11:00 AM | 2:00 PM - 4:00 PM
: Monday to Friday 10:00 AM - 11:00 AM; Monday to Friday 10:00 AM - 11:00 AM | 2:00 PM - 4:00 PM
: Monday to Friday 10:00 AM - 11:00 AM; Monday to Friday 10:00 AM - 11:00 AM | 2:00 PM - 4:00 PM

: Everyday 10:00 AM - 3:00 PM
: Everyday 10:00 AM - 3:00 PM
: Everyday 10:00 AM - 3:00 PM
: Everyday 10:00 AM - 3:00 PM
: Everyday 10:00 AM - 3:00 PM
: Everyday 10:00 AM - 3:00 PM
: Everyday 10:00 AM - 3:00 PM
: Everyday 10:00 AM - 3:00 PM
: Everyday 10:00 AM - 3:00 PM
: Everyday 10:00 AM - 3:00 PM
: Everyday 10:00 AM - 3:00 PM
: Everyday 10:00 AM - 3:00 PM

: Tuesday to Sunday 10:00 AM - 5:30 PM
: Tuesday to Sunday 10:00 AM - 5:30 PM
: Tuesday to Sunday 10:00 AM - 5:30 PM
: Tuesday to Sunday 10:00 AM - 5:30 PM
: Tuesday to Sunday 10:00 AM - 5:30 PM
: Tuesday to Sunday 10:00 AM - 5:30 PM
: Tuesday to Sunday 10:00 AM - 5:30 PM
: Tuesday to Sunday 10:00 AM - 5:30 PM
: Tuesday to Sunday 10:00 AM - 5:30 PM
: Tuesday to Sunday 10:00 AM - 5:30 PM
: Tuesday to Sunday 10:00 AM - 5:30 PM
: Tuesday to Sunday 10:00 AM - 5:30 PM

: Everyday 10:00 AM - 3:00 PM
: Everyday 10:00 AM - 3:00 PM
: Everyday 10:00 AM - 3:00 PM
: Everyday 10:00 AM - 3:00 PM
: Everyday 10:00 AM - 3:00 PM
: Everyday 10:00 AM - 3:00 PM
: Everyday 10:00 AM - 3:00 PM
: Everyday 10:00 AM - 3:00 PM
: Everyday 10:00 AM - 3:00 PM
: Everyday 10:00 AM - 3:00 PM
: Everyday 10:00 AM - 3:00 PM
: Everyday 10:00 AM - 3:00 PM

: Everyday 10:00 AM - 3:00 PM
: Everyday 10:00 AM - 3:00 PM
: Everyday 10:00 AM - 3:00 PM
: Everyday 10:00 AM - 3:00 PM
: Everyday 10:00 AM - 3:00 PM
: Everyday 10:00 AM - 3:00 PM
: Everyday 10:00 AM - 3:00 PM
: Everyday 10:00 AM - 3:00 PM
: Everyday 10:00 AM - 3:00 PM
: Everyday 10:00 AM - 3:00 PM
: Everyday 10:00 AM - 3:00 PM
: Everyday 10:00 AM - 3:00 PM

: Everyday 11:00 AM - 3:00 PM
: Everyday 11:00 AM - 3:00 PM
: Everyday 11:00 AM - 3:00 PM
: Everyday 11:00 AM - 3:00 PM
: Everyday 11:00 AM - 3:00 PM
: Everyday 11:00 AM - 3:00 PM
: Everyday 11:00 AM - 3:00 PM
: Everyday 11:00 AM - 3:00 PM
: Everyday 11:00 AM - 3:00 PM
: Everyday 11:00 AM - 3:00 PM
: Everyday 11:00 AM - 3:00 PM
: Everyday 11:00 AM - 3:00 PM

: Everyday 10:00 AM - 3:00 PM
: Everyday 10:00 AM - 3:00 PM
: Everyday 10:00 AM - 3:00 PM
: Everyday 10:00 AM - 3:00 PM
: Everyday 10:00 AM - 3:00 PM
: Everyday 10:00 AM - 3:00 PM
: Everyday 10:00 AM - 3:00 PM
: Everyday 10:00 AM - 3:00 PM
: Everyday 10:00 AM - 3:00 PM
: Everyday 10:00 AM - 3:00 PM
: Everyday 10:00 AM - 3:00 PM
: Everyday 10:00 AM - 3:00 PM

: Everyday 10:00 AM - 4:00 PM
: Everyday 10:00 AM - 4:00 PM
: Everyday 10:00 AM - 4:00 PM
: Everyday 10:00 AM - 4:00 PM
: Everyday 10:00 AM - 4:00 PM
: Everyday 10:00 AM - 4:00 PM
: Everyday 10:00 AM - 4:00 PM
: Everyday 10:00 AM - 4:00 PM
: Everyday 10:00 AM - 4:00 PM
: Everyday 10:00 AM - 4:00 PM
: Everyday 10:00 AM - 4:00 PM
: Everyday 10:00 AM - 4:00 PM

: Everyday 11:00 AM - 6:00 PM
: Everyday 11:00 AM - 6:00 PM
: Everyday 11:00 AM - 6:00 PM
: Everyday 11:00 AM - 6:00 PM
: Everyday 11:00 AM - 6:00 PM
: Everyday 11:00 AM - 6:00 PM
: Everyday 11:00 AM - 6:00 PM
: Everyday 11:00 AM - 6:00 PM
: Everyday 11:00 AM - 6:00 PM
: Everyday 11:00 AM - 6:00 PM
: Everyday 11:00 AM - 6:00 PM
: Everyday 11:00 AM - 6:00 PM

: Everyday 9:00 AM - 4:00 PM
: Everyday 9:00 AM - 4:00 PM
: Everyday 9:00 AM - 4:00 PM
: Everyday 9:00 AM - 4:00 PM
: Everyday 9:00 AM - 4:00 PM
: Everyday 9:00 AM - 4:00 PM
: Everyday 9:00 AM - 4:00 PM
: Everyday 9:00 AM - 4:00 PM
: Everyday 9:00 AM - 4:00 PM
: Everyday 9:00 AM - 4:00 PM
: Everyday 9:00 AM - 4:00 PM
: Everyday 9:00 AM - 4:00 PM

: Tuesday 10:00 AM - 4:00 PM; Tuesday 10:00 AM - 4:00 PM | 2:00 PM - 6:00 PM; Wednesday to Friday 10:00 AM - 4:00 PM; Wednesday to Friday 10:00 AM - 4:00 PM | 2:00 PM - 5:00 PM; Saturday 9:00 AM - 4:00 PM; Saturday 9:00 AM - 4:00 PM | 2:00 PM - 5:00 PM
: Tuesday 10:00 AM - 4:00 PM; Tuesday 10:00 AM - 4:00 PM | 2:00 PM - 6:00 PM; Wednesday to Friday 10:00 AM - 4:00 PM; Wednesday to Friday 10:00 AM - 4:00 PM | 2:00 PM - 5:00 PM; Saturday 9:00 AM - 4:00 PM; Saturday 9:00 AM - 4:00 PM | 2:00 PM - 5:00 PM
: Tuesday 10:00 AM - 4:00 PM; Tuesday 10:00 AM - 4:00 PM | 2:00 PM - 6:00 PM; Wednesday to Friday 10:00 AM - 4:00 PM; Wednesday to Friday 10:00 AM - 4:00 PM | 2:00 PM - 5:00 PM; Saturday 9:00 AM - 4:00 PM; Saturday 9:00 AM - 4:00 PM | 2:00 PM - 5:00 PM
: Tuesday 10:00 AM - 4:00 PM; Tuesday 10:00 AM - 4:00 PM | 2:00 PM - 6:00 PM; Wednesday to Friday 10:00 AM - 4:00 PM; Wednesday to Friday 10:00 AM - 4:00 PM | 2:00 PM - 5:00 PM; Saturday 9:00 AM - 4:00 PM; Saturday 9:00 AM - 4:00 PM | 2:00 PM - 5:00 PM
: Tuesday 10:00 AM - 4:00 PM; Tuesday 10:00 AM - 4:00 PM | 2:00 PM - 6:00 PM; Wednesday to Friday 10:00 AM - 4:00 PM; Wednesday to Friday 10:00 AM - 4:00 PM | 2:00 PM - 5:00 PM; Saturday 9:00 AM - 4:00 PM; Saturday 9:00 AM - 4:00 PM | 2:00 PM - 5:00 PM
: Tuesday 10:00 AM - 4:00 PM; Tuesday 10:00 AM - 4:00 PM | 2:00 PM - 6:00 PM; Wednesday to Friday 10:00 AM - 4:00 PM; Wednesday to Friday 10:00 AM - 4:00 PM | 2:00 PM - 5:00 PM; Saturday 9:00 AM - 4:00 PM; Saturday 9:00 AM - 4:00 PM | 2:00 PM - 5:00 PM
: Tuesday 10:00 AM - 4:00 PM; Tuesday 10:00 AM - 4:00 PM | 2:00 PM - 6:00 PM; Wednesday to Friday 10:00 AM - 4:00 PM; Wednesday to Friday 10:00 AM - 4:00 PM | 2:00 PM - 5:00 PM; Saturday 9:00 AM - 4:00 PM; Saturday 9:00 AM - 4:00 PM | 2:00 PM - 5:00 PM
: Tuesday 10:00 AM - 4:00 PM; Tuesday 10:00 AM - 4:00 PM | 2:00 PM - 6:00 PM; Wednesday to Friday 10:00 AM - 4:00 PM; Wednesday to Friday 10:00 AM - 4:00 PM | 2:00 PM - 5:00 PM; Saturday 9:00 AM - 4:00 PM; Saturday 9:00 AM - 4:00 PM | 2:00 PM - 5:00 PM
: Tuesday 10:00 AM - 4:00 PM; Tuesday 10:00 AM - 4:00 PM | 2:00 PM - 6:00 PM; Wednesday to Friday 10:00 AM - 4:00 PM; Wednesday to Friday 10:00 AM - 4:00 PM | 2:00 PM - 5:00 PM; Saturday 9:00 AM - 4:00 PM; Saturday 9:00 AM - 4:00 PM | 2:00 PM - 5:00 PM
: Tuesday 10:00 AM - 4:00 PM; Tuesday 10:00 AM - 4:00 PM | 2:00 PM - 6:00 PM; Wednesday to Friday 10:00 AM - 4:00 PM; Wednesday to Friday 10:00 AM - 4:00 PM | 2:00 PM - 5:00 PM; Saturday 9:00 AM - 4:00 PM; Saturday 9:00 AM - 4:00 PM | 2:00 PM - 5:00 PM
: Tuesday 10:00 AM - 4:00 PM; Tuesday 10:00 AM - 4:00 PM | 2:00 PM - 6:00 PM; Wednesday to Friday 10:00 AM - 4:00 PM; Wednesday to Friday 10:00 AM - 4:00 PM | 2:00 PM - 5:00 PM; Saturday 9:00 AM - 4:00 PM; Saturday 9:00 AM - 4:00 PM | 2:00 PM - 5:00 PM
: Tuesday 10:00 AM - 4:00 PM; Tuesday 10:00 AM - 4:00 PM | 2:00 PM - 6:00 PM; Wednesday to Friday 10:00 AM - 4:00 PM; Wednesday to Friday 10:00 AM - 4:00 PM | 2:00 PM - 5:00 PM; Saturday 9:00 AM - 4:00 PM; Saturday 9:00 AM - 4:00 PM | 2:00 PM - 5:00 PM

: Everyday 10:00 AM - 10:00 PM
: Everyday 10:00 AM - 10:00 PM
: Everyday 10:00 AM - 10:00 PM
: Everyday 10:00 AM - 10:00 PM
: Everyday 10:00 AM - 10:00 PM
: Everyday 10:00 AM - 10:00 PM
: Everyday 10:00 AM - 10:00 PM
: Everyday 10:00 AM - 10:00 PM
: Everyday 10:00 AM - 10:00 PM
: Everyday 10:00 AM - 10:00 PM
: Everyday 10:00 AM - 10:00 PM
: Everyday 10:00 AM - 10:00 PM

: Everyday 24 Hrs
: Everyday 24 Hrs
: Everyday 24 Hrs
: Everyday 24 Hrs
: Everyday 24 Hrs
: Everyday 24 Hrs
: Everyday 24 Hrs
: Everyday 24 Hrs
: Everyday 24 Hrs
: Everyday 24 Hrs
: Everyday 24 Hrs
: Everyday 24 Hrs