Things to do in Eskisehir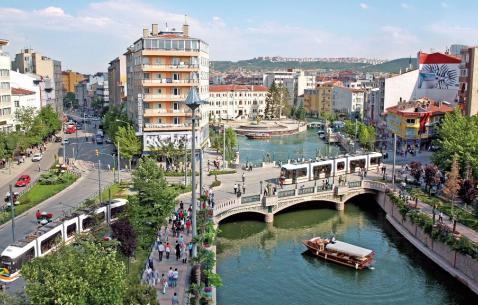 The Best Things To Do in Eskisehir
Things to do in Eskisehir include visiting its many attractions and admiring the culture that it exhibits. Main attractions of Eskisehir include its three popular tombs namely Sheik Edibali Tomb, the Kumbet Baba Tomb and the Cupola of Alemsah You can also visit the historic Falcon Fortress, the Unfinished Monument, and the Gerdek Rock to get an understanding of Eskisehir`s remote past. Other important attractions include: an Archeology Museum, a majestic Ottoman mosque complex called the Kurşunlu Kulliyesi, a river called the Porsuk Çayı, an interesting market district (Çarşı), and a neighborhood of ancient Ottoman houses called Odunpazarı. You can spend a lot of time walking around the river Porsuk Cayi as the locals do, filling the dozens of cafes near its shores. There are boats to do small tours along the river of you can be a part of. Visit the ancient Phrygian sites lies in the Eastern outskirts of the Phrygian Highlands, in the area between Afyon and Eskişehir. Since the late 19th century, it has been referred to by its nickname: Midas City.
Explore the travel planning tool for your visit to Eskisehir and create a flawless plan in few simple steps!
12 Tourist Attractions in Eskisehir

Must see places in Eskisehir ranked on popularity. Here is the complete list of best attractions in Eskisehir and point of interests to visit.
Tourist Attractions Near Eskisehir
Find Your Eskisehir Attractions on Map
Types of Things To Do in Eskisehir
Find more attractions and places to visit in Eskisehir under these things to do categories.
Find more places to see in Eskisehir
Taşbaşı Kültür Merkezi

Taşbaşı Mah

Historic and Protected Sites

Roma Hamami

Historic and Protected Sites

Kurşunlu Külliyesi

Historic and Protected Sites

Tarihi Odunpazarı Evleri

Historic and Protected Sites
View On Map
Lületaşı Müzesi

İki Eylül Cad

Museums

Landmarks

Çağdaş Cam Sanatları Müzesi

Türkmen Hoca Sok No: 45

Museums

Eskişehir Arkeoloji Müzesi

Atatürk Bul No: 64, Akarbaşı

Museums

Dünya Müzeleri Müzesi

Gültuğrul Sok No:6 Eskişehir,Aktiffelsefe Yeni Yüksektepe Kültür Derneği

Museums

TCDD

Enveriye Mah

Museums

Arkeoloji Muzesi

Eskisehir Merkez

Museums
View On Map
Taşbahçe

Dr Sadik Cad Divanlar Sok No:1

Amusement Parks

Cafes, Coffee and Tea Houses

Alice Çocuk Eğlence Merkezi

2 Eylül Cad Esnaf Sarayı No: 24, Odunpazarı, Eskişehir

Amusement Parks

Pony Eğlence Merkezi

Tarlaiçi Sok, No: 7, Deliklitaş

Amusement Parks

Coffemania

Amusement Parks
View On Map
Baron Baroness

Haller Gençlik Merkezi No: 10, Bahçelievler

Restaurants

Bars

Social Pub

Vural Sok No: 33

Bars

Pool Masters Pub

Vural Sok 27/1

Bars

Twenty Six Cafe&Bar

Yeni Kılıçoğlu Bul, No: 50

Restaurants

Bars

Night Clubs

Spoon

İsmet İnönü Cad No:119/A-b

Bars

Restaurants

Blog Pub

Vural Sok No:15 Merkez

Bars
View On Map
İddaa Bayi

Üniversite Cad, No: 47 / D, Eskişehir , Eskişehir

Casinos and Gaming

İddaa Bayii Cumhuriyet

İrmak Cad, No: :107 / A

Casinos and Gaming
View On Map
Kum Saha | Bağlar Parkı

Eti Cad

Dog Parks
View On Map
Yaban Store

Hunting and Fishing
View On Map
Sportmen Clup

İbn-i Sina Sok No: 41, Odunpazarı, Eskişehir

Stadiums and Arenas

Evler Spor Sahası

71 Evler Mah Cenuplu Sok Emek

Stadiums and Arenas

Tribünü | Eskişehir Atatürk Stadyumu

Mustafa Kemal Atatürk Cad

Stadiums and Arenas
View On Map
What To Do in Eskisehir: Day-Wise Ideas
Find what not to miss in Eskisehir! Recommended Eskisehir itineraries and vacation ideas created by travelers across the world.