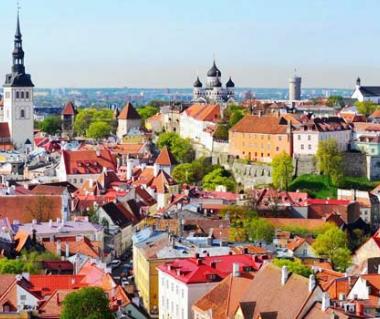 Estonia Trip Planner
Plan your customized trip plan for Estonia. Choose from Top Toursim cities and tourist attarctions of Estonia using trip planner.
Estonia Overview
Estonia is a Baltic state in northeastern Europe. It has land borders with Latvia and Russia. With a coastline on the Baltic Sea and Gulf of Finland, Estonia also have sea borders with Finland and Sweden. Estonia has over 1,500 islands. The largest island is Saaremaa with an intact and well-restored medieval castle in its only city, Kuressaare. Other important islands include Kihnu, Ruhnu (with its "singing sand" beach), and Muhu.
How to enter:-
Air: -Tallinn is Estonia's main international gateway. A number of airlines fly to Tallinn, the capital of Estonia, from Amsterdam, Copenhagen, Helsinki, London, Kiev, Minsk and Stockholm. There are also flights from New York and Los Angeles in USA, usually via Helsinki in Finland. Tallinn airport is 3 km (2 miles) from the heart of the city.
Rail: - There are trains along the Baltic coast to Estonia from Latvia and Lithuania, and from Russia via Poland, through Belarus or Lithuania.
Climate and best time to visit: - Estonians winters (December to March) can be a bit of a killjoy. If your obsession for skiing, skating or ice fishing can make you overlook the bite of Old Man Winter, this is a fine time to go. The cold aside the other drawback is the very restricted number of daylight hours. Autumn is not great either because of the dampness of September rains. Recommended time to visit Estonia is from April to May – late spring and from June to beginning September. July and August is warm – daily temperatures peak at 30°C.
What to see: - Estonia is a Baltic gem offering visitors the chance to see a tiny dynamic land on the shores of the Baltic Sea. Glorious beaches pepper the extensive coastline, although the swimming season is short. . The nature is essentially untouched and offers quite a different beach experience with their remoter rustic feel. Most of the public beaches are sandy and the average water temperature is 18°C in summer. Inland waters and some shallow bays' waters are even warmer... Stone fences, thatched roofs, working windmills and homemade beer are all distinctive to Saaremaa. Hiiumaa, on the other hand, is well known for its lighthouses, unspoilt nature, the Hill of Crosses and the sense of humor of its inhabitants. Both islands have an airport so they can be quickly reached from Tallinn.
Searching for something specific?