Best Time To Visit Eugene
Explore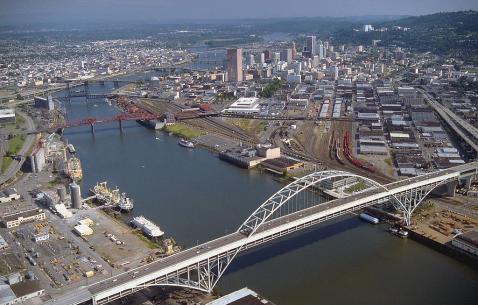 Best Time To Go To Eugene
Eugene has a cool-summer Mediterranean climate. The average annual temperature ranges from 11 – 12 degree Celsius. Rainfall is light but continues for long periods.
Winter: November to February is the winter season and the weather is cloudy, a little rainy and snowy.
Spring: March to May is summer season where the sky is clear and a crisp cool air keeps blowing.
Summer: From June to August the heat rises up making the weather warm and dry.
Fall: From September to October the temperature starts dropping and the weather becomes cool and clear.
The best time to visit Eugene would have to be during the months of September to October in the Fall season. There are beautiful cloud formations all over the sky and the air is cool with chances of warm weather in between which allow for uninterrupted sightseeing opportunities.
Best time to go to Eugene Attractions

: Everyday - 5:00 PM
: Everyday - 5:00 PM
: Everyday - 5:00 PM
: Everyday - 5:00 PM
: Everyday - 5:00 PM
: Everyday - 5:00 PM
: Everyday - 5:00 PM
: Everyday - 5:00 PM
: Everyday - 5:00 PM
: Everyday - 5:00 PM
: Everyday - 5:00 PM
: Everyday - 5:00 PM

: Everyday 8:00 AM - 4:00 PM
: Everyday 8:00 AM - 4:00 PM
: Everyday 8:00 AM - 4:00 PM
: Everyday 8:00 AM - 4:00 PM
: Everyday 8:00 AM - 4:00 PM
: Everyday 8:00 AM - 4:00 PM
: Everyday 8:00 AM - 4:00 PM
: Everyday 8:00 AM - 4:00 PM
: Everyday 8:00 AM - 4:00 PM
: Everyday 8:00 AM - 4:00 PM
: Everyday 8:00 AM - 4:00 PM
: Everyday 8:00 AM - 4:00 PM

: Tuesday to Sunday 10:00 AM - 4:00 PM
: Tuesday to Sunday 10:00 AM - 4:00 PM
: Tuesday to Sunday 10:00 AM - 4:00 PM
: Tuesday to Sunday 10:00 AM - 4:00 PM
: Tuesday to Sunday 10:00 AM - 4:00 PM
: Tuesday to Sunday 10:00 AM - 4:00 PM
: Tuesday to Sunday 10:00 AM - 4:00 PM
: Tuesday to Sunday 10:00 AM - 4:00 PM
: Tuesday to Sunday 10:00 AM - 4:00 PM
: Tuesday to Sunday 10:00 AM - 4:00 PM
: Tuesday to Sunday 10:00 AM - 4:00 PM
: Tuesday to Sunday 10:00 AM - 4:00 PM

: Tuesday to Friday 10:00 AM - 5:00 PM; Saturday 11:00 AM - 3:00 PM
: Tuesday to Friday 11:00 AM - 5:00 PM; Saturday 11:00 AM - 3:00 PM
: Tuesday to Friday 11:00 AM - 5:00 PM; Saturday 11:00 AM - 3:00 PM
: Tuesday to Friday 11:00 AM - 5:00 PM; Saturday 11:00 AM - 3:00 PM
: Tuesday to Friday 11:00 AM - 5:00 PM; Saturday 11:00 AM - 3:00 PM
: Tuesday to Friday 11:00 AM - 5:00 PM; Saturday 11:00 AM - 3:00 PM
: Tuesday to Friday 11:00 AM - 5:00 PM; Saturday 11:00 AM - 3:00 PM
: Tuesday to Friday 11:00 AM - 5:00 PM; Saturday 11:00 AM - 3:00 PM
: Tuesday to Friday 11:00 AM - 5:00 PM; Saturday 11:00 AM - 3:00 PM
: Tuesday to Friday 11:00 AM - 5:00 PM; Saturday 11:00 AM - 3:00 PM
: Tuesday to Friday 11:00 AM - 5:00 PM; Saturday 11:00 AM - 3:00 PM
: Tuesday to Friday 11:00 AM - 5:00 PM; Saturday 11:00 AM - 3:00 PM

: Everyday 8:00 AM - 4:00 PM
: Everyday 8:00 AM - 4:00 PM
: Everyday 8:00 AM - 4:00 PM
: Everyday 8:00 AM - 4:00 PM
: Everyday 8:00 AM - 4:00 PM
: Everyday 8:00 AM - 4:00 PM
: Everyday 8:00 AM - 4:00 PM
: Everyday 8:00 AM - 4:00 PM
: Everyday 8:00 AM - 4:00 PM
: Everyday 8:00 AM - 4:00 PM
: Everyday 8:00 AM - 4:00 PM
: Everyday 8:00 AM - 4:00 PM

: Everyday 9:00 AM - 3:00 PM
: Everyday 9:00 AM - 3:00 PM
: Everyday 9:00 AM - 3:00 PM
: Everyday 9:00 AM - 3:00 PM
: Everyday 9:00 AM - 3:00 PM
: Everyday 9:00 AM - 3:00 PM
: Everyday 9:00 AM - 3:00 PM
: Everyday 9:00 AM - 3:00 PM
: Everyday 9:00 AM - 3:00 PM
: Everyday 9:00 AM - 3:00 PM
: Everyday 9:00 AM - 3:00 PM
: Everyday 9:00 AM - 3:00 PM

: Everyday 8:00 AM - 4:00 PM
: Everyday 8:00 AM - 4:00 PM
: Everyday 8:00 AM - 4:00 PM
: Everyday 8:00 AM - 4:00 PM
: Everyday 8:00 AM - 4:00 PM
: Everyday 8:00 AM - 4:00 PM
: Everyday 8:00 AM - 4:00 PM
: Everyday 8:00 AM - 4:00 PM
: Everyday 8:00 AM - 4:00 PM
: Everyday 8:00 AM - 4:00 PM
: Everyday 8:00 AM - 4:00 PM
: Everyday 8:00 AM - 4:00 PM

:
:
:
: Saturday 10:00 AM - 3:00 PM
: Saturday 10:00 AM - 3:00 PM
: Saturday 10:00 AM - 3:00 PM
: Saturday 10:00 AM - 3:00 PM
: Saturday 10:00 AM - 3:00 PM
: Saturday 10:00 AM - 3:00 PM
:

: Everyday 10:00 AM - 4:00 PM
: Everyday 10:00 AM - 4:00 PM
: Everyday 10:00 AM - 4:00 PM
: Everyday 10:00 AM - 4:00 PM
: Everyday 10:00 AM - 4:00 PM
: Everyday 10:00 AM - 4:00 PM
: Everyday 10:00 AM - 4:00 PM
: Everyday 10:00 AM - 4:00 PM
: Everyday 10:00 AM - 4:00 PM
: Everyday 10:00 AM - 4:00 PM
: Everyday 10:00 AM - 4:00 PM
: Everyday 10:00 AM - 4:00 PM

: Everyday 8:00 AM - 4:00 PM
: Everyday 8:00 AM - 4:00 PM
: Everyday 8:00 AM - 4:00 PM
: Everyday 8:00 AM - 4:00 PM
: Everyday 8:00 AM - 4:00 PM
: Everyday 8:00 AM - 4:00 PM
: Everyday 8:00 AM - 4:00 PM
: Everyday 8:00 AM - 4:00 PM
: Everyday 8:00 AM - 4:00 PM
: Everyday 8:00 AM - 4:00 PM
: Everyday 8:00 AM - 4:00 PM
: Everyday 8:00 AM - 4:00 PM

: Everyday 8:00 AM - 5:00 PM
: Everyday 8:00 AM - 5:00 PM
: Everyday 8:00 AM - 5:00 PM
: Everyday 8:00 AM - 5:00 PM
: Everyday 8:00 AM - 5:00 PM
: Everyday 8:00 AM - 5:00 PM
: Everyday 8:00 AM - 5:00 PM
: Everyday 8:00 AM - 5:00 PM
: Everyday 8:00 AM - 5:00 PM
: Everyday 8:00 AM - 5:00 PM
: Everyday 8:00 AM - 5:00 PM
: Everyday 8:00 AM - 5:00 PM

: Everyday 9:00 AM - 5:00 PM
: Everyday 9:00 AM - 5:00 PM
: Everyday 9:00 AM - 5:00 PM
: Everyday 9:00 AM - 5:00 PM
: Everyday 9:00 AM - 5:00 PM
: Everyday 9:00 AM - 5:00 PM
: Everyday 9:00 AM - 5:00 PM
: Everyday 9:00 AM - 5:00 PM
: Everyday 9:00 AM - 5:00 PM
: Everyday 9:00 AM - 5:00 PM
: Everyday 9:00 AM - 5:00 PM
: Everyday 9:00 AM - 5:00 PM

: Everyday 1:00 PM - 7:00 PM
: Everyday 1:00 PM - 7:00 PM
: Everyday 1:00 PM - 7:00 PM
: Everyday 1:00 PM - 7:00 PM
: Everyday 1:00 PM - 7:00 PM
: Everyday 1:00 PM - 7:00 PM
: Everyday 1:00 PM - 7:00 PM
: Everyday 1:00 PM - 7:00 PM
: Everyday 1:00 PM - 7:00 PM
: Everyday 1:00 PM - 7:00 PM
: Everyday 1:00 PM - 7:00 PM
: Everyday 1:00 PM - 7:00 PM

: Wednesday to Sunday 11:00 AM - 3:00 PM
: Wednesday to Sunday 11:00 AM - 3:00 PM
: Wednesday to Sunday 11:00 AM - 3:00 PM
: Wednesday to Sunday 11:00 AM - 3:00 PM
: Wednesday to Sunday 11:00 AM - 3:00 PM
: Wednesday to Sunday 11:00 AM - 3:00 PM
: Wednesday to Sunday 11:00 AM - 3:00 PM
: Wednesday to Sunday 11:00 AM - 3:00 PM
: Wednesday to Sunday 11:00 AM - 3:00 PM
: Wednesday to Sunday 11:00 AM - 3:00 PM
: Wednesday to Sunday 11:00 AM - 3:00 PM
: Wednesday to Sunday 11:00 AM - 3:00 PM

: Tuesday to Sunday 11:00 AM - 4:00 PM
: Tuesday to Sunday 11:00 AM - 4:00 PM
: Tuesday to Sunday 11:00 AM - 4:00 PM
: Tuesday to Sunday 11:00 AM - 4:00 PM
: Tuesday to Sunday 11:00 AM - 4:00 PM
: Tuesday to Sunday 11:00 AM - 4:00 PM
: Tuesday to Sunday 11:00 AM - 4:00 PM
: Tuesday to Sunday 11:00 AM - 4:00 PM
: Tuesday to Sunday 11:00 AM - 4:00 PM
: Tuesday to Sunday 11:00 AM - 4:00 PM
: Tuesday to Sunday 11:00 AM - 4:00 PM
: Tuesday to Sunday 11:00 AM - 4:00 PM

: Everyday 8:00 AM - 5:00 PM
: Everyday 8:00 AM - 5:00 PM
: Everyday 8:00 AM - 5:00 PM
: Everyday 8:00 AM - 5:00 PM
: Everyday 8:00 AM - 5:00 PM
: Everyday 8:00 AM - 5:00 PM
: Everyday 8:00 AM - 5:00 PM
: Everyday 8:00 AM - 5:00 PM
: Everyday 8:00 AM - 5:00 PM
: Everyday 8:00 AM - 5:00 PM
: Everyday 8:00 AM - 5:00 PM
: Everyday 8:00 AM - 5:00 PM

: Everyday 7:00 AM - 3:00 PM
: Everyday 7:00 AM - 3:00 PM
: Everyday 7:00 AM - 3:00 PM
: Everyday 7:00 AM - 3:00 PM
: Everyday 7:00 AM - 3:00 PM
: Everyday 7:00 AM - 3:00 PM
: Everyday 7:00 AM - 3:00 PM
: Everyday 7:00 AM - 3:00 PM
: Everyday 7:00 AM - 3:00 PM
: Everyday 7:00 AM - 3:00 PM
: Everyday 7:00 AM - 3:00 PM
: Everyday 7:00 AM - 3:00 PM

: Wednesday to Saturday 7:00 AM - 2:00 PM
: Wednesday to Saturday 7:00 AM - 2:00 PM
: Wednesday to Saturday 7:00 AM - 2:00 PM
: Wednesday to Sunday 7:00 AM - 2:00 PM
: Wednesday to Sunday 7:00 AM - 2:00 PM
: Wednesday to Sunday 7:00 AM - 2:00 PM
: Wednesday to Sunday 7:00 AM - 2:00 PM
: Wednesday to Sunday 7:00 AM - 2:00 PM
: Wednesday to Sunday 7:00 AM - 2:00 PM
: Wednesday to Sunday 7:00 AM - 2:00 PM
: Wednesday to Saturday 7:00 AM - 2:00 PM
: Wednesday to Saturday 7:00 AM - 2:00 PM

: Everyday 10:00 AM - 3:00 PM
: Everyday 10:00 AM - 3:00 PM
: Everyday 10:00 AM - 3:00 PM
: Everyday 10:00 AM - 3:00 PM
: Everyday 10:00 AM - 3:00 PM
: Everyday 10:00 AM - 3:00 PM
: Everyday 10:00 AM - 3:00 PM
: Everyday 10:00 AM - 3:00 PM
: Everyday 10:00 AM - 3:00 PM
: Everyday 10:00 AM - 3:00 PM
: Everyday 10:00 AM - 3:00 PM
: Everyday 10:00 AM - 3:00 PM

: Everyday 10:00 AM - 4:00 PM
: Everyday 10:00 AM - 4:00 PM
: Everyday 10:00 AM - 4:00 PM
: Everyday 10:00 AM - 4:00 PM
: Everyday 10:00 AM - 4:00 PM
: Everyday 10:00 AM - 4:00 PM
: Everyday 10:00 AM - 4:00 PM
: Everyday 10:00 AM - 4:00 PM
: Everyday 10:00 AM - 4:00 PM
: Everyday 10:00 AM - 4:00 PM
: Everyday 10:00 AM - 4:00 PM
: Everyday 10:00 AM - 4:00 PM

: Tuesday to Friday 10:00 AM - 4:00 PM; Saturday, Sunday 1:00 PM - 3:00 PM
: Tuesday to Friday 10:00 AM - 3:00 PM; Saturday, Sunday 1:00 PM - 3:00 PM
: Tuesday to Friday 10:00 AM - 3:00 PM; Saturday, Sunday 1:00 PM - 3:00 PM
: Tuesday to Friday 10:00 AM - 3:00 PM; Saturday, Sunday 1:00 PM - 3:00 PM
: Tuesday to Friday 10:00 AM - 3:00 PM; Saturday, Sunday 1:00 PM - 3:00 PM
: Tuesday to Friday 10:00 AM - 3:00 PM; Saturday, Sunday 1:00 PM - 3:00 PM
: Tuesday to Friday 10:00 AM - 3:00 PM; Saturday, Sunday 1:00 PM - 3:00 PM
: Tuesday to Friday 10:00 AM - 3:00 PM; Saturday, Sunday 1:00 PM - 3:00 PM
: Tuesday to Friday 10:00 AM - 3:00 PM; Saturday, Sunday 1:00 PM - 3:00 PM
: Tuesday to Friday 10:00 AM - 3:00 PM; Saturday, Sunday 1:00 PM - 3:00 PM
: Tuesday to Friday 10:00 AM - 3:00 PM; Saturday, Sunday 1:00 PM - 3:00 PM
: Tuesday to Friday 10:00 AM - 3:00 PM; Saturday, Sunday 1:00 PM - 3:00 PM

: Monday, Wednesday, Friday 2:00 PM - 3:30 PM; Saturday, Sunday 2:00 PM - 3:00 PM
: Monday, Wednesday, Friday 2:00 PM - 3:30 PM; Saturday, Sunday 2:00 PM - 3:00 PM
: Monday, Wednesday, Friday 2:00 PM - 3:30 PM; Saturday, Sunday 2:00 PM - 3:00 PM
: Monday, Wednesday, Friday 2:00 PM - 3:30 PM; Saturday, Sunday 2:00 PM - 3:00 PM
: Everyday 2:00 PM - 3:00 PM
: Everyday 2:00 PM - 3:00 PM
: Everyday 2:00 PM - 3:00 PM
: Everyday 2:00 PM - 3:00 PM
: Everyday 2:00 PM - 3:00 PM
: Monday, Wednesday, Friday 2:00 PM - 3:30 PM; Saturday, Sunday 2:00 PM - 3:00 PM
: Monday, Wednesday, Friday 2:00 PM - 3:30 PM; Saturday, Sunday 2:00 PM - 3:00 PM
: Monday, Wednesday, Friday 2:00 PM - 3:30 PM; Saturday, Sunday 2:00 PM - 3:00 PM

: Monday to Saturday 10:00 AM - 6:00 PM; Sunday 1:00 PM - 6:00 PM
: Monday to Saturday 10:00 AM - 6:00 PM; Sunday 1:00 PM - 6:00 PM
: Monday to Saturday 10:00 AM - 6:00 PM; Sunday 1:00 PM - 6:00 PM
: Monday to Saturday 10:00 AM - 6:00 PM; Sunday 1:00 PM - 6:00 PM
: Monday to Saturday 10:00 AM - 6:00 PM; Sunday 1:00 PM - 6:00 PM
: Monday to Saturday 10:00 AM - 6:00 PM; Sunday 1:00 PM - 6:00 PM
: Monday to Saturday 10:00 AM - 6:00 PM; Sunday 1:00 PM - 6:00 PM
: Monday to Saturday 10:00 AM - 6:00 PM; Sunday 1:00 PM - 6:00 PM
: Monday to Saturday 10:00 AM - 6:00 PM; Sunday 1:00 PM - 6:00 PM
: Monday to Saturday 10:00 AM - 6:00 PM; Sunday 1:00 PM - 6:00 PM
: Monday to Saturday 10:00 AM - 6:00 PM; Sunday 1:00 PM - 6:00 PM
: Monday to Saturday 10:00 AM - 6:00 PM; Sunday 1:00 PM - 6:00 PM

: Everyday 1:00 PM - 7:00 PM
: Everyday 1:00 PM - 7:00 PM
: Everyday 1:00 PM - 7:00 PM
: Everyday 1:00 PM - 7:00 PM
: Everyday 1:00 PM - 7:00 PM
: Everyday 1:00 PM - 7:00 PM
: Everyday 1:00 PM - 7:00 PM
: Everyday 1:00 PM - 7:00 PM
: Everyday 1:00 PM - 7:00 PM
: Everyday 1:00 PM - 7:00 PM
: Everyday 1:00 PM - 7:00 PM
: Everyday 1:00 PM - 7:00 PM

: Everyday 1:00 PM - 7:00 PM
: Everyday 1:00 PM - 7:00 PM
: Everyday 1:00 PM - 7:00 PM
: Everyday 1:00 PM - 7:00 PM
: Everyday 1:00 PM - 7:00 PM
: Everyday 1:00 PM - 7:00 PM
: Everyday 1:00 PM - 7:00 PM
: Everyday 1:00 PM - 7:00 PM
: Everyday 1:00 PM - 7:00 PM
: Everyday 1:00 PM - 7:00 PM
: Everyday 1:00 PM - 7:00 PM
: Everyday 1:00 PM - 7:00 PM

: Everyday 7:00 AM - 2:00 PM
: Everyday 7:00 AM - 2:00 PM
: Everyday 7:00 AM - 2:00 PM
: Everyday 7:00 AM - 2:00 PM
: Everyday 7:00 AM - 2:00 PM
: Everyday 7:00 AM - 2:00 PM
: Everyday 7:00 AM - 2:00 PM
: Everyday 7:00 AM - 2:00 PM
: Everyday 7:00 AM - 2:00 PM
: Everyday 7:00 AM - 2:00 PM
: Everyday 7:00 AM - 2:00 PM
: Everyday 7:00 AM - 2:00 PM