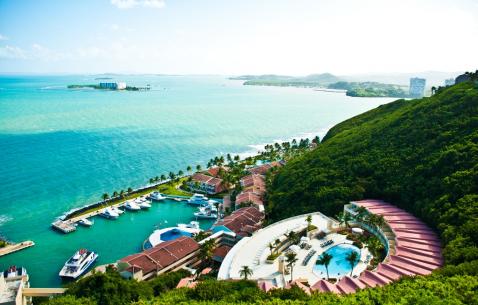 On August 1, 1898 the commander of USS Puritan, Captain Frederic W. Rodgers, was sailing by the coastline of the city of Fajardo, when he noticed the Cape San Juan lighthouse which was supposed to be the landing site for the US Army in Puerto Rico. Rodgers ordered some of his men ashore with the mission of posting the American Flag atop the lighthouse. And thus the city that guards the sun of the Caribbean, Fajardo was born!
Fajardo is a small city and municipality in Puerto Rico located in the east region of the island, bordering the Atlantic Ocean, north of Ceiba and east of Luquillo. It is the hub of major recreational boating in Puerto Rico and a launching port to Culebra, Vieques, and the American and British Virgin Islands. It also has the largest Marina in the Caribbean called Puerto Del Rey. It is surrounded by Icacos, Palominos, Palominito, and Diablo, all coral islands.
The coastline of Puerto Rico, is a unique place showing the relationship between the ecosystem and the different organisms that depend on it to survive. An ecosystem means a community of plants and animals that interact between themselves and the environment. In Puerto Rico there are many ecosystems of which 7 of them (Rain Forest, Dry Forest, Sandy Beach, Rocky Shore, Coral Reef, Sea Grass Bed, Mangrove Forest & Lagoons) are the more predominant and important to the Island.
Fajardo sprawls like a jumbled greenbelt between the El Yunque foothills and the sea. It is an informal ferry port, and also has luxury boat launch, swanky resort and is a busy commuter town. There are plenty of amenities and ample hotels hidden amid the characteristic low hills and small hidden bays.
A hub for well-heeled yacht owners and tourists heading to the gargantuan Conquistador, tourism in Fajardo is one of Puerto Rico's biggest water activities centres and is the primary disembarkation point for the Spanish Virgin Islands of Vieques and Culebra. Extreme sports include diving in the coral rich waters to exploring the bioluminescent bay, surfing, swimming, kayaking, snorkelling and hiking through the rainforests. Without the mangrove forest the seas would be barren, for the mangroves are the roots of the sea. Mangroves are hardy shrubs and trees that live along the seashore in tropical and subtropical regions with the ability to tolerate tide change by seawater. Mangrove and sea grass beds provide the key to the productivity of the tropical ocean. Mangrove forests are one of the most diverse eco environments found in Puerto Rico. These trees have been considered land builders, generating buffer zones between the land and sea.
One thing you must to do in Fajardo is visit the commonwealth's oldest colonial lighthouse. The lighthouse has an information centre and observation deck, from which you can have a breath-taking view of El Yunque.
Fajardo is popular among tourists, especially local tourists, because of its seafood, hotels, easy access to the small islands of Palomino, Icacos and Palominito, and the many daily trips that are available to Vieques and Culebra by boat. Beaches in Fajardo have calm, clear water that are ideal for snorkelling, and other water sports. Fajardo is a major boating centre, with a wide range of rentals and charters available, with daily and sport-diving excursions as well as scheduled ferries and air service carrying passengers and cargo to Culebra and Vieques. Fajardo is also home to one of the few Bioluminescent Lagoons in the world. Nightly trips are offered by kayak by local travel guide companies who give educational tours.
Though not exactly tourist information, Fajardo is also home to pharmaceutical and bio-sciences companies. Manufacturing furniture, electrical components, production of cigars and metal work are done here and Fajardo is also known for its fishing industries. Fajardo rocky shores are home to a vast diversity of organisms such as molluscs (snails, chiton, and octopus), crustaceans (crabs, barnacle), echinoderms (sea urchin, cucumbers), cnidarians (anemones, coral), algae and segmented worms. All these sea-life species have adapted and thrive in what may be considered harsh, adverse, environmental conditions.
Essential travel information and Fajardo tips for your visit
Don't go where you shouldn't go. Follow the instructions given by the guides.
Gain some familiarity with the country's national language prior to your trip. Although all the attractions have bilingual guides, but some are only in Spanish.
Drink bottled water that has a seal. Open it yourself.
Know your coordinates (esp. North & South). Memorize the major cross-roads prior to taking your trip. Fajardo does not have public transport apart from taxis.
Have a copy or two of your Passport in a safe place (either on you personally or in an emergency place).
Be flexible. Patience will be required on some of the attractions especially the boating trips.
Watch your travel companions as they might just as well cause trouble by accident / unknowingly or on purpose.
The kayaking experience at night can be a bit tricky, so carry a torch light.
Minimize coins if possible (don't need to be heard walking around jiggling).
Know the weather conditions prior and during your trip. The Bio Bay trip is on a moonless night so check the calendar before booking.
Wear sun screen and carry dry clothes, and keep mosquito repellent with you.
Keep the environment free of trash. Do not litter the beach or the pristine clear waters.
Give priority to the locals when using a boat to go across.
Fajardo Trip Planner
Plan your customized day by day trip plan for Fajardo. Choose from various experinces categories as adventure, romantic and family and kids friendly for your trip using using Fajardo trip planner.
The best tours and activities in the city, guided by experts to give you a local insight to the best of Fajardo