Faliraki has reinvented itself as a cosmopolitan, lively tourist hub inviting people from all countries and all ages. Faliraki is known for the largest waterpark in Greece. It offers many tourist attractions including gardens, bowling, history parks for children and families. For the fun-seekers, the nightlife is unparalleled. Besides traditional Greek cuisine, other cuisines like Mexican, Chinese and Italian can also be found here.
Here's the list of places to visit and 15 best things to do in Faliraki:
1. Faliraki Beach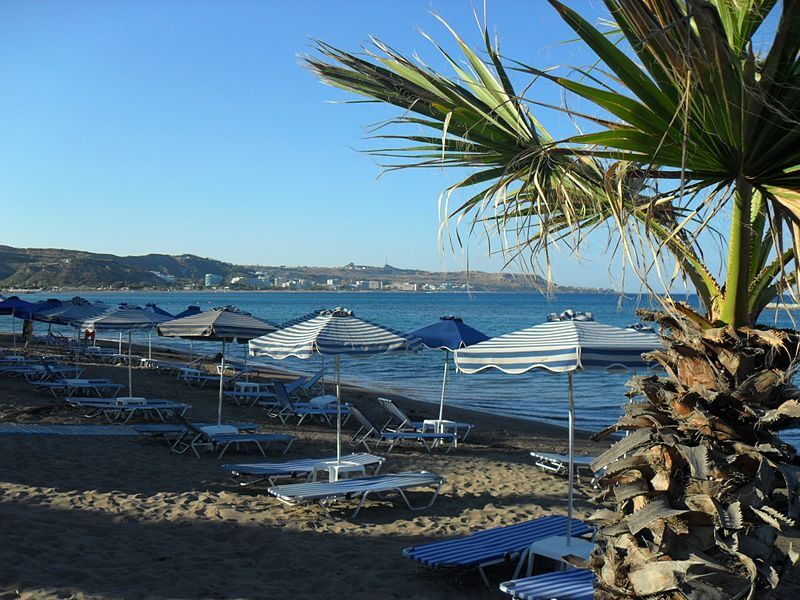 Photo: wikimedia.org
Over four kilometers of bronzed beaches awaits you at Faliraki Beach. It has a blue flag tag prefixed to its name that makes its offerings environmentally sustainable. You can set up camp on one of the plentiful sunbeds, under a striped umbrella, and indulge in a fun day on the beach. There are adventure sports and snorkeling facilities which let you explore the underwater world of the Aegean, or you can just frolic in the sea, build sand castles or unwind. Water sports range from banana boats to doughnuts and water-skiing to jet-skiing. You can go for bungee jumps. Refreshments are available at hand to keep you going.
2. Faliraki Waterpark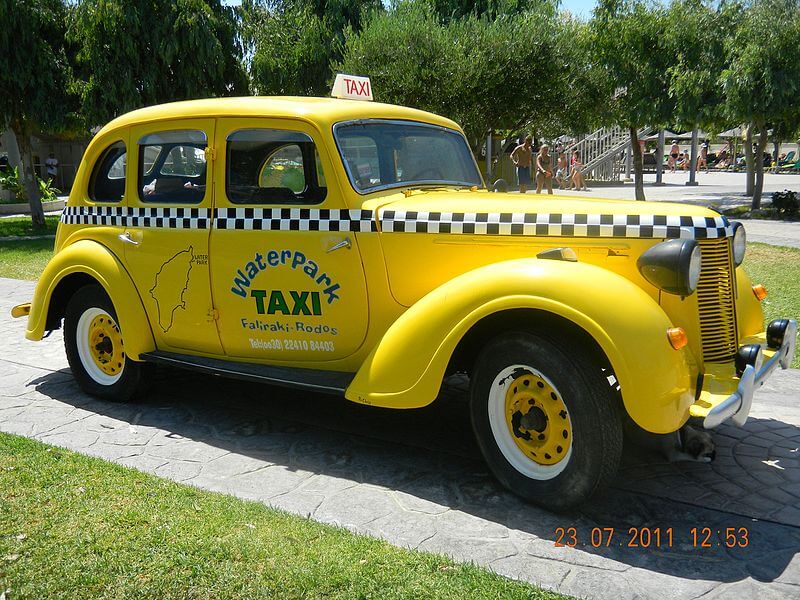 Photo: wikimedia.org
No matter your age or thrill quotient, you are bound to enjoy a day at the Faliraki water park. The largest in Greece, it features a whole host of attractions including high speed waterslides, kiddie pools, relaxing rapids and wave pools. bus ply from the city center making commute convenient.
3. Bar Street and Club Street
Faliraki has become famous for its all night long nightlife, making is a beacon for the young party enthusiasts and pleasure seekers. Exactly as the name suggests, Bar Street and Club Street abound with bars and clubs that let you drink and dance the night away. There is also a multitude of sports bars, theme clubs and karaoke clubs. Several bars also host daily international DJ nights.
4. Kathara Beach
The quieter alternative to Faliraki Beach, the sand and shingle Kathara beach is just a few hundred yards away. It is also a blue flag beach, the name itself embodying 'clean' in Greek. The sand is soft and the water crystal clear and free of water sports. It makes for a tranquil and relaxing space away from the crowds.
5. Snorkeling at Anthony Quinn Bay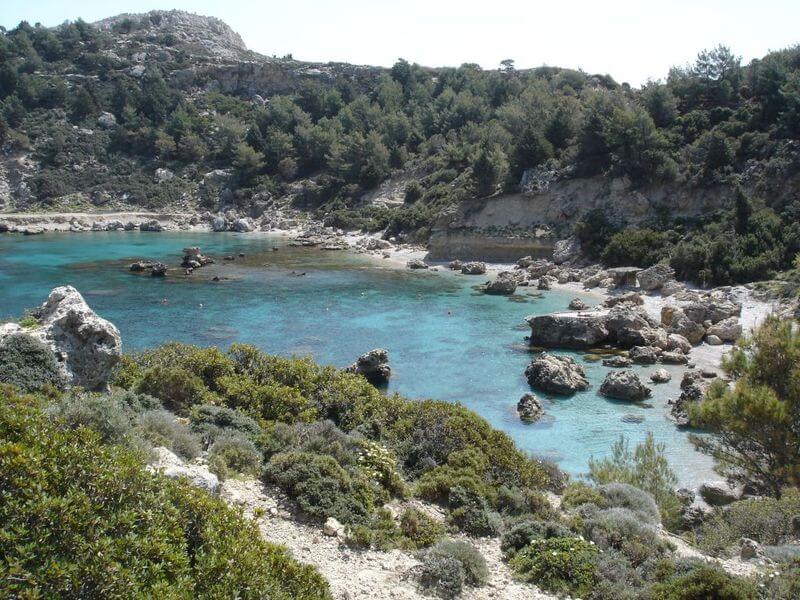 Photo: wikimedia.org
The scenic and picturesque Anthony Quinn Bay is close to the city center, only about five minutes away. It has been named after an actor from the 1961 film, The Guns of Navarone, which was partially filmed in this area. The sea life brimming under the jade water makes it an ideal spot for snorkeling.
6. Astronomy Café Bar
Hipparchos observatory and the astronomy bar are unlike any other in all of Greece. Passionately overseen by the owner Stergos, it serves delightful cocktails against the picturesque backdrop of Faliraki spread out before you. As night falls and the stars come out, the outdoors seating area offers a veritable feast of cosmic wonders.
7. Saint Nectarios Church
The Saint Nectarios is a beautiful church with a vibrant yet soothing atmosphere. It feels like a pocket of calm amidst the bustle of Faliraki. You can walk under archways or through walkways while admiring the architecture and the awesome interior. It is surrounded by lush greenery and a lot of stray cats. You can lose yourself into quiet thoughts in these surroundings. Tourists and locals alike also make it a point to drink and refresh themselves from the church fountain.
8. Monolithos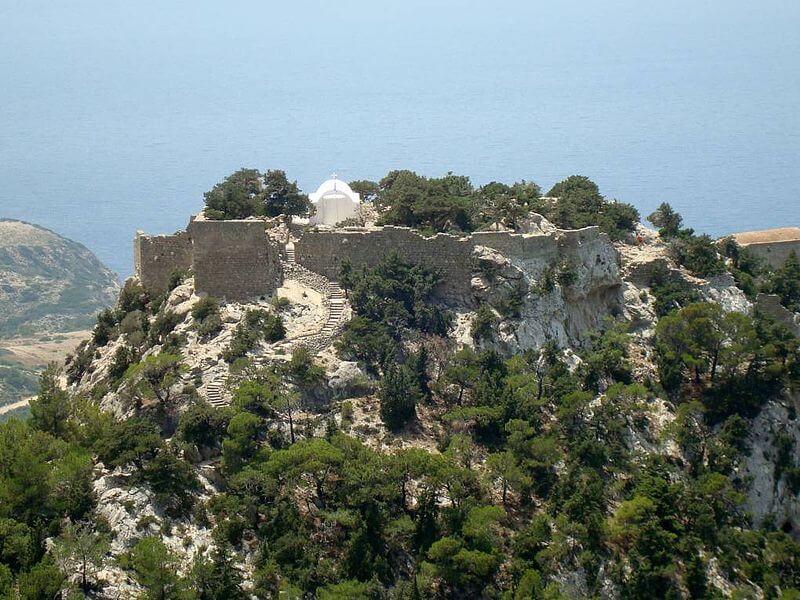 Photo: wikimedia.org
Monolithos is a small village tucked away outside of Faliraki. The route over offers beautiful scenery. The village itself hosts a medieval castle built in the late 1400s on a 300-foot outcrop overlooking the ocean. the castle now lies in ruins but its location offers scenic walks along the overhang. The village itself is built like an amphitheater and is teeming with traditional tavernas where you can unwind after your explorations.
9. Marmaris Day Trip
Marmaris is a Turkish coastal town situated about a quarter of an hour away from Rhodes by boat. Ferries ply between towns every morning and evening save for Wednesdays and Thursdays. Marmaris has a beautiful old-world charm that visitors can explore in the old city or refresh themselves and just chill at cafes and restaurants in the newer parts of town.
10. Day Trip to Rhodes Town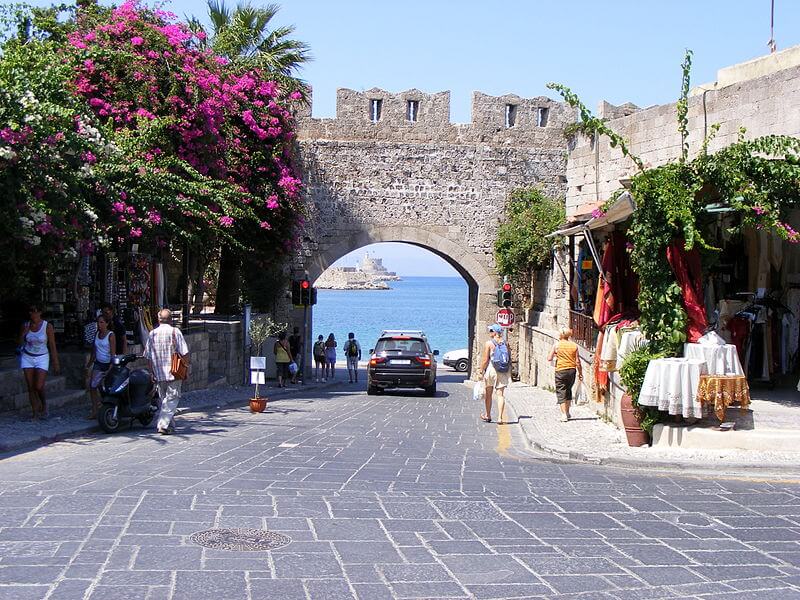 Photo: wikimedia.org
Water taxis ply between ports but there is an alternative route by road as well, to go from Faliraki to Rhodes Town. The town has been rated by the UNESCO as a heritage site. It is one of the oldest, inhabited and thriving medieval towns in Europe. It has about 200 nameless streets that you can meander through to soak up the ancient charm of the town. Some of the must watch wonders in this little town are the Palace of the Grand Masters built in the 14th century, A fortress refurbished to serve as a holiday spot for Mussolini, and the medieval inns on the cobbled streets of the Knights.
11. Waterfront Tavernas
The waterfront is teeming with Tavernas that serve classic Greek fare like Moussaka, Mezze and Souvlaki to wash down with a pint or two of ouzo. These tavernas offer great sea views and a relaxing atmosphere. After a night spent partying or walking around exploring, the taverna makes for a refreshing change in both cuisine and pace.
12. Emery Winery
The winery offers tours and tasting of the wines produced here. The staff at the bar assist with the free tasting and let you try as many as you like until you discover your preferred taste. They produce whites and reds and rose, but sparkling is produced every other year. The wines are relatively inexpensive and delicious. The ride to the winery itself is beautiful and the town has some old tavernas worth a visit as well.
13. Aquaworld
Aquaworld is the aquarium of Faliraki. It has an extensive marine collection from the Mediterranean Sea and is especially fun for children and families' intent on exploring under the sea. The aquarium adds a thrill for children by letting them touch starfish, sea cucumbers, king crabs and other animals. They also leave you with a free souvenir before you go.
14. Bee Museum
A must-see quick stop, the bee museum offers insight into the life of a hive, beekeeping and all associated activities. There are short films and you can tour the museum to learn more. The museum store offers free honey tasting. You can also purchase your own jars or honey liqueurs or honey soaps from the store.
15. Fishing Harbour of St Apostolos
Th harbor is a buzz of activity, especially in the morning when the fishing boats bring in their hauls. You can purchase your own seafood here, or sit down for a cup of coffee in a café overlooking the scene. This is also the landing bay for day cruisers that take tourists out for boat rides and explorations, in and around Faliraki or to nearby towns as well.
The coastal town of Faliraki holds on to tradition in its fishing economy but also offers all the modern attractions of a city. An intriguing mix of town charm and city life makes it a restful holiday retreat because the town lets you party hard but soothes you with its placid aura as well.