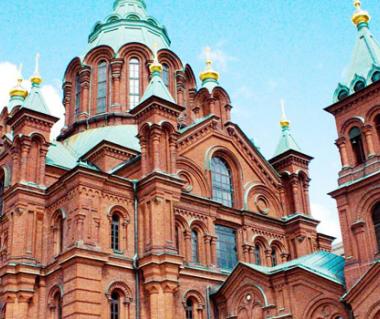 Finland Trip Planner
Plan your customized trip plan for Finland. Choose from Top Toursim cities and tourist attarctions of Finland using trip planner.
Finland Overview
If you want to thank the ingenious Finnish for inventing the steam bath, among other great innovations, do so by venturing into their scenic country - Finland. Finland contains some of the most densely forested parts of the Scandinavian Peninsula – a land of lakes, woods and astounding Nordic beauty. Come explore this land of stark natural beauty, from the rugged terrain of Lapland to the idyllic landscapes of the Swedish influenced Aland Islands and into the metropolitan city of Helsinki. Finland is truly a land where nature reigns alongside high technology and 21st century modernity.
How to enter:-
Air: - The national airline is Finnair, which along with other international carriers connects many cities in Europe and beyond, to Helsinki. Finnair also offers special youth discounts to people below the age of 25.
Rail: - The efficient and speedy train network of Finland connects the country to nearby locations such as Denmark, Sweden and Norway. On a ScanRail or ScanRail Flexi Pass, you can avail of unlimited travel between all of the above countries.
Road: - You can drive into Finland from neighbouring countries of Sweden, Russia and Denmark.
Climate and best time to visit: - 'Maritime' and 'Continental' are the two words which best summarizes the climate of Finland. Even though the ideal time to visit this country is from May through September, Finland offers many interesting natural phenomena throughout the year. The most interesting part of summer season is the 'Polar days' when 'Midnight Sun' appears in the sky, as if transfixed in the atmosphere for two months.
What to see: - Finland is a land of contrasts. The bustling urban landscape of Helsinki, or the forested Lakelands of Finnish Lapland - which shall it be, is a question entirely up to you. Popular points of tourist interest include Jean Sibelius Monument, the Uspensky Cathedral and the Sports Museums. Helsinki's islands, along with its picturesque avenues, zoos, recreational parks and museums will keep you occupied longer than you ever expected. Finland's enchanting south coast – with its innumerable islands and beaches, and predominant Swedish influence and culture – is another region you cannot leave Finland without experiencing.
Where can I advertise my vacation rental in Costa Rica

Answer

Report Abuse
Searching for something specific?