15 Best Things To Do in Fort Lauderdale
Everyone cheers upon hearing the name of Florida, so if you're ever planning on visiting the state as a tourist, you would be interested to know the prospective places to check out! Situated in southeastern Florida, Fort Lauderdale is world-famous for its beaches and canals. One can never get enough of the tourist attractions this city has to offer. A selection of numerous museums, art galleries, food tours and choice of delightful parks, Lauderdale has something for people of all ages! Do stop by the following places and make lovely memories if you visit this majestic city.
1. Spend a leisurely day at Fort Lauderdale Beach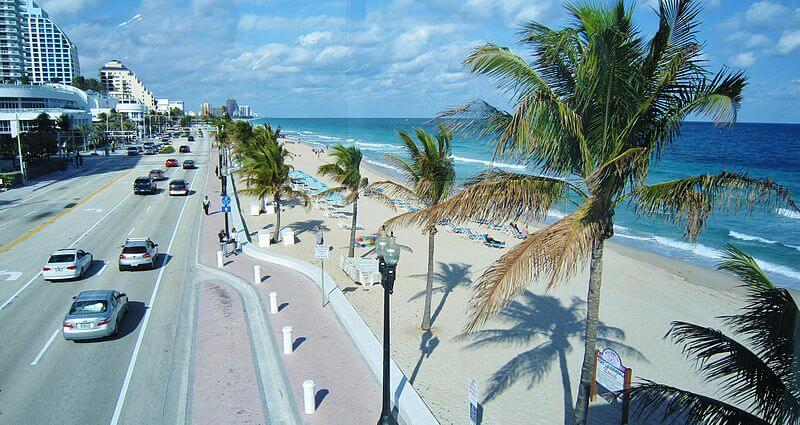 Image Source: wikimedia.org
A beautiful, relatively calm beach that features a number of popular restaurants, hotels and vendors, this beach is frequented by locals and tourists alike. Its glistening sand, deep blue waters and trees providing a peaceful shade are what makes it unique. Unlike others which are bustling with activity, you can hope to lie down and leisurely pass away your time here! Other than that, surfing, swimming and water skiing facilities are also available.
2. Visit various galleries and museums at Las Olas Boulevard
Image Source: wikimedia.org
Located near the New River, this place comprises of plenty of tourist attractions. Museums, art galleries, over a hundred boutiques, waterside cafes and bistros are the popular spots here. One can explore the Las Olas Boulevard by renting out a yacht, a gondola or a humble boat. Though similar to a regular beach, this place does offer a multitude of activities to enjoy! It is often dubbed as the Venice of America.
3. Enjoy the wetlands and gardens at Bonnet House Museum & Gardens
For the inquisitive minds, this Lauderdale landmark is the perfect way to spend the day! One can observe a strange yet beautiful harmony of ecology, art, history and architecture here. Home to five types of ecosystems, one can relish the beach, dunes, freshwater slough, mangrove wetlands and quite a variety of gardens. Additionally, it proudly showcases Frederic Clay Bartlett's art collection and personal treasures. With such diversity in a single place, it deserves to be visited!
4. Look at Vintage cars and bikes at The Antique Car Museum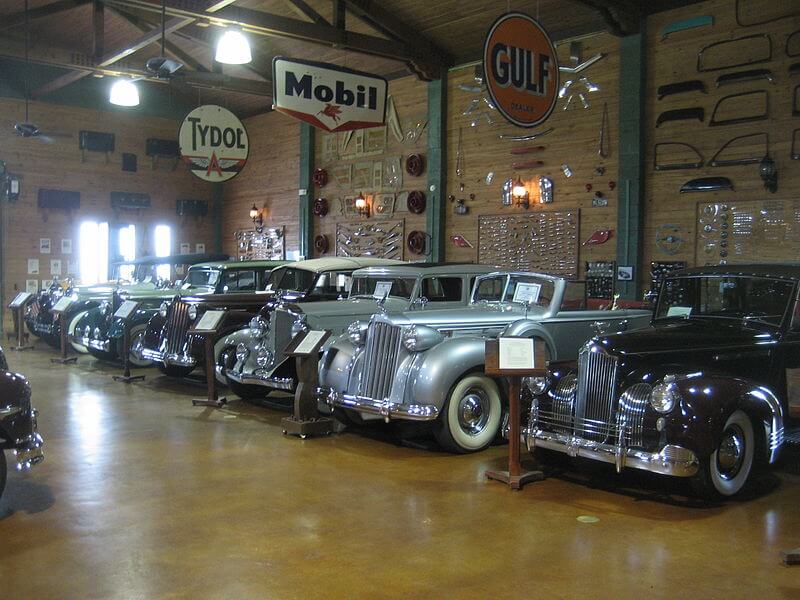 Image Source: wikimedia.org
For the those get an adrenalin rush on seeing the vintage collection of cars or bikes, this museum would be death field! It chiefly emphasizes on the history of the Packard Motor Company and also has an entire gallery dedicated to President Franklin D. Roosevelt. Pre-war Packard automobiles, antique dashboard clocks, rare carburettors, customized gear shifts and much more can be seen this fascinating space!
5. Witness Modern Art at The NSU Art Museum
An edifice committed to displaying modern art in its unique form; the NSU Art Museum exhibits over 7,000 artworks by individuals belonging to varied ethnicities and races. Ranging from Latin American, Cuban, African to Oceanic Tribal Arts, this multicultural art centre is a must stop to experience the world's diversity on a single platform!
6. Visit The Museum of Discovery and Science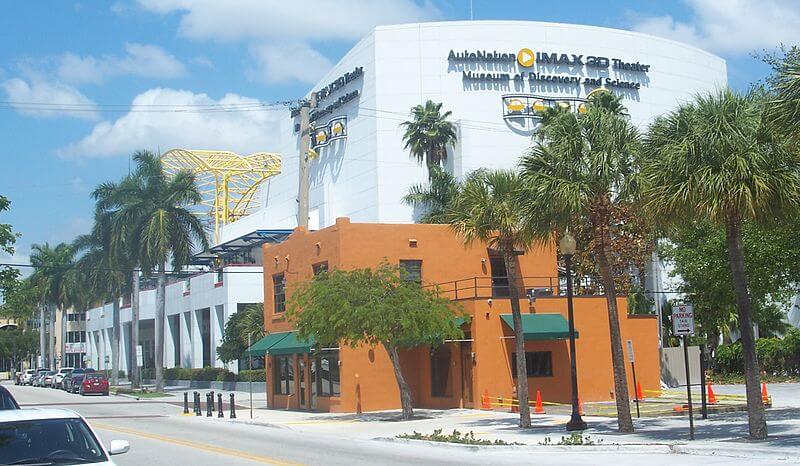 Image Source: wikimedia.org
A one-stop destination for your entire family, this museum will educate and entertain everyone at the same time! One can delve into Prehistoric Florida, the ecosystem of 21st century Florida, explore hurricanes via the Storm Centre, sing along with the eco-conscious robot Harry the Heap or watch nature films at the Keller Science Theatre! The list can go on but why don't you check out this mind-blowing museum yourself?
7. Enjoy At Everglades Holiday Park with Family
Learn all about the habitat of alligators or fly while witnessing the vast ecosystem of some of Everglade's wild animals! The Gator Boys Alligator Rescue Team not only spreads awareness on the need to conserve and preserve the American alligator but also perform thrilling stunts that are loved by the audience. A fun-learning experience is what you can hope to receive on your visit to this amazing Holiday Park.
8. Enjoy A Picnic setup At Hugh Taylor Birch Park
If you're looking for a quiet space to have casual picnics or long walks with your family, then this place is for you! Provisions for fishing, canoeing, relaxing at the beach, cycling and rollerblading are available for those in search of some adventurous activities. The studious ones of the lot can also stop by the Birch House Museum to know the history and benefits of this intelligently located park.
9. Witness History At Stranahan House Museum
A colourful history is associated with this building itself, built by Frank Stranahan in 1901; it has served as a trading post, post office, town hall, restaurant and community centre. It is the oldest surviving structure of the Broward County. Now it's a wonderful museum portraying the Victorian lifestyle, tropical gardens and also has a little gift shop selling handmade artefacts by local artists.
10. Take A Ride on the Jungle Queen Riverboat
This cruise has been in service for tourists and locals alike since 1935. A short yet fulfilling journey on the Jungle Queen will be cherished by you; the tour guides entertain guests through interesting facts about the places they pass. A delicious buffet, live-animal show on an isle coupled with a scenic view of the grand architecture and deep waters leaves one fully satisfied once the tour ends!
11. Eat to your heart's content at Las Olas Food Tours
Any trip would be incomplete without trying out the local cuisines. These walking food tours take visitors to six different finest restaurants of the city where they can enjoy the culture and food together. If you're tired of visiting museum after museum and are looking for something different, then just join Fort Lauderdale's food tours!
12. Revisit History At Fort Lauderdale Fire and Safety Museum
This fire station turned museum includes historical equipment, alarms and fire engines. Photos, uniforms of soldiers from 1920s and photos decorate the walls of this Mediterranean style house. It was built in 1927 and is a sort of tribute to the city after it survived the hurricane of 1926. The Safety Museum includes a children's learning centre where they are taught to be vigilant in times of an emergency.
13. Enjoy Music At Fort Lauderdale Symphony Orchestra
You have savoured the exquisite food, travelled unique museums and felt alive at exotic parks, so how about treating your ears as well? The Symphony Orchestra enhances the cultural experiences of South Florida with its musical compositions under the able guidance of conductor Sebrina María Alfonso. Be it a romantic dinner or birthday or simply a pleasant evening, the presence of this orchestra will surely leave you spellbound!
14. Spend leisurely hours at Colee Hammock Park
Fancying to lie down on a lazy afternoon? Doing nothing but gazing into the blissful abyss of life? When you are too tired to roam around, just carry your cosiest blanket or a hammock and head out to the Colee Hammock Park! You can easily spend hours here, nestled in large trees, just enjoying the view of boats sailing on the waterways.
15. Visit the International Swimming Hall of Fame
This place is a three-in-one destination including a museum, hall of fame and luxurious aquatic center all in one place! It regularly holds national and international swimming tournaments and features the largest collection of memorabilia from the rich history of aquatic sports.
Lauderdale deserves more popularity for it has quite a lot of people of every tastes and preference. We have tried to include all that we could, let us know if you're aware of some lesser known destinations that ought to have a place in this list!
Are you looking for a Fort Lauderdale travel itinerary? Create an itinerary within minutes, on your own!
Top-Rated Tourist Attractions in Fort Lauderdale, Florida
Must see places in Fort Lauderdale ranked on popularity. Here is the complete list of best attractions in Fort Lauderdale and point of interests to visit.
Tourist Attractions Near Fort Lauderdale
Find Your Fort Lauderdale Attractions on Map
Types of Things To Do in Fort Lauderdale
Find more attractions and places to visit in Fort Lauderdale under these things to do categories.
Top Fort Lauderdale Activities And Tours
Explore the best things to do in Fort Lauderdale. These are the most preferred tourist activities.
Find more places to see in Fort Lauderdale
1905 New River Inn

219 SW 2nd Ave

Historic and Protected Sites

Old Dillard High School

1001 NW 4th St

Historic and Protected Sites

Williams House

119 Rose Dr

Historic and Protected Sites

Link Trainer Building

4050 W Perimeter Rd

Historic and Protected Sites

Dr Willard Van Orsdel King House

1336 Seabreeze Blvd

Historic and Protected Sites

The Ancient Spanish Monastery

16711 W Dixie Hwy

Historic and Protected Sites
View On Map
Lake Sylvia Anchorage

Mayan Dr

Lakes

Sports Fishing Tours

Lakes

Lake Boca

691 S Ocean Blvd

Lakes
View On Map
Museum Of Discovery and Science

401 SW 2nd St

Museums

Naval Air Station Fort Lauderdale Museum

4000 W Perimeter Rd

Museums

Bonnet House Museum & Gardens

900 N Birch Rd

Museums

Stranahan House

335 SE 6th Ave

Museums

Fort Lauderdale Historical Society

219 SW 2nd Ave

Museums

Antique Car Museum

1527 SW 1st Ave

Museums
View On Map
Uncle Bernie's Theme Park

3501 W Sunrise Blvd

Amusement Parks

Funderdome Indoor Playground and Cafe

1455 SE 17th St

Amusement Parks

Restaurants

Cafes, Coffee and Tea Houses

Tropical Sailing

801 Seabreeze Blvd

Amusement Parks

Arcades

Primetime Amusements

5300 Powerline Rd

Amusement Parks

Arcades

American Lifeguard Products

1213 SE 3rd Ave

Amusement Parks

Dreamark Events

4545 Powerline Rd

Amusement Parks

Arcades
View On Map
Riverside Market South

3218 SE 6th Ave

Italian

Bars

Cubby Hole

823 N Federal Hwy

Bars

Burgers

Poor House

110 Nugent Ave

Bars

Night Clubs

Restaurants

Thursday's Fort Lauderdale

1521 E Las Olas Blvd

French

Bars

Purita's Restaurant & Lounge

7817 Pines Blvd

Burgers

Mexican

Bars

World of Beer

4437 Lyons Rd

Bars
View On Map
Hard Rock Cafe

101 Seminole Dr

Casinos and Gaming

American

A Casino Event

1050 Park Dr

Casinos and Gaming

Dania Casino

301 E Dania Beach Blvd

Casinos and Gaming

Mardi Gras Casino

831 N Federal Hwy

Casinos and Gaming

Calder Race Course

21001 NW 27th Ave

Casinos and Gaming

Seminole Casino Hollywood

4150 N State Road 7

Casinos and Gaming

Restaurants
View On Map
Markham Park

16001 W State Road 84

Natural Parks

Highlands Scrub Natural Area

Natural Parks

Gumbo Limbo Amphitheater

Natural Parks

Everglades National Park

Natural Parks
View On Map
Snyder Park

3299 SW 4th Ave

Dog Parks

Annie Beck Park

N Victoria Park Rd

Dog Parks

Topeekeegee Yugnee Park

3300 N Park Rd

Playgrounds

Dog Parks

Mizner Bark Dog Park

751 Banyan Trl

Dog Parks

North Shore Park

501 72nd St

Dog Parks

Happy Tails Dog Park

6500 NW 16th St

Dog Parks
View On Map
Fort Lauderdale Beach Park

1100 Seabreeze Blvd

Beaches

Sebastian Beach

1 N Fort Lauderdale Beach Blvd

Beaches

Fort Lauderdale Beach

South Fort Lauderdale Beach Boulevard, 300-332

Beaches

Ft. Lauderdale Beach Park

1100 Seabreeze Blvd

Beaches

Vista Park

2851 N Atlantic Blvd

Beaches

Doctor Jet Ski & Water Sports Rental

4060 Galt Ocean Dr

Beaches
View On Map
New River Greenway

Hiking

Plantation Preserve Linear Trail

7050 W Broward Blvd

Hiking

Everglades Levee Trail

Hiking

Anne Kolb Nature Trails Park

Hiking

Times Mirror Marketing

Hiking
View On Map
What To Do in Fort Lauderdale: Day-Wise Ideas
Find what not to miss in Fort Lauderdale! Recommended Fort Lauderdale itineraries and vacation ideas created by travelers across the world.