Best Time To Visit Fort Myers
Explore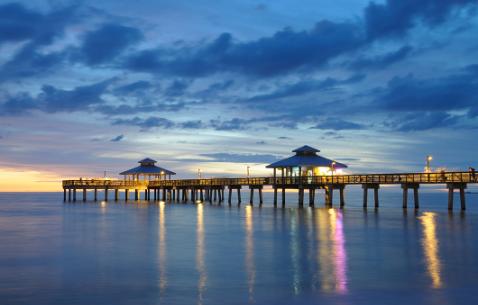 Accommodations with

See All
Best Time To Go To Fort Myers
Summer: Summer season is in the months of March to May. The temperatures are not too overwhelming, either ways in this season. It is a relaxed time, with warm climate and pleasant beaches.
Rainy: Rainy season lasts between June to August. It is usually very hot and humid at this time here and the weather can be exhausting.
Autumn: Autumn season lasts between September to November. The heat has subsided during this time and rains have receded. The risk of hurricanes persist, nonetheless.
Winter: The winter season lasts between September to November. It is not too overbearingly cold here during this time, though the beaches stay deserted and clean.
The best time to visit Fort Myers is in the month of March to May.
Explore the best travel planner for your visit to Fort Myers and create a flawless plan in few simple steps!
Best time to go to Fort Myers Attractions

: Tuesday to Saturday 11:00 AM - 3:00 PM
: Tuesday to Saturday 11:00 AM - 3:00 PM
: Tuesday to Saturday 11:00 AM - 3:00 PM
: Tuesday to Saturday 11:00 AM - 3:00 PM
: Tuesday to Saturday 11:00 AM - 3:00 PM
: Tuesday to Saturday 11:00 AM - 3:00 PM
: Tuesday to Saturday 11:00 AM - 3:00 PM
: Tuesday to Saturday 11:00 AM - 3:00 PM
: Tuesday to Saturday 11:00 AM - 3:00 PM
: Tuesday to Saturday 11:00 AM - 3:00 PM
: Tuesday to Saturday 11:00 AM - 3:00 PM
: Tuesday to Saturday 11:00 AM - 3:00 PM

: Tuesday to Sunday 11:00 AM - 3:00 PM
: Tuesday to Sunday 11:00 AM - 3:00 PM
: Tuesday to Sunday 11:00 AM - 3:00 PM
: Tuesday to Sunday 11:00 AM - 3:00 PM
: Tuesday to Sunday 11:00 AM - 3:00 PM
: Tuesday to Sunday 11:00 AM - 3:00 PM
: Tuesday to Sunday 11:00 AM - 3:00 PM
: Tuesday to Sunday 11:00 AM - 3:00 PM
: Tuesday to Sunday 11:00 AM - 3:00 PM
: Tuesday to Sunday 11:00 AM - 3:00 PM
: Tuesday to Sunday 11:00 AM - 3:00 PM
: Tuesday to Sunday 11:00 AM - 3:00 PM

: Monday to Friday 10:00 AM - 2:00 PM; Saturday 10:00 AM - 1:00 PM
: Monday to Friday 10:00 AM - 2:00 PM; Saturday 10:00 AM - 1:00 PM
: Monday to Friday 10:00 AM - 2:00 PM; Saturday 10:00 AM - 1:00 PM
: Monday to Friday 10:00 AM - 2:00 PM; Saturday 10:00 AM - 1:00 PM
: Monday to Friday 10:00 AM - 2:00 PM; Saturday 10:00 AM - 1:00 PM
: Monday to Friday 10:00 AM - 2:00 PM; Saturday 10:00 AM - 1:00 PM
: Monday to Friday 10:00 AM - 2:00 PM; Saturday 10:00 AM - 1:00 PM
: Monday to Friday 10:00 AM - 2:00 PM; Saturday 10:00 AM - 1:00 PM
: Monday to Friday 10:00 AM - 2:00 PM; Saturday 10:00 AM - 1:00 PM
: Monday to Friday 10:00 AM - 2:00 PM; Saturday 10:00 AM - 1:00 PM
: Monday to Friday 10:00 AM - 2:00 PM; Saturday 10:00 AM - 1:00 PM
: Monday to Friday 10:00 AM - 2:00 PM; Saturday 10:00 AM - 1:00 PM

: Everyday 10:00 AM - 2:00 PM
: Everyday 10:00 AM - 2:00 PM
: Everyday 10:00 AM - 2:00 PM
: Everyday 10:00 AM - 2:00 PM
: Everyday 10:00 AM - 2:00 PM
: Everyday 10:00 AM - 2:00 PM
: Everyday 10:00 AM - 2:00 PM
: Everyday 10:00 AM - 2:00 PM
: Everyday 10:00 AM - 2:00 PM
: Everyday 10:00 AM - 2:00 PM
: Everyday 10:00 AM - 2:00 PM
: Everyday 10:00 AM - 2:00 PM

: Everyday 2:00 PM - 8:00 PM
: Everyday 2:00 PM - 8:00 PM
: Everyday 2:00 PM - 8:00 PM
: Everyday 2:00 PM - 8:00 PM
: Everyday 2:00 PM - 8:00 PM
: Everyday 2:00 PM - 8:00 PM
: Everyday 2:00 PM - 8:00 PM
: Everyday 2:00 PM - 8:00 PM
: Everyday 2:00 PM - 8:00 PM
: Everyday 2:00 PM - 8:00 PM
: Everyday 2:00 PM - 8:00 PM
: Everyday 2:00 PM - 8:00 PM

: Tuesday to Saturday 10:00 AM - 4:00 PM
: Tuesday to Saturday 10:00 AM - 4:00 PM
: Tuesday to Saturday 10:00 AM - 4:00 PM
: Tuesday to Saturday 10:00 AM - 4:00 PM
: Tuesday to Saturday 10:00 AM - 4:00 PM
: Tuesday to Saturday 10:00 AM - 4:00 PM
: Tuesday to Saturday 10:00 AM - 4:00 PM
: Tuesday to Saturday 10:00 AM - 4:00 PM
: Tuesday to Saturday 10:00 AM - 4:00 PM
: Tuesday to Saturday 10:00 AM - 4:00 PM
: Tuesday to Saturday 10:00 AM - 4:00 PM
: Tuesday to Saturday 10:00 AM - 4:00 PM

: Everyday 11:00 AM - 2:00 PM
: Everyday 11:00 AM - 2:00 PM
: Everyday 11:00 AM - 2:00 PM
: Everyday 11:00 AM - 2:00 PM
: Everyday 11:00 AM - 2:00 PM
: Everyday 11:00 AM - 2:00 PM
: Everyday 11:00 AM - 2:00 PM
: Everyday 11:00 AM - 2:00 PM
: Everyday 11:00 AM - 2:00 PM
: Everyday 11:00 AM - 2:00 PM
: Everyday 11:00 AM - 2:00 PM
: Everyday 11:00 AM - 2:00 PM

: Wednesday to Saturday 5:30 PM - 9:00 PM
: Wednesday to Saturday 5:30 PM - 9:00 PM
: Wednesday to Saturday 5:30 PM - 9:00 PM
: Wednesday to Saturday 5:30 PM - 9:00 PM
: Wednesday to Saturday 5:30 PM - 9:00 PM
: Wednesday to Saturday 5:30 PM - 9:00 PM
: Wednesday to Saturday 5:30 PM - 9:00 PM
: Wednesday to Saturday 5:30 PM - 9:00 PM
: Wednesday to Saturday 5:30 PM - 9:00 PM
: Wednesday to Saturday 5:30 PM - 9:00 PM
: Wednesday to Saturday 5:30 PM - 9:00 PM
: Wednesday to Saturday 5:30 PM - 9:00 PM

: Monday to Saturday 5:30 PM - 2:00 PM
: Monday to Saturday 5:30 PM - 2:00 PM
: Monday to Saturday 5:30 PM - 2:00 PM
: Monday to Saturday 5:30 PM - 2:00 PM
: Monday to Saturday 5:30 PM - 2:00 PM
: Monday to Saturday 5:30 PM - 2:00 PM
: Monday to Saturday 5:30 PM - 2:00 PM
: Monday to Saturday 5:30 PM - 2:00 PM
: Monday to Saturday 5:30 PM - 2:00 PM
: Monday to Saturday 5:30 PM - 2:00 PM
: Monday to Saturday 5:30 PM - 2:00 PM
: Monday to Saturday 5:30 PM - 2:00 PM

: Monday to Saturday 11:00 AM - 4:00 PM
: Monday to Saturday 11:00 AM - 4:00 PM
: Monday to Saturday 11:00 AM - 4:00 PM
: Monday to Saturday 11:00 AM - 4:00 PM
: Monday to Saturday 11:00 AM - 4:00 PM
: Monday to Saturday 11:00 AM - 4:00 PM
: Monday to Saturday 11:00 AM - 4:00 PM
: Monday to Saturday 11:00 AM - 4:00 PM
: Monday to Saturday 11:00 AM - 4:00 PM
: Monday to Saturday 11:00 AM - 4:00 PM
: Monday to Saturday 11:00 AM - 4:00 PM
: Monday to Saturday 11:00 AM - 4:00 PM

: Monday to Saturday 11:00 AM - 2:00 PM
: Monday to Saturday 11:00 AM - 2:00 PM
: Monday to Saturday 11:00 AM - 2:00 PM
: Monday to Saturday 11:00 AM - 2:00 PM
: Monday to Saturday 11:00 AM - 2:00 PM
: Monday to Saturday 11:00 AM - 2:00 PM
: Monday to Saturday 11:00 AM - 2:00 PM
: Monday to Saturday 11:00 AM - 2:00 PM
: Monday to Saturday 11:00 AM - 2:00 PM
: Monday to Saturday 11:00 AM - 2:00 PM
: Monday to Saturday 11:00 AM - 2:00 PM
: Monday to Saturday 11:00 AM - 2:00 PM

: Tuesday to Saturday 11:00 AM - 3:00 PM
: Tuesday to Saturday 11:00 AM - 3:00 PM
: Tuesday to Saturday 11:00 AM - 3:00 PM
: Tuesday to Saturday 11:00 AM - 3:00 PM
: Tuesday to Saturday 11:00 AM - 3:00 PM
: Tuesday to Saturday 11:00 AM - 3:00 PM
: Tuesday to Saturday 11:00 AM - 3:00 PM
: Tuesday to Saturday 11:00 AM - 3:00 PM
: Tuesday to Saturday 11:00 AM - 3:00 PM
: Tuesday to Saturday 11:00 AM - 3:00 PM
: Tuesday to Saturday 11:00 AM - 3:00 PM
: Tuesday to Saturday 11:00 AM - 3:00 PM

: Tuesday to Saturday 11:00 AM - 3:00 PM
: Tuesday to Saturday 11:00 AM - 3:00 PM
: Tuesday to Saturday 11:00 AM - 3:00 PM
: Tuesday to Saturday 11:00 AM - 3:00 PM
: Tuesday to Saturday 11:00 AM - 3:00 PM
: Tuesday to Saturday 11:00 AM - 3:00 PM
: Tuesday to Saturday 11:00 AM - 3:00 PM
: Tuesday to Saturday 11:00 AM - 3:00 PM
: Tuesday to Saturday 11:00 AM - 3:00 PM
: Tuesday to Saturday 11:00 AM - 3:00 PM
: Tuesday to Saturday 11:00 AM - 3:00 PM
: Tuesday to Saturday 11:00 AM - 3:00 PM

: Everyday 11:00 AM - 1:30 PM
: Everyday 11:00 AM - 1:30 PM
: Everyday 11:00 AM - 1:30 PM
: Everyday 11:00 AM - 1:30 PM
: Everyday 11:00 AM - 1:30 PM
: Everyday 11:00 AM - 1:30 PM
: Everyday 11:00 AM - 1:30 PM
: Everyday 11:00 AM - 1:30 PM
: Everyday 11:00 AM - 1:30 PM
: Everyday 11:00 AM - 1:30 PM
: Everyday 11:00 AM - 1:30 PM
: Everyday 11:00 AM - 1:30 PM

: Everyday 9:00 AM - 5:00 PM
: Everyday 9:00 AM - 5:00 PM
: Everyday 9:00 AM - 5:00 PM
: Everyday 9:00 AM - 5:00 PM
: Everyday 9:00 AM - 5:00 PM
: Everyday 9:00 AM - 5:00 PM
: Everyday 9:00 AM - 5:00 PM
: Everyday 9:00 AM - 5:00 PM
: Everyday 9:00 AM - 5:00 PM
: Everyday 9:00 AM - 5:00 PM
: Everyday 9:00 AM - 5:00 PM
: Everyday 9:00 AM - 5:00 PM

: Tuesday to Sunday 11:00 AM - 2:00 PM
: Tuesday to Sunday 11:00 AM - 2:00 PM
: Tuesday to Sunday 11:00 AM - 2:00 PM
: Tuesday to Sunday 11:00 AM - 2:00 PM
: Tuesday to Sunday 11:00 AM - 2:00 PM
: Tuesday to Sunday 11:00 AM - 2:00 PM
: Tuesday to Sunday 11:00 AM - 2:00 PM
: Tuesday to Sunday 11:00 AM - 2:00 PM
: Tuesday to Sunday 11:00 AM - 2:00 PM
: Tuesday to Sunday 11:00 AM - 2:00 PM
: Tuesday to Sunday 11:00 AM - 2:00 PM
: Tuesday to Sunday 11:00 AM - 2:00 PM

: Everyday 6:00 PM - 10:00 PM
: Everyday 6:00 PM - 10:00 PM
: Everyday 6:00 PM - 10:00 PM
: Everyday 6:00 PM - 10:00 PM
: Everyday 6:00 PM - 10:00 PM
: Everyday 6:00 PM - 10:00 PM
: Everyday 6:00 PM - 10:00 PM
: Everyday 6:00 PM - 10:00 PM
: Everyday 6:00 PM - 10:00 PM
: Everyday 6:00 PM - 10:00 PM
: Everyday 6:00 PM - 10:00 PM
: Everyday 6:00 PM - 10:00 PM

: Everyday 8:00 AM - 4:00 PM
: Everyday 8:00 AM - 4:00 PM
: Everyday 8:00 AM - 4:00 PM
: Everyday 8:00 AM - 4:00 PM
: Everyday 8:00 AM - 4:00 PM
: Everyday 8:00 AM - 4:00 PM
: Everyday 8:00 AM - 4:00 PM
: Everyday 8:00 AM - 4:00 PM
: Everyday 8:00 AM - 4:00 PM
: Everyday 8:00 AM - 4:00 PM
: Everyday 8:00 AM - 4:00 PM
: Everyday 8:00 AM - 4:00 PM

: Everyday 7:00 AM - 4:00 PM
: Everyday 7:00 AM - 4:00 PM
: Everyday 7:00 AM - 4:00 PM
: Everyday 7:00 AM - 4:00 PM
: Everyday 7:00 AM - 4:00 PM
: Everyday 7:00 AM - 4:00 PM
: Everyday 7:00 AM - 4:00 PM
: Everyday 7:00 AM - 4:00 PM
: Everyday 7:00 AM - 4:00 PM
: Everyday 7:00 AM - 4:00 PM
: Everyday 7:00 AM - 4:00 PM
: Everyday 7:00 AM - 4:00 PM

: Everyday 7:00 AM - 4:00 PM
: Everyday 7:00 AM - 4:00 PM
: Everyday 7:00 AM - 4:00 PM
: Everyday 7:00 AM - 4:00 PM
: Everyday 7:00 AM - 4:00 PM
: Everyday 7:00 AM - 4:00 PM
: Everyday 7:00 AM - 4:00 PM
: Everyday 7:00 AM - 4:00 PM
: Everyday 7:00 AM - 4:00 PM
: Everyday 7:00 AM - 4:00 PM
: Everyday 7:00 AM - 4:00 PM
: Everyday 7:00 AM - 4:00 PM

: Tuesday to Sunday 10:00 AM - 2:00 PM
: Tuesday to Sunday 10:00 AM - 2:00 PM
: Tuesday to Sunday 10:00 AM - 2:00 PM
: Tuesday to Sunday 10:00 AM - 2:00 PM
: Tuesday to Sunday 10:00 AM - 2:00 PM
: Tuesday to Sunday 10:00 AM - 2:00 PM
: Tuesday to Sunday 10:00 AM - 2:00 PM
: Tuesday to Sunday 10:00 AM - 2:00 PM
: Tuesday to Sunday 10:00 AM - 2:00 PM
: Tuesday to Sunday 10:00 AM - 2:00 PM
: Tuesday to Sunday 10:00 AM - 2:00 PM
: Tuesday to Sunday 10:00 AM - 2:00 PM

: Monday, Thursday, Sunday 10:00 AM - 4:00 PM
: Monday, Thursday, Sunday 10:00 AM - 4:00 PM
: Monday, Thursday, Sunday 10:00 AM - 4:00 PM
: Monday, Thursday, Sunday 10:00 AM - 4:00 PM
: Monday, Thursday, Sunday 10:00 AM - 4:00 PM
: Monday, Thursday, Sunday 10:00 AM - 4:00 PM
: Monday, Thursday, Sunday 10:00 AM - 4:00 PM
: Monday, Thursday, Sunday 10:00 AM - 4:00 PM
: Monday, Thursday, Sunday 10:00 AM - 4:00 PM
: Monday, Thursday, Sunday 10:00 AM - 4:00 PM
: Monday, Thursday, Sunday 10:00 AM - 4:00 PM
: Monday, Thursday, Sunday 10:00 AM - 4:00 PM

: Everyday 9:00 AM - 4:00 PM
: Everyday 9:00 AM - 4:00 PM
: Everyday 9:00 AM - 4:00 PM
: Everyday 9:00 AM - 4:00 PM
: Everyday 9:00 AM - 4:00 PM
: Everyday 9:00 AM - 4:00 PM
: Everyday 9:00 AM - 4:00 PM
: Everyday 9:00 AM - 4:00 PM
: Everyday 9:00 AM - 4:00 PM
: Everyday 9:00 AM - 4:00 PM
: Everyday 9:00 AM - 4:00 PM
: Everyday 9:00 AM - 4:00 PM

: Everyday 7:00 AM - 4:00 PM
: Everyday 7:00 AM - 4:00 PM
: Everyday 7:00 AM - 4:00 PM
: Everyday 7:00 AM - 4:00 PM
: Everyday 7:00 AM - 4:00 PM
: Everyday 7:00 AM - 4:00 PM
: Everyday 7:00 AM - 4:00 PM
: Everyday 7:00 AM - 4:00 PM
: Everyday 7:00 AM - 4:00 PM
: Everyday 7:00 AM - 4:00 PM
: Everyday 7:00 AM - 4:00 PM
: Everyday 7:00 AM - 4:00 PM

: Everyday 9:00 AM - 4:00 PM
: Everyday 9:00 AM - 4:00 PM
: Everyday 9:00 AM - 4:00 PM
: Everyday 9:00 AM - 4:00 PM
: Everyday 9:00 AM - 4:00 PM
: Everyday 9:00 AM - 4:00 PM
: Everyday 9:00 AM - 4:00 PM
: Everyday 9:00 AM - 4:00 PM
: Everyday 9:00 AM - 4:00 PM
: Everyday 9:00 AM - 4:00 PM
: Everyday 9:00 AM - 4:00 PM
: Everyday 9:00 AM - 4:00 PM

: Monday to Friday 8:00 AM - 5:00 PM; Saturday, Sunday 10:00 AM - 4:00 PM
: Monday to Friday 8:00 AM - 5:00 PM; Saturday, Sunday 10:00 AM - 4:00 PM
: Monday to Friday 8:00 AM - 5:00 PM; Saturday, Sunday 10:00 AM - 4:00 PM
: Monday to Friday 8:00 AM - 5:00 PM; Saturday, Sunday 10:00 AM - 4:00 PM
: Monday to Friday 8:00 AM - 5:00 PM; Saturday, Sunday 10:00 AM - 4:00 PM
: Monday to Friday 8:00 AM - 5:00 PM; Saturday, Sunday 10:00 AM - 4:00 PM
: Monday to Friday 8:00 AM - 5:00 PM; Saturday, Sunday 10:00 AM - 4:00 PM
: Monday to Friday 8:00 AM - 5:00 PM; Saturday, Sunday 10:00 AM - 4:00 PM
: Monday to Friday 8:00 AM - 5:00 PM; Saturday, Sunday 10:00 AM - 4:00 PM
: Monday to Friday 8:00 AM - 5:00 PM; Saturday, Sunday 10:00 AM - 4:00 PM
: Monday to Friday 8:00 AM - 5:00 PM; Saturday, Sunday 10:00 AM - 4:00 PM
: Monday to Friday 8:00 AM - 5:00 PM; Saturday, Sunday 10:00 AM - 4:00 PM

: Everyday 8:00 AM - 2:00 PM
: Everyday 8:00 AM - 2:00 PM
: Everyday 8:00 AM - 2:00 PM
: Everyday 8:00 AM - 2:00 PM
: Everyday 8:00 AM - 2:00 PM
: Everyday 8:00 AM - 2:00 PM
: Everyday 8:00 AM - 2:00 PM
: Everyday 8:00 AM - 2:00 PM
: Everyday 8:00 AM - 2:00 PM
: Everyday 8:00 AM - 2:00 PM
: Everyday 8:00 AM - 2:00 PM
: Everyday 8:00 AM - 2:00 PM

: Monday to Friday 8:00 AM - 7:00 PM; Saturday, Sunday 8:00 AM - 6:00 PM
: Monday to Friday 8:00 AM - 7:00 PM; Saturday, Sunday 8:00 AM - 6:00 PM
: Monday to Friday 8:00 AM - 7:00 PM; Saturday, Sunday 8:00 AM - 6:00 PM
: Monday to Friday 8:00 AM - 7:00 PM; Saturday, Sunday 8:00 AM - 6:00 PM
: Monday to Friday 8:00 AM - 7:00 PM; Saturday, Sunday 8:00 AM - 6:00 PM
: Monday to Friday 8:00 AM - 7:00 PM; Saturday, Sunday 8:00 AM - 6:00 PM
: Monday to Friday 8:00 AM - 7:00 PM; Saturday, Sunday 8:00 AM - 6:00 PM
: Monday to Friday 8:00 AM - 7:00 PM; Saturday, Sunday 8:00 AM - 6:00 PM
: Monday to Friday 8:00 AM - 7:00 PM; Saturday, Sunday 8:00 AM - 6:00 PM
: Monday to Friday 8:00 AM - 7:00 PM; Saturday, Sunday 8:00 AM - 6:00 PM
: Monday to Friday 8:00 AM - 7:00 PM; Saturday, Sunday 8:00 AM - 6:00 PM
: Monday to Friday 8:00 AM - 7:00 PM; Saturday, Sunday 8:00 AM - 6:00 PM