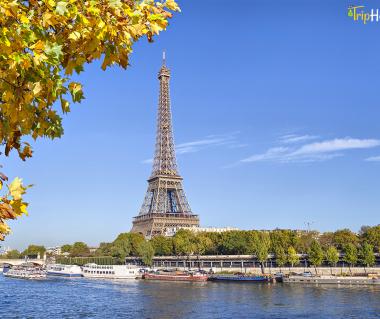 France Trip Planner
Plan your customized trip plan for France. Choose from Top Toursim cities and tourist attarctions of France using trip planner.
France Overview
France holds a charm for travelers that only few other countries can boast ofit is a country that seduces travelers with its unfalteringly familiar culture woven around café terraces, village-square markets and lace-curtained bistros.Perhaps it is the French feast of fine food and wine that woos so many travelers. (This is, after all, the country that entices more than any other: more than 80 million visitors a year, ranking it the world's top tourist destination. Travelers are intrigued by France's glorious past as well as by its cutting-edge cuisine, style, and fashion.
France to any travel enthusiast is a canvas of architectural brilliance.
Forget the Notre Dame, the Eiffel tower, the Roman Temples or other iconic landmarks unforgettable as they might be; every nook of France has a tastefully carved structure worth gazing up at. French culture offers never-ending possibilities to fill any stay in France.
Getting in and around France
By Air:
Being one of the most popular destinations in Europe, France has two major international airports. One is Charles de Gaulle also known as Roissy in Paris and the other is Orly, south of Paris and almost all international flights land there. Major airlines have flights to Lyon, Nice, Marseille, Bordeaux, Cannes, and Toulouse.
By Rail:
One of Europe's most efficient rail systems in France's Societe Nationale de Chemins de Fer, also known as the SNCF. Rather complicated though well-organized timetables will tell you with different colors, the high and low traffic periods. This helps because the low traffic periods give you a reduction, called tariffs Decouvertes. These discounted passes and the Eurailpass are valid on most services in France except on TGVs (high-speed trains that are faster and more convenient than air travel in many cases). The Eurostar has rapid connections from London and Brussels. The Channel Tunnel or "Chunnel" as it is popularly known, is the fastest way to get to England from France.
By Road:
International bus passes are cheaper than rail passes and could offer unlimited travel, letting you board a bus whenever and wherever. This option is especially attractive for those under 26 or over 60 years of age. If you are traveling by car, Eurotunnel shuttles cars between France and England. You can drive into France from any of the neighboring European countries.
By Sea:
There are several ferries between France and England, across the English Channel, but the most popular one is from Calais from Dover. There are several other services to England from Brittany or Normandy. The other popular routes are from Boulogne to Folkestone and Saint-Malo to Weymouth. There are also connections to the Channel Islands and to Ireland (Cherbourg-Cork). One can travel to the North African coast too – Sete-Tangier, Marseille-Tunis, and Marseille-Algiers. From Corsica, there is a service to Genoa in Italy.
What to see and experience:
Shopping:
Shopping in France means temptation at every corner and a significantly lighter pocket at the end of your trip. Being at the center of High Fashion, Parisian designer shops, specialty shops, and boutiques store the latest haute couture, fresh off the ramps. Jewellery shops are another favorite for those with a footwear fetish, shoe stores will not disappoint. There are also some extremely skilled shoemakers in Paris. The other main buys in France are crystal, lace, and textiles. For gifts, you could try and get prints of famous paintings at some of the secondhand booksellers or bouquinstes.
Eating out in France:
France boasts a simply unlimited spread of different cuisines of the world, especially in the bigger cities. Eating in France is serious work, so lingering over your coffee or sitting at a café to watch the world go by at breakfast is a must-do. Another thing that you must try is the way the French do - go along from one specialty shop to another making up a picnic as you go along.
Entertainment in France:
There is also no dearth of entertainment in France. Festivals, military parades, fireworks, and competitions are only some of the gamut of entertainment available in France. Musicians rule the roost on French streets in late June with festivals like the fete de la musique. There is also the option of going to one of the historic operas, with the condition that one either speaks French or does not mind sitting through a show uncomprehendingly!
Nightlife in France:
Indeed, the French take their nightlife quite seriously – the young crowd will not be seen dead in a discotheque before 1 am! After World War II, Paris was the center of jazz in Europe; it continues to attract major names today. A quintessentially Parisian phenomenon is the Cabaret – a glitzy, bohemian, utterly risqué form of entertainment. Some of the grander Cabaret shows in Paris feature hundreds of female dancers with elaborate costumes (or without them!). For more conventional entertainment options, there is a mind-boggling variety of casinos, nightclubs, and discotheques in big cities like Paris.
Events:
The pret a porter fashion shows in Paris in early February is an excellent opportunity not simply to view some of the world's best fashion but also check out the city's Beautiful People!
Most festivals are held in summer. The world-famous Cannes Film Festival is in May.
Another enjoyable event taking place in July and with worldwide viewers on TV is the Tour de France in Nice that has music, parades, and wine tasting as its main attractions.
Searching for something specific?