Best Time To Visit Franz Josef Glacier
Explore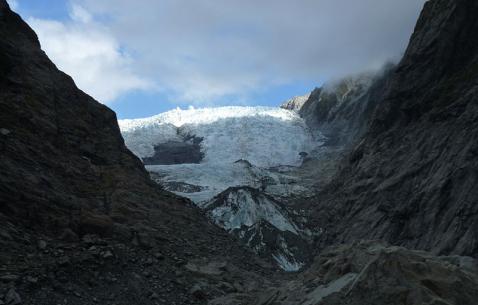 Best Time To Go To Franz Josef Glacier
The city of Franz Josef experiences a temperate and a warm climate that brings rainfall throughout the entire year. March is the wettest month while February is the driest month. The average annual temperature is 11.5 degree Celsius.
Summer (December - February): Summers in Franz Josef are warm and humid with a little rainfall. The month of February is the warmest with the temperature of 16.8 degree Celsius.
Autumn (March - May): The autumn season starts as warm and slowly as the season progresses there is a dip in the temperature scale marking the beginning of winter.
Winter (June - August): Winter in Franz Josef is mild and on the colder side. July is the coldest month of the year with the annual average temperature of about 5.8 degree Celsius.
Spring (September - November): As the season of winter ends, there is a rise in the mercury level and as the spring comes in, the flowers start blooming to their fullest.
The peak season to visit Franz Josef is during the summer when the temperature is relatively mild and on the warmer side. But the real action in Franz Josef begins in winter with all the snow activities coming live. So the best time to visit Franz Josef is during this season and the prices of the accommodations are also moderate.
Some of the major festivals that are celebrated in Franz Josef include Christmas, New Year, and Easter.
Best time to go to Franz Josef Glacier Attractions

: Everyday 6:00 AM - 9:00 AM
: Everyday 6:00 AM - 9:00 AM
: Everyday 6:00 AM - 9:00 AM
: Everyday 6:00 AM - 9:00 AM
: Everyday 6:00 AM - 9:00 AM
: Everyday 6:00 AM - 9:00 AM
: Everyday 6:00 AM - 9:00 AM
: Everyday 6:00 AM - 9:00 AM
: Everyday 6:00 AM - 9:00 AM
: Everyday 6:00 AM - 9:00 AM
: Everyday 6:00 AM - 9:00 AM
: Everyday 6:00 AM - 9:00 AM

: Everyday 10:00 AM - 2:00 PM
: Everyday 10:00 AM - 2:00 PM
: Everyday 10:00 AM - 2:00 PM
: Everyday 10:00 AM - 2:00 PM
: Everyday 10:00 AM - 2:00 PM
: Everyday 10:00 AM - 2:00 PM
: Everyday 10:00 AM - 2:00 PM
: Everyday 10:00 AM - 2:00 PM
: Everyday 10:00 AM - 2:00 PM
: Everyday 10:00 AM - 2:00 PM
: Everyday 10:00 AM - 2:00 PM
: Everyday 10:00 AM - 2:00 PM

: Everyday 7:00 AM - 11:00 PM
: Everyday 7:00 AM - 11:00 PM
: Everyday 7:00 AM - 11:00 PM
: Everyday 7:00 AM - 11:00 PM
: Everyday 7:00 AM - 11:00 PM
: Everyday 7:00 AM - 11:00 PM
: Everyday 7:00 AM - 11:00 PM
: Everyday 7:00 AM - 11:00 PM
: Everyday 7:00 AM - 11:00 PM
: Everyday 7:00 AM - 11:00 PM
: Everyday 7:00 AM - 11:00 PM
: Everyday 7:00 AM - 11:00 PM

: Everyday 7:00 AM - 10:00 AM
: Everyday 7:00 AM - 10:00 AM
: Everyday 7:00 AM - 10:00 AM
: Everyday 7:00 AM - 10:00 AM
: Everyday 7:00 AM - 10:00 AM
: Everyday 7:00 AM - 10:00 AM
: Everyday 7:00 AM - 10:00 AM
: Everyday 7:00 AM - 10:00 AM
: Everyday 7:00 AM - 10:00 AM
: Everyday 7:00 AM - 10:00 AM
: Everyday 7:00 AM - 10:00 AM
: Everyday 7:00 AM - 10:00 AM

: Everyday 7:00 AM - 7:00 PM
: Everyday 7:00 AM - 7:00 PM
: Everyday 7:00 AM - 7:00 PM
: Everyday 7:00 AM - 7:00 PM
: Everyday 7:00 AM - 7:00 PM
: Everyday 7:00 AM - 7:00 PM
: Everyday 7:00 AM - 7:00 PM
: Everyday 7:00 AM - 7:00 PM
: Everyday 7:00 AM - 7:00 PM
: Everyday 7:00 AM - 7:00 PM
: Everyday 7:00 AM - 7:00 PM
: Everyday 7:00 AM - 7:00 PM

: Everyday 10:00 AM - 3:00 PM
: Everyday 10:00 AM - 3:00 PM
: Everyday 10:00 AM - 3:00 PM
: Everyday 10:00 AM - 3:00 PM
: Everyday 10:00 AM - 3:00 PM
: Everyday 10:00 AM - 3:00 PM
: Everyday 10:00 AM - 3:00 PM
: Everyday 10:00 AM - 3:00 PM
: Everyday 10:00 AM - 3:00 PM
: Everyday 10:00 AM - 3:00 PM
: Everyday 10:00 AM - 3:00 PM
: Everyday 10:00 AM - 3:00 PM

: Everyday 9:00 AM - 2:00 PM
: Everyday 9:00 AM - 2:00 PM
: Everyday 9:00 AM - 2:00 PM
: Everyday 9:00 AM - 2:00 PM
: Everyday 9:00 AM - 2:00 PM
: Everyday 9:00 AM - 2:00 PM
: Everyday 9:00 AM - 2:00 PM
: Everyday 9:00 AM - 2:00 PM
: Everyday 9:00 AM - 2:00 PM
: Everyday 9:00 AM - 2:00 PM
: Everyday 9:00 AM - 2:00 PM
: Everyday 9:00 AM - 2:00 PM

: Everyday 9:00 AM - 2:00 PM
: Everyday 9:00 AM - 2:00 PM
: Everyday 9:00 AM - 2:00 PM
: Everyday 9:00 AM - 2:00 PM
: Everyday 9:00 AM - 2:00 PM
: Everyday 9:00 AM - 2:00 PM
: Everyday 9:00 AM - 2:00 PM
: Everyday 9:00 AM - 2:00 PM
: Everyday 9:00 AM - 2:00 PM
: Everyday 9:00 AM - 2:00 PM
: Everyday 9:00 AM - 2:00 PM
: Everyday 9:00 AM - 2:00 PM

: Everyday 7:00 AM - 1:00 PM
: Everyday 7:00 AM - 1:00 PM
: Everyday 7:00 AM - 1:00 PM
: Everyday 7:00 AM - 1:00 PM
: Everyday 7:00 AM - 1:00 PM
: Everyday 7:00 AM - 1:00 PM
: Everyday 7:00 AM - 1:00 PM
: Everyday 7:00 AM - 1:00 PM
: Everyday 7:00 AM - 1:00 PM
: Everyday 7:00 AM - 1:00 PM
: Everyday 7:00 AM - 1:00 PM
: Everyday 7:00 AM - 1:00 PM

: Everyday 9:00 AM - 2:00 PM
: Everyday 9:00 AM - 2:00 PM
: Everyday 9:00 AM - 2:00 PM
: Everyday 9:00 AM - 2:00 PM
: Everyday 9:00 AM - 2:00 PM
: Everyday 9:00 AM - 2:00 PM
: Everyday 9:00 AM - 2:00 PM
: Everyday 9:00 AM - 2:00 PM
: Everyday 9:00 AM - 2:00 PM
: Everyday 9:00 AM - 2:00 PM
: Everyday 9:00 AM - 2:00 PM
: Everyday 9:00 AM - 2:00 PM

: Everyday 10:00 AM - 4:00 PM
: Everyday 10:00 AM - 4:00 PM
: Everyday 10:00 AM - 4:00 PM
: Everyday 10:00 AM - 4:00 PM
: Everyday 10:00 AM - 4:00 PM
: Everyday 10:00 AM - 4:00 PM
: Everyday 10:00 AM - 4:00 PM
: Everyday 10:00 AM - 4:00 PM
: Everyday 10:00 AM - 4:00 PM
: Everyday 10:00 AM - 4:00 PM
: Everyday 10:00 AM - 4:00 PM
: Everyday 10:00 AM - 4:00 PM

: Everyday 7:00 AM - 11:00 PM
: Everyday 7:00 AM - 11:00 PM
: Everyday 7:00 AM - 11:00 PM
: Everyday 7:00 AM - 11:00 PM
: Everyday 7:00 AM - 11:00 PM
: Everyday 7:00 AM - 11:00 PM
: Everyday 7:00 AM - 11:00 PM
: Everyday 7:00 AM - 11:00 PM
: Everyday 7:00 AM - 11:00 PM
: Everyday 7:00 AM - 11:00 PM
: Everyday 7:00 AM - 11:00 PM
: Everyday 7:00 AM - 11:00 PM

: Everyday 10:00 AM - 2:00 PM
: Everyday 10:00 AM - 2:00 PM
: Everyday 10:00 AM - 2:00 PM
: Everyday 10:00 AM - 2:00 PM
: Everyday 10:00 AM - 2:00 PM
: Everyday 10:00 AM - 2:00 PM
: Everyday 10:00 AM - 2:00 PM
: Everyday 10:00 AM - 2:00 PM
: Everyday 10:00 AM - 2:00 PM
: Everyday 10:00 AM - 2:00 PM
: Everyday 10:00 AM - 2:00 PM
: Everyday 10:00 AM - 2:00 PM

: Everyday 10:00 AM - 4:00 PM
: Everyday 10:00 AM - 4:00 PM
: Everyday 10:00 AM - 4:00 PM
: Everyday 10:00 AM - 4:00 PM
: Everyday 10:00 AM - 4:00 PM
: Everyday 10:00 AM - 4:00 PM
: Everyday 10:00 AM - 4:00 PM
: Everyday 10:00 AM - 4:00 PM
: Everyday 10:00 AM - 4:00 PM
: Everyday 10:00 AM - 4:00 PM
: Everyday 10:00 AM - 4:00 PM
: Everyday 10:00 AM - 4:00 PM

: Everyday 8:30 AM - 6:30 PM
: Everyday 8:30 AM - 6:30 PM
: Everyday 8:30 AM - 6:30 PM
: Everyday 8:30 AM - 6:30 PM
: Everyday 8:30 AM - 6:30 PM
: Everyday 8:30 AM - 6:30 PM
: Everyday 8:30 AM - 6:30 PM
: Everyday 8:30 AM - 6:30 PM
: Everyday 8:30 AM - 6:30 PM
: Everyday 8:30 AM - 6:30 PM
: Everyday 8:30 AM - 6:30 PM
: Everyday 8:30 AM - 6:30 PM

: Everyday 7:00 AM - 9:00 PM
: Everyday 7:00 AM - 9:00 PM
: Everyday 7:00 AM - 9:00 PM
: Everyday 7:00 AM - 9:00 PM
: Everyday 7:00 AM - 9:00 PM
: Everyday 7:00 AM - 9:00 PM
: Everyday 7:00 AM - 9:00 PM
: Everyday 7:00 AM - 9:00 PM
: Everyday 7:00 AM - 9:00 PM
: Everyday 7:00 AM - 9:00 PM
: Everyday 7:00 AM - 9:00 PM
: Everyday 7:00 AM - 9:00 PM