Best Time To Visit Funchal
Explore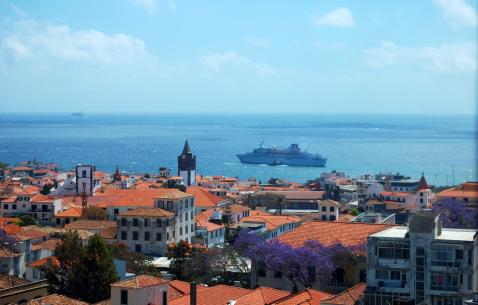 Accommodations with

See All
Best Time To Go To Funchal
Funchalweather is has mild Subtropical with even temperatures all year round. The climate can be separated into two main seasons: a rainier and slightly cooler season from October through March with average daily high temperatures ranging from 20 °C to 25 °C and a drier and warmer season from April through September with average daily high temperatures ranging from 21 °C to 26 °C. Humidity levels remain constantly high at about 70%.
The best time to visit Funchal is during the months of November to February. It is cool and you can enjoy all the spectacular attractions with ease. Since the city rises from the sea it commonly experiences cloudiness, fog, and rain during summers. But temperatures on the higher altitudes of the north suburbs are lower and the skies clearer even during summer. June experiences a lot of rain and a persistent cloud covers the entire bay. If you like a length and severe shower then Funchal is a great place to visit.
Explore the best travel planner for your visit to Funchal and create a flawless plan in few simple steps!
Best time to go to Funchal Attractions

: Everyday 9:00 AM - 6:00 PM
: Everyday 9:00 AM - 6:00 PM
: Everyday 9:00 AM - 6:00 PM
: Everyday 9:00 AM - 6:00 PM
: Everyday 9:00 AM - 6:00 PM
: Everyday 9:00 AM - 6:00 PM
: Everyday 9:00 AM - 6:00 PM
: Everyday 9:00 AM - 6:00 PM
: Everyday 9:00 AM - 6:00 PM
: Everyday 9:00 AM - 6:00 PM
: Everyday 9:00 AM - 6:00 PM
: Everyday 9:00 AM - 6:00 PM

: Everyday 9:30 AM - 3:30 PM
: Everyday 9:30 AM - 3:30 PM
: Everyday 9:30 AM - 3:30 PM
: Everyday 9:30 AM - 3:30 PM
: Everyday 9:30 AM - 3:30 PM
: Everyday 9:30 AM - 3:30 PM
: Everyday 9:30 AM - 3:30 PM
: Everyday 9:30 AM - 3:30 PM
: Everyday 9:30 AM - 3:30 PM
: Everyday 9:30 AM - 3:30 PM
: Everyday 9:30 AM - 3:30 PM
: Everyday 9:30 AM - 3:30 PM

: Everyday 9:30 AM - 6:00 PM
: Everyday 9:30 AM - 6:00 PM
: Everyday 9:30 AM - 6:00 PM
: Everyday 9:30 AM - 6:00 PM
: Everyday 9:30 AM - 6:00 PM
: Everyday 9:30 AM - 6:00 PM
: Everyday 9:30 AM - 6:00 PM
: Everyday 9:30 AM - 6:00 PM
: Everyday 9:30 AM - 6:00 PM
: Everyday 9:30 AM - 6:00 PM
: Everyday 9:30 AM - 6:00 PM
: Everyday 9:30 AM - 6:00 PM

: Everyday 10:00 AM - 7:00 PM
: Everyday 10:00 AM - 7:00 PM
: Everyday 10:00 AM - 7:00 PM
: Everyday 10:00 AM - 7:00 PM
: Everyday 10:00 AM - 7:00 PM
: Everyday 10:00 AM - 7:00 PM
: Everyday 10:00 AM - 7:00 PM
: Everyday 10:00 AM - 7:00 PM
: Everyday 10:00 AM - 7:00 PM
: Everyday 10:00 AM - 7:00 PM
: Everyday 10:00 AM - 7:00 PM
: Everyday 10:00 AM - 7:00 PM

: Everyday 7:00 AM - 8:30 AM
: Everyday 7:00 AM - 8:30 AM
: Everyday 7:00 AM - 8:30 AM
: Everyday 7:00 AM - 8:30 AM
: Everyday 7:00 AM - 8:30 AM
: Everyday 7:00 AM - 8:30 AM
: Everyday 7:00 AM - 8:30 AM
: Everyday 7:00 AM - 8:30 AM
: Everyday 7:00 AM - 8:30 AM
: Everyday 7:00 AM - 8:30 AM
: Everyday 7:00 AM - 8:30 AM
: Everyday 7:00 AM - 8:30 AM

: Everyday 24 Hrs
: Everyday 24 Hrs
: Everyday 24 Hrs
: Everyday 24 Hrs
: Everyday 24 Hrs
: Everyday 24 Hrs
: Everyday 24 Hrs
: Everyday 24 Hrs
: Everyday 24 Hrs
: Everyday 24 Hrs
: Everyday 24 Hrs
: Everyday 24 Hrs

: Everyday 10:00 AM - 6:00 PM
: Everyday 10:00 AM - 6:00 PM
: Everyday 10:00 AM - 6:00 PM
: Everyday 10:00 AM - 6:00 PM
: Everyday 10:00 AM - 6:00 PM
: Everyday 10:00 AM - 6:00 PM
: Everyday 10:00 AM - 6:00 PM
: Everyday 10:00 AM - 6:00 PM
: Everyday 10:00 AM - 6:00 PM
: Everyday 10:00 AM - 6:00 PM
: Everyday 10:00 AM - 6:00 PM
: Everyday 10:00 AM - 6:00 PM

: Everyday 24 Hrs
: Everyday 24 Hrs
: Everyday 24 Hrs
: Everyday 24 Hrs
: Everyday 24 Hrs
: Everyday 24 Hrs
: Everyday 24 Hrs
: Everyday 24 Hrs
: Everyday 24 Hrs
: Everyday 24 Hrs
: Everyday 24 Hrs
: Everyday 24 Hrs

: Everyday 24 Hrs
: Everyday 24 Hrs
: Everyday 24 Hrs
: Everyday 24 Hrs
: Everyday 24 Hrs
: Everyday 24 Hrs
: Everyday 24 Hrs
: Everyday 24 Hrs
: Everyday 24 Hrs
: Everyday 24 Hrs
: Everyday 24 Hrs
: Everyday 24 Hrs

: Monday to Friday 7:00 AM - 8:00 PM; Saturday 7:00 AM - 2:00 PM
: Monday to Friday 7:00 AM - 8:00 PM; Saturday 7:00 AM - 2:00 PM
: Monday to Friday 7:00 AM - 8:00 PM; Saturday 7:00 AM - 2:00 PM
: Monday to Friday 7:00 AM - 8:00 PM; Saturday 7:00 AM - 2:00 PM
: Monday to Friday 7:00 AM - 8:00 PM; Saturday 7:00 AM - 2:00 PM
: Monday to Friday 7:00 AM - 8:00 PM; Saturday 7:00 AM - 2:00 PM
: Monday to Friday 7:00 AM - 8:00 PM; Saturday 7:00 AM - 2:00 PM
: Monday to Friday 7:00 AM - 8:00 PM; Saturday 7:00 AM - 2:00 PM
: Monday to Friday 7:00 AM - 8:00 PM; Saturday 7:00 AM - 2:00 PM
: Monday to Friday 7:00 AM - 8:00 PM; Saturday 7:00 AM - 2:00 PM
: Monday to Friday 7:00 AM - 8:00 PM; Saturday 7:00 AM - 2:00 PM
: Monday to Friday 7:00 AM - 8:00 PM; Saturday 7:00 AM - 2:00 PM

: Everyday 24 Hrs
: Everyday 24 Hrs
: Everyday 24 Hrs
: Everyday 24 Hrs
: Everyday 24 Hrs
: Everyday 24 Hrs
: Everyday 24 Hrs
: Everyday 24 Hrs
: Everyday 24 Hrs
: Everyday 24 Hrs
: Everyday 24 Hrs
: Everyday 24 Hrs

: Everyday 24 Hrs
: Everyday 24 Hrs
: Everyday 24 Hrs
: Everyday 24 Hrs
: Everyday 24 Hrs
: Everyday 24 Hrs
: Everyday 24 Hrs
: Everyday 24 Hrs
: Everyday 24 Hrs
: Everyday 24 Hrs
: Everyday 24 Hrs
: Everyday 24 Hrs

: Tuesday to Saturday 10:00 AM - 12:00 PM; Tuesday to Saturday 10:00 AM - 12:00 PM | 2:00 PM - 6:00 PM; Sunday 10:00 AM - 1:00 PM
: Tuesday to Saturday 10:00 AM - 1:00 PM; Tuesday to Saturday 10:00 AM - 1:00 PM | 2:00 PM - 6:00 PM; Sunday 10:00 AM - 1:00 PM
: Tuesday to Saturday 10:00 AM - 1:00 PM; Tuesday to Saturday 10:00 AM - 1:00 PM | 2:00 PM - 6:00 PM; Sunday 10:00 AM - 1:00 PM
: Tuesday to Saturday 10:00 AM - 1:00 PM; Tuesday to Saturday 10:00 AM - 1:00 PM | 2:00 PM - 6:00 PM; Sunday 10:00 AM - 1:00 PM
: Tuesday to Saturday 10:00 AM - 1:00 PM; Tuesday to Saturday 10:00 AM - 1:00 PM | 2:00 PM - 6:00 PM; Sunday 10:00 AM - 1:00 PM
: Tuesday to Saturday 10:00 AM - 1:00 PM; Tuesday to Saturday 10:00 AM - 1:00 PM | 2:00 PM - 6:00 PM; Sunday 10:00 AM - 1:00 PM
: Tuesday to Saturday 10:00 AM - 1:00 PM; Tuesday to Saturday 10:00 AM - 1:00 PM | 2:00 PM - 6:00 PM; Sunday 10:00 AM - 1:00 PM
: Tuesday to Saturday 10:00 AM - 1:00 PM; Tuesday to Saturday 10:00 AM - 1:00 PM | 2:00 PM - 6:00 PM; Sunday 10:00 AM - 1:00 PM
: Tuesday to Saturday 10:00 AM - 1:00 PM; Tuesday to Saturday 10:00 AM - 1:00 PM | 2:00 PM - 6:00 PM; Sunday 10:00 AM - 1:00 PM
: Tuesday to Saturday 10:00 AM - 1:00 PM; Tuesday to Saturday 10:00 AM - 1:00 PM | 2:00 PM - 6:00 PM; Sunday 10:00 AM - 1:00 PM
: Tuesday to Saturday 10:00 AM - 1:00 PM; Tuesday to Saturday 10:00 AM - 1:00 PM | 2:00 PM - 6:00 PM; Sunday 10:00 AM - 1:00 PM
: Tuesday to Saturday 10:00 AM - 1:00 PM; Tuesday to Saturday 10:00 AM - 1:00 PM | 2:00 PM - 6:00 PM; Sunday 10:00 AM - 1:00 PM

: Everyday 24 Hrs
: Everyday 24 Hrs
: Everyday 24 Hrs
: Everyday 24 Hrs
: Everyday 24 Hrs
: Everyday 24 Hrs
: Everyday 24 Hrs
: Everyday 24 Hrs
: Everyday 24 Hrs
: Everyday 24 Hrs
: Everyday 24 Hrs
: Everyday 24 Hrs

: Monday to Friday 10:00 AM - 6:00 PM
: Monday to Friday 10:00 AM - 6:00 PM
: Monday to Friday 10:00 AM - 6:00 PM
: Monday to Friday 10:00 AM - 6:00 PM
: Monday to Friday 10:00 AM - 6:00 PM
: Monday to Friday 10:00 AM - 6:00 PM
: Monday to Friday 10:00 AM - 6:00 PM
: Monday to Friday 10:00 AM - 6:00 PM
: Monday to Friday 10:00 AM - 6:00 PM
: Monday to Friday 10:00 AM - 6:00 PM
: Monday to Friday 10:00 AM - 6:00 PM
: Monday to Friday 10:00 AM - 6:00 PM

: Monday to Friday 10:30 AM - 1:30 PM
: Monday to Friday 10:30 AM - 1:30 PM
: Monday to Friday 10:30 AM - 1:30 PM
: Monday to Friday 10:30 AM - 1:30 PM
: Monday to Friday 10:30 AM - 1:30 PM
: Monday to Friday 10:30 AM - 1:30 PM
: Monday to Friday 10:30 AM - 1:30 PM
: Monday to Friday 10:30 AM - 1:30 PM
: Monday to Friday 10:30 AM - 1:30 PM
: Monday to Friday 10:30 AM - 1:30 PM
: Monday to Friday 10:30 AM - 1:30 PM
: Monday to Friday 10:30 AM - 1:30 PM