Best Time To Visit Gatlinburg
Explore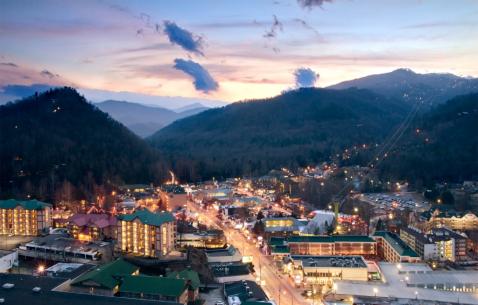 Accommodations with

See All
Best Time To Go To Gatlinburg
The best times to visit are during spring break, summer, weekends, and when kids are on vacations. Many visitors also come to see the leaves change in the fall. The least popular time is February through mid-March, when things quiet down between the holidays and spring break. The best time is mid-March to mid-April, June to July, September to December.
Gatlinburg experiences a moderate climate throughout its four full seasons. Summers are warm, with high temperature averages in the 80s. Spring and fall average highs range from the 60s to the high 70s. Winters can be chilly, with a chance of snow and average highs in the 40s and 50s. Rain can fall anytime throughout the year.
Explore the best travel planner for your visit to Gatlinburg and create a flawless plan in few simple steps!
Best time to go to Gatlinburg Attractions

: Everyday 9:00 AM -
: Everyday 9:00 AM -
: Everyday 9:00 AM -
: Everyday 9:00 AM -
: Everyday 9:00 AM -
: Everyday 9:00 AM -
: Everyday 9:00 AM -
: Everyday 9:00 AM -
: Everyday 9:00 AM -
: Everyday 9:00 AM -

: Everyday 10:00 AM - ; Everyday 10:00 AM - | 5:00 PM - 8:00 PM
: Everyday 10:00 AM - ; Everyday 10:00 AM - | 5:00 PM - 8:00 PM
: Everyday 10:00 AM - ; Everyday 10:00 AM - | 5:00 PM - 8:00 PM
: Everyday 10:00 AM - ; Everyday 10:00 AM - | 5:00 PM - 8:00 PM
: Everyday 10:00 AM - ; Everyday 10:00 AM - | 5:00 PM - 8:00 PM
: Everyday 10:00 AM - ; Everyday 10:00 AM - | 5:00 PM - 8:00 PM
: Everyday 10:00 AM - ; Everyday 10:00 AM - | 5:00 PM - 8:00 PM
: Everyday 10:00 AM - ; Everyday 10:00 AM - | 5:00 PM - 8:00 PM
: Everyday 10:00 AM - ; Everyday 10:00 AM - | 5:00 PM - 8:00 PM
: Everyday 10:00 AM - ; Everyday 10:00 AM - | 5:00 PM - 8:00 PM
: Everyday 10:00 AM - ; Everyday 10:00 AM - | 5:00 PM - 8:00 PM
: Everyday 10:00 AM - ; Everyday 10:00 AM - | 5:00 PM - 8:00 PM

: Everyday 9:00 AM - 10:00 PM
: Everyday 9:00 AM - 10:00 PM
: Everyday 9:00 AM - 10:00 PM
: Everyday 5:00 PM - 9:00 PM
: Everyday 5:00 PM - 9:00 PM
: Everyday 6:00 PM - 9:00 PM
: Everyday 6:00 PM - 9:00 PM
: Everyday 6:00 PM - 9:00 PM
: Everyday 6:00 PM - 9:00 PM
: Everyday 6:00 PM - 9:00 PM
: Everyday 9:00 AM - 10:00 PM
: Everyday 9:00 AM - 10:00 PM

: Everyday 10:00 AM - 10:00 PM
: Everyday 10:00 AM - 10:00 PM
: Everyday 10:00 AM - 10:00 PM
: Everyday 10:00 AM - 10:00 PM
: Everyday 10:00 AM - 10:00 PM
: Everyday 10:00 AM - 10:00 PM
: Everyday 10:00 AM - 10:00 PM
: Everyday 10:00 AM - 10:00 PM
: Everyday 10:00 AM - 10:00 PM
: Everyday 10:00 AM - 10:00 PM
: Everyday 10:00 AM - 10:00 PM
: Everyday 10:00 AM - 10:00 PM

: Everyday 8:00 AM - 10:00 PM
: Everyday 8:00 AM - 10:00 PM
: Everyday 8:00 AM - 10:00 PM
: Everyday 8:00 AM - 10:00 PM
: Everyday 8:00 AM - 10:00 PM
: Everyday 8:00 AM - 10:00 PM
: Everyday 8:00 AM - 10:00 PM
: Everyday 8:00 AM - 10:00 PM
: Everyday 8:00 AM - 10:00 PM
: Everyday 8:00 AM - 10:00 PM
: Everyday 8:00 AM - 10:00 PM
: Everyday 8:00 AM - 10:00 PM

: Everyday 9:00 AM - 10:00 PM
: Everyday 9:00 AM - 10:00 PM
: Everyday 9:00 AM - 10:00 PM
: Everyday 9:00 AM - 10:00 PM
: Everyday 9:00 AM - 10:00 PM
: Everyday 9:00 AM - 10:00 PM
: Everyday 9:00 AM - 10:00 PM
: Everyday 9:00 AM - 10:00 PM
: Everyday 9:00 AM - 10:00 PM
: Everyday 9:00 AM - 10:00 PM
: Everyday 9:00 AM - 10:00 PM
: Everyday 9:00 AM - 10:00 PM

: Everyday 8:00 AM - 2:00 PM
: Everyday 8:00 AM - 2:00 PM
: Everyday 8:00 AM - 2:00 PM
: Everyday 8:00 AM - 2:00 PM
: Everyday 8:00 AM - 2:00 PM
: Everyday 8:00 AM - 2:00 PM
: Everyday 8:00 AM - 2:00 PM
: Everyday 8:00 AM - 2:00 PM
: Everyday 8:00 AM - 2:00 PM
: Everyday 8:00 AM - 2:00 PM
: Everyday 8:00 AM - 2:00 PM
: Everyday 8:00 AM - 2:00 PM

: Everyday 8:00 AM - 2:00 PM; Everyday 8:00 AM - 2:00 PM | 5:00 PM - 11:00 PM
: Everyday 8:00 AM - 2:00 PM; Everyday 8:00 AM - 2:00 PM | 5:00 PM - 11:00 PM
: Everyday 8:00 AM - 2:00 PM; Everyday 8:00 AM - 2:00 PM | 5:00 PM - 11:00 PM
: Everyday 8:00 AM - 2:00 PM; Everyday 8:00 AM - 2:00 PM | 5:00 PM - 11:00 PM
: Everyday 8:00 AM - 2:00 PM; Everyday 8:00 AM - 2:00 PM | 5:00 PM - 11:00 PM
: Everyday 8:00 AM - 2:00 PM; Everyday 8:00 AM - 2:00 PM | 5:00 PM - 11:00 PM
: Everyday 8:00 AM - 2:00 PM; Everyday 8:00 AM - 2:00 PM | 5:00 PM - 11:00 PM
: Everyday 8:00 AM - 2:00 PM; Everyday 8:00 AM - 2:00 PM | 5:00 PM - 11:00 PM
: Everyday 8:00 AM - 2:00 PM; Everyday 8:00 AM - 2:00 PM | 5:00 PM - 11:00 PM
: Everyday 8:00 AM - 2:00 PM; Everyday 8:00 AM - 2:00 PM | 5:00 PM - 11:00 PM
: Everyday 8:00 AM - 2:00 PM; Everyday 8:00 AM - 2:00 PM | 5:00 PM - 11:00 PM
: Everyday 8:00 AM - 2:00 PM; Everyday 8:00 AM - 2:00 PM | 5:00 PM - 11:00 PM

: Everyday 6:00 PM - 9:00 PM
: Everyday 6:00 PM - 9:00 PM
: Everyday 6:00 PM - 9:00 PM
: Everyday 6:00 PM - 9:00 PM
: Everyday 6:00 PM - 9:00 PM
: Everyday 6:00 PM - 9:00 PM
: Everyday 6:00 PM - 9:00 PM
: Everyday 6:00 PM - 9:00 PM
: Everyday 6:00 PM - 9:00 PM
: Everyday 6:00 PM - 9:00 PM
: Everyday 6:00 PM - 9:00 PM
: Everyday 6:00 PM - 9:00 PM

: Everyday 10:00 AM - 4:00 PM
: Everyday 10:00 AM - 4:00 PM
: Everyday 10:00 AM - 4:00 PM
: Everyday 10:00 AM - 4:00 PM
: Everyday 10:00 AM - 4:00 PM
: Everyday 10:00 AM - 4:00 PM
: Everyday 10:00 AM - 4:00 PM
: Everyday 10:00 AM - 4:00 PM
: Everyday 10:00 AM - 4:00 PM
: Everyday 10:00 AM - 4:00 PM

: Everyday 11:00 AM - 4:00 PM
: Everyday 11:00 AM - 4:00 PM
: Everyday 11:00 AM - 4:00 PM
: Everyday 11:00 AM - 4:00 PM
: Everyday 11:00 AM - 4:00 PM
: Everyday 11:00 AM - 4:00 PM
: Everyday 11:00 AM - 4:00 PM
: Everyday 11:00 AM - 4:00 PM
: Everyday 11:00 AM - 4:00 PM
: Everyday 11:00 AM - 4:00 PM
: Everyday 11:00 AM - 4:00 PM
: Everyday 11:00 AM - 4:00 PM

: Monday to Saturday 10:00 AM - 4:00 PM; Sunday 10:00 AM - 2:00 PM
: Monday to Saturday 10:00 AM - 2:00 PM; Sunday 10:00 AM - 2:00 PM
: Monday to Saturday 10:00 AM - 2:00 PM; Sunday 10:00 AM - 2:00 PM
: Monday to Saturday 10:00 AM - 2:00 PM; Sunday 10:00 AM - 2:00 PM
: Monday to Saturday 10:00 AM - 2:00 PM; Sunday 10:00 AM - 2:00 PM
: Monday to Saturday 10:00 AM - 2:00 PM; Sunday 10:00 AM - 2:00 PM
: Monday to Saturday 10:00 AM - 2:00 PM; Sunday 10:00 AM - 2:00 PM
: Monday to Saturday 10:00 AM - 2:00 PM; Sunday 10:00 AM - 2:00 PM
: Monday to Saturday 10:00 AM - 2:00 PM; Sunday 10:00 AM - 2:00 PM
: Monday to Saturday 10:00 AM - 2:00 PM; Sunday 10:00 AM - 2:00 PM
: Monday to Saturday 10:00 AM - 2:00 PM; Sunday 10:00 AM - 2:00 PM
: Monday to Saturday 10:00 AM - 2:00 PM; Sunday 10:00 AM - 2:00 PM

: Everyday 8:00 PM - 10:00 PM
: Everyday 8:00 PM - 10:00 PM
: Everyday 8:00 PM - 10:00 PM
: Everyday 8:00 PM - 10:00 PM
: Everyday 8:00 PM - 10:00 PM
: Everyday 8:00 PM - 10:00 PM
: Everyday 8:00 PM - 10:00 PM
: Everyday 8:00 PM - 10:00 PM
: Everyday 8:00 PM - 10:00 PM
: Everyday 8:00 PM - 10:00 PM
: Everyday 8:00 PM - 10:00 PM
: Everyday 8:00 PM - 10:00 PM

: Everyday 7:00 PM - 10:00 PM
: Everyday 7:00 PM - 10:00 PM
: Everyday 7:00 PM - 10:00 PM
: Everyday 7:00 PM - 10:00 PM
: Everyday 7:00 PM - 10:00 PM
: Everyday 7:00 PM - 10:00 PM
: Everyday 7:00 PM - 10:00 PM
: Everyday 7:00 PM - 10:00 PM
: Everyday 7:00 PM - 10:00 PM
: Everyday 7:00 PM - 10:00 PM
: Everyday 7:00 PM - 10:00 PM
: Everyday 7:00 PM - 10:00 PM

: Everyday 10:00 AM - 10:00 PM
: Everyday 10:00 AM - 10:00 PM
: Everyday 10:00 AM - 10:00 PM
: Everyday 10:00 AM - 10:00 PM
: Everyday 10:00 AM - 10:00 PM
: Everyday 10:00 AM - 10:00 PM
: Everyday 10:00 AM - 10:00 PM
: Everyday 10:00 AM - 10:00 PM
: Everyday 10:00 AM - 10:00 PM
: Everyday 10:00 AM - 10:00 PM
: Everyday 10:00 AM - 10:00 PM
: Everyday 10:00 AM - 10:00 PM

: Everyday 10:00 AM - 10:00 PM
: Everyday 10:00 AM - 10:00 PM
: Everyday 10:00 AM - 10:00 PM
: Everyday 10:00 AM - 10:00 PM
: Everyday 10:00 AM - 10:00 PM
: Everyday 10:00 AM - 10:00 PM
: Everyday 10:00 AM - 10:00 PM
: Everyday 10:00 AM - 10:00 PM
: Everyday 10:00 AM - 10:00 PM
: Everyday 10:00 AM - 10:00 PM
: Everyday 10:00 AM - 10:00 PM
: Everyday 10:00 AM - 10:00 PM

: Monday to Friday 6:00 PM - 9:00 PM; Saturday 4:00 PM - 7:00 PM; Sunday 5:00 PM - 8:00 PM
: Monday to Friday 6:00 PM - 9:00 PM; Saturday 4:00 PM - 7:00 PM; Sunday 5:00 PM - 8:00 PM
: Monday to Friday 6:00 PM - 9:00 PM; Saturday 4:00 PM - 7:00 PM; Sunday 5:00 PM - 8:00 PM
: Monday to Friday 6:00 PM - 9:00 PM; Saturday 4:00 PM - 7:00 PM; Sunday 5:00 PM - 8:00 PM
: Monday to Friday 6:00 PM - 9:00 PM; Saturday 4:00 PM - 7:00 PM; Sunday 5:00 PM - 8:00 PM
: Monday to Friday 6:00 PM - 9:00 PM; Saturday 4:00 PM - 7:00 PM; Sunday 5:00 PM - 8:00 PM
: Monday to Friday 6:00 PM - 9:00 PM; Saturday 4:00 PM - 7:00 PM; Sunday 5:00 PM - 8:00 PM
: Monday to Friday 6:00 PM - 9:00 PM; Saturday 4:00 PM - 7:00 PM; Sunday 5:00 PM - 8:00 PM
: Monday to Friday 6:00 PM - 9:00 PM; Saturday 4:00 PM - 7:00 PM; Sunday 5:00 PM - 8:00 PM
: Monday to Friday 6:00 PM - 9:00 PM; Saturday 4:00 PM - 7:00 PM; Sunday 5:00 PM - 8:00 PM
: Monday to Friday 6:00 PM - 9:00 PM; Saturday 4:00 PM - 7:00 PM; Sunday 5:00 PM - 8:00 PM
: Monday to Friday 6:00 PM - 9:00 PM; Saturday 4:00 PM - 7:00 PM; Sunday 5:00 PM - 8:00 PM

: Everyday 7:00 AM - 11:00 AM
: Everyday 7:00 AM - 11:00 AM
: Everyday 7:00 AM - 11:00 AM
: Everyday 7:00 AM - 11:00 AM
: Everyday 7:00 AM - 11:00 AM
: Everyday 7:00 AM - 11:00 AM
: Everyday 7:00 AM - 11:00 AM
: Everyday 7:00 AM - 11:00 AM
: Everyday 7:00 AM - 11:00 AM
: Everyday 7:00 AM - 11:00 AM
: Everyday 7:00 AM - 11:00 AM
: Everyday 7:00 AM - 11:00 AM

: Monday, Tuesday, Wednesday, Thursday, Sunday 10:00 AM - 8:00 PM; Friday, Saturday 11:00 AM - 8:00 PM
: Monday, Tuesday, Wednesday, Thursday, Sunday 10:00 AM - 8:00 PM; Friday, Saturday 11:00 AM - 8:00 PM
: Monday, Tuesday, Wednesday, Thursday, Sunday 10:00 AM - 8:00 PM; Friday, Saturday 11:00 AM - 8:00 PM
: Monday, Tuesday, Wednesday, Thursday, Sunday 10:00 AM - 8:00 PM; Friday, Saturday 11:00 AM - 8:00 PM
: Monday, Tuesday, Wednesday, Thursday, Sunday 10:00 AM - 8:00 PM; Friday, Saturday 11:00 AM - 8:00 PM
: Monday, Tuesday, Wednesday, Thursday, Sunday 10:00 AM - 8:00 PM; Friday, Saturday 11:00 AM - 8:00 PM
: Monday, Tuesday, Wednesday, Thursday, Sunday 10:00 AM - 8:00 PM; Friday, Saturday 11:00 AM - 8:00 PM
: Monday, Tuesday, Wednesday, Thursday, Sunday 10:00 AM - 8:00 PM; Friday, Saturday 11:00 AM - 8:00 PM
: Monday, Tuesday, Wednesday, Thursday, Sunday 10:00 AM - 8:00 PM; Friday, Saturday 11:00 AM - 8:00 PM
: Monday, Tuesday, Wednesday, Thursday, Sunday 10:00 AM - 8:00 PM; Friday, Saturday 11:00 AM - 8:00 PM
: Monday, Tuesday, Wednesday, Thursday, Sunday 10:00 AM - 8:00 PM; Friday, Saturday 11:00 AM - 8:00 PM
: Monday, Tuesday, Wednesday, Thursday, Sunday 10:00 AM - 8:00 PM; Friday, Saturday 11:00 AM - 8:00 PM

: Everyday 11:00 AM - 2:00 PM
: Everyday 11:00 AM - 2:00 PM
: Everyday 11:00 AM - 2:00 PM
: Everyday 11:00 AM - 2:00 PM
: Everyday 11:00 AM - 2:00 PM
: Everyday 11:00 AM - 2:00 PM
: Everyday 11:00 AM - 2:00 PM
: Everyday 11:00 AM - 2:00 PM
: Everyday 11:00 AM - 2:00 PM
: Everyday 11:00 AM - 2:00 PM

: Everyday 10:00 AM - 2:00 PM
: Everyday 10:00 AM - 2:00 PM
: Everyday 10:00 AM - 2:00 PM
: Everyday 10:00 AM - 2:00 PM
: Everyday 10:00 AM - 2:00 PM
: Everyday 10:00 AM - 2:00 PM
: Everyday 10:00 AM - 2:00 PM
: Everyday 10:00 AM - 2:00 PM
: Everyday 10:00 AM - 2:00 PM
: Everyday 10:00 AM - 2:00 PM

: Everyday 10:00 AM - 2:00 PM
: Everyday 10:00 AM - 2:00 PM
: Everyday 10:00 AM - 2:00 PM
: Everyday 10:00 AM - 2:00 PM
: Everyday 10:00 AM - 2:00 PM
: Everyday 10:00 AM - 2:00 PM
: Everyday 10:00 AM - 2:00 PM
: Everyday 10:00 AM - 2:00 PM
: Everyday 10:00 AM - 2:00 PM
: Everyday 10:00 AM - 2:00 PM
: Everyday 10:00 AM - 2:00 PM
: Everyday 10:00 AM - 2:00 PM

: Everyday 10:00 AM - 11:00 PM
: Everyday 10:00 AM - 11:00 PM
: Everyday 10:00 AM - 11:00 PM
: Everyday 10:00 AM - 11:00 PM
: Everyday 10:00 AM - 11:00 PM
: Everyday 10:00 AM - 11:00 PM
: Everyday 10:00 AM - 11:00 PM
: Everyday 10:00 AM - 11:00 PM
: Everyday 10:00 AM - 11:00 PM
: Everyday 10:00 AM - 11:00 PM
: Everyday 10:00 AM - 11:00 PM
: Everyday 10:00 AM - 11:00 PM

: Everyday 9:00 AM - 5:00 PM
: Everyday 9:00 AM - 5:00 PM
: Everyday 9:00 AM - 5:00 PM
: Everyday 9:00 AM - 5:00 PM
: Everyday 9:00 AM - 5:00 PM
: Everyday 9:00 AM - 5:00 PM
: Everyday 9:00 AM - 5:00 PM
: Everyday 9:00 AM - 5:00 PM
: Everyday 9:00 AM - 5:00 PM
: Everyday 9:00 AM - 5:00 PM
: Everyday 9:00 AM - 5:00 PM
: Everyday 9:00 AM - 5:00 PM

: Everyday 9:00 AM - 11:00 PM
: Everyday 9:00 AM - 11:00 PM
: Everyday 9:00 AM - 11:00 PM
: Everyday 9:00 AM - 11:00 PM
: Everyday 9:00 AM - 11:00 PM
: Everyday 9:00 AM - 11:00 PM
: Everyday 9:00 AM - 11:00 PM
: Everyday 9:00 AM - 11:00 PM
: Everyday 9:00 AM - 11:00 PM
: Everyday 9:00 AM - 11:00 PM
: Everyday 9:00 AM - 11:00 PM
: Everyday 9:00 AM - 11:00 PM

: Everyday 10:00 AM - 11:00 AM
: Everyday 10:00 AM - 11:00 AM
: Everyday 10:00 AM - 11:00 AM
: Everyday 10:00 AM - 11:00 AM
: Everyday 10:00 AM - 11:00 AM
: Everyday 10:00 AM - 11:00 AM
: Everyday 10:00 AM - 11:00 AM
: Everyday 10:00 AM - 11:00 AM
: Everyday 10:00 AM - 11:00 AM
: Everyday 10:00 AM - 11:00 AM
: Everyday 10:00 AM - 11:00 AM
: Everyday 10:00 AM - 11:00 AM

: Everyday 10:00 AM - 11:00 AM
: Everyday 10:00 AM - 11:00 AM
: Everyday 10:00 AM - 11:00 AM
: Everyday 10:00 AM - 11:00 AM
: Everyday 10:00 AM - 11:00 AM
: Everyday 10:00 AM - 11:00 AM
: Everyday 10:00 AM - 11:00 AM
: Everyday 10:00 AM - 11:00 AM
: Everyday 10:00 AM - 11:00 AM
: Everyday 10:00 AM - 11:00 AM
: Everyday 10:00 AM - 11:00 AM
: Everyday 10:00 AM - 11:00 AM

: Everyday 10:00 AM - 11:00 AM
: Everyday 10:00 AM - 11:00 AM
: Everyday 10:00 AM - 11:00 AM
: Everyday 10:00 AM - 11:00 AM
: Everyday 10:00 AM - 11:00 AM
: Everyday 10:00 AM - 11:00 AM
: Everyday 10:00 AM - 11:00 AM
: Everyday 10:00 AM - 11:00 AM
: Everyday 10:00 AM - 11:00 AM
: Everyday 10:00 AM - 11:00 AM
: Everyday 10:00 AM - 11:00 AM
: Everyday 10:00 AM - 11:00 AM