Things to do in Geiranger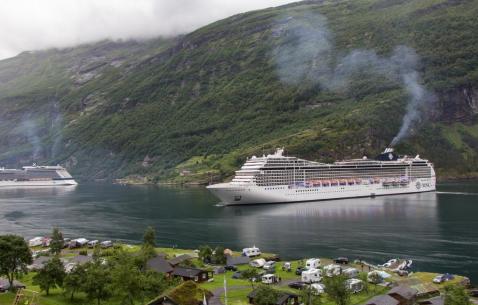 The Best Things To Do in Geiranger
On your visit to Geiranger, you will find a range of exciting things to do. From historical sites to cultural attractions, this place is suffused with places that catch your attention. Some of the best places to visit in Geiranger are Geiranger Fjord, Dalsnibba Mountain Plateau, The Seven Sisters, Geiranger Sjokolade, Norwegian Fjord Centre, Storseterfossen, Norsk Fjordsenter and Skagefla. Other than the historical places, there are natural attractions, the recreational areas and other attractions of Geiranger. The visit to these places will entertain the kids, families, solo travelers, female travelers and adventure junkies who will be thrilled by the adventure activities. Geiranger fjord is considered to be one of the best fjords in Norway with its famously narrow and sheer and a tight bend. Adventure lovers can embark on a stunning 10-kilometer trek from the village of Vollset across Flo Mountain to experience pastoral Norway at its finest and most brightest.
Explore the travel planning tool for your visit to Geiranger and create a flawless plan in few simple steps!
12 Tourist Attractions in Geiranger

Must see places in Geiranger ranked on popularity. Here is the complete list of best attractions in Geiranger and point of interests to visit.
Tourist Attractions Near Geiranger
Find Your Geiranger Attractions on Map
Types of Things To Do in Geiranger
Find more attractions and places to visit in Geiranger under these things to do categories.
Find more places to see in Geiranger
Norsk Fjordsenter

Reitane

Landmarks

Museums
View On Map
Ferdinand Pub, Lars Ivar Ytterdal

Ytterdal

Bars
View On Map
Kaldhusseter Turisthytte

Kaldhussæter

Hiking
View On Map
Vital Seafood

Kyrkjegata 57

Hunting and Fishing

Bjørn Andree Indreeide

Eidsdalsvegen 145

Hunting and Fishing

Arnbjørn Poulsen

Gjerthagen 10

Hunting and Fishing

Kjell Olav Halse M/K Harald Jr

Bygda

Hunting and Fishing

Norddal Reiselivslag

Postboks 173

Hunting and Fishing

Sindre Aspehjell

Hovedside skatteliste 2008

Hunting and Fishing
View On Map
Strandahallen

Øyna 13

Stadiums and Arenas
View On Map
What To Do in Geiranger: Day-Wise Ideas
Find what not to miss in Geiranger! Recommended Geiranger itineraries and vacation ideas created by travelers across the world.