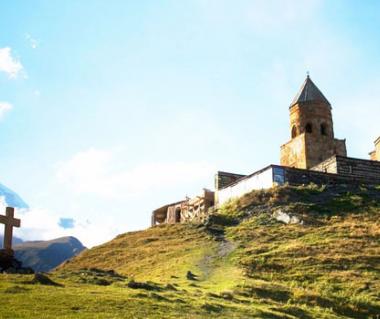 Georgia Trip Planner
Plan your customized trip plan for Georgia. Choose from Top Toursim cities and tourist attarctions of Georgia using trip planner.
Georgia Overview
GEORGIA
Straddling the East and the West, Georgia is where you'll find the sunny Mediterranean and the frosty mountains. This is where the Black Sea tempers the wild Caucasus, where the people for all the troubles they've had are a warm and keenly affectionate lot, where the food is just delicious; this here is a destination waiting to be discovered and if you can look beyond the lack of tourist infrastructure, you'll find that you've had a jolly good time. Georgia grows some 521 original varieties of grape - wine making has been perfected to an art in this country. Be sure you buy some before you leave!
How to enter:-
Air: -
Georgia's international airport in Tblisi is 18 kilometres (11 miles) from the city centre. Several airlines fly to Tbilisi, connecting the city and the country with Frankfurt, Istanbul, Cologne, Thessalonica, Paris, New York, Vienna, Tel Aviv and Ankara.
Rail: -
The capital city of Georgia can be reached by rail from Armenia, Azerbaijan (and, one has the option of continuing down the same line into Turkey), Iran and Russia.
Road: -
There are highways into Georgia from Iran, Azerbaijan, Armenia and Turkey. The road from Russia has been closed due to the troubles in the Abkhazia region in northwest Georgia. There are bus services to Tbilisi from cities in Armenia, Azerbaijan and Turkey.
Climate and best time to visit: -
In general, the best time to visit is from mid April through October, when days are warm or hot. Tbilisi can be very hot in July and August. Evenings tend to be cool, even in the summer. The climate varies considerably from east to west; in the eastern mountains, the weather is dryer and more extreme. The western part of Georgia, near the Black Sea, has a more moderate climate. No matter when you go, be sure to take along a sweater for the cool evenings
What to see: -
Georgia is a land filled with magnificent history and unparalleled natural beauty. Archaeologists found the oldest traces of wine production (8000 BC) in Georgia. Svaneti is perhaps the most romantic and mysterious of all Georgian regions, Tusheti is the most secluded part of the Caucasus range in Georgia. Access is only possible from June to October because of the large quantity of snow. Only a few families live there the whole year. It remains the most authentic place in Georgia.
Searching for something specific?