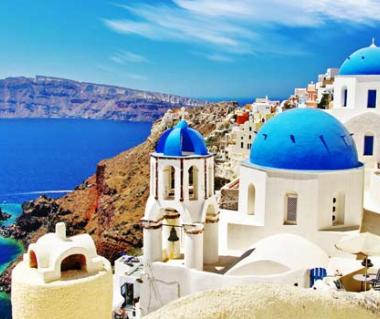 Greece Trip Planner
Plan your customized trip plan for Greece. Choose from Top Toursim cities and tourist attarctions of Greece using trip planner.
Greece Overview
Things to know before planning a trip to Greece. The beautiful ancient ruins, the sandy white beaches, the pretty little houses, the delicate yet gorgeous islands, and the stunning green mountains; it doesn't come as a surprise then that Greece has inspired the Western Civilization to come alive and flourish. The green and lush olive gardens, the verdant vineyards, and the Mediterranean climate add to the heady mix that makes Greece an admirable touristic destination. If you seek culture, picture-perfect locales, a plethora of historic places, exotic food, and a relaxed and calm atmosphere. Visiting Greece? Our Greece vacation itinerary builder is here to help you along every step!
Best time to visit Greece
The Greek climate while largely Mediterranean is a bit varied. Due to the many different landforms, it is difficult to pinpoint one best time to visit Greece.
Best time: May and September are the best months, climate-wise. The Months in between June to August are a part of a busy tourist season so you will find it crowded. June will be very warm but the weather is never very bad. This whole period of spring-summer is definitely the best time to visit. Even autumn which is late September and early October is a decent time to visit.
Winters: The winters are short but it can get pretty cold from November, try not to visit at this time. Most importantly the beaches will be too cold to swim in so unless you want to spend most of your time in museums avoid it. It might also rain.
Getting in and around Greece
Reaching Greece should not be difficult by air. Athens has an active airport called Eleftherios Venizelos International Airport. Not all major cities have international airports but buses taxis and trains (where available) will link them to the capital. The islands can be reached by ferries. These tend to be pretty over-crowded so try to book in advance and also don't plan on doing any consecutive island trips as it will be hectic.
Getting around Greece is pretty easy too. The Buses form a very good Transport system. Trains are not available everywhere but wouldn't pose a problem where there is a network. The only problematic mode of Transport is the ferries which should be avoided unless you are visiting one of the islands. They get especially crowded in the tourist season. You can also get around by flight. Transport within Greece is still developing so do keep that in mind while traveling to this country.
Things to know before traveling to Greece
The country is facing debt and recession. Political turmoil is also on the scene. Be aware and be safe. But the people of Greece have never changed. They are warm, kind-hearted, welcoming and to put it frankly, loud. The loudness, however, makes them very endearing. Expect locals to ask a lot of questions about you. The Greek has been curious creatures since ancient times and that trend continues to date. Prices of most things have increased so be careful about this. It is best to use cash and be extremely careful while storing it. Credit Cards and Traveler's checks are fine too. Point to be noted is, Greece is a part of the Eurozone. Tipping is not expected or mandatory.
Places to Visit in Greece
It is surprising how many things there are to do in Greece and also various cities to explore in Greece like Santorini, Crete, Thessaloniki, Chania and many more. Greece is an amazing amalgamation of culture, history, civilization and much more. Here are a few must-see highlights of Greece.
Greek Beaches: With the amazing coastline which is the eleventh longest in the world, Greek Beaches are a wonderful treat for the traveler.
Vine routes and Olive routes: The grape and olive plantations in Greece are old and inextricably linked with the country. The place has always been home to a huge number of plantations. You can, of course, explore these beautiful roots by car but hiring bikes in Greece for transport is also not a bad idea.
Archeological and Heritage sites: Well, it makes no sense to go to Greece and not see its tremendous historical heritage. Athens, Greece's capital is home to the Acropolis, the symbol of the Golden era in the history of Greece and is home to the famous temple; Parthenon. The other sites of note are Delphi, which was known to be a powerful religious Centre in ancient Greece, Crete which has a number of archeological sites, Olympia, where the Olympic Games found their roots… the list goes on and on!
This is just the typical stuff to do though. The country has an amazing bounty of natural, historical as well as modern landmarks that are worth visiting. There is a lot to do even if you want to go off the beaten track so when in Greece keep your eyes, ears and mind open! Trip planning just got easier! Enter the destination of your choice, enter dates and hit the 'Plan my trip' button to see a realistic trip plan for your next holiday!
Greece food facts
When in Greece, do not under any circumstance miss out on the amazing food. The recipes are always simple and elegant. They often include delicious garden-fresh herbs and olive oil and due to Greece's sprawling coastline, there is bound to be some amazing fresh sea-food. Do try out the octopus if you like to experiment.
One more culinary delight from Greece is their Ouzo. The star anise-flavored liquor can be taken as a shot or sipped from an ice-filled glass at a leisurely pace. It is a great accompaniment to the awesome sea-food that they serve as appetizers. There is a wide variety of those so remember to keep your glass full.
Ancient Greek dance
It is worthwhile to watch a folk dance called zeimbekiko. This dance is performed by men and it imitates the style of a wild cat. There are several other popular dances as well as folk songs that can be enjoyed so if you happen to love dance, make it a point to find a performance that incorporates Greek folk culture and attend it.
Searching for something specific?