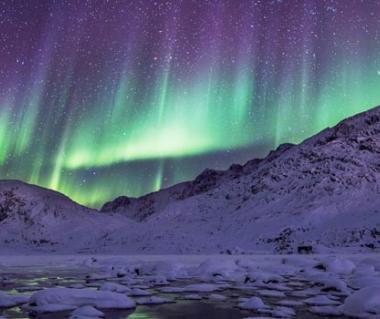 Greenland Trip Planner
Plan your customized trip plan for Greenland. Choose from Top Toursim cities and tourist attarctions of Greenland using trip planner.
Greenland Overview
It might be hard to believe, but many-a-people assume that Greenland is either a fictitious place, or confuse it with Iceland. It's only now that this fiction is turning to fact and tourists are flocking Greenland more and more each year. Up until now, the standard perception was, to first accept the fact that Greenland is a country and when that bridge is crossed, to leave Greenland for the last- see the whole world first and then visit Greenland. Granted it's not cheap to travel to Greenland, but where else will you get to see gigantic glaciers, a variety of animals and birds that thrive in the ice and of course the heavenly blend of the Atlantic meeting the Arctic! Given its size- the largest island on the globe- Greenland is quite sparsely populated. This sort of wilderness brings with it a unique sense of freedom to wander at will, and is bound to lead to an unconventional vacation.
Best Time to Visit:
Greenland falls within the Arctic Circle, which means that their winter is beyond what most of you are used to- unless of course you reside in Alaska or the Northern Canada. There are places that, when in Polar darkness, don't see the sun for three months. This doesn't necessarily mean that no light reaches there. No one enjoys as much sunlight during the summer as Greenland. Even though the summer is exactly hot, per se, it's enough to give you a passable tan on your face. Greenland shares its season cycle with the Arctic.
The two weather cycles- summer and winter are so different from each other that your experience will vary greatly, depending on the season when you visit Greenland. Greenland's travel season is spread over the summer, winter and spring. Your travel should also coincide with the purpose of your visit- for example- if you're travelling to Greenland to see the Northern Lights and want to try your hand at dog-sledding, October-March is the time for you.
Mid May- Mid September is peak tourist season because that's when the winter ice starts to melt, making way for skiing, boating rides and trips to see the glacier, view some extraordinary polar wildlife like whale watching and experience the midnight sun. During the Arctic summer, the sun never sets. So if you're in Greenland during the summer, you'll be a part of the midnight sun experience and have a 24-hour day in its truest sense!
The offseason tourist visits Greenland between November and February. If you want to experience what a real Arctic winter is and try your hand at travelling in the snow like the locals do, the cold and dark winter beckons you!
How to Get There & Around:
Since Greenland is a little isolated and not so well connected to the rest of the world, there are no direct flights that fly to Greenland. Depending on which part of the world you're flying in from, you could either change flights at Iceland or Denmark.
To move around within Greenland, the lack of good roads results in flying between cities. Book your tickets in advance to avoid any unforeseen glitches and delays. In the summer, there are boats that travel to a couple of cities along the west coast.
Must do's:
When visiting during the summer, be sure to include circumnavigating Spitsbergen and the other islands in the archipelago of the Arctic Ocean.
We've all seen Polar Bears on National Geographic and Animal Planet, but how many of us have actually seen one with our own eyes? Apart from going to the Arctic, your next bet in Greenland in the summer. We all know that bears hibernate during the winter. So if sighting a Polar Bear is on your agenda visit Greenland in the summer and take the cruise along the Fjords.
Another adventure you can have in the summer is jump aboard a ship and go whale watching. The best season to do this is between July and September. Wait with bated breath as the whales come to the surface to breathe and get an up close and personal view of these magnificent mammals. Don't be surprised if you see more than one species of whales on one trip alone.
Icebergs as common in Greenland as Tim Horton's is in Canada. There are several cruises that will take you as close to the iceberg as they can. You can't help but marvel at this natural wonder that is as dangerous (it did after all, sink the Titanic) as it is vital for climate regulation. The best way to view icebergs and its surroundings is by signing up to explore the Scoresby Sund- an eight day trip inclusive of whale watching and viewing the Northern Lights.
The UNESCO was right when they named the Ilulissat Icefjord a World Heritage Site. Everyone who visits here, vows to return here. Mere words are simply to not enough to sum up the enormity that awaits you, should you choose to undertake this excursion. The biggest glacier and ice stream outside of Antarctica is found within the realms of the Ilulissat Icefjord. The two and a half hours that is takes to sail around the Icefjord will undoubtedly be the best use of your time and money.
The Arctic winter is not one to be taken lightly. In spite of the bone-chilling cold and dark nights, loads of tourists are known to visit Greenland to bear witness to that one natural phenomenon, the Northern Lights. The best time to see the Northern Lights is September through February. The cold, snow and umpteen layers of clothing will all be worth it once the skies light up with streaks of green and the tranquil and silent environment setting will just add to the satisfaction.
There are a lot of activities you could indulge in too. From kayaking to hiking to fishing, Greenland is one place where you could mix in both sight-seeing and adventure sports.
People & Culture:
The people of Greenland are very welcoming and warm. They would like nothing better than to tell you about their culture, lifestyle and any other question you might have. In spite of gaining autonomy, the citizens of Greenland still hold Danish passports and deal in Danish Krones. Private accommodations are available to tourists who would like to live like the local people. The native people of Greenland are called the Inuit. The population is split between the Inuits and the Danish.
The cuisine of Greenland is a different and worth trying if you're up for trying the meat of whale, muskox and reindeer. You could also stick to other common European and American foods which are found in plenty in Greenland. While you're at it, try some of the famed Greenlandic coffee. Don't be alarmed at the prices of the foods- in super markets and at restaurants. Most of the food stuffs like alcohol, dairy products, fresh fruits and vegetables are imported to Greenland, hence hiking up the price of the commodity.
Travel Tips:
Pack well, but wisely for the weather. Even their summer is cold. The last thing you would want is to miss out on a wonderful experience because you were too busy trying to stay warm. Air Greenland and Air Iceland both have a stipulated baggage allowance of 20 kgs check-in and 7 kgs handbag. Over stepping this will cost you a hefty fortune.
Your everyday gadgets are not used to the bitter cold of the Arctic. It's advisable to carry freeze-proof cameras and UV filters and lens hoods. There aren't any English newspapers in Greenland and internet services are expensive. So do any Internet research you want to, before you arrive at Greenland.
If you're travelling to Greenland in the summer, carry mosquito repellent crèmes or a net. Sailing trips tend to get cold, so carry a few warm clothes. The inlands are warm enough to roam about in shorts and tshirts, but carry sun block and sunscreen.
The people of Greenland take their environment seriously, so ensure that you don't litter when you're out on sightseeing trips or anywhere outside in the cities.
Tipping isn't customary but it's a good gesture that can go a long way.
Never use the word 'Eskimo' to describe the Inuit people. You might hear the local people say the word, but it's not polite if a foreigner refers to an Inuit as an Eskimo.
Festivals & Events:
During the spring, there's an annual Arctic Circle Race, deemed as the world's toughest cross-country skiing race that takes place. It's a 3 day race and has an attendance of more than 1000 skiers from all over the world.
The months of March & April have a lot of dog-sledding races and shows along with the Snow Festival.
The Polar Circle Marathon is said to take 25% longer than any normal marathon. Held in September or October, participants have to run on ice sheets, gravel roads and across frozen lakes and the Arctic desert.
Searching for something specific?