Best Time To Visit Gurgaon
Explore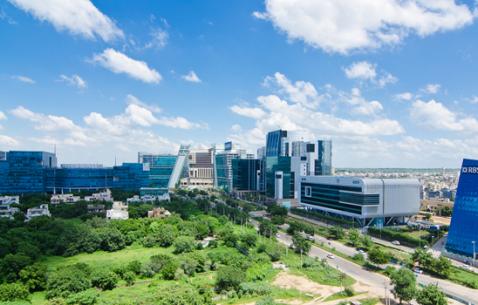 Best Time To Go To Gurgaon
Gurgaon weather experiences a humid subtropical climate with four distinct seasons, Spring, Summer, Autumn and Winter.
Similar to its neighbor Delhi in the national capital region, Gurgaon can be a climatically extreme city.
Summer is an intense affair in Gurgaon, lasting almost seven months from April to October.
Monsoons provide some relief in summers and last from July till mid September. Thunderstorms affect the city during the rains which can disrupt routine life.
Winters starts from November making the city suddenly chilly. The temperature drops down suddenly and can hit as low as 1-2 degrees.
Spring and Autumn are the Gurgaon best times to visit. These seasons have a balanced climate with low humidity so you do not remain distracted with the heat while travelling.
Best time to go to Gurgaon Attractions

: Tuesday to Friday - 11:59 PM; Saturday, Sunday - 11:59 PM
: Tuesday to Friday - 11:59 PM; Saturday, Sunday - 11:59 PM
: Tuesday to Friday - 11:59 PM; Saturday, Sunday - 11:59 PM
: Tuesday to Friday - 11:59 PM; Saturday, Sunday - 11:59 PM
: Tuesday to Friday - 11:59 PM; Saturday, Sunday - 11:59 PM
: Tuesday to Friday - 11:59 PM; Saturday, Sunday - 11:59 PM
: Tuesday to Friday - 11:59 PM; Saturday, Sunday - 11:59 PM
: Tuesday to Friday - 11:59 PM; Saturday, Sunday - 11:59 PM
: Tuesday to Friday - 11:59 PM; Saturday, Sunday - 11:59 PM
: Tuesday to Friday - 11:59 PM; Saturday, Sunday - 11:59 PM
: Tuesday to Friday - 11:59 PM; Saturday, Sunday - 11:59 PM
: Tuesday to Friday - 11:59 PM; Saturday, Sunday - 11:59 PM

: Monday, Wednesday, Thursday, Friday, Saturday, Sunday 9:00 AM - 4:00 PM
: Monday, Wednesday, Thursday, Friday, Saturday, Sunday 9:00 AM - 4:00 PM
: Monday, Wednesday, Thursday, Friday, Saturday, Sunday 9:00 AM - 4:00 PM
: Monday, Wednesday, Thursday, Friday, Saturday, Sunday 9:00 AM - 4:00 PM
: Monday, Wednesday, Thursday, Friday, Saturday, Sunday 9:00 AM - 4:00 PM
: Monday, Wednesday, Thursday, Friday, Saturday, Sunday 9:00 AM - 4:00 PM
: Monday, Wednesday, Thursday, Friday, Saturday, Sunday 9:00 AM - 4:00 PM
: Monday, Wednesday, Thursday, Friday, Saturday, Sunday 9:00 AM - 4:00 PM
: Monday, Wednesday, Thursday, Friday, Saturday, Sunday 9:00 AM - 4:00 PM
: Monday, Wednesday, Thursday, Friday, Saturday, Sunday 9:00 AM - 4:00 PM
: Monday, Wednesday, Thursday, Friday, Saturday, Sunday 9:00 AM - 4:00 PM
: Monday, Wednesday, Thursday, Friday, Saturday, Sunday 9:00 AM - 4:00 PM

: Everyday 6:00 AM - 8:00 PM
: Everyday 6:00 AM - 8:00 PM
: Everyday 6:00 AM - 8:00 PM
: Everyday 6:00 AM - 8:00 PM
: Everyday 6:00 AM - 8:00 PM
: Everyday 6:00 AM - 8:00 PM
: Everyday 6:00 AM - 8:00 PM
: Everyday 6:00 AM - 8:00 PM
: Everyday 6:00 AM - 8:00 PM
: Everyday 6:00 AM - 8:00 PM
: Everyday 6:00 AM - 8:00 PM
: Everyday 6:00 AM - 8:00 PM

: Everyday 10:00 AM - 7:00 PM
: Everyday 10:00 AM - 7:00 PM
: Everyday 10:00 AM - 7:00 PM
: Everyday 10:00 AM - 7:00 PM
: Everyday 10:00 AM - 7:00 PM
: Everyday 10:00 AM - 7:00 PM
: Everyday 10:00 AM - 7:00 PM
: Everyday 10:00 AM - 7:00 PM
: Everyday 10:00 AM - 7:00 PM
: Everyday 10:00 AM - 7:00 PM
: Everyday 10:00 AM - 7:00 PM
: Everyday 10:00 AM - 7:00 PM

: Everyday 11:00 AM - 9:00 PM
: Everyday 11:00 AM - 9:00 PM
: Everyday 11:00 AM - 9:00 PM
: Everyday 11:00 AM - 9:00 PM
: Everyday 11:00 AM - 9:00 PM
: Everyday 11:00 AM - 9:00 PM
: Everyday 11:00 AM - 9:00 PM
: Everyday 11:00 AM - 9:00 PM
: Everyday 11:00 AM - 9:00 PM
: Everyday 11:00 AM - 9:00 PM
: Everyday 11:00 AM - 9:00 PM
: Everyday 11:00 AM - 9:00 PM

: Everyday 11:00 AM - 5:00 PM
: Everyday 11:00 AM - 5:00 PM
: Everyday 11:00 AM - 5:00 PM
: Everyday 11:00 AM - 5:00 PM
: Everyday 11:00 AM - 5:00 PM
: Everyday 11:00 AM - 5:00 PM
: Everyday 11:00 AM - 5:00 PM
: Everyday 11:00 AM - 5:00 PM
: Everyday 11:00 AM - 5:00 PM
: Everyday 11:00 AM - 5:00 PM
: Everyday 11:00 AM - 5:00 PM
: Everyday 11:00 AM - 5:00 PM

: Everyday 11:00 AM - 9:00 PM
: Everyday 11:00 AM - 9:00 PM
: Everyday 11:00 AM - 9:00 PM
: Everyday 11:00 AM - 9:00 PM
: Everyday 11:00 AM - 9:00 PM
: Everyday 11:00 AM - 9:00 PM
: Everyday 11:00 AM - 9:00 PM
: Everyday 11:00 AM - 9:00 PM
: Everyday 11:00 AM - 9:00 PM
: Everyday 11:00 AM - 9:00 PM
: Everyday 11:00 AM - 9:00 PM
: Everyday 11:00 AM - 9:00 PM

: Everyday 24 Hrs
: Everyday 24 Hrs
: Everyday 24 Hrs
: Everyday 24 Hrs
: Everyday 24 Hrs
: Everyday 24 Hrs
: Everyday 24 Hrs
: Everyday 24 Hrs
: Everyday 24 Hrs
: Everyday 24 Hrs
: Everyday 24 Hrs
: Everyday 24 Hrs

: Everyday :00 AM - 8:00 PM
: Everyday :00 AM - 8:00 PM
: Everyday :00 AM - 8:00 PM
: Everyday :00 AM - 8:00 PM
: Everyday :00 AM - 8:00 PM
: Everyday :00 AM - 8:00 PM
: Everyday :00 AM - 8:00 PM
: Everyday :00 AM - 8:00 PM
: Everyday :00 AM - 8:00 PM
: Everyday :00 AM - 8:00 PM
: Everyday :00 AM - 8:00 PM
: Everyday :00 AM - 8:00 PM

: Everyday 24 Hrs
: Everyday 24 Hrs
: Everyday 24 Hrs
: Everyday 24 Hrs
: Everyday 24 Hrs
: Everyday 24 Hrs
: Everyday 24 Hrs
: Everyday 24 Hrs
: Everyday 24 Hrs
: Everyday 24 Hrs
: Everyday 24 Hrs
: Everyday 24 Hrs

: Everyday 24 Hrs
: Everyday 24 Hrs
: Everyday 24 Hrs
: Everyday 24 Hrs
: Everyday 24 Hrs
: Everyday 24 Hrs
: Everyday 24 Hrs
: Everyday 24 Hrs
: Everyday 24 Hrs
: Everyday 24 Hrs
: Everyday 24 Hrs
: Everyday 24 Hrs

: Everyday 24 Hrs
: Everyday 24 Hrs
: Everyday 24 Hrs
: Everyday 24 Hrs
: Everyday 24 Hrs
: Everyday 24 Hrs
: Everyday 24 Hrs
: Everyday 24 Hrs
: Everyday 24 Hrs
: Everyday 24 Hrs
: Everyday 24 Hrs
: Everyday 24 Hrs

: Everyday 24 Hrs
: Everyday 24 Hrs
: Everyday 24 Hrs
: Everyday 24 Hrs
: Everyday 24 Hrs
: Everyday 24 Hrs
: Everyday 24 Hrs
: Everyday 24 Hrs
: Everyday 24 Hrs
: Everyday 24 Hrs
: Everyday 24 Hrs
: Everyday 24 Hrs

: Everyday 24 Hrs
: Everyday 24 Hrs
: Everyday 24 Hrs
: Everyday 24 Hrs
: Everyday 24 Hrs
: Everyday 24 Hrs
: Everyday 24 Hrs
: Everyday 24 Hrs
: Everyday 24 Hrs
: Everyday 24 Hrs
: Everyday 24 Hrs
: Everyday 24 Hrs

: Everyday 24 Hrs
: Everyday 24 Hrs
: Everyday 24 Hrs
: Everyday 24 Hrs
: Everyday 24 Hrs
: Everyday 24 Hrs
: Everyday 24 Hrs
: Everyday 24 Hrs
: Everyday 24 Hrs
: Everyday 24 Hrs
: Everyday 24 Hrs
: Everyday 24 Hrs

: Everyday 24 Hrs
: Everyday 24 Hrs
: Everyday 24 Hrs
: Everyday 24 Hrs
: Everyday 24 Hrs
: Everyday 24 Hrs
: Everyday 24 Hrs
: Everyday 24 Hrs
: Everyday 24 Hrs
: Everyday 24 Hrs
: Everyday 24 Hrs
: Everyday 24 Hrs

: Everyday 24 Hrs
: Everyday 24 Hrs
: Everyday 24 Hrs
: Everyday 24 Hrs
: Everyday 24 Hrs
: Everyday 24 Hrs
: Everyday 24 Hrs
: Everyday 24 Hrs
: Everyday 24 Hrs
: Everyday 24 Hrs
: Everyday 24 Hrs
: Everyday 24 Hrs

: Everyday 24 Hrs
: Everyday 24 Hrs
: Everyday 24 Hrs
: Everyday 24 Hrs
: Everyday 24 Hrs
: Everyday 24 Hrs
: Everyday 24 Hrs
: Everyday 24 Hrs
: Everyday 24 Hrs
: Everyday 24 Hrs
: Everyday 24 Hrs
: Everyday 24 Hrs

: Everyday 5:00 PM - 11:59 PM
: Everyday 5:00 PM - 11:59 PM
: Everyday 5:00 PM - 11:59 PM
: Everyday 5:00 PM - 11:59 PM
: Everyday 5:00 PM - 11:59 PM
: Everyday 5:00 PM - 11:59 PM
: Everyday 5:00 PM - 11:59 PM
: Everyday 5:00 PM - 11:59 PM
: Everyday 5:00 PM - 11:59 PM
: Everyday 5:00 PM - 11:59 PM
: Everyday 5:00 PM - 11:59 PM
: Everyday 5:00 PM - 11:59 PM

: Everyday 24 Hrs
: Everyday 24 Hrs
: Everyday 24 Hrs
: Everyday 24 Hrs
: Everyday 24 Hrs
: Everyday 24 Hrs
: Everyday 24 Hrs
: Everyday 24 Hrs
: Everyday 24 Hrs
: Everyday 24 Hrs
: Everyday 24 Hrs
: Everyday 24 Hrs

: Everyday 24 Hrs
: Everyday 24 Hrs
: Everyday 24 Hrs
: Everyday 24 Hrs
: Everyday 24 Hrs
: Everyday 24 Hrs
: Everyday 24 Hrs
: Everyday 24 Hrs
: Everyday 24 Hrs
: Everyday 24 Hrs
: Everyday 24 Hrs
: Everyday 24 Hrs

: Everyday 24 Hrs
: Everyday 24 Hrs
: Everyday 24 Hrs
: Everyday 24 Hrs
: Everyday 24 Hrs
: Everyday 24 Hrs
: Everyday 24 Hrs
: Everyday 24 Hrs
: Everyday 24 Hrs
: Everyday 24 Hrs
: Everyday 24 Hrs
: Everyday 24 Hrs