Placed on Maui Island, US, Haleakala National park is one of the spectacular tourist destinations to explore. It is a home to endangered Hawaiian Geese and Haleakala Volcano. This national park in United States is spread over the big portion of land out of which maximum portion belongs to the wilderness area. It is an ideal location for nature lovers to spend some quality time in the lap of nature. Here we have covered you with all attractions and places to visit in Haleakala National Park. Below are mentioned 15 enticing things to do while visiting Haleakala National Park United States.
Here's the list of tourist attractions and 15 best things to do in Haleakala National Park:
1. Visit Haleakala Crater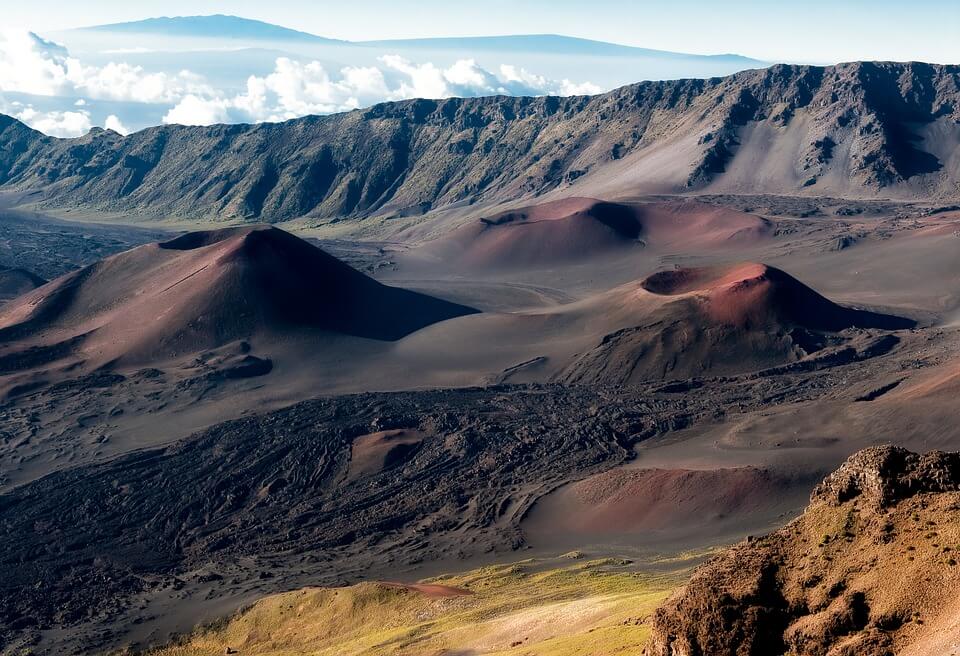 Photo: pixabay.com
Needless to mention, that an important feature of this beautiful park is its popular Haleakala Crater. This crater is almost 790 meter deep and 2.0 miles wide which make it one of the worth visiting places. An interior area of this crater is decorated with couple of volcanic features which includes huge cinder cones as well. From the summit area, two main trails namely Sliding Sandy trails and Halamau'u trail lead into this spectacular Haleakala Crater. Along with nature lovers, this place is also ideal for hikers. They can easily stay in one of the 3 cabins but these cabins will be available only on the prior booking. If tourists want to explore the real beauty of this crater then they should visit either at the time of sunrise or sunset.
2. Enjoy hiking on Pipiwai Trail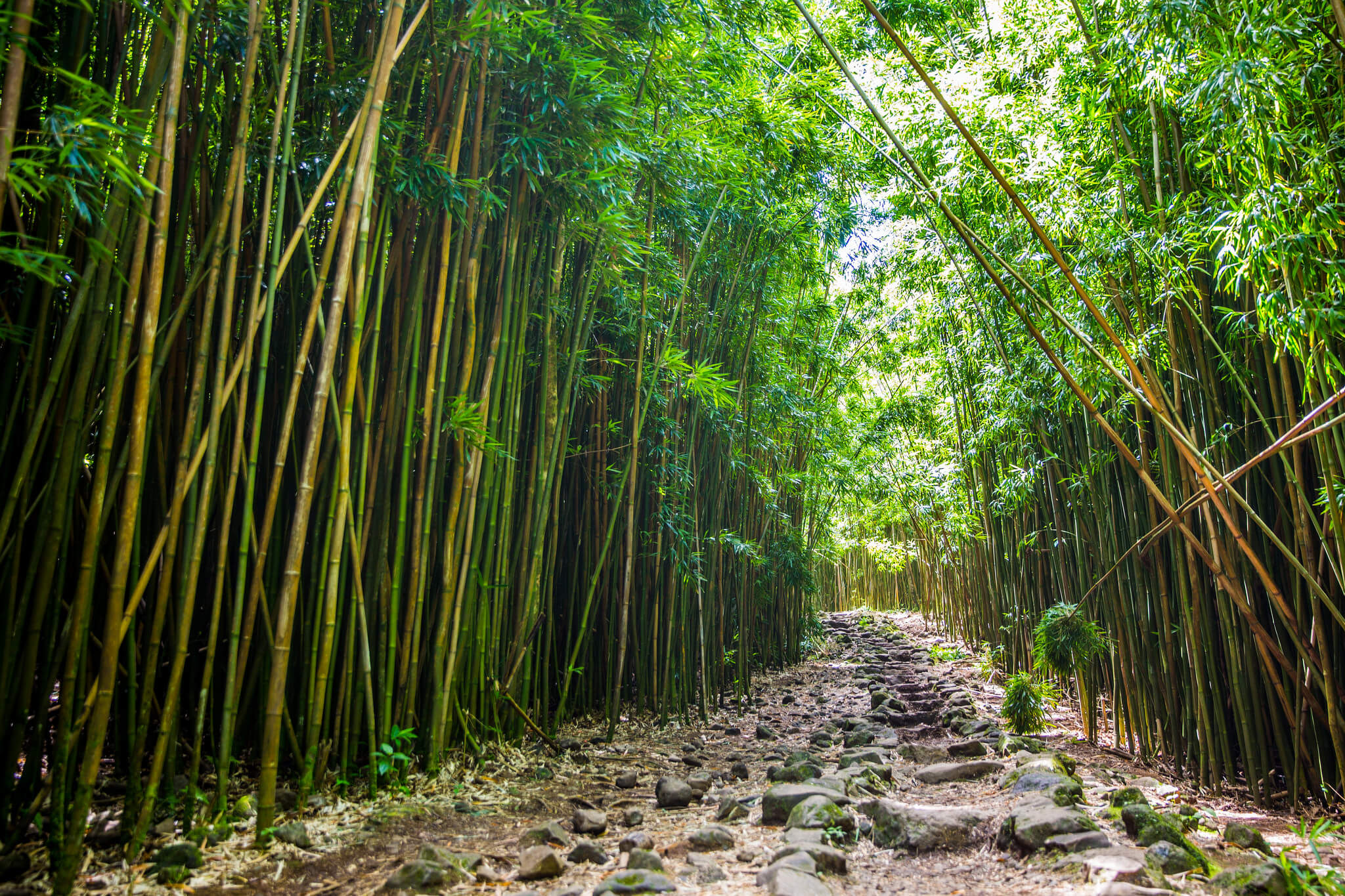 Photo: flickr.com
Pipiwai Trail takes the visitors up to the base of the beautiful Waimoku Falls. This almost 4 mile trail (round trip) is worth visiting in any weather and takes approximately two hours to finish. There are 4 interesting points on this trail namely the huge banyan tree, mesmerizing views of Makahiku Falls, picturesque bamboo forest and the final is astonishing Waimoku Falls. This trail is situated in the southeast Maui. This trail has an elevation of 600 feet and thus hiking here is not too arduous.
3. Explore the perplexing beauty of Kipahulu
Kipahulu is the second part of this stunning Haleakala National Park, US. In order to enter this section, travellers need to take the famous winding coastal road. This road basically travels around the windward coast of the island and thus offers panoramic views. This soothing section of the park is mainly placed within the lower portion of Kipahulu Valley. This area is appointed with a biological reserve so as to protect endangered and native animal and plant species. It is surprising to know that this portion of the park has more than 2 dozens of pool where the visitors can enjoy and spend some quality time.
4. Enjoy an adventurous hike on Sliding Sands Trails
Sliding Sands trails mainly leaves from the parking portion of the famous Haleakala National park and offers bunch of activity options to the visitors. This trail is almost 11 miles long and primarily features eye-catching wild flowers. Unlike other trails, sliding sands trails is a bit challenging but finally offers good experience. The weather here shows the sudden change and thus travellers should carry each and everything so as to complete their hike successfully. The amazing part is that this trail is well maintained and clearly marked so that the tourists can easily explore the same.
5. Visit Kula Botanical Garden
The beauty of this botanical garden always lures the visitors from different parts of the world. It is mainly situated on the slopes of Haleakala national park and dotted with beautiful and unique plants, spectacular waterfalls, amazing rock formation and a lot more. This botanical garden covers 8 acres of land and features a gift shop from where travellers can buy some of the beautiful items of botanical interest. In order to discover the beauty of this park, travellers will have to pay some sort of admission fee as applied by the authorities.
6. Ohe'o Gulch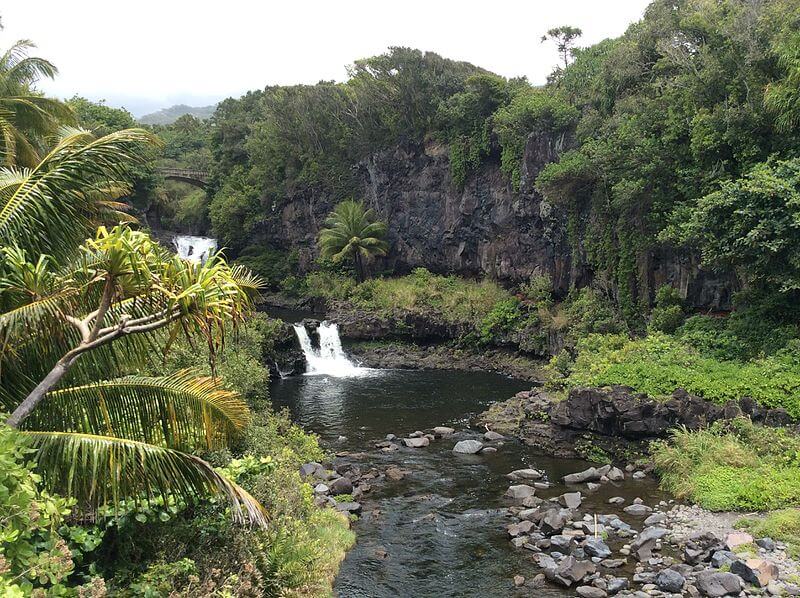 Photo: wikimedia.org
This beautiful Ohe's Gulch includes the first portion of Pipiwai Trail and the area of sacred pools. This place is breathtakingly beautiful and thus tourists should include this in their itinerary while visiting Haleakala National park, US. It is an ideal location for those who are looking for some amazing and panoramic natural views. Unlike other places, this offers a small hike to the visitors and but its perplexing beauty makes it a worth visiting place.
7. Traverse enchanting Flora Gardens of Kula
Enchanting Flora Gardens is yet another botanical garden situated in Kula, Maui. It is said that this garden comprises more than 2000 species of tropical and subtropical plants. As the name implies, it only showcases the collection of flowering plants and fruit trees. This park opens from Tuesday to Sunday and one has to pay admission fee for the same. It is a sort of private garden where tourists can find couple of benches, tables and hammocks all around. These are placed so that visitors can spend some lovely time in the lap of the nature and create some everlasting memories that linger on.
8. Visit Supply Trail
Situated in the summit portion of Haleakala National Park, US, Supply trail is yet another amazing option for hiking. This is one of the best ways to discover the beauty of Hawaiian flora and fauna. Here, tourists can find some great opportunity of watching some rare species of birds as well. From nature lover to adventure buffs, this trail is a delight for all.
9. Haleakala Observatory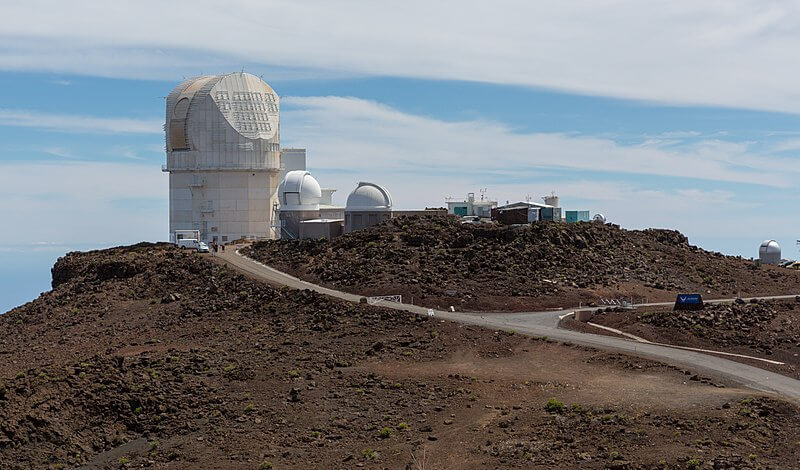 Photo: wikimedia.org
It is yet another important section of this Haleakala National Park, US which the travellers cannot afford to miss. This observatory is managed by University of Hawaii Institute for about forty years. As it is located on the top of the tropical inversion layer and thus it is famous for offering spectacular sky views to the visitors. This observatory is primarily dedicated to the astrophysical experiments and conducts such unique experiments which cannot be accomplished anywhere else in the world. Placed near the visitors centre, this is a must see place while visiting Haleakala National Park.
10. Enjoy Dolphin and Whale Watching
As already said, that Haleakala National park offers the opportunity of exploring a wide range of flora and fauna. Tourists can easily enjoy dolphin and whale watching in this national park and create beautiful memories with them. This offers a unique experience to the travellers and keep them spell bound for long period of time. Thus, this place is perfect for marine and aquatic life lovers and gives them another chance to explore this fantabulous beauty.
11. Polipoli Spring state Recreational Park
Situated almost 10 miles away from Kula up the slopes of Haleakala National Park, Polipoli spring is a state park which is spread over 10 acres of land. As it is located on high elevation thus the climate here is a bit cool and reaches below freezing at the night time. It has 4 trails redwood trail, Polipoli trail, Haleakala Ridge trail and adjacent plum trail. This recreational park offers plenty of activities to the visitors such as hunting, off-roading and hiking. This state park is covered with dense forests and its terrain is quite rough and thus it should be explored with the help of four wheeler vehicle.
12. Visit Harold Rice park
Placed in the vicinity of Kula, this Harold Rice Park is in ideal place for picnic and spending some great and delightful time with your near and dear ones. This park covers 3.3 acres of land and comprises some amazing picnic facilities. Harold Rice Park is a spectacular small place to spend some afternoon time and enjoy packed lunch. It offers amazing and breathtaking views to the visitors. Well, this small park has nothing much to do except strolling around and taking a nice walk.
13. Enjoy the diversity of Flora and Fauna
Haleakala National park is dotted with the wide range of flora and fauna. It is said that this park is a home to most endangered species which have evolved from their pioneers. Rare variety of flora and fauna can be found in this park than any other national park in US. Haleakala is a home to the water beers and thus this place is also known as richest place on this planet for spotting water beers.
14. Visit Summit
Summit in Haleakala National Park is the actual area where Haleakala Crater is located. This summit of the volcano is a perfect place to watch the soothing sunrise and sunset. Near the summit are located the visitor centres and restrooms for travellers. It has its own parking area so as to facilitate the guests. The temperature of this place is quite cool and thus it is advised to carry things accordingly.
15. Hosmer's Grove
Situated inside the Haleakala National Park, Hosmer's Grove showcases the fine example of experimental forestation. It has plenty of hiking trails where the visitors can enjoy hiking and explore the beauty of the nature in the true sense. This place is popular among bird lovers due to the presence of endemic honeycreepers.