Best Time To Visit Hallstatt
Explore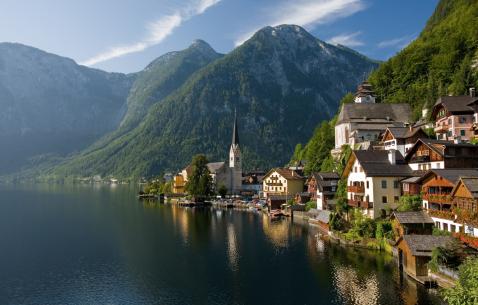 Best Time To Go To Hallstatt
Hallstatt is located in Austria and thus lies in a temperate climate zone where the winters are cold and the summers too are quite hot. Because of its close proximity to the Alps, the climate is said to be Alpine climate.
Winter: Winter lasts from the months of October to March and the temperature drops down to as low as -2 to -3 degree Celsius.
Summer: The mercury rises to a comfortable 25 degree Celsius during the months of April – June.
Monsoon: Monsoon is usually expected during the months of October in Hallstat till March.
The best time to visit Hallstatt austria totally depends on the visitor's perception of a good time. If frolicking around in the snow and chilling (literally) out in the cold weather is your idea of fun then the period of January to March beginning is a hallstatt best time to visit. But if you prefer doing activities like hiking, cave exploration and want to roam around under a clear sky then try going in April – June.
Best time to go to Hallstatt Attractions

:
:
:
: Everyday 11:00 AM - 2:00 PM
: Everyday 11:00 AM - 2:00 PM
: Everyday 11:00 AM - 2:00 PM
: Everyday 11:00 AM - 2:00 PM
: Everyday 11:00 AM - 2:00 PM
: Everyday 11:00 AM - 2:00 PM
:

:
:
:
: Everyday 10:00 AM - 4:00 PM
: Everyday 10:00 AM - 4:00 PM
: Everyday 10:00 AM - 4:00 PM
: Everyday 10:00 AM - 4:00 PM
: Everyday 10:00 AM - 4:00 PM
: Everyday 10:00 AM - 4:00 PM
:

: Everyday 11:00 AM - 3:00 PM
: Everyday 11:00 AM - 3:00 PM
: Everyday 11:00 AM - 3:00 PM
: Everyday 11:00 AM - 3:00 PM
: Everyday 11:00 AM - 3:00 PM
: Everyday 11:00 AM - 3:00 PM
: Everyday 11:00 AM - 3:00 PM
: Everyday 11:00 AM - 3:00 PM
: Everyday 11:00 AM - 3:00 PM
: Everyday 11:00 AM - 3:00 PM
: Everyday 11:00 AM - 3:00 PM
: Everyday 11:00 AM - 3:00 PM

: Everyday 11:00 AM - 5:00 PM
: Everyday 11:00 AM - 5:00 PM
: Everyday 11:00 AM - 5:00 PM
: Everyday 11:00 AM - 5:00 PM
: Everyday 11:00 AM - 5:00 PM
: Everyday 11:00 AM - 5:00 PM
: Everyday 11:00 AM - 5:00 PM
: Everyday 11:00 AM - 5:00 PM
: Everyday 11:00 AM - 5:00 PM
: Everyday 11:00 AM - 5:00 PM
: Everyday 11:00 AM - 5:00 PM
: Everyday 11:00 AM - 5:00 PM

: Everyday 10:00 AM - 3:00 PM
: Everyday 10:00 AM - 3:00 PM
: Everyday 10:00 AM - 3:00 PM
: Everyday 10:00 AM - 3:00 PM
: Everyday 10:00 AM - 3:00 PM
: Everyday 10:00 AM - 3:00 PM
: Everyday 10:00 AM - 3:00 PM
: Everyday 10:00 AM - 3:00 PM
: Everyday 10:00 AM - 3:00 PM
: Everyday 10:00 AM - 3:00 PM
: Everyday 10:00 AM - 3:00 PM
: Everyday 10:00 AM - 3:00 PM

: Wednesday to Sunday 11:00 AM - 5:00 PM
: Wednesday to Sunday 11:00 AM - 5:00 PM
: Wednesday to Sunday 11:00 AM - 5:00 PM
: Everyday 11:30 AM - 5:00 PM
: Everyday 11:30 AM - 5:00 PM
: Everyday 11:30 AM - 5:00 PM
: Everyday 11:30 AM - 5:00 PM
: Everyday 11:30 AM - 5:00 PM
: Everyday 11:30 AM - 5:00 PM
: Everyday 11:30 AM - 5:00 PM
: Wednesday to Sunday 11:00 AM - 5:00 PM
: Wednesday to Sunday 11:00 AM - 5:00 PM

:
:
:
:
: Everyday 10:00 AM - 2:30 PM
: Everyday 10:00 AM - 2:30 PM
: Everyday 10:00 AM - 2:30 PM
: Everyday 10:00 AM - 2:30 PM
: Everyday 10:00 AM - 2:30 PM
: Everyday 10:00 AM - 2:30 PM
:
:

: Everyday 9:00 AM - 3:00 PM
: Everyday 9:00 AM - 3:00 PM
: Everyday 9:00 AM - 3:00 PM
: Everyday 9:00 AM - 3:00 PM
: Everyday 9:00 AM - 3:00 PM
: Everyday 9:00 AM - 3:00 PM
: Everyday 9:00 AM - 3:00 PM
: Everyday 9:00 AM - 3:00 PM
: Everyday 9:00 AM - 3:00 PM
: Everyday 9:00 AM - 3:00 PM
: Everyday 9:00 AM - 3:00 PM
: Everyday 9:00 AM - 3:00 PM

: Everyday 10:00 AM - 2:00 PM
: Everyday 10:00 AM - 2:00 PM
: Everyday 10:00 AM - 2:00 PM
: Everyday 10:00 AM - 2:00 PM
: Everyday 10:00 AM - 2:00 PM
: Everyday 10:00 AM - 2:00 PM
: Everyday 10:00 AM - 2:00 PM
: Everyday 10:00 AM - 2:00 PM
: Everyday 10:00 AM - 2:00 PM
: Everyday 10:00 AM - 2:00 PM
: Everyday 10:00 AM - 2:00 PM
: Everyday 10:00 AM - 2:00 PM

: Everyday 10:00 AM - 6:00 PM
: Everyday 10:00 AM - 6:00 PM
: Everyday 10:00 AM - 6:00 PM
: Everyday 10:00 AM - 6:00 PM
: Everyday 10:00 AM - 6:00 PM
: Everyday 10:00 AM - 6:00 PM
: Everyday 10:00 AM - 6:00 PM
: Everyday 10:00 AM - 6:00 PM
: Everyday 10:00 AM - 6:00 PM
: Everyday 10:00 AM - 6:00 PM
: Everyday 10:00 AM - 6:00 PM
: Everyday 10:00 AM - 6:00 PM

: Monday to Saturday 8:00 AM - 5:30 PM
: Monday to Saturday 8:00 AM - 5:30 PM
: Monday to Saturday 8:00 AM - 5:30 PM
: Monday to Saturday 8:00 AM - 5:30 PM
: Monday to Saturday 8:00 AM - 5:30 PM
: Monday to Saturday 8:00 AM - 5:30 PM
: Monday to Saturday 8:00 AM - 5:30 PM
: Monday to Saturday 8:00 AM - 5:30 PM
: Monday to Saturday 8:00 AM - 5:30 PM
: Monday to Saturday 8:00 AM - 5:30 PM
: Monday to Saturday 8:00 AM - 5:30 PM
: Monday to Saturday 8:00 AM - 5:30 PM

: Everyday 24 Hrs
: Everyday 24 Hrs
: Everyday 24 Hrs
: Everyday 24 Hrs
: Everyday 24 Hrs
: Everyday 24 Hrs
: Everyday 24 Hrs
: Everyday 24 Hrs
: Everyday 24 Hrs
: Everyday 24 Hrs
: Everyday 24 Hrs
: Everyday 24 Hrs

: Everyday 24 Hrs
: Everyday 24 Hrs
: Everyday 24 Hrs
: Everyday 24 Hrs
: Everyday 24 Hrs
: Everyday 24 Hrs
: Everyday 24 Hrs
: Everyday 24 Hrs
: Everyday 24 Hrs
: Everyday 24 Hrs
: Everyday 24 Hrs
: Everyday 24 Hrs