The 9th biggest city in Canada and the third biggest in Ontario after Toronto and Ottawa, Hamilton is a vibrant destination with a large variety of places to see and things to do. Whether you are a history buff or culture vulture, nature is what you seek escape in or want to experience some thrill at lion safari, Hamilton is not going to let you down! For shopping and golf lovers too, the city has ample opportunities and with a lot to offer to suit every taste and age, there's no wonder that it attracts a large number of tourists every year. Check out this 15 best places to visit in Hamilton.
Here's the list of Hamilton points of interest and 15 best things to do in Hamilton:
1. Be familiar with Canadian art at impressive Art Gallery of Hamilton
The striking Art Gallery of Hamilton is among the country's oldest public art galleries. An abode of more than 10,000 artworks, it is Canada's third-biggest gallery and a must visit attraction for art lovers. It draws around 300,000 visitors annually who come here to explore a lovely collection of European historical, Canadian historical and Canadian contemporary art. Apart from permanent collection, tourists can explore 30 diverse exhibits hosted by Art Gallery of Hamilton all through the year. There's also a majestic glass pavilion as well as a sculpture atrium.
2. Discover Canada's military and aviation history at Canadian Warplane Heritage Museum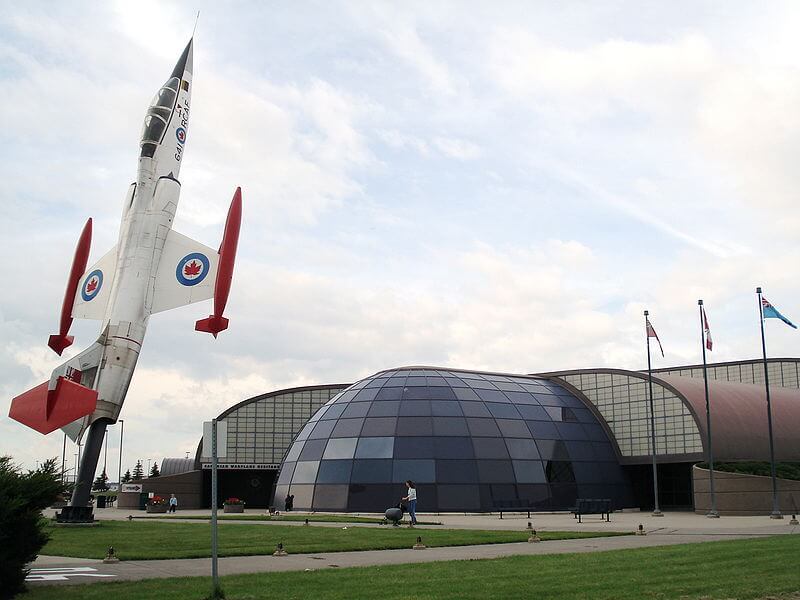 Image source: wikipedia.org
If you are interested in knowing about the aviation history and military of the country, Canadian Warplane Heritage Museum is the place to go. There are more than 40 aircraft that are beautifully restored and have been put on an exhibition for visitors to see. The staff at the museum is welcoming and helpful and is pretty well-versed to solve all your queries. Explore aircraft that Canada's Military used from World War II to the present times. What's more, interaction with exhibits like flight combat simulators offers people a unique experience.
3. Revel in scenic waterfalls
Niagara Escarpment is an abode of more than 100 waterfalls and the same is the reason as to why Hamilton is often termed as 'The City of Waterfalls'. Most of the waterfalls are easily accessible and visitors can opt for popular Bruce Trail to visit them. To name the most renowned ones, they are Devil's Punch Bowl, ribbon waterfall in Tiffany Falls (21 meters high), Albion Falls (19 meters) and Webster's Falls which is 30 meters wide. Travelers can also enjoy a picnic in the Webster's Falls which is an attraction in itself.
4. Look at typical mid-19th-century urban estate Whitehern Historic House and Garden
A visit to Whitehern Historic House and Garden will make you acquainted with how mid-19th-century urban estate used to be. With a history of ownership, it showcases the changes that three generations of affluent McQuesten family made to the estate. The beautiful interior offers a sneak peek into the Edwardian, Georgian and Victorian era. Overall, it's an exquisite place to adore interior and have some quality time.
5. Find escape in nature at Royal Botanical Gardens
The biggest botanical garden of the country, it offers a beautiful natural retreat that houses a wildlife sanctuary, rock garden and arboretum. The biggest attraction at Royal Botanical Gardens is Centennial Rose Garden that provides visitors with a chance to discover thousands of rose species between June and October. Get mesmerized with diverse types of roses or indulge in varied family-friendly events all through the year, this natural bliss is surely an enticing hotspot not to be missed on your tour to Hamilton.
6. Peep into the lifestyle of Canada's rich premiers by paying a visit to Dundurn Castle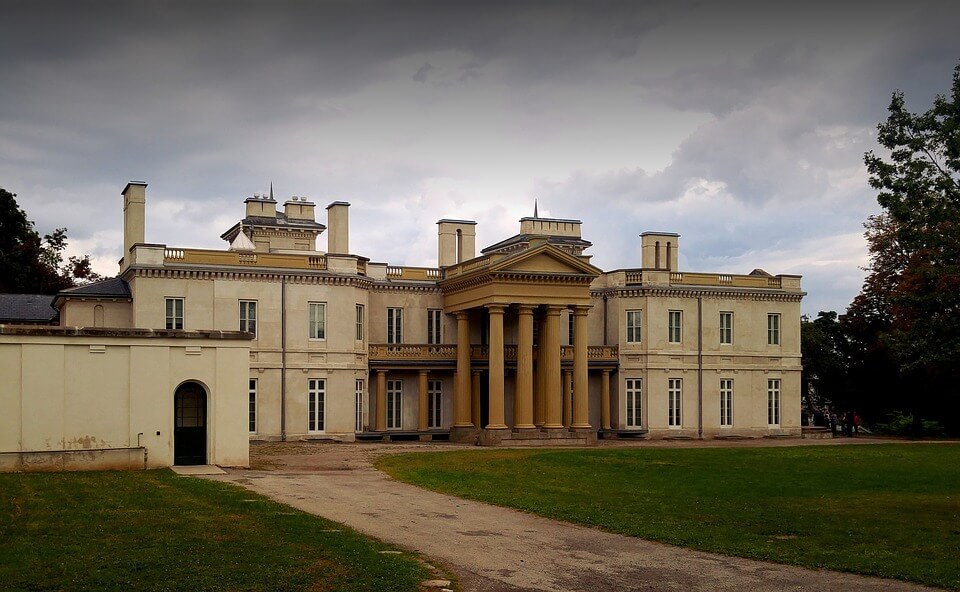 Image source: pixabay.com
It's a stunning villa that was constructed in 1835 in the Italian style. It served as the residence of Sir Allan Napier MacNab who was among the first premiers of Canada. The castle makes tourist familiar with the lifestyle of rich Hamiltonian of that time. There are around 40 elaborately decked rooms along with a garden conserved in the 119th-century condition where herbs, fruits and vegetables are still grown. If you pay a visit to the castle, the costumed staff will provide you with information regarding the lifestyle in 1850s.
7. Walk around vibrant and renowned Hamilton Farmers' Market
Make the most of your tour by visiting Hamilton's oldest market that dates back to 1837. In this indoor market, one can find an extensive variety of fresh local products along with ffoodstuffsfrom across the globe. Here you can find more than 70 vendors who serve freshly prepared food apart from selling other products. The best thing about the market is that one can find a blend of cultural culinary products and this is what has made Hamilton Farmers' Market famous internationally. Banh Mi Sandwich, handmade ice-cream and pasta are something you just can't miss to taste if you happen to be here. The market also houses few good artisan stores.
8. Travel back in time at HMCS Haida National Historic Site
This legendary Tribal class destroyer was utilized in World War II, Cold War and Korean War. It's among the eminent ships of Canadian Navy and visitors can avail a sight of it on the waterfront at Pier 9. It serves as a museum ship presently and is distinguished as National Historic Site of the country. Opt for self-guided tours and delve into decks to relish the experience of being a crew member. Tourists have the choice of guided tours as well if they are interested in knowing about the attraction along with finding its secret areas.
9. Soak up natural exquisiteness at the Bruce Trail
Make the most of your tour to Hamilton by exploring this spectacular innate bliss. The stretch of the Bruce Trail is approximately 900 kilometers and it runs on Niagara Escarpment's side. It was originally set up in the year 1959 and is still among the popular places to see. If you want to treat yourself with impressive UNESCO World Biosphere Reserve, there can be no better option than walking through it.
10. Take great delight in African Lion Safari
African Lion Safari is one of the most interesting and engrossing attractions that is very much popular among family vacationers. Abode of various African animals like lions, cheetahs, giraffes, rhino, etc., it offers one-of-a-kind experience and deserves to be in your list of places to explore. Stretching over an area of more than 700 kilometers, African Lion Safari is divided into seven-game reserves where beasts roam freely. Tourists have the option of traveling around in their vehicles or opt for the bus provided by the park. Also don't miss to explore the area for availing a sight of other creatures like alpacas, toucans, parrots, etc.
11. Get a scary experience at Haunted Hamilton Ghost Walk
If you have enough courage to add an element of thrill and adventure to your trip, Haunted Hamilton Ghost Walk is a good option. Feel the fear while walking along dark lanes and around Hamilton's haunted buildings. Many guided tours are available, choose any and delve into dark past of the city. Halloween is among the most frightening tours; however, you'll have to dress accordingly and your costume might even make you a winner of cash prize.
12. Enjoy a picnic at spectacular Gage Park
It is Hamilton's biggest park and one of the prettiest sights to bask in natural elegance on your trip to the city. It houses few historic landmarks including Gage Park Bandshell and Gage Park Fountain along with Hamilton Children's Museum. Immerse in a number of events and festivals or roll about in a picnic, a day here guarantees unlimited fun and entertainment.
13. Canadian Football Hall of Fame & Museum is a must visit attraction for Canadian Football fans
If you admire Canadian Football, don't miss to pay a visit to Canadian Football Hall of Fame & Museum. Canadian Football League operates this not-for-profit museum that was set up in 1972. The museum has a magnificent collection of more than 30,000 diverse items which draw attention to the game as well as its greatest players. Aside from this, visitors will also find items related to the past of Canadian junior football and Canadian university football leagues.
14. Immerse in shopping
If shopping is your cup of tea, Hamilton won't disappoint you, as the city is dotted with some wonderful shopping places like Ottawa Street. Besides, Ancaster is a great place for fashion buffs while Westdale Village has nice local boutiques. Also don't miss to visit Jackson Square Mall as well as Lime Ridge Mall that houses more than 200 shops.
15. Golf lovers will have plenty of topnotch options
If golf is what interests you, Hamilton has wonderful options for you as the city is dotted with a plethora of 18-hole golf courses. While enjoying tourist attractions, get your hands on private golf courses to complete your experience of traveling the city. Hamilton Golf & Country Club is among the most famous golf courses here; however, only the members or people of their acquaintance get an entry. Apart from this, King's Forest Golf Course is ranked among top-class public golf courses while Chedoke Beddoe Golf Course is also popular for hosting many local tournaments.