Best Time To Visit Hoi An
Explore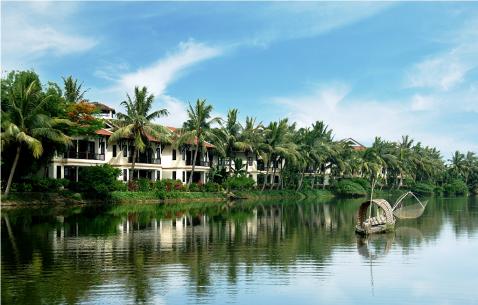 Accommodations with

See All
Best Time To Go To Hoi An
Climate: The city enjoys typically warm and humid weather. Both sunshine and rain is received throughout the year. Hoi An weather is predictable and consistent with few unpleasant surprises.
Best Time To Travel: It is best to travel to Hoi An at any time of the year- there is no right or wrong time to visit. But do remember to carry an umbrella on your Vietnam vacation.
Explore the best travel planner for your visit to Hoi An and create a flawless plan in few simple steps!
Best time to go to Hoi An Attractions

: Everyday 5:00 PM - 7:00 PM
: Everyday 5:00 PM - 7:00 PM
: Everyday 5:00 PM - 7:00 PM
: Everyday 5:00 PM - 7:00 PM
: Everyday 5:00 PM - 7:00 PM
: Everyday 5:00 PM - 7:00 PM
: Everyday 5:00 PM - 7:00 PM
: Everyday 5:00 PM - 7:00 PM
: Everyday 5:00 PM - 7:00 PM
: Everyday 5:00 PM - 7:00 PM
: Everyday 5:00 PM - 7:00 PM
: Everyday 5:00 PM - 7:00 PM

: Everyday 2:00 PM - 4:00 PM
: Everyday 2:00 PM - 4:00 PM
: Everyday 2:00 PM - 4:00 PM
: Everyday 2:00 PM - 4:00 PM
: Everyday 2:00 PM - 4:00 PM
: Everyday 2:00 PM - 4:00 PM
: Everyday 2:00 PM - 4:00 PM
: Everyday 2:00 PM - 4:00 PM
: Everyday 2:00 PM - 4:00 PM
: Everyday 2:00 PM - 4:00 PM
: Everyday 2:00 PM - 4:00 PM
: Everyday 2:00 PM - 4:00 PM

: Everyday 4:00 PM - 6:00 PM
: Everyday 4:00 PM - 6:00 PM
: Everyday 4:00 PM - 6:00 PM
: Everyday 4:00 PM - 6:00 PM
: Everyday 4:00 PM - 6:00 PM
: Everyday 4:00 PM - 6:00 PM
: Everyday 4:00 PM - 6:00 PM
: Everyday 4:00 PM - 6:00 PM
: Everyday 4:00 PM - 6:00 PM
: Everyday 4:00 PM - 6:00 PM
: Everyday 4:00 PM - 6:00 PM
: Everyday 4:00 PM - 6:00 PM

: Everyday 4:00 PM - 6:00 PM
: Everyday 4:00 PM - 6:00 PM
: Everyday 4:00 PM - 6:00 PM
: Everyday 4:00 PM - 6:00 PM
: Everyday 4:00 PM - 6:00 PM
: Everyday 4:00 PM - 6:00 PM
: Everyday 4:00 PM - 6:00 PM
: Everyday 4:00 PM - 6:00 PM
: Everyday 4:00 PM - 6:00 PM
: Everyday 4:00 PM - 6:00 PM
: Everyday 4:00 PM - 6:00 PM
: Everyday 4:00 PM - 6:00 PM

: Everyday 11:00 AM - 2:00 PM
: Everyday 11:00 AM - 2:00 PM
: Everyday 11:00 AM - 2:00 PM
: Everyday 11:00 AM - 2:00 PM
: Everyday 11:00 AM - 2:00 PM
: Everyday 11:00 AM - 2:00 PM
: Everyday 11:00 AM - 2:00 PM
: Everyday 11:00 AM - 2:00 PM
: Everyday 11:00 AM - 2:00 PM
: Everyday 11:00 AM - 2:00 PM
: Everyday 11:00 AM - 2:00 PM
: Everyday 11:00 AM - 2:00 PM

: Everyday 10:00 AM - 1:00 PM
: Everyday 10:00 AM - 1:00 PM
: Everyday 10:00 AM - 1:00 PM
: Everyday 10:00 AM - 1:00 PM
: Everyday 10:00 AM - 1:00 PM
: Everyday 10:00 AM - 1:00 PM
: Everyday 10:00 AM - 1:00 PM
: Everyday 10:00 AM - 1:00 PM
: Everyday 10:00 AM - 1:00 PM
: Everyday 10:00 AM - 1:00 PM
: Everyday 10:00 AM - 1:00 PM
: Everyday 10:00 AM - 1:00 PM

: Everyday 1:00 PM - 6:00 PM
: Everyday 1:00 PM - 6:00 PM
: Everyday 1:00 PM - 6:00 PM
: Everyday 1:00 PM - 6:00 PM
: Everyday 1:00 PM - 6:00 PM
: Everyday 1:00 PM - 6:00 PM
: Everyday 1:00 PM - 6:00 PM
: Everyday 1:00 PM - 6:00 PM
: Everyday 1:00 PM - 6:00 PM
: Everyday 1:00 PM - 6:00 PM
: Everyday 1:00 PM - 6:00 PM
: Everyday 1:00 PM - 6:00 PM

: Everyday 9:00 AM - 3:00 PM
: Everyday 9:00 AM - 3:00 PM
: Everyday 9:00 AM - 3:00 PM
: Everyday 9:00 AM - 3:00 PM
: Everyday 9:00 AM - 3:00 PM
: Everyday 9:00 AM - 3:00 PM
: Everyday 9:00 AM - 3:00 PM
: Everyday 9:00 AM - 3:00 PM
: Everyday 9:00 AM - 3:00 PM
: Everyday 9:00 AM - 3:00 PM
: Everyday 9:00 AM - 3:00 PM
: Everyday 9:00 AM - 3:00 PM

: Everyday 11:00 AM - 2:00 PM
: Everyday 11:00 AM - 2:00 PM
: Everyday 11:00 AM - 2:00 PM
: Everyday 11:00 AM - 2:00 PM
: Everyday 11:00 AM - 2:00 PM
: Everyday 11:00 AM - 2:00 PM
: Everyday 11:00 AM - 2:00 PM
: Everyday 11:00 AM - 2:00 PM
: Everyday 11:00 AM - 2:00 PM
: Everyday 11:00 AM - 2:00 PM
: Everyday 11:00 AM - 2:00 PM
: Everyday 11:00 AM - 2:00 PM

: Everyday 8:00 AM - 9:30 PM
: Everyday 8:00 AM - 9:30 PM
: Everyday 8:00 AM - 9:30 PM
: Everyday 8:00 AM - 9:30 PM
: Everyday 8:00 AM - 9:30 PM
: Everyday 8:00 AM - 9:30 PM
: Everyday 8:00 AM - 9:30 PM
: Everyday 8:00 AM - 9:30 PM
: Everyday 8:00 AM - 9:30 PM
: Everyday 8:00 AM - 9:30 PM
: Everyday 8:00 AM - 9:30 PM
: Everyday 8:00 AM - 9:30 PM

: Everyday 9:00 AM - 3:00 PM
: Everyday 9:00 AM - 3:00 PM
: Everyday 9:00 AM - 3:00 PM
: Everyday 9:00 AM - 3:00 PM
: Everyday 9:00 AM - 3:00 PM
: Everyday 9:00 AM - 3:00 PM
: Everyday 9:00 AM - 3:00 PM
: Everyday 9:00 AM - 3:00 PM
: Everyday 9:00 AM - 3:00 PM
: Everyday 9:00 AM - 3:00 PM
: Everyday 9:00 AM - 3:00 PM
: Everyday 9:00 AM - 3:00 PM

: Everyday 7:00 AM - 3:00 PM
: Everyday 7:00 AM - 3:00 PM
: Everyday 7:00 AM - 3:00 PM
: Everyday 7:00 AM - 3:00 PM
: Everyday 7:00 AM - 3:00 PM
: Everyday 7:00 AM - 3:00 PM
: Everyday 7:00 AM - 3:00 PM
: Everyday 7:00 AM - 3:00 PM
: Everyday 7:00 AM - 3:00 PM
: Everyday 7:00 AM - 3:00 PM
: Everyday 7:00 AM - 3:00 PM
: Everyday 7:00 AM - 3:00 PM

: Everyday 9:00 AM - 11:00 AM
: Everyday 9:00 AM - 11:00 AM
: Everyday 9:00 AM - 11:00 AM
: Everyday 9:00 AM - 11:00 AM
: Everyday 9:00 AM - 11:00 AM
: Everyday 9:00 AM - 11:00 AM
: Everyday 9:00 AM - 11:00 AM
: Everyday 9:00 AM - 11:00 AM
: Everyday 9:00 AM - 11:00 AM
: Everyday 9:00 AM - 11:00 AM
: Everyday 9:00 AM - 11:00 AM
: Everyday 9:00 AM - 11:00 AM

: Everyday 11:00 AM - 4:00 PM
: Everyday 11:00 AM - 4:00 PM
: Everyday 11:00 AM - 4:00 PM
: Everyday 11:00 AM - 4:00 PM
: Everyday 11:00 AM - 4:00 PM
: Everyday 11:00 AM - 4:00 PM
: Everyday 11:00 AM - 4:00 PM
: Everyday 11:00 AM - 4:00 PM
: Everyday 11:00 AM - 4:00 PM
: Everyday 11:00 AM - 4:00 PM
: Everyday 11:00 AM - 4:00 PM
: Everyday 11:00 AM - 4:00 PM

: Everyday 7:00 PM - 10:00 PM
: Everyday 7:00 PM - 10:00 PM
: Everyday 7:00 PM - 10:00 PM
: Everyday 7:00 PM - 10:00 PM
: Everyday 7:00 PM - 10:00 PM
: Everyday 7:00 PM - 10:00 PM
: Everyday 7:00 PM - 10:00 PM
: Everyday 7:00 PM - 10:00 PM
: Everyday 7:00 PM - 10:00 PM
: Everyday 7:00 PM - 10:00 PM
: Everyday 7:00 PM - 10:00 PM
: Everyday 7:00 PM - 10:00 PM

: Everyday 7:00 PM - 2:00 PM
: Everyday 7:00 PM - 2:00 PM
: Everyday 7:00 PM - 2:00 PM
: Everyday 7:00 PM - 2:00 PM
: Everyday 7:00 PM - 2:00 PM
: Everyday 7:00 PM - 2:00 PM
: Everyday 7:00 PM - 2:00 PM
: Everyday 7:00 PM - 2:00 PM
: Everyday 7:00 PM - 2:00 PM
: Everyday 7:00 PM - 2:00 PM
: Everyday 7:00 PM - 2:00 PM
: Everyday 7:00 PM - 2:00 PM

: Everyday 2:00 PM - 4:00 PM
: Everyday 2:00 PM - 4:00 PM
: Everyday 2:00 PM - 4:00 PM
: Everyday 2:00 PM - 4:00 PM
: Everyday 2:00 PM - 4:00 PM
: Everyday 2:00 PM - 4:00 PM
: Everyday 2:00 PM - 4:00 PM
: Everyday 2:00 PM - 4:00 PM
: Everyday 2:00 PM - 4:00 PM
: Everyday 2:00 PM - 4:00 PM
: Everyday 2:00 PM - 4:00 PM
: Everyday 2:00 PM - 4:00 PM

: Everyday 24 Hrs
: Everyday 24 Hrs
: Everyday 24 Hrs
: Everyday 24 Hrs
: Everyday 24 Hrs
: Everyday 24 Hrs
: Everyday 24 Hrs
: Everyday 24 Hrs
: Everyday 24 Hrs
: Everyday 24 Hrs
: Everyday 24 Hrs
: Everyday 24 Hrs

: Everyday 24 Hrs
: Everyday 24 Hrs
: Everyday 24 Hrs
: Everyday 24 Hrs
: Everyday 24 Hrs
: Everyday 24 Hrs
: Everyday 24 Hrs
: Everyday 24 Hrs
: Everyday 24 Hrs
: Everyday 24 Hrs
: Everyday 24 Hrs
: Everyday 24 Hrs

: Everyday 24 Hrs
: Everyday 24 Hrs
: Everyday 24 Hrs
: Everyday 24 Hrs
: Everyday 24 Hrs
: Everyday 24 Hrs
: Everyday 24 Hrs
: Everyday 24 Hrs
: Everyday 24 Hrs
: Everyday 24 Hrs
: Everyday 24 Hrs
: Everyday 24 Hrs

: Everyday 24 Hrs
: Everyday 24 Hrs
: Everyday 24 Hrs
: Everyday 24 Hrs
: Everyday 24 Hrs
: Everyday 24 Hrs
: Everyday 24 Hrs
: Everyday 24 Hrs
: Everyday 24 Hrs
: Everyday 24 Hrs
: Everyday 24 Hrs
: Everyday 24 Hrs

: Everyday 24 Hrs
: Everyday 24 Hrs
: Everyday 24 Hrs
: Everyday 24 Hrs
: Everyday 24 Hrs
: Everyday 24 Hrs
: Everyday 24 Hrs
: Everyday 24 Hrs
: Everyday 24 Hrs
: Everyday 24 Hrs
: Everyday 24 Hrs
: Everyday 24 Hrs

: Everyday 24 Hrs
: Everyday 24 Hrs
: Everyday 24 Hrs
: Everyday 24 Hrs
: Everyday 24 Hrs
: Everyday 24 Hrs
: Everyday 24 Hrs
: Everyday 24 Hrs
: Everyday 24 Hrs
: Everyday 24 Hrs
: Everyday 24 Hrs
: Everyday 24 Hrs

: Everyday 24 Hrs
: Everyday 24 Hrs
: Everyday 24 Hrs
: Everyday 24 Hrs
: Everyday 24 Hrs
: Everyday 24 Hrs
: Everyday 24 Hrs
: Everyday 24 Hrs
: Everyday 24 Hrs
: Everyday 24 Hrs
: Everyday 24 Hrs
: Everyday 24 Hrs

: Everyday 24 Hrs
: Everyday 24 Hrs
: Everyday 24 Hrs
: Everyday 24 Hrs
: Everyday 24 Hrs
: Everyday 24 Hrs
: Everyday 24 Hrs
: Everyday 24 Hrs
: Everyday 24 Hrs
: Everyday 24 Hrs
: Everyday 24 Hrs
: Everyday 24 Hrs

: Everyday 24 Hrs
: Everyday 24 Hrs
: Everyday 24 Hrs
: Everyday 24 Hrs
: Everyday 24 Hrs
: Everyday 24 Hrs
: Everyday 24 Hrs
: Everyday 24 Hrs
: Everyday 24 Hrs
: Everyday 24 Hrs
: Everyday 24 Hrs
: Everyday 24 Hrs

: Everyday 24 Hrs
: Everyday 24 Hrs
: Everyday 24 Hrs
: Everyday 24 Hrs
: Everyday 24 Hrs
: Everyday 24 Hrs
: Everyday 24 Hrs
: Everyday 24 Hrs
: Everyday 24 Hrs
: Everyday 24 Hrs
: Everyday 24 Hrs
: Everyday 24 Hrs