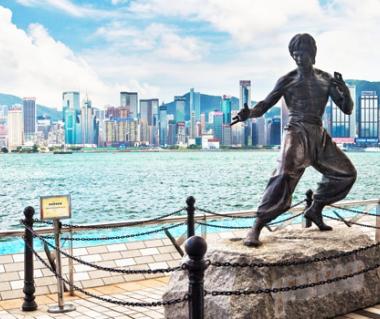 Hong Kong Trip Planner
Plan your customized trip plan for Hong Kong. Choose from Top Toursim cities and tourist attarctions of Hong Kong using trip planner.
Hong Kong Overview
Hong Kong, meaning Fragrant Harbor, is also known as Asia's World City and it truly matches up to that tag. It was officially decreed as a Special Administrative Region on July 1, 1997, under the rule of "One Country, Two Systems". This has allowed it to hold autonomy letting it to have its own capitalist system, free trade and freedom of speech.
Hong Kong has a bit of everything and then some. This place has many facets all coexisting in harmony with each other. The modernization has had no impact on the cultural side of it and that reflects in the architecture, culture and the people of Hong Kong. The people here are very rooted in their culture and are quite spiritual. The architectural style ranges from the skyscrapers on one side, and the old buildings and heritage sites on the other.
You are in for a treat once in Hong Kong since there is always something happening all around the year. Tourism in Hong Kong has increased manifold over the period and the location has played an important role. Located on the southeast coast of China, it has had an advantage in being the hub for international trade. With the development, the place and its people have a lot of opportunities to make the best of and offer only the best to the tourists any time of the year.
It is home to a lot of attractions – from natural reserves and parks; from museums to temples; from colonial architecture to modern skyline; from upscale restaurants to the street side food stalls, from the enormous and glorious shopping malls to the street markets; etc. And if you are feeling adventurous, even then Hong Kong is sure not to disappoint you. The art and the culture of Hong Kong are preserved well, utmost care has been taken to preserve and maintain its heritage. That's why a lot of buildings and structures have been declared as monuments.
As far as language is concerned, Mandarin and English are most spoken in Hong Kong. Traditionally, the official language was Chinese and Cantonese and it would do well for the tourists to learn a few words.
Asia's 'world city' is well connected to the rest of the world. It has daily and regular flights to the major cities helping it to promote, develop and maintain economic growth and booming tourism.
It has a very efficient public transportation system in the City as well, connecting the North to the South and East to the West. Hong Kong is divided into four parts – Hong Kong Island, Kowloon Peninsula, New Territories, and the Outlying Islands.
Hong Kong Island is the most happening of all, and is the center of all the activities; be it economic, political, tourism, shopping, and entertainment. The northern part is the main commercial area; East comprises of the residential area and the Southern boasts of the picturesque shores and bays. Kowloon is flourishing fast and if you would like to get away from the hustle-bustle of the civilization for a while then head to the New Territories and the Outlying Islands.
There are Visitor Information Centers at the airport, to help you with any inquiry or any help with the City.
Best Time to Visit Hong Kong
Hong Kong experiences a sub-tropical climate with four distinguished seasons - humid spring, rainy summer, dry winter, and sunny autumn. The overall weather of the country makes Hong Kong an all-year-round destination for a vacation. The best time to visit Hong Kong is from October through December when the temperature has started to cool down, giving way to chilly weather in the winter. Other than this season, March to May is also considered as a favorable time to visit Hong Kong.
Getting in and around Hong Kong
Getting to Hong Kong is quite easy as it is well connected with all the modes of transport. All modes of transport are accessible by physically challenged.
By Air: Hong Kong International Airport is the primary airport where all the international national flights to Hong Kong lands. Direct flights to and from Europe and North America are available at least once in a day. Frequent flight does run to and from Asia and Oceania. Another important airport in Hong Kong is Shenzhen Airport that has flights to and from mainland China. Macau International Airport serves flight between Macau and Hong Kong.
By Rail/Bus/Cruise lines/Ferries: Crossing Mainland China is the only way to and from Hong Kong. One needs to go across the border of 30 kilometers. There are options aplenty in the form of rails, buses/coaches, cruise lines and the ferries.
Passport & Visa Requirements
On arrival, all the visitors are required to hold a valid passport that has an expiry date of at least a month from the date of the visit.
Tourists in Hong Kong do not need any visa for the stay ranging from 7 days up to 180 days. Do check with the Chinese Embassy or Consulate with the Immigration Department for further information and clarification.
Octopus card: It is a reusable smart card for making payments. Initially launched to collect fares for the MTR (Mass Transit System), it is now also used in making payments at convenience stores, restaurants, for car parks; etc. it is the first thing one should after landing at the airport.
What to See
Chinese Temples: Below the modern and contemporary lifestyle, there lives a Hong Kong which is very spiritual. There are many temples in and around Hong Kong and the people here follow Buddhism, Taoism, Confucian, Christianity, and Islam. Some of the temples date way back into history and are not open to the public anymore while others have built a modern version of the old and are now made public. Apart from the obvious reason, one should also visit these temples to get a glance into the history and culture of Hong Kong.
Declared Monuments: Certain buildings and structures in Hong Kong Island, Kowloon, New Territories, and the Outlying Islands are now declared monuments. It means that these old structures provide a peek into the rich history and they need to be protected from further damage or modification.
Historical Sites: Likes of the Han dynasty tombs, fenced villages, and remains of the World War; etc. all form part of the historical sites.
Museums: There are museums for diverse interests – from art to science, from history to racing and railway, and from Government to Defense and Police; etc. There are more than 20 museums in this City. Pick one or more of your interest and take in all that the museum has to offer. Time well spent!
Events & Festivals
Hong Kong celebrates festivals throughout the year. Some of the popular ones are the Spring Lantern Festival, cultural celebrations in Spring, Hong Kong Winter Fest and many more. For visitors, Hong Kong is an all-round destination.
Travel Tips
Be sure to learn some Cantonese and Chinese words before you arrive in Hong Kong. It will help you to navigate better and to talk with the shopkeepers. Also, people here love when somebody is putting an effort to learn the language, and it might all result in a better service. Also, make it a point to dress well.
Carry sunscreen, a hat, an umbrella, a light sweater, and a jacket and a comfortable pair of shoes since there is a lot of walking involved. The best way to explore a place is by walking around. Carry comfortable clothes and pack in accordance with the weather in Hong Kong during your visit. And don't forget the camera!
Take the first aid with you, in case of an impact on the health due to change in location, food or water.
Always carry a copy of all the important documents, and keep the originals safely stashed away in the lockers provided by the Hotel. Most of the hotels do have this facility.
Littering and smoking in public places is not permitted. If caught, it will attract a hefty fine.
Wrap the used chewing gum before disposing of it. Failing to do so will attract a heavy fine.
Take the subway whenever you can – its cost-efficient, fast and take you to many destinations across the City.
One's trip to Hong Kong is not over if there wasn't any boat ride involved. Another must-do.
When in Hong Kong, one thing you must do is get a suit stitched. There are a lot of tailors in the City that will stitch the suit pretty fast and in a reasonable amount.
Make sure you place the chop-sticks sideways, as putting them straight is considered rude. Also, do not use chopsticks to point at somebody.
Do not buy clocks as a gift for the locals. The local word for clocks sounds similar to the word of death and it is frowned upon by the locals and is considered insensitive to be given clocks as gifts. Wristwatches are fine though.
Do not shop on Nathan Road. The place is known for cunning salesmen. They will try to sell not so good stuff at very high prices and making it look like it's in your best interest. Do not fall for it. No harm in taking a walk around though.
Shopping in street markets is fun, but do not get carried away by the goods so much so that you don't bargain. Chances are the goods that will be overpriced anyway.
If possible, do not buy electronics from Hong Kong. Enjoy the stroll at the markets and various shops, but don't fall for the good looking shops and the smooth-talking salesmen.
Searching for something specific?