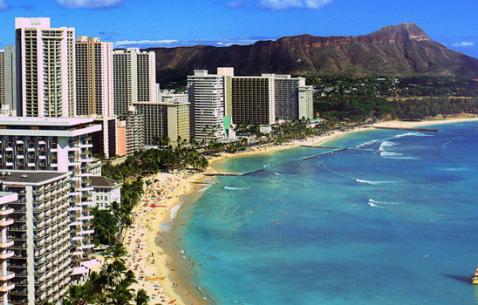 The Best Things To Do in Honolulu
Honolulu is one place for beach bums. You can view spectacular coastal views and go snorkelling in Hanauma Bay Nature Preserve. History lovers can visit some of Hawaii's most historic places including Iolani Palace, Pearl Harbor and the King Kamehameha Statue for a more nuanced travel and experience.
For those who love to experience the local culture can visit Honolulu Chinatown, an energetic bustling market to shop loads and loads. For hikers, there is a place called Diamond Head that offers great views of Waikiki.
Children would love to visit attractions such as Honolulu Zoo and Waikiki Aquarium. People who love serenity, can visit Queen Emma Summer Palace for some quaint time and experience.There is something for everyone to cherish in this eternal city of entertainment and natural beauty.
A pristine city in Hawaii that doubles up as a city with dazzling nightlife, there are plenty of things to do in Honolulu at night. From bars and nightclubs that have foot-thumping music to live performances, street shows and excellent theatre, you are literally spoilt for choices. For an out-of-the box experience, head to Kalakaua Avenue at night in Honolulu and you'll be greeted with interesting street artists and musicians that can keep you hooked. For a classier experience, catch a show or a play at Hawaii Theatre Center or Neal S Blaisdell Center. To explore the soulful Honolulunightlife, you can head to cafes and bars in the Chinatown.
Select the best places in Honolulu to enjoy an awesome dinner. Especially if you are on your honeymoon, nothing can match a fine-dining experience as a great kick-start for a romantic night. There are plenty of places to eat in Honolulu where you can relish a great meal by the sea! Explore our list and you'll never be worried about what are the things to do in Honolulu tonight!
Cheap and Free Activities and Attractions in Honolulu
When you are in a city full of beaches, there is no dearth of free things to do! For spending your day in Honolulu, visit Waikiki Beach where you can just be a beach bum, get a suntan and for free! Head to Sunset beach and experience a glorious dusk over the blue waters. For late evenings, visiting Pearl Harbor and the U.S.S. Arizona Memorial is one of the best free things to do in Honolulu. Kailua Beach Park, Waimea Bay and National Memorial Cemetery of the Pacific are some other things to do in Honolulu for free that you must try out on your visit!
Discover Honolulu with kids
For slightly elder kids, you can plan a visit to the USS Arizona memorial and enlighten them about the pearl harbour attack. Another interesting thing to do in Honolulu with kids is to go for a day-trip to Hanauma Bay Reserve where you can spend a quality time as a family together. Waikiki Aquarium is another place perfect for family and kids in Honolulu. If you are wondering what things to do in Honolulu with toddlers are; beach is the answer! Splash in the water and built sand castles, your toddler will have fun in the sun! Hawaii Children's discovery centre is another spot where you can take your kids in Honolulu. Water and adventure parks like Sea Life Park and Hawaiian waters adventure park are also a great way to spend a vacation with family and kids in Honolulu.
How to enjoy Honolulu in rainy season?
It's raining outside, you are stuck in the hotel room and wondering what are things to do in Honolulu today! Beaches, natural attractions and outdoor activities are clearly not an option. But this doesn't mean you are going to be bored! This beach city is surprisingly replete of options and here are few things to do in Honolulu when it rains. Head to indoor things to do in HonoluluHawaii like the Polynesian Cultural centre, Waikiki Aquarium or catch a performance at Manoa Valley Theatre. For museum lovers, this is great day to explore the offerings of the city like Bishop Museum, King's Guard Museum, Lucoral Museum. Visiting the cultural attractions are also some of the must-do things in Honolulu. The best ones that you must visit include Mu Ryang Sa Buddhist Temple, St. Andrew's Cathedral, Kuan Yin Temple and Cathedral Of Our Lady Of Peace.
Wondering, where to go for Shopping in Honolulu?
Shopping in Honolulu is a retail-therapy lover's dream-come-true. The city offers great options to shop and splurge through its shopping malls and arcades! Visit the best shopping malls in Honolulu like Ala Moana Centre, Kings Village Shopping centre, Waikiki Shopping Plaza and Kahala mall. There are plenty of brand outlets in Honolulu that can soothe the shopper in you!
Explore the travel planning tool for your visit to Honolulu and create a flawless plan in few simple steps!
177 Tourist Attractions in Honolulu

Must see places in Honolulu ranked on popularity. Here is the complete list of best attractions in Honolulu and point of interests to visit.
Tourist Attractions Near Honolulu
Find Your Honolulu Attractions on Map
Types of Things To Do in Honolulu
Find more attractions and places to visit in Honolulu under these things to do categories.
Top Honolulu Activities And Tours
Explore the best things to do in Honolulu. These are the most preferred tourist activities.
Find more places to see in Honolulu
Royal Mausoleum State Monument

2261 Nuuanu Ave

Historic and Protected Sites

Waikiki Natatorium War Memorial

2815 Kalakaua Ave

Historic and Protected Sites

USS Oklahoma Memorial

Ford Island

Historic and Protected Sites

Diamond Head Lighthouse

3399 Diamond Head Rd

Historic and Protected Sites

Shingon Mission

915 Sheridan St

Historic and Protected Sites

Palm Circle

100 Palm Cir Dr

Historic and Protected Sites
View On Map
Ala Wai Yacht Harbor

1599 Ala Wai Blvd

Lakes
View On Map
Judiciary History Center

417 S King St

Museums

The Honolulu Museum of Art Spalding House

2411 Makiki Heights Dr

Museums

Manoa Heritage Center

2829 Manoa Rd

Museums

The Brewseum

901 Waimanu St

Museums

The Queen Emma Summer Palace

2913 Pali Hwy

Museums

USS Bowfin Submarine Museum and Park

11 Arizona Memorial Dr

Museums
View On Map
Fun Factory

1620 N School St

Amusement Parks

Jungle Fun

1450 Ala Moana Blvd

Amusement Parks

Waikiki Gun Club

2142 Kalakaua Ave

Amusement Parks

Arcades

Fun Factory

4211 Waialae Ave

Amusement Parks

Arcades

Hawaii Kai Carnival

6085 Kalanianaole Hwy

Amusement Parks

Fun Factory

2919 Kapiolani Blvd

Amusement Parks

Arcades
View On Map
Hanks Cafe Honolulu

1038 Nuuanu Ave

Bars

Restaurants

Cafes, Coffee and Tea Houses

Station Bar and Lounge

1726 Kapiolani Blvd

Bars

Gazen Bar & Grill

2840 Kapiolani Blvd

Japanese

Bars

Barbecue

Pioneer Saloon

3046 Monsarrat Ave

Japanese

Bars

Asian

Wang Chung's

2424 Koa Ave

Bars

Karaoke

Restaurants

Murphy's Bar & Grill

2 Merchant St

American

Bars
View On Map
Club New Casino

1340 Kapiolani Blvd

Casinos and Gaming

Bars

Winner'z Zone

2301 Kuhio Ave

Casinos and Gaming

Orleans Resort

1585 Kapiolani Blvd

Casinos and Gaming

Hotels and Motels

Resorts

Orleans Resorts Marketing Office

1001 Dillingham Blvd

Casinos and Gaming
View On Map
Hanauma Bay Nature Preserve Park

100 Hanauma Bay Rd

Natural Parks

Nuʻuanu Pali State Wayside

Nuuanu Pali Dr

Natural Parks

Pearl Harbor

Natural Parks
View On Map
Hawaii Kai Dog Park

220 Keahole St

Dog Parks

McInerny Dog Park

2700 Waialae Ave

Dog Parks

Hawaiian Kennel Club Dog Show

999 S King St

Dog Parks

Kamila Dog Park

7250-7288 Ohana Nui Cir

Dog Parks

Hawaii Kai 25

300 Keahole St

Dog Parks
View On Map
Kahala Beach

4999 Kahala Ave

Beaches

Kaka'ako Waterfront Park

102 Ohe St

Beaches

Makalei Beach Park

3111 Diamond Head Rd

Beaches

Halona Blowhole

8480 Kalanianaole Hwy

Beaches

Magic Island

1201 Ala Moana Blvd

Beaches

Lanai Lookout

7949 Kalanianaole Hwy

Beaches
View On Map
Makapu'u Point Lighthouse Trail

Hiking

Manoa Falls

3860 Manoa Rd

Hiking

Landmarks

Kolowalu Trail

3640 Alani Dr

Hiking

Mau'umae Trail

4945 Maunalani Cir

Hiking

Wiliwilinui Ridge Trail

Laukahi St

Hiking

Kamehame Ridge

Kamehame Dr

Hiking
View On Map
What To Do in Honolulu: Day-Wise Ideas
Find what not to miss in Honolulu! Recommended Honolulu itineraries and vacation ideas created by travelers across the world.