Best Time To Visit Hot Springs
Explore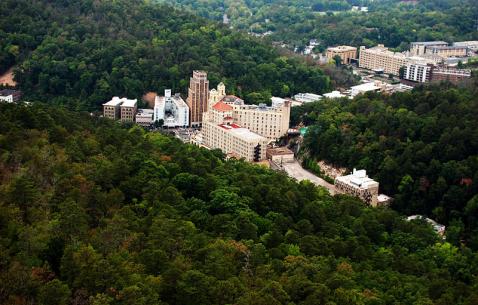 Best Time To Go To Hot Springs
The city of Hot Springs experiences humid tropical climate with hot & humid summers and relatively cold & mild winters. July and August are the hottest months of the year while January is the coldest month.
Spring (March - May): Spring in Hot Springs is mild with the temperatures more on the sunny side with heavy rainfall. Spring is also the wettest season of the year with the month of May receiving maximum amounts of rainfall.
Summer (June - August): With little to no rain, summer in the city of Hot Springs is very hot and dry. The average low and high temperatures during the summer are 19 and 34 degree Celsius respectively.
Autumn (September - October): The season starts with the temperatures on the warmer side and as the season progresses the temperature gradually drops signifying the beginning of winter.
Winter (November - February): Ironically the season of winter in Hot Springs is cold. At times, the temperature can go below the freezing point. The average low and the high temperatures are -1 and 10 degree Celsius.
The peak season to visit Hot Springs is during the summer season. But during this season, the attractions are really crowded by the tourists and the rates of the accommodations are also high. The best time to visit the city of Hot Springs is during the spring and the autumn season. To get the best deals out of the stay and to explore the city crowd, then try visiting Hot Springs during the winter season.
Best time to go to Hot Springs Attractions

:
: Everyday 1:00 PM - 5:00 PM
: Everyday 1:00 PM - 5:00 PM
: Everyday 1:00 PM - 5:00 PM
: Everyday 1:00 PM - 5:00 PM
: Everyday 1:00 PM - 5:00 PM
: Everyday 1:00 PM - 5:00 PM
: Everyday 1:00 PM - 5:00 PM
: Everyday 1:00 PM - 5:00 PM
: Everyday 1:00 PM - 5:00 PM
: Everyday 1:00 PM - 5:00 PM
: Everyday 1:00 PM - 5:00 PM

: Everyday 10:00 AM - 2:00 PM
: Everyday 10:00 AM - 2:00 PM
: Everyday 10:00 AM - 2:00 PM
: Everyday 10:00 AM - 2:00 PM
: Everyday 10:00 AM - 2:00 PM
: Everyday 10:00 AM - 2:00 PM
: Everyday 10:00 AM - 2:00 PM
: Everyday 10:00 AM - 2:00 PM
: Everyday 10:00 AM - 2:00 PM
: Everyday 10:00 AM - 2:00 PM
: Everyday 10:00 AM - 2:00 PM
: Everyday 10:00 AM - 2:00 PM

: Everyday 10:00 AM - 5:00 PM
: Everyday 10:00 AM - 5:00 PM
: Everyday 10:00 AM - 5:00 PM
: Everyday 10:00 AM - 5:00 PM
: Everyday 10:00 AM - 5:00 PM
: Everyday 10:00 AM - 5:00 PM
: Everyday 10:00 AM - 5:00 PM
: Everyday 10:00 AM - 5:00 PM
: Everyday 10:00 AM - 5:00 PM
: Everyday 10:00 AM - 5:00 PM
: Everyday 10:00 AM - 5:00 PM
: Everyday 10:00 AM - 5:00 PM

: Everyday 9:00 AM - 1:00 PM
: Everyday 9:00 AM - 1:00 PM
: Everyday 9:00 AM - 1:00 PM
: Everyday 9:00 AM - 1:00 PM
: Everyday 9:00 AM - 1:00 PM
: Everyday 9:00 AM - 1:00 PM
: Everyday 9:00 AM - 1:00 PM
: Everyday 9:00 AM - 1:00 PM
: Everyday 9:00 AM - 1:00 PM
: Everyday 9:00 AM - 1:00 PM
: Everyday 9:00 AM - 1:00 PM
: Everyday 9:00 AM - 1:00 PM

: Everyday 9:00 AM - 2:00 PM
: Everyday 9:00 AM - 2:00 PM
: Everyday 9:00 AM - 2:00 PM
: Everyday 9:00 AM - 2:00 PM
: Everyday 9:00 AM - 2:00 PM
: Everyday 9:00 AM - 2:00 PM
: Everyday 9:00 AM - 2:00 PM
: Everyday 9:00 AM - 2:00 PM
: Everyday 9:00 AM - 2:00 PM
: Everyday 9:00 AM - 2:00 PM
: Everyday 9:00 AM - 2:00 PM
: Everyday 9:00 AM - 2:00 PM

: Everyday 1:00 PM - 5:00 PM
: Everyday 1:00 PM - 5:00 PM
: Everyday 1:00 PM - 5:00 PM
: Everyday 1:00 PM - 5:00 PM
: Everyday 1:00 PM - 5:00 PM
: Everyday 1:00 PM - 5:00 PM
: Everyday 1:00 PM - 5:00 PM
: Everyday 1:00 PM - 5:00 PM
: Everyday 1:00 PM - 5:00 PM
: Everyday 1:00 PM - 5:00 PM
: Everyday 1:00 PM - 5:00 PM
: Everyday 1:00 PM - 5:00 PM

: Everyday 1:00 PM - 2:00 PM
: Everyday 1:00 PM - 2:00 PM
: Everyday 1:00 PM - 2:00 PM
: Everyday 1:00 PM - 2:00 PM
: Everyday 1:00 PM - 2:00 PM
: Everyday 1:00 PM - 2:00 PM
: Everyday 1:00 PM - 2:00 PM
: Everyday 1:00 PM - 2:00 PM
: Everyday 1:00 PM - 2:00 PM
: Everyday 1:00 PM - 2:00 PM
: Everyday 1:00 PM - 2:00 PM
: Everyday 1:00 PM - 2:00 PM

: Everyday 1:00 PM - 2:00 PM
: Everyday 1:00 PM - 2:00 PM
: Everyday 1:00 PM - 2:00 PM
: Everyday 1:00 PM - 2:00 PM
: Everyday 1:00 PM - 2:00 PM
: Everyday 1:00 PM - 2:00 PM
: Everyday 1:00 PM - 2:00 PM
: Everyday 1:00 PM - 2:00 PM
: Everyday 1:00 PM - 2:00 PM
: Everyday 1:00 PM - 2:00 PM
: Everyday 1:00 PM - 2:00 PM
: Everyday 1:00 PM - 2:00 PM

: Everyday 10:00 AM - 2:00 PM
: Everyday 10:00 AM - 2:00 PM
: Everyday 10:00 AM - 2:00 PM
: Everyday 10:00 AM - 2:00 PM
: Everyday 10:00 AM - 2:00 PM
: Everyday 10:00 AM - 2:00 PM
: Everyday 10:00 AM - 2:00 PM
: Everyday 10:00 AM - 2:00 PM
: Everyday 10:00 AM - 2:00 PM
: Everyday 10:00 AM - 2:00 PM
: Everyday 10:00 AM - 2:00 PM
: Everyday 10:00 AM - 2:00 PM

: Everyday 10:00 AM - 5:00 PM
: Everyday 10:00 AM - 5:00 PM
: Everyday 10:00 AM - 5:00 PM
: Everyday 10:00 AM - 5:00 PM
: Everyday 10:00 AM - 5:00 PM
: Everyday 10:00 AM - 5:00 PM
: Everyday 10:00 AM - 5:00 PM
: Everyday 10:00 AM - 5:00 PM
: Everyday 10:00 AM - 5:00 PM
: Everyday 10:00 AM - 5:00 PM
: Everyday 10:00 AM - 5:00 PM
: Everyday 10:00 AM - 5:00 PM

: Everyday 11:00 AM - 2:00 PM
: Everyday 11:00 AM - 2:00 PM
: Everyday 11:00 AM - 2:00 PM
: Everyday 11:00 AM - 2:00 PM
: Everyday 11:00 AM - 2:00 PM
: Everyday 11:00 AM - 2:00 PM
: Everyday 11:00 AM - 2:00 PM
: Everyday 11:00 AM - 2:00 PM
: Everyday 11:00 AM - 2:00 PM
: Everyday 11:00 AM - 2:00 PM
: Everyday 11:00 AM - 2:00 PM
: Everyday 11:00 AM - 2:00 PM

: Monday to Saturday 10:00 AM - 2:00 PM
: Monday to Saturday 10:00 AM - 2:00 PM
: Monday to Saturday 10:00 AM - 2:00 PM
: Monday to Saturday 10:00 AM - 2:00 PM
: Monday to Saturday 10:00 AM - 2:00 PM
: Monday to Saturday 10:00 AM - 2:00 PM
: Monday to Saturday 10:00 AM - 2:00 PM
: Monday to Saturday 10:00 AM - 2:00 PM
: Monday to Saturday 10:00 AM - 2:00 PM
: Monday to Saturday 10:00 AM - 2:00 PM
: Monday to Saturday 10:00 AM - 2:00 PM
: Monday to Saturday 10:00 AM - 2:00 PM

:
:
: Monday to Saturday 11:00 AM - 2:00 PM
: Monday to Saturday 11:00 AM - 2:00 PM
: Monday to Saturday 11:00 AM - 2:00 PM
: Monday to Saturday 11:00 AM - 2:00 PM
: Monday to Saturday 11:00 AM - 2:00 PM
: Monday to Saturday 11:00 AM - 2:00 PM
: Monday to Saturday 11:00 AM - 2:00 PM
: Monday to Saturday 11:00 AM - 2:00 PM
:
:

: Wednesday to Sunday 1:00 PM - 4:00 PM
: Wednesday to Sunday 1:00 PM - 4:00 PM
: Wednesday to Sunday 1:00 PM - 4:00 PM
: Wednesday to Sunday 1:00 PM - 4:00 PM
: Wednesday to Sunday 1:00 PM - 4:00 PM
: Wednesday to Sunday 1:00 PM - 4:00 PM
: Wednesday to Sunday 1:00 PM - 4:00 PM
: Wednesday to Sunday 1:00 PM - 4:00 PM
: Wednesday to Sunday 1:00 PM - 4:00 PM
: Wednesday to Sunday 1:00 PM - 4:00 PM
: Wednesday to Sunday 1:00 PM - 4:00 PM
: Wednesday to Sunday 1:00 PM - 4:00 PM

:
:
:
:
: Everyday 1:00 PM - 4:00 PM
: Everyday 1:00 PM - 4:00 PM
: Everyday 1:00 PM - 4:00 PM
: Everyday 1:00 PM - 4:00 PM
: Everyday 1:00 PM - 4:00 PM
:
:
:

: Everyday 2:00 PM - 5:00 PM
: Everyday 2:00 PM - 5:00 PM
: Everyday 2:00 PM - 5:00 PM
: Everyday 2:00 PM - 5:00 PM
: Everyday 2:00 PM - 5:00 PM
: Everyday 2:00 PM - 5:00 PM
: Everyday 2:00 PM - 5:00 PM
: Everyday 2:00 PM - 5:00 PM
: Everyday 2:00 PM - 5:00 PM
: Everyday 2:00 PM - 5:00 PM
: Everyday 2:00 PM - 5:00 PM
: Everyday 2:00 PM - 5:00 PM

: Everyday 6:00 PM - 7:00 PM
: Everyday 6:00 PM - 7:00 PM
: Everyday 6:00 PM - 7:00 PM
: Everyday 6:00 PM - 7:00 PM
: Everyday 6:00 PM - 7:00 PM
: Everyday 6:00 PM - 7:00 PM
: Everyday 6:00 PM - 7:00 PM
: Everyday 6:00 PM - 7:00 PM
: Everyday 6:00 PM - 7:00 PM
: Everyday 6:00 PM - 7:00 PM
: Everyday 6:00 PM - 7:00 PM
: Everyday 6:00 PM - 7:00 PM

: Thursday to Saturday 6:00 PM - 5:00 PM
: Thursday to Saturday 6:00 PM - 5:00 PM
: Thursday to Saturday 6:00 PM - 5:00 PM
: Thursday to Saturday 6:00 PM - 5:00 PM
: Thursday to Saturday 6:00 PM - 5:00 PM
: Thursday to Saturday 6:00 PM - 5:00 PM
: Thursday to Saturday 6:00 PM - 5:00 PM
: Thursday to Saturday 6:00 PM - 5:00 PM
: Thursday to Saturday 6:00 PM - 5:00 PM
: Thursday to Saturday 6:00 PM - 5:00 PM
: Thursday to Saturday 6:00 PM - 5:00 PM
: Thursday to Saturday 6:00 PM - 5:00 PM

: Everyday 24 Hrs
: Everyday 24 Hrs
: Everyday 24 Hrs
: Everyday 24 Hrs
: Everyday 24 Hrs
: Everyday 24 Hrs
: Everyday 24 Hrs
: Everyday 24 Hrs
: Everyday 24 Hrs
: Everyday 24 Hrs
: Everyday 24 Hrs
: Everyday 24 Hrs