Best Time To Visit Huesca
Explore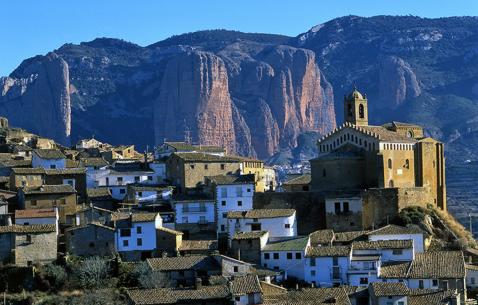 Best Time To Go To Huesca
Huesca boasts of a Mediterranean climate. There's always a lot of rain, even in the dry months.
Summer: June – September; The temperatures hover between 26-30 °C.
Winters: November – February; and temperatures plummet to around 3 °C and lower at night.
Autumn: October – November.
Spring: March – May
Between April and August is the best time to visit the city.
Best time to go to Huesca Attractions

: Tuesday to Sunday 11:00 AM - 5:00 PM
: Tuesday to Sunday 11:00 AM - 5:00 PM
: Everyday 11:00 AM - 5:00 PM
: Everyday 11:00 AM - 5:00 PM
: Everyday 11:00 AM - 5:00 PM
: Everyday 11:00 AM - 5:00 PM
: Everyday 11:00 AM - 5:00 PM
: Everyday 11:00 AM - 5:00 PM
: Everyday 11:00 AM - 5:00 PM
: Everyday 11:00 AM - 5:00 PM
: Tuesday to Sunday 11:00 AM - 5:00 PM
: Tuesday to Sunday 11:00 AM - 5:00 PM

: Everyday 1:30 PM - 3:30 PM
: Everyday 1:30 PM - 3:30 PM
: Everyday 1:30 PM - 3:30 PM
: Everyday 1:30 PM - 3:30 PM
: Everyday 1:30 PM - 3:30 PM
: Everyday 1:30 PM - 3:30 PM
: Everyday 1:30 PM - 3:30 PM
: Everyday 1:30 PM - 3:30 PM
: Everyday 1:30 PM - 3:30 PM
: Everyday 1:30 PM - 3:30 PM
: Everyday 1:30 PM - 3:30 PM
: Everyday 1:30 PM - 3:30 PM

: Everyday 9:00 AM - 1:00 PM
: Everyday 9:00 AM - 1:00 PM
: Everyday 9:00 AM - 1:00 PM
: Everyday 9:00 AM - 1:00 PM
: Everyday 9:00 AM - 1:00 PM
: Everyday 9:00 AM - 1:00 PM
: Everyday 9:00 AM - 1:00 PM
: Everyday 9:00 AM - 1:00 PM
: Everyday 9:00 AM - 1:00 PM
: Everyday 9:00 AM - 1:00 PM
: Everyday 9:00 AM - 1:00 PM
: Everyday 9:00 AM - 1:00 PM

: Everyday 11:00 AM - 8:00 PM
: Everyday 11:00 AM - 8:00 PM
: Everyday 11:00 AM - 8:00 PM
: Everyday 11:00 AM - 8:00 PM
: Everyday 11:00 AM - 8:00 PM
: Everyday 11:00 AM - 8:00 PM
: Everyday 11:00 AM - 8:00 PM
: Everyday 11:00 AM - 8:00 PM
: Everyday 11:00 AM - 8:00 PM
: Everyday 11:00 AM - 8:00 PM
: Everyday 11:00 AM - 8:00 PM
: Everyday 11:00 AM - 8:00 PM

: Monday, Wednesday, Thursday, Friday, Saturday, Sunday 11:00 AM - 1:30 PM
: Monday, Wednesday, Thursday, Friday, Saturday, Sunday 11:00 AM - 1:30 PM
: Monday, Wednesday, Thursday, Friday, Saturday, Sunday 11:00 AM - 1:30 PM
: Monday, Wednesday, Thursday, Friday, Saturday, Sunday 11:00 AM - 1:30 PM
: Monday, Wednesday, Thursday, Friday, Saturday, Sunday 11:00 AM - 1:30 PM
: Monday, Wednesday, Thursday, Friday, Saturday, Sunday 11:00 AM - 1:30 PM
: Monday, Wednesday, Thursday, Friday, Saturday, Sunday 11:00 AM - 1:30 PM
: Monday, Wednesday, Thursday, Friday, Saturday, Sunday 11:00 AM - 1:30 PM
: Monday, Wednesday, Thursday, Friday, Saturday, Sunday 11:00 AM - 1:30 PM
: Monday, Wednesday, Thursday, Friday, Saturday, Sunday 11:00 AM - 1:30 PM
: Monday, Wednesday, Thursday, Friday, Saturday, Sunday 11:00 AM - 1:30 PM
: Monday, Wednesday, Thursday, Friday, Saturday, Sunday 11:00 AM - 1:30 PM

: Everyday 10:00 AM - 10:00 PM
: Everyday 10:00 AM - 10:00 PM
: Everyday 10:00 AM - 10:00 PM
: Everyday 10:00 AM - 10:00 PM
: Everyday 10:00 AM - 10:00 PM
: Everyday 10:00 AM - 10:00 PM
: Everyday 10:00 AM - 10:00 PM
: Everyday 10:00 AM - 10:00 PM
: Everyday 10:00 AM - 10:00 PM
: Everyday 10:00 AM - 10:00 PM
: Everyday 10:00 AM - 10:00 PM
: Everyday 10:00 AM - 10:00 PM

: Everyday 11:00 AM - 5:00 PM
: Everyday 11:00 AM - 5:00 PM
: Everyday 11:00 AM - 5:00 PM
: Everyday 11:00 AM - 5:00 PM
: Everyday 11:00 AM - 5:00 PM
: Everyday 11:00 AM - 5:00 PM
: Everyday 11:00 AM - 5:00 PM
: Everyday 11:00 AM - 5:00 PM
: Everyday 11:00 AM - 5:00 PM
: Everyday 11:00 AM - 5:00 PM
: Everyday 11:00 AM - 5:00 PM
: Everyday 11:00 AM - 5:00 PM

: Monday to Saturday 10:00 AM - 4:00 PM
: Monday to Saturday 10:00 AM - 4:00 PM
: Monday to Saturday 10:00 AM - 4:00 PM
: Monday to Saturday 10:00 AM - 4:00 PM
: Monday to Saturday 10:00 AM - 4:00 PM
: Monday to Saturday 10:00 AM - 4:00 PM
: Monday to Saturday 10:00 AM - 4:00 PM
: Monday to Saturday 10:00 AM - 4:00 PM
: Monday to Saturday 10:00 AM - 4:00 PM
: Monday to Saturday 10:00 AM - 4:00 PM
: Monday to Saturday 10:00 AM - 4:00 PM
: Monday to Saturday 10:00 AM - 4:00 PM

: Everyday 9:00 AM - 4:00 PM
: Everyday 9:00 AM - 4:00 PM
: Everyday 9:00 AM - 4:00 PM
: Everyday 9:00 AM - 4:00 PM
: Everyday 9:00 AM - 4:00 PM
: Everyday 9:00 AM - 4:00 PM
: Everyday 9:00 AM - 4:00 PM
: Everyday 9:00 AM - 4:00 PM
: Everyday 9:00 AM - 4:00 PM
: Everyday 9:00 AM - 4:00 PM
: Everyday 9:00 AM - 4:00 PM
: Everyday 9:00 AM - 4:00 PM

: Everyday 11:00 AM - 8:00 PM
: Everyday 11:00 AM - 8:00 PM
: Everyday 11:00 AM - 8:00 PM
: Everyday 11:00 AM - 8:00 PM
: Everyday 11:00 AM - 8:00 PM
: Everyday 11:00 AM - 8:00 PM
: Everyday 11:00 AM - 8:00 PM
: Everyday 11:00 AM - 8:00 PM
: Everyday 11:00 AM - 8:00 PM
: Everyday 11:00 AM - 8:00 PM
: Everyday 11:00 AM - 8:00 PM
: Everyday 11:00 AM - 8:00 PM

: Everyday 11:00 AM - 4:00 PM
: Everyday 11:00 AM - 4:00 PM
: Everyday 11:00 AM - 4:00 PM
: Everyday 11:00 AM - 4:00 PM
: Everyday 11:00 AM - 4:00 PM
: Everyday 11:00 AM - 4:00 PM
: Everyday 11:00 AM - 4:00 PM
: Everyday 11:00 AM - 4:00 PM
: Everyday 11:00 AM - 4:00 PM
: Everyday 11:00 AM - 4:00 PM
: Everyday 11:00 AM - 4:00 PM
: Everyday 11:00 AM - 4:00 PM

: Wednesday to Sunday 10:00 AM - 1:00 PM
: Wednesday to Sunday 10:00 AM - 1:00 PM
: Wednesday to Sunday 10:00 AM - 1:00 PM
: Tuesday to Sunday 10:00 AM - 1:00 PM
: Tuesday to Sunday 10:00 AM - 1:00 PM
: Tuesday to Sunday 10:00 AM - 1:00 PM
: Tuesday to Sunday 10:00 AM - 1:00 PM
: Tuesday to Sunday 10:00 AM - 1:00 PM
: Tuesday to Sunday 10:00 AM - 1:00 PM
: Tuesday to Sunday 10:00 AM - 1:00 PM
: Wednesday to Sunday 10:00 AM - 1:00 PM
: Wednesday to Sunday 10:00 AM - 1:00 PM

: Everyday 11:00 AM - 5:00 PM
: Everyday 11:00 AM - 5:00 PM
: Everyday 11:00 AM - 5:00 PM
: Everyday 11:00 AM - 5:00 PM
: Everyday 11:00 AM - 5:00 PM
: Everyday 11:00 AM - 5:00 PM
: Everyday 11:00 AM - 5:00 PM
: Everyday 11:00 AM - 5:00 PM
: Everyday 11:00 AM - 5:00 PM
: Everyday 11:00 AM - 5:00 PM
: Everyday 11:00 AM - 5:00 PM
: Everyday 11:00 AM - 5:00 PM

: Everyday 11:00 AM - 7:00 PM
: Everyday 11:00 AM - 7:00 PM
: Everyday 11:00 AM - 7:00 PM
: Everyday 11:00 AM - 7:00 PM
: Everyday 11:00 AM - 7:00 PM
: Everyday 11:00 AM - 7:00 PM
: Everyday 11:00 AM - 7:00 PM
: Everyday 11:00 AM - 7:00 PM
: Everyday 11:00 AM - 7:00 PM
: Everyday 11:00 AM - 7:00 PM
: Everyday 11:00 AM - 7:00 PM
: Everyday 11:00 AM - 7:00 PM

: Tuesday to Saturday 10:00 AM - 6:00 PM; Sunday 10:00 AM - 1:00 PM
: Tuesday to Saturday 10:00 AM - 6:00 PM; Sunday 10:00 AM - 1:00 PM
: Tuesday to Saturday 10:00 AM - 6:00 PM; Sunday 10:00 AM - 1:00 PM
: Tuesday to Saturday 10:00 AM - 6:00 PM; Sunday 10:00 AM - 1:00 PM
: Tuesday to Saturday 10:00 AM - 6:00 PM; Sunday 10:00 AM - 1:00 PM
: Tuesday to Saturday 10:00 AM - 6:00 PM; Sunday 10:00 AM - 1:00 PM
: Tuesday to Saturday 10:00 AM - 6:00 PM; Sunday 10:00 AM - 1:00 PM
: Tuesday to Saturday 10:00 AM - 6:00 PM; Sunday 10:00 AM - 1:00 PM
: Tuesday to Saturday 10:00 AM - 6:00 PM; Sunday 10:00 AM - 1:00 PM
: Tuesday to Saturday 10:00 AM - 6:00 PM; Sunday 10:00 AM - 1:00 PM
: Tuesday to Saturday 10:00 AM - 6:00 PM; Sunday 10:00 AM - 1:00 PM
: Tuesday to Saturday 10:00 AM - 6:00 PM; Sunday 10:00 AM - 1:00 PM

: Everyday 4:00 PM - 10:00 PM
: Everyday 4:00 PM - 10:00 PM
: Everyday 4:00 PM - 10:00 PM
: Everyday 4:00 PM - 10:00 PM
: Everyday 4:00 PM - 10:00 PM
: Everyday 4:00 PM - 10:00 PM
: Everyday 4:00 PM - 10:00 PM
: Everyday 4:00 PM - 10:00 PM
: Everyday 4:00 PM - 10:00 PM
: Everyday 4:00 PM - 10:00 PM
: Everyday 4:00 PM - 10:00 PM
: Everyday 4:00 PM - 10:00 PM

: Thursday, Friday 5:00 PM - 8:00 PM; Saturday, Sunday 11:00 AM - 2:00 PM
: Thursday, Friday 5:00 PM - 8:00 PM; Saturday, Sunday 11:00 AM - 2:00 PM
: Thursday, Friday 5:00 PM - 8:00 PM; Saturday, Sunday 11:00 AM - 2:00 PM
: Thursday, Friday 5:00 PM - 8:00 PM; Saturday, Sunday 11:00 AM - 2:00 PM
: Thursday, Friday 5:00 PM - 8:00 PM; Saturday, Sunday 11:00 AM - 2:00 PM
: Thursday, Friday 5:00 PM - 8:00 PM; Saturday, Sunday 11:00 AM - 2:00 PM
: Thursday, Friday 5:00 PM - 8:00 PM; Saturday, Sunday 11:00 AM - 2:00 PM
: Thursday, Friday 5:00 PM - 8:00 PM; Saturday, Sunday 11:00 AM - 2:00 PM
: Thursday, Friday 5:00 PM - 8:00 PM; Saturday, Sunday 11:00 AM - 2:00 PM
: Thursday, Friday 5:00 PM - 8:00 PM; Saturday, Sunday 11:00 AM - 2:00 PM
: Thursday, Friday 5:00 PM - 8:00 PM; Saturday, Sunday 11:00 AM - 2:00 PM
: Thursday, Friday 5:00 PM - 8:00 PM; Saturday, Sunday 11:00 AM - 2:00 PM

: Everyday 11:00 AM - 4:00 PM
: Everyday 11:00 AM - 4:00 PM
: Everyday 11:00 AM - 4:00 PM
: Everyday 11:00 AM - 4:00 PM
: Everyday 11:00 AM - 4:00 PM
: Everyday 11:00 AM - 4:00 PM
: Everyday 11:00 AM - 4:00 PM
: Everyday 11:00 AM - 4:00 PM
: Everyday 11:00 AM - 4:00 PM
: Everyday 11:00 AM - 4:00 PM
: Everyday 11:00 AM - 4:00 PM
: Everyday 11:00 AM - 4:00 PM

: Tuesday to Friday 10:30 AM - 2:00 PM; Tuesday to Friday 10:30 AM - 2:00 PM | 4:00 PM - 6:00 PM; Saturday 10:30 AM - 2:00 PM
: Tuesday to Friday 10:30 AM - 2:00 PM; Tuesday to Friday 10:30 AM - 2:00 PM | 4:00 PM - 6:00 PM; Saturday 10:30 AM - 2:00 PM
: Tuesday to Friday 10:30 AM - 2:00 PM; Tuesday to Friday 10:30 AM - 2:00 PM | 4:00 PM - 6:00 PM; Saturday 10:30 AM - 2:00 PM
: Tuesday to Friday 10:30 AM - 2:00 PM; Tuesday to Friday 10:30 AM - 2:00 PM | 4:00 PM - 6:00 PM; Saturday 10:30 AM - 2:00 PM
: Tuesday to Friday 10:30 AM - 2:00 PM; Tuesday to Friday 10:30 AM - 2:00 PM | 4:00 PM - 6:00 PM; Saturday 10:30 AM - 2:00 PM
: Tuesday to Friday 10:30 AM - 2:00 PM; Tuesday to Friday 10:30 AM - 2:00 PM | 4:00 PM - 6:00 PM; Saturday 10:30 AM - 2:00 PM
: Tuesday to Friday 10:30 AM - 2:00 PM; Tuesday to Friday 10:30 AM - 2:00 PM | 4:00 PM - 6:00 PM; Saturday 10:30 AM - 2:00 PM
: Tuesday to Friday 10:30 AM - 2:00 PM; Tuesday to Friday 10:30 AM - 2:00 PM | 4:00 PM - 6:00 PM; Saturday 10:30 AM - 2:00 PM
: Tuesday to Friday 10:30 AM - 2:00 PM; Tuesday to Friday 10:30 AM - 2:00 PM | 4:00 PM - 6:00 PM; Saturday 10:30 AM - 2:00 PM
: Tuesday to Friday 10:30 AM - 2:00 PM; Tuesday to Friday 10:30 AM - 2:00 PM | 4:00 PM - 6:00 PM; Saturday 10:30 AM - 2:00 PM
: Tuesday to Friday 10:30 AM - 2:00 PM; Tuesday to Friday 10:30 AM - 2:00 PM | 4:00 PM - 6:00 PM; Saturday 10:30 AM - 2:00 PM
: Tuesday to Friday 10:30 AM - 2:00 PM; Tuesday to Friday 10:30 AM - 2:00 PM | 4:00 PM - 6:00 PM; Saturday 10:30 AM - 2:00 PM

: Friday 8:30 PM - 9:30 PM; Saturday 10:00 AM - 1:30 PM
: Friday 8:30 PM - 9:30 PM; Saturday 10:00 AM - 1:30 PM
: Friday 8:30 PM - 9:30 PM; Saturday 10:00 AM - 1:30 PM
: Friday 8:30 PM - 9:30 PM; Saturday 10:00 AM - 1:30 PM
: Friday 8:30 PM - 9:30 PM; Saturday 10:00 AM - 1:30 PM
: Friday 8:30 PM - 9:30 PM; Saturday 10:00 AM - 1:30 PM
: Friday 8:30 PM - 9:30 PM; Saturday 10:00 AM - 1:30 PM
: Friday 8:30 PM - 9:30 PM; Saturday 10:00 AM - 1:30 PM
: Friday 8:30 PM - 9:30 PM; Saturday 10:00 AM - 1:30 PM
: Friday 8:30 PM - 9:30 PM; Saturday 10:00 AM - 1:30 PM
: Friday 8:30 PM - 9:30 PM; Saturday 10:00 AM - 1:30 PM
: Friday 8:30 PM - 9:30 PM; Saturday 10:00 AM - 1:30 PM

: Monday to Saturday 9:00 AM - 1:00 PM; Monday to Saturday 9:00 AM - 1:00 PM | 7:00 PM - 8:30 PM
: Monday to Saturday 9:00 AM - 1:00 PM; Monday to Saturday 9:00 AM - 1:00 PM | 7:00 PM - 8:30 PM
: Monday to Saturday 9:00 AM - 1:00 PM; Monday to Saturday 9:00 AM - 1:00 PM | 7:00 PM - 8:30 PM
: Monday to Saturday 9:00 AM - 1:00 PM; Monday to Saturday 9:00 AM - 1:00 PM | 7:00 PM - 8:30 PM
: Monday to Saturday 9:00 AM - 1:00 PM; Monday to Saturday 9:00 AM - 1:00 PM | 7:00 PM - 8:30 PM
: Monday to Saturday 9:00 AM - 1:00 PM; Monday to Saturday 9:00 AM - 1:00 PM | 7:00 PM - 8:30 PM
: Monday to Saturday 9:00 AM - 1:00 PM; Monday to Saturday 9:00 AM - 1:00 PM | 7:00 PM - 8:30 PM
: Monday to Saturday 9:00 AM - 1:00 PM; Monday to Saturday 9:00 AM - 1:00 PM | 7:00 PM - 8:30 PM
: Monday to Saturday 9:00 AM - 1:00 PM; Monday to Saturday 9:00 AM - 1:00 PM | 7:00 PM - 8:30 PM
: Monday to Saturday 9:00 AM - 1:00 PM; Monday to Saturday 9:00 AM - 1:00 PM | 7:00 PM - 8:30 PM
: Monday to Saturday 9:00 AM - 1:00 PM; Monday to Saturday 9:00 AM - 1:00 PM | 7:00 PM - 8:30 PM
: Monday to Saturday 9:00 AM - 1:00 PM; Monday to Saturday 9:00 AM - 1:00 PM | 7:00 PM - 8:30 PM