Best Time To Visit Hvar
Explore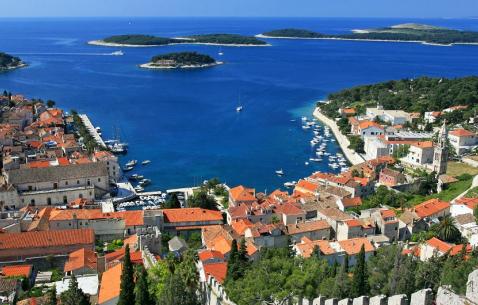 Best Time To Go To Hvar
Hvar weather is typically Croatian and ideal to visit all-round the year. Depending on the activities that you are looking for on your trip to Hvar, the best times vary.
Peak Season in Hvar: The months between May to September is the peak season and the island is flooded with tourists. This is a great time for partying and hitting the beaches. August is the most popular month among the visitors. May to October remains great for swimming.
Easter also remains one of the best time to visit Hvar as it marks the end of winter and the beginning of a sun kissed vacation.
Although winters is considered to be an off season, it is a great time for bikers.
Best time to go to Hvar Attractions

: Everyday 9:00 AM - 2:00 PM
: Everyday 9:00 AM - 2:00 PM
: Everyday 9:00 AM - 2:00 PM
: Everyday 9:00 AM - 2:00 PM
: Everyday 9:00 AM - 2:00 PM
: Everyday 9:00 AM - 2:00 PM
: Everyday 9:00 AM - 2:00 PM
: Everyday 9:00 AM - 2:00 PM
: Everyday 9:00 AM - 2:00 PM
: Everyday 9:00 AM - 2:00 PM
: Everyday 9:00 AM - 2:00 PM
: Everyday 9:00 AM - 2:00 PM

: Everyday 9:00 AM - 4:00 PM
: Everyday 9:00 AM - 4:00 PM
: Everyday 9:00 AM - 4:00 PM
: Everyday 9:00 AM - 4:00 PM
: Everyday 9:00 AM - 4:00 PM
: Everyday 9:00 AM - 4:00 PM
: Everyday 9:00 AM - 4:00 PM
: Everyday 9:00 AM - 4:00 PM
: Everyday 9:00 AM - 4:00 PM
: Everyday 9:00 AM - 4:00 PM
: Everyday 9:00 AM - 4:00 PM
: Everyday 9:00 AM - 4:00 PM

: Everyday 9:00 AM - 4:00 PM
: Everyday 9:00 AM - 4:00 PM
: Everyday 9:00 AM - 4:00 PM
: Everyday 9:00 AM - 4:00 PM
: Everyday 9:00 AM - 4:00 PM
: Everyday 9:00 AM - 4:00 PM
: Everyday 9:00 AM - 4:00 PM
: Everyday 9:00 AM - 4:00 PM
: Everyday 9:00 AM - 4:00 PM
: Everyday 9:00 AM - 4:00 PM
: Everyday 9:00 AM - 4:00 PM
: Everyday 9:00 AM - 4:00 PM

: Everyday 11:00 AM - 11:59 PM
: Everyday 11:00 AM - 11:59 PM
: Everyday 11:00 AM - 11:59 PM
: Everyday 11:00 AM - 11:59 PM
: Everyday 11:00 AM - 11:59 PM
: Everyday 11:00 AM - 11:59 PM
: Everyday 11:00 AM - 11:59 PM
: Everyday 11:00 AM - 11:59 PM
: Everyday 11:00 AM - 11:59 PM
: Everyday 11:00 AM - 11:59 PM
: Everyday 11:00 AM - 11:59 PM
: Everyday 11:00 AM - 11:59 PM

: Everyday 9:00 AM - 5:00 PM
: Everyday 9:00 AM - 5:00 PM
: Everyday 9:00 AM - 5:00 PM
: Everyday 9:00 AM - 5:00 PM
: Everyday 9:00 AM - 5:00 PM
: Everyday 9:00 AM - 5:00 PM
: Everyday 9:00 AM - 5:00 PM
: Everyday 9:00 AM - 5:00 PM
: Everyday 9:00 AM - 5:00 PM
: Everyday 9:00 AM - 5:00 PM
: Everyday 9:00 AM - 5:00 PM
: Everyday 9:00 AM - 5:00 PM

: Everyday 10:00 AM - 1:00 PM
: Everyday 10:00 AM - 1:00 PM
: Everyday 10:00 AM - 1:00 PM
: Everyday 10:00 AM - 1:00 PM
: Everyday 10:00 AM - 1:00 PM
: Everyday 10:00 AM - 1:00 PM
: Everyday 10:00 AM - 1:00 PM
: Everyday 10:00 AM - 1:00 PM
: Everyday 10:00 AM - 1:00 PM
: Everyday 10:00 AM - 1:00 PM
: Everyday 10:00 AM - 1:00 PM
: Everyday 10:00 AM - 1:00 PM

: Everyday 10:00 AM - 1:00 PM
: Everyday 10:00 AM - 1:00 PM
: Everyday 10:00 AM - 1:00 PM
: Everyday 10:00 AM - 1:00 PM
: Everyday 10:00 AM - 1:00 PM
: Everyday 10:00 AM - 1:00 PM
: Everyday 10:00 AM - 1:00 PM
: Everyday 10:00 AM - 1:00 PM
: Everyday 10:00 AM - 1:00 PM
: Everyday 10:00 AM - 1:00 PM
: Everyday 10:00 AM - 1:00 PM
: Everyday 10:00 AM - 1:00 PM

: Everyday 8:00 PM - 11:59 PM
: Everyday 8:00 PM - 11:59 PM
: Everyday 8:00 PM - 11:59 PM
: Everyday 8:00 PM - 11:59 PM
: Everyday 8:00 PM - 11:59 PM
: Everyday 8:00 PM - 11:59 PM
: Everyday 8:00 PM - 11:59 PM
: Everyday 8:00 PM - 11:59 PM
: Everyday 8:00 PM - 11:59 PM
: Everyday 8:00 PM - 11:59 PM
: Everyday 8:00 PM - 11:59 PM
: Everyday 8:00 PM - 11:59 PM

: Everyday 8:00 AM - 11:00 AM
: Everyday 8:00 AM - 11:00 AM
: Everyday 8:00 AM - 11:00 AM
: Everyday 8:00 AM - 11:00 AM
: Everyday 8:00 AM - 11:00 AM
: Everyday 8:00 AM - 11:00 AM
: Everyday 8:00 AM - 11:00 AM
: Everyday 8:00 AM - 11:00 AM
: Everyday 8:00 AM - 11:00 AM
: Everyday 8:00 AM - 11:00 AM
: Everyday 8:00 AM - 11:00 AM
: Everyday 8:00 AM - 11:00 AM

: Everyday 8:00 AM - 11:00 AM
: Everyday 8:00 AM - 11:00 AM
: Everyday 8:00 AM - 11:00 AM
: Everyday 8:00 AM - 11:00 AM
: Everyday 8:00 AM - 11:00 AM
: Everyday 8:00 AM - 11:00 AM
: Everyday 8:00 AM - 11:00 AM
: Everyday 8:00 AM - 11:00 AM
: Everyday 8:00 AM - 11:00 AM
: Everyday 8:00 AM - 11:00 AM
: Everyday 8:00 AM - 11:00 AM
: Everyday 8:00 AM - 11:00 AM

: Everyday 3:00 PM - 8:00 PM
: Everyday 3:00 PM - 8:00 PM
: Everyday 3:00 PM - 8:00 PM
: Everyday 3:00 PM - 8:00 PM
: Everyday 3:00 PM - 8:00 PM
: Everyday 3:00 PM - 8:00 PM
: Everyday 3:00 PM - 8:00 PM
: Everyday 3:00 PM - 8:00 PM
: Everyday 3:00 PM - 8:00 PM
: Everyday 3:00 PM - 8:00 PM
: Everyday 3:00 PM - 8:00 PM
: Everyday 3:00 PM - 8:00 PM

: Everyday 8:00 AM - 8:00 PM
: Everyday 8:00 AM - 8:00 PM
: Everyday 8:00 AM - 8:00 PM
: Everyday 8:00 AM - 8:00 PM
: Everyday 8:00 AM - 8:00 PM
: Everyday 8:00 AM - 8:00 PM
: Everyday 8:00 AM - 8:00 PM
: Everyday 8:00 AM - 8:00 PM
: Everyday 8:00 AM - 8:00 PM
: Everyday 8:00 AM - 8:00 PM
: Everyday 8:00 AM - 8:00 PM
: Everyday 8:00 AM - 8:00 PM

: Everyday 8:00 AM - 5:00 PM
: Everyday 8:00 AM - 5:00 PM
: Everyday 8:00 AM - 5:00 PM
: Everyday 8:00 AM - 5:00 PM
: Everyday 8:00 AM - 5:00 PM
: Everyday 8:00 AM - 5:00 PM
: Everyday 8:00 AM - 5:00 PM
: Everyday 8:00 AM - 5:00 PM
: Everyday 8:00 AM - 5:00 PM
: Everyday 8:00 AM - 5:00 PM
: Everyday 8:00 AM - 5:00 PM
: Everyday 8:00 AM - 5:00 PM

: Everyday 8:00 AM - 5:00 PM
: Everyday 8:00 AM - 5:00 PM
: Everyday 8:00 AM - 5:00 PM
: Everyday 8:00 AM - 5:00 PM
: Everyday 8:00 AM - 5:00 PM
: Everyday 8:00 AM - 5:00 PM
: Everyday 8:00 AM - 5:00 PM
: Everyday 8:00 AM - 5:00 PM
: Everyday 8:00 AM - 5:00 PM
: Everyday 8:00 AM - 5:00 PM
: Everyday 8:00 AM - 5:00 PM
: Everyday 8:00 AM - 5:00 PM

: Everyday 4:00 PM - 6:00 PM
: Everyday 4:00 PM - 6:00 PM
: Everyday 4:00 PM - 6:00 PM
: Everyday 4:00 PM - 6:00 PM
: Everyday 4:00 PM - 6:00 PM
: Everyday 4:00 PM - 6:00 PM
: Everyday 4:00 PM - 6:00 PM
: Everyday 4:00 PM - 6:00 PM
: Everyday 4:00 PM - 6:00 PM
: Everyday 4:00 PM - 6:00 PM
: Everyday 4:00 PM - 6:00 PM
: Everyday 4:00 PM - 6:00 PM

: Everyday 24 Hrs
: Everyday 24 Hrs
: Everyday 24 Hrs
: Everyday 24 Hrs
: Everyday 24 Hrs
: Everyday 24 Hrs
: Everyday 24 Hrs
: Everyday 24 Hrs
: Everyday 24 Hrs
: Everyday 24 Hrs
: Everyday 24 Hrs
: Everyday 24 Hrs

: Everyday 24 Hrs
: Everyday 24 Hrs
: Everyday 24 Hrs
: Everyday 24 Hrs
: Everyday 24 Hrs
: Everyday 24 Hrs
: Everyday 24 Hrs
: Everyday 24 Hrs
: Everyday 24 Hrs
: Everyday 24 Hrs
: Everyday 24 Hrs
: Everyday 24 Hrs

: Everyday 00:1 AM - 1:00 AM; Everyday 00:1 AM - 1:00 AM | 11:00 AM - 2:00 PM; Everyday 00:1 AM - 1:00 AM | 5:00 PM - 11:59 PM
: Everyday 00:1 AM - 1:00 AM; Everyday 00:1 AM - 1:00 AM | 11:00 AM - 2:00 PM; Everyday 00:1 AM - 1:00 AM | 5:00 PM - 11:59 PM
: Everyday 00:1 AM - 1:00 AM; Everyday 00:1 AM - 1:00 AM | 11:00 AM - 2:00 PM; Everyday 00:1 AM - 1:00 AM | 5:00 PM - 11:59 PM
: Everyday 00:1 AM - 1:00 AM; Everyday 00:1 AM - 1:00 AM | 11:00 AM - 2:00 PM; Everyday 00:1 AM - 1:00 AM | 5:00 PM - 11:59 PM
: Everyday 00:1 AM - 1:00 AM; Everyday 00:1 AM - 1:00 AM | 11:00 AM - 2:00 PM; Everyday 00:1 AM - 1:00 AM | 5:00 PM - 11:59 PM
: Everyday 00:1 AM - 1:00 AM; Everyday 00:1 AM - 1:00 AM | 11:00 AM - 2:00 PM; Everyday 00:1 AM - 1:00 AM | 5:00 PM - 11:59 PM
: Everyday 00:1 AM - 1:00 AM; Everyday 00:1 AM - 1:00 AM | 11:00 AM - 2:00 PM; Everyday 00:1 AM - 1:00 AM | 5:00 PM - 11:59 PM
: Everyday 00:1 AM - 1:00 AM; Everyday 00:1 AM - 1:00 AM | 11:00 AM - 2:00 PM; Everyday 00:1 AM - 1:00 AM | 5:00 PM - 11:59 PM
: Everyday 00:1 AM - 1:00 AM; Everyday 00:1 AM - 1:00 AM | 11:00 AM - 2:00 PM; Everyday 00:1 AM - 1:00 AM | 5:00 PM - 11:59 PM
: Everyday 00:1 AM - 1:00 AM; Everyday 00:1 AM - 1:00 AM | 11:00 AM - 2:00 PM; Everyday 00:1 AM - 1:00 AM | 5:00 PM - 11:59 PM
: Everyday 00:1 AM - 1:00 AM; Everyday 00:1 AM - 1:00 AM | 11:00 AM - 2:00 PM; Everyday 00:1 AM - 1:00 AM | 5:00 PM - 11:59 PM
: Everyday 00:1 AM - 1:00 AM; Everyday 00:1 AM - 1:00 AM | 11:00 AM - 2:00 PM; Everyday 00:1 AM - 1:00 AM | 5:00 PM - 11:59 PM

: Everyday 10:00 AM - 9:00 PM
: Everyday 10:00 AM - 9:00 PM
: Everyday 10:00 AM - 9:00 PM
: Everyday 10:00 AM - 9:00 PM
: Everyday 10:00 AM - 9:00 PM
: Everyday 10:00 AM - 9:00 PM
: Everyday 10:00 AM - 9:00 PM
: Everyday 10:00 AM - 9:00 PM
: Everyday 10:00 AM - 9:00 PM
: Everyday 10:00 AM - 9:00 PM
: Everyday 10:00 AM - 9:00 PM
: Everyday 10:00 AM - 9:00 PM

: Everyday 24 Hrs
: Everyday 24 Hrs
: Everyday 24 Hrs
: Everyday 24 Hrs
: Everyday 24 Hrs
: Everyday 24 Hrs
: Everyday 24 Hrs
: Everyday 24 Hrs
: Everyday 24 Hrs
: Everyday 24 Hrs
: Everyday 24 Hrs
: Everyday 24 Hrs

: Monday to Saturday 00:1 AM - 2:00 AM; Monday to Saturday 00:1 AM - 2:00 AM | 7:00 AM - 11:59 PM; Sunday 7:00 AM - 11:59 PM
: Monday to Saturday 00:1 AM - 2:00 AM; Monday to Saturday 00:1 AM - 2:00 AM | 7:00 AM - 11:59 PM; Sunday 7:00 AM - 11:59 PM
: Monday to Saturday 00:1 AM - 2:00 AM; Monday to Saturday 00:1 AM - 2:00 AM | 7:00 AM - 11:59 PM; Sunday 7:00 AM - 11:59 PM
: Monday to Saturday 00:1 AM - 2:00 AM; Monday to Saturday 00:1 AM - 2:00 AM | 7:00 AM - 11:59 PM; Sunday 7:00 AM - 11:59 PM
: Monday to Saturday 00:1 AM - 2:00 AM; Monday to Saturday 00:1 AM - 2:00 AM | 7:00 AM - 11:59 PM; Sunday 7:00 AM - 11:59 PM
: Monday to Saturday 00:1 AM - 2:00 AM; Monday to Saturday 00:1 AM - 2:00 AM | 7:00 AM - 11:59 PM; Sunday 7:00 AM - 11:59 PM
: Monday to Saturday 00:1 AM - 2:00 AM; Monday to Saturday 00:1 AM - 2:00 AM | 7:00 AM - 11:59 PM; Sunday 7:00 AM - 11:59 PM
: Monday to Saturday 00:1 AM - 2:00 AM; Monday to Saturday 00:1 AM - 2:00 AM | 7:00 AM - 11:59 PM; Sunday 7:00 AM - 11:59 PM
: Monday to Saturday 00:1 AM - 2:00 AM; Monday to Saturday 00:1 AM - 2:00 AM | 7:00 AM - 11:59 PM; Sunday 7:00 AM - 11:59 PM
: Monday to Saturday 00:1 AM - 2:00 AM; Monday to Saturday 00:1 AM - 2:00 AM | 7:00 AM - 11:59 PM; Sunday 7:00 AM - 11:59 PM
: Monday to Saturday 00:1 AM - 2:00 AM; Monday to Saturday 00:1 AM - 2:00 AM | 7:00 AM - 11:59 PM; Sunday 7:00 AM - 11:59 PM
: Monday to Saturday 00:1 AM - 2:00 AM; Monday to Saturday 00:1 AM - 2:00 AM | 7:00 AM - 11:59 PM; Sunday 7:00 AM - 11:59 PM