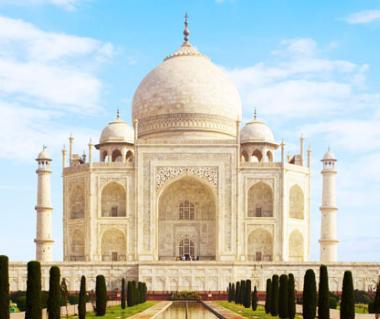 India Trip Planner
Plan your customized trip plan for India. Choose from Top Toursim cities and tourist attarctions of India using trip planner.
India Overview
"If we were to look over the whole world to find out the country most richly endowed with all the wealth, power and beauty that nature can bestow-in some parts a very paradise on earth-I should point to India". ~ Max Mueller
What Max Mueller said is indeed true. Planning a trip to India is always fun and being full of options it is also challenging. India's itinerary planner helps you to come over this challenge and create a perfect itinerary. Crowned by the Himalayas on top and vast seas surrounding its peninsula, India is quite distinct on the world map. With such astonishing diversity, from snow-dusted mountains to sun-washed beaches, tranquil temples to frenetic bazaars, lantern-lit villages to software-supreme cities – it's hardly surprising that this country has been dubbed the world's most multidimensional.
India bristles with an eclectic mélange of ethnic groups, an intoxicating cultural cocktail for the traveler. It has its platter full and offers a plethora of options for everyone. For those seeking spiritual sustenance, India has oodles of sacrosanct sites and thought-provoking philosophies, while history buffs will stumble upon gems from the past almost everywhere – grand vestiges of former empires serenely peer over swarming streets and crumbling fortresses looming high above plunging ravines. Meanwhile, aficionados of the great outdoors can paddle in the shimmering waters of one of many beautiful beaches, scout for big jungle cats on blood-pumping wildlife safaris, or simply inhale pine-scented air on meditative forest walks.
So a trip to India is a must-do for every traveler to revel with the crowds on the beaches of Goa, learned the Golden Triangle route, photograph the terrain of Leh, experience royalty in Rajasthan, sail the backwaters of Kerala, and played with snow in Manali and discover a different side of India.
When to Plan Visit to India
India is so vast that climatic conditions in the far north have little relation to those of the extreme south. Generally speaking, the country has a three-season year – the hot, the wet and the cool.
Climate plays a key factor in deciding when to visit India. Travelers should keep in mind that climatic conditions in the far north are distinctly different to those of the extreme south. Generally speaking, India's climate is defined by three seasons – the hot, the wet (monsoon) and the cool, each of which can vary in duration from north to south. The most pleasant time to visit most of the country is during the cooler period between Octobersto around mid-February, although there are marked regional variations.
How to Travel
Plan your travel By Air:-
Our India travel planner helps you in selecting & booking flights to any of the international airports in India. You can choose from different International airlines to visit India. Once you land in India you can even choose local transport options.
India has four main gateways for international flights, and international flights also land in Bengaluru (Bangalore), Guwahati and Amritsar. The major international airports in India, which serve traffic from all over the world, are in Delhi, Mumbai, Kolkata, Chennai, Bangalore, and Hyderabad. Airports tend to be on the outskirts of cities. Pre-paid taxi services and auto-rickshaws are stationed outside the terminus to get you into the city.
Plan journey By Rail:-
Railways do not cut across international borders in this part of the world except the Samjhauta (i.e. "understanding"!) Express that runs between Amritsar (India) and Lahore (Pakistan). But for traveling within India rail travel is just about the best way to experience the real India because the Indian railways are a real part of India. From hopping on to the toy train in Darjeeling to taking locals traveling can become quite an experience.The train network in India is extensive and almost all major cities are connected via rail, and the prices are also quite reasonable. Trains are far better than buses for long-distance and overnight trips. Some cities also have sub-urban train networks, though these can get very crowded during peak hours.
Traveling by the Roads:-
Except for the Lahore-Delhi bus, which used to run 4 times a week, but is now erratic, there are no cross border coach services. It is possible to drive into India with the requisite paperwork in order. Even driving in from Nepal now requires a permit. Permits may be arranged through the Indian embassy in your country. You can plan your travel by road with this trip planner easily.
What to see and experience in India:
India is a multi-cultural society, the list of things to do in India is bound to be pretty exhaustive as the country offers something for everyone!
Add Shopping destinations with Planner is easy:-
All over India makeshift markets line streets. Paan-sellers dot market corners, villages have busy market-days, deserted mountain trails boast lone tea-stalls that count as a whole settlement, and city roads all lead to snazzy malls! While shopping has always been big for Indians, as current trends go, 'Indian' are now big when it comes to shopping. Ethnic chic, glitz and kitsch, whether its clothes, carpets or clutter, if it's Indian, it's in! To name a little that could fill your bags: Kashmiri carpets that rival Persian rugs or rugged durries of natural fiber in vibrant colors and rural motifs. Perfumes extracted from the sweetest of flowers, opulent silks, and block-printed cotton. Beads and trinkets, silver and gold, mirror-work Rajasthani skirts, tie-and-dye, inexpensive leatherware, and statues in metal or stone. All Shopping destinations in India are available in our India trip planner. You can select destinations in your itinerary and make your shopping wish come true.
Sightseeing locations in India:
Add and Explore Nature & Wildlife destination in India:
The wildlife parks in India are quite interesting to visit as one can actually spot tigers roaming freely within the sanctuary premises. India's jungles, rivers, and streams are simply bursting with wildlife; much of it protected in her 80 National Parks and 441 Sanctuaries. Popular ones are Corbett, Rajaji, and Dudhwa (Uttar Pradesh), Kanha, Pench (Madhya Pradesh) and Sasan Gir (Gujarat). Sariska and Ranthambore (Rajasthan), Kaziranga, Manas (Assam), Mudumalai, Bandipore and Wyanad (Nilgiri Biosphere Reserve-Tamil Nadu, Karnataka, Kerala) are the other well-known game sanctuaries. Keoladeo Ghana, Bharatpur (Rajasthan) is a famous bird sanctuary. You can read detailed information about these attractions in our travel Guides & add them to your itineary very easily.
Religious & Spiritual Places in India
If you are looking for some spiritual upliftment and are more curious about Indian temples than you can go for temple trails that will take you on a wondrous spiritual journey, there are plenty of options all over this mesmerizing country. The gilded gurudwaras in Amritsar, ancient weather-beaten cathedrals in Goa, 'dargahs' (mausoleums) of Muslim saints and grand temples to the innumerable Hindu deities; these houses of worship are as precious as works of art. The legacy of spiritual succour lives on in the land of exotica. The trip planner suggests you different popular spiritual destinations. You can add these locations to your trip easily.
Historical Monuments in India:
Ruins of forts, palaces, picturesque 'Havelis' (large private houses) and mausoleums pepper the landscape. In and around Delhi, Agra, Rajasthan, all over the country actually, historical sites intrigue the history enthusiast. Explore important sites and get to know the untold stories of India with places like Hampi, Khajuraho, Mandu, Aurangabad, Bikaner, Goa, Gwalior, Jaipur, Jaisalmer, Jodhpur, Udaipur, Mahabalipuram, Tanjore, and Mysore.
Festival times in India:
With its vibrant mix of religious denominations, India is home to a formidable array of celebrations – from larger-than-life extravaganzas to pint-sized harvest fairs paying homage to a locally worshipped deity. Festivals and holidays differ in different regions and some are universally appreciated across the country. The winter festival of lights, Diwali, is celebrated in cities, towns and dusty villages with twinkling lamps and fireworks. Spring brings myriad hues to the world around and also the festival of Holi - a happily messy rite of water and color. The harvest brings joy and festivities of another order and is celebrated as Pongal in the south, and Bihu in the east and Baisakhi in the north. Christmas in Goa is still the most special but the cheer spreads everywhere. The month of Ramadan and feasting is important to Muslims. Besides these, dance festivals in southern temple towns in December and car festivals of Puri and Madurai when the temple chariots are wheeled around the city, and the Nehru Cup boat race in Kerala's backwaters (second Saturday of August) bring more occasions to celebrate.
Searching for something specific?