Best Time To Visit Irkutsk
Explore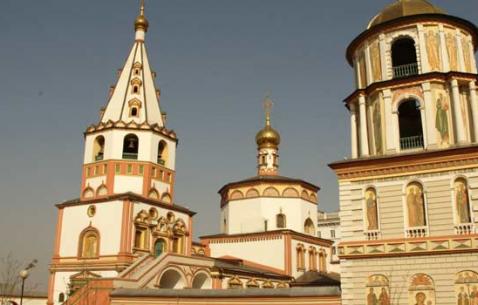 Best Time To Go To Irkutsk
The weather of Irkutsk, Russia is a subarctic one, with severe, dry winters and short, cool summers.
Winter: Irkutsk winter lasts for around 5 months, from November to March. The coldest period is from December to February and is off season for visitors.
Spring: April and May are the months of spring and a good season to visit Irkutsk. The snow that till now was hugging the land slowly starts melting away and greenery starts to spread its gentle arms around the city. By mid-May however, the city starts facing rainfalls.
Summer: Lasting only for a short while, Irkutsk faces sunny days from June to August. Monsoons intermingle with summers and the city faces maximum precipitation in the month of July.
Autumn: The best time to visit Irkutsk is during this season. The days are sunny and bright and there are no rainfalls. The season lasts from September to October.
So, the peak season to visit Irkutsk is between September to October.
Best time to go to Irkutsk Attractions

: Everyday 4:00 PM - 8:00 PM
: Everyday 4:00 PM - 8:00 PM
: Everyday 4:00 PM - 8:00 PM
: Everyday 4:00 PM - 8:00 PM
: Everyday 4:00 PM - 8:00 PM
: Everyday 4:00 PM - 8:00 PM
: Everyday 4:00 PM - 8:00 PM
: Everyday 4:00 PM - 8:00 PM
: Everyday 4:00 PM - 8:00 PM
: Everyday 4:00 PM - 8:00 PM
: Everyday 4:00 PM - 8:00 PM
: Everyday 4:00 PM - 8:00 PM

: Monday, Wednesday, Thursday, Friday, Saturday, Sunday 4:00 PM - 4:00 PM
: Monday, Wednesday, Thursday, Friday, Saturday, Sunday 4:00 PM - 4:00 PM
: Monday, Wednesday, Thursday, Friday, Saturday, Sunday 4:00 PM - 4:00 PM
: Monday, Wednesday, Thursday, Friday, Saturday, Sunday 4:00 PM - 4:00 PM
: Monday, Wednesday, Thursday, Friday, Saturday, Sunday 4:00 PM - 4:00 PM
: Monday, Wednesday, Thursday, Friday, Saturday, Sunday 4:00 PM - 4:00 PM
: Monday, Wednesday, Thursday, Friday, Saturday, Sunday 4:00 PM - 4:00 PM
: Monday, Wednesday, Thursday, Friday, Saturday, Sunday 4:00 PM - 4:00 PM
: Monday, Wednesday, Thursday, Friday, Saturday, Sunday 4:00 PM - 4:00 PM
: Monday, Wednesday, Thursday, Friday, Saturday, Sunday 4:00 PM - 4:00 PM
: Monday, Wednesday, Thursday, Friday, Saturday, Sunday 4:00 PM - 4:00 PM
: Monday, Wednesday, Thursday, Friday, Saturday, Sunday 4:00 PM - 4:00 PM

: Everyday 9:00 AM - 4:00 PM
: Everyday 9:00 AM - 4:00 PM
: Everyday 9:00 AM - 4:00 PM
: Everyday 9:00 AM - 4:00 PM
: Everyday 9:00 AM - 4:00 PM
: Everyday 9:00 AM - 4:00 PM
: Everyday 9:00 AM - 4:00 PM
: Everyday 9:00 AM - 4:00 PM
: Everyday 9:00 AM - 4:00 PM
: Everyday 9:00 AM - 4:00 PM
: Everyday 9:00 AM - 4:00 PM
: Everyday 9:00 AM - 4:00 PM

: Everyday 11:00 AM - 4:00 PM
: Everyday 11:00 AM - 4:00 PM
: Everyday 11:00 AM - 4:00 PM
: Everyday 11:00 AM - 4:00 PM
: Everyday 11:00 AM - 4:00 PM
: Everyday 11:00 AM - 4:00 PM
: Everyday 11:00 AM - 4:00 PM
: Everyday 11:00 AM - 4:00 PM
: Everyday 11:00 AM - 4:00 PM
: Everyday 11:00 AM - 4:00 PM
: Everyday 11:00 AM - 4:00 PM
: Everyday 11:00 AM - 4:00 PM

: Wednesday to Sunday 11:00 AM - 3:00 PM
: Wednesday to Sunday 11:00 AM - 3:00 PM
: Wednesday to Sunday 11:00 AM - 3:00 PM
: Wednesday to Sunday 11:00 AM - 3:00 PM
: Wednesday to Sunday 11:00 AM - 3:00 PM
: Wednesday to Sunday 11:00 AM - 3:00 PM
: Wednesday to Sunday 11:00 AM - 3:00 PM
: Wednesday to Sunday 11:00 AM - 3:00 PM
: Wednesday to Sunday 11:00 AM - 3:00 PM
: Wednesday to Sunday 11:00 AM - 3:00 PM
: Wednesday to Sunday 11:00 AM - 3:00 PM
: Wednesday to Sunday 11:00 AM - 3:00 PM

: Everyday 9:00 AM - 5:00 PM
: Everyday 9:00 AM - 5:00 PM
: Everyday 9:00 AM - 5:00 PM
: Everyday 9:00 AM - 5:00 PM
: Everyday 9:00 AM - 5:00 PM
: Everyday 9:00 AM - 5:00 PM
: Everyday 9:00 AM - 5:00 PM
: Everyday 9:00 AM - 5:00 PM
: Everyday 9:00 AM - 5:00 PM
: Everyday 9:00 AM - 5:00 PM
: Everyday 9:00 AM - 5:00 PM
: Everyday 9:00 AM - 5:00 PM

: Everyday 5:00 PM - 9:00 PM
: Everyday 5:00 PM - 9:00 PM
: Everyday 5:00 PM - 9:00 PM
: Everyday 5:00 PM - 9:00 PM
: Everyday 5:00 PM - 9:00 PM
: Everyday 5:00 PM - 9:00 PM
: Everyday 5:00 PM - 9:00 PM
: Everyday 5:00 PM - 9:00 PM
: Everyday 5:00 PM - 9:00 PM
: Everyday 5:00 PM - 9:00 PM
: Everyday 5:00 PM - 9:00 PM
: Everyday 5:00 PM - 9:00 PM

: Everyday 9:00 AM - 6:00 PM
: Everyday 9:00 AM - 6:00 PM
: Everyday 9:00 AM - 6:00 PM
: Everyday 9:00 AM - 6:00 PM
: Everyday 9:00 AM - 6:00 PM
: Everyday 9:00 AM - 6:00 PM
: Everyday 9:00 AM - 6:00 PM
: Everyday 9:00 AM - 6:00 PM
: Everyday 9:00 AM - 6:00 PM
: Everyday 9:00 AM - 6:00 PM
: Everyday 9:00 AM - 6:00 PM
: Everyday 9:00 AM - 6:00 PM

: Everyday 9:00 AM - 5:00 PM
: Everyday 9:00 AM - 5:00 PM
: Everyday 9:00 AM - 5:00 PM
: Everyday 9:00 AM - 5:00 PM
: Everyday 9:00 AM - 5:00 PM
: Everyday 9:00 AM - 5:00 PM
: Everyday 9:00 AM - 5:00 PM
: Everyday 9:00 AM - 5:00 PM
: Everyday 9:00 AM - 5:00 PM
: Everyday 9:00 AM - 5:00 PM
: Everyday 9:00 AM - 5:00 PM
: Everyday 9:00 AM - 5:00 PM

: Everyday 11:00 AM - 3:00 PM
: Everyday 11:00 AM - 3:00 PM
: Everyday 11:00 AM - 3:00 PM
: Everyday 11:00 AM - 3:00 PM
: Everyday 11:00 AM - 3:00 PM
: Everyday 11:00 AM - 3:00 PM
: Everyday 11:00 AM - 3:00 PM
: Everyday 11:00 AM - 3:00 PM
: Everyday 11:00 AM - 3:00 PM
: Everyday 11:00 AM - 3:00 PM
: Everyday 11:00 AM - 3:00 PM
: Everyday 11:00 AM - 3:00 PM

: Everyday 9:00 AM - 7:00 PM
: Everyday 9:00 AM - 7:00 PM
: Everyday 9:00 AM - 7:00 PM
: Everyday 9:00 AM - 7:00 PM
: Everyday 9:00 AM - 7:00 PM
: Everyday 9:00 AM - 7:00 PM
: Everyday 9:00 AM - 7:00 PM
: Everyday 9:00 AM - 7:00 PM
: Everyday 9:00 AM - 7:00 PM
: Everyday 9:00 AM - 7:00 PM
: Everyday 9:00 AM - 7:00 PM
: Everyday 9:00 AM - 7:00 PM

: Everyday 4:00 PM - 9:00 PM
: Everyday 4:00 PM - 9:00 PM
: Everyday 4:00 PM - 9:00 PM
: Everyday 4:00 PM - 9:00 PM
: Everyday 4:00 PM - 9:00 PM
: Everyday 4:00 PM - 9:00 PM
: Everyday 4:00 PM - 9:00 PM
: Everyday 4:00 PM - 9:00 PM
: Everyday 4:00 PM - 9:00 PM
: Everyday 4:00 PM - 9:00 PM
: Everyday 4:00 PM - 9:00 PM
: Everyday 4:00 PM - 9:00 PM

: Everyday 10:00 AM - 10:00 PM
: Everyday 10:00 AM - 10:00 PM
: Everyday 10:00 AM - 10:00 PM
: Everyday 10:00 AM - 10:00 PM
: Everyday 10:00 AM - 10:00 PM
: Everyday 10:00 AM - 10:00 PM
: Everyday 10:00 AM - 10:00 PM
: Everyday 10:00 AM - 10:00 PM
: Everyday 10:00 AM - 10:00 PM
: Everyday 10:00 AM - 10:00 PM
: Everyday 10:00 AM - 10:00 PM
: Everyday 10:00 AM - 10:00 PM

: Everyday 11:00 AM - 4:00 PM
: Everyday 11:00 AM - 4:00 PM
: Everyday 11:00 AM - 4:00 PM
: Everyday 11:00 AM - 4:00 PM
: Everyday 11:00 AM - 4:00 PM
: Everyday 11:00 AM - 4:00 PM
: Everyday 11:00 AM - 4:00 PM
: Everyday 11:00 AM - 4:00 PM
: Everyday 11:00 AM - 4:00 PM
: Everyday 11:00 AM - 4:00 PM
: Everyday 11:00 AM - 4:00 PM
: Everyday 11:00 AM - 4:00 PM

: Monday to Saturday 9:00 AM - 11:00 AM
: Monday to Saturday 9:00 AM - 11:00 AM
: Monday to Saturday 9:00 AM - 11:00 AM
: Monday to Saturday 9:00 AM - 11:00 AM
: Monday to Saturday 9:00 AM - 11:00 AM
: Monday to Saturday 9:00 AM - 11:00 AM
: Monday to Saturday 9:00 AM - 11:00 AM
: Monday to Saturday 9:00 AM - 11:00 AM
: Monday to Saturday 9:00 AM - 11:00 AM
: Monday to Saturday 9:00 AM - 11:00 AM
: Monday to Saturday 9:00 AM - 11:00 AM
: Monday to Saturday 9:00 AM - 11:00 AM

: Monday, Tuesday, Thursday, Friday, Saturday, Sunday 9:00 AM - 4:00 PM
: Monday, Tuesday, Thursday, Friday, Saturday, Sunday 9:00 AM - 4:00 PM
: Monday, Tuesday, Thursday, Friday, Saturday, Sunday 9:00 AM - 4:00 PM
: Monday, Tuesday, Thursday, Friday, Saturday, Sunday 9:00 AM - 4:00 PM
: Monday, Tuesday, Thursday, Friday, Saturday, Sunday 9:00 AM - 4:00 PM
: Monday, Tuesday, Thursday, Friday, Saturday, Sunday 9:00 AM - 4:00 PM
: Monday, Tuesday, Thursday, Friday, Saturday, Sunday 9:00 AM - 4:00 PM
: Monday, Tuesday, Thursday, Friday, Saturday, Sunday 9:00 AM - 4:00 PM
: Monday, Tuesday, Thursday, Friday, Saturday, Sunday 9:00 AM - 4:00 PM
: Monday, Tuesday, Thursday, Friday, Saturday, Sunday 9:00 AM - 4:00 PM
: Monday, Tuesday, Thursday, Friday, Saturday, Sunday 9:00 AM - 4:00 PM
: Monday, Tuesday, Thursday, Friday, Saturday, Sunday 9:00 AM - 4:00 PM

: Everyday 4:00 PM - 8:00 PM
: Everyday 4:00 PM - 8:00 PM
: Everyday 4:00 PM - 8:00 PM
: Everyday 4:00 PM - 8:00 PM
: Everyday 4:00 PM - 8:00 PM
: Everyday 4:00 PM - 8:00 PM
: Everyday 4:00 PM - 8:00 PM
: Everyday 4:00 PM - 8:00 PM
: Everyday 4:00 PM - 8:00 PM
: Everyday 4:00 PM - 8:00 PM
: Everyday 4:00 PM - 8:00 PM
: Everyday 4:00 PM - 8:00 PM

: Monday, Wednesday, Thursday, Friday, Saturday, Sunday 4:00 PM - 3:00 PM
: Monday, Wednesday, Thursday, Friday, Saturday, Sunday 4:00 PM - 3:00 PM
: Monday, Wednesday, Thursday, Friday, Saturday, Sunday 4:00 PM - 3:00 PM
: Monday, Wednesday, Thursday, Friday, Saturday, Sunday 4:00 PM - 3:00 PM
: Monday, Wednesday, Thursday, Friday, Saturday, Sunday 4:00 PM - 3:00 PM
: Monday, Wednesday, Thursday, Friday, Saturday, Sunday 4:00 PM - 3:00 PM
: Monday, Wednesday, Thursday, Friday, Saturday, Sunday 4:00 PM - 3:00 PM
: Monday, Wednesday, Thursday, Friday, Saturday, Sunday 4:00 PM - 3:00 PM
: Monday, Wednesday, Thursday, Friday, Saturday, Sunday 4:00 PM - 3:00 PM
: Monday, Wednesday, Thursday, Friday, Saturday, Sunday 4:00 PM - 3:00 PM
: Monday, Wednesday, Thursday, Friday, Saturday, Sunday 4:00 PM - 3:00 PM
: Monday, Wednesday, Thursday, Friday, Saturday, Sunday 4:00 PM - 3:00 PM

: Everyday 24 Hrs
: Everyday 24 Hrs
: Everyday 24 Hrs
: Everyday 24 Hrs
: Everyday 24 Hrs
: Everyday 24 Hrs
: Everyday 24 Hrs
: Everyday 24 Hrs
: Everyday 24 Hrs
: Everyday 24 Hrs
: Everyday 24 Hrs
: Everyday 24 Hrs

: Everyday 24 Hrs
: Everyday 24 Hrs
: Everyday 24 Hrs
: Everyday 24 Hrs
: Everyday 24 Hrs
: Everyday 24 Hrs
: Everyday 24 Hrs
: Everyday 24 Hrs
: Everyday 24 Hrs
: Everyday 24 Hrs
: Everyday 24 Hrs
: Everyday 24 Hrs

: Everyday 24 Hrs
: Everyday 24 Hrs
: Everyday 24 Hrs
: Everyday 24 Hrs
: Everyday 24 Hrs
: Everyday 24 Hrs
: Everyday 24 Hrs
: Everyday 24 Hrs
: Everyday 24 Hrs
: Everyday 24 Hrs
: Everyday 24 Hrs
: Everyday 24 Hrs

: Everyday 24 Hrs
: Everyday 24 Hrs
: Everyday 24 Hrs
: Everyday 24 Hrs
: Everyday 24 Hrs
: Everyday 24 Hrs
: Everyday 24 Hrs
: Everyday 24 Hrs
: Everyday 24 Hrs
: Everyday 24 Hrs
: Everyday 24 Hrs
: Everyday 24 Hrs

: Everyday 24 Hrs
: Everyday 24 Hrs
: Everyday 24 Hrs
: Everyday 24 Hrs
: Everyday 24 Hrs
: Everyday 24 Hrs
: Everyday 24 Hrs
: Everyday 24 Hrs
: Everyday 24 Hrs
: Everyday 24 Hrs
: Everyday 24 Hrs
: Everyday 24 Hrs

: Everyday 24 Hrs
: Everyday 24 Hrs
: Everyday 24 Hrs
: Everyday 24 Hrs
: Everyday 24 Hrs
: Everyday 24 Hrs
: Everyday 24 Hrs
: Everyday 24 Hrs
: Everyday 24 Hrs
: Everyday 24 Hrs
: Everyday 24 Hrs
: Everyday 24 Hrs