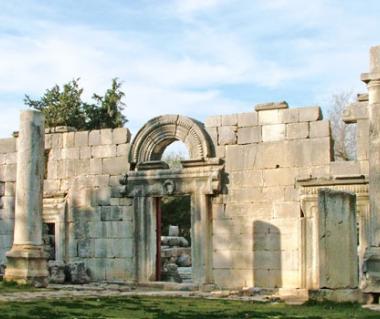 Israel Trip Planner
Plan your customized trip plan for Israel. Choose from Top Toursim cities and tourist attarctions of Israel using trip planner.
Israel Overview
About:
The birth place of three of the world's largest and oldest religions- Jewish, Christianity and Islam is this unique and diversifying country along the Mediterranean coastline. Israel is a place that you can never get enough of.
With the history as old as the human religions, the intermingling of different cultures, the supremacy of different dynasties, Israel is the kaleidoscope of time. Walking down the memory lane of this country in the Middle East, you simple cannot pause and wonder of the poise this place offers.
Best time to visit:
Dry season: April-October.
Wet season: November-March.
The summers can be very hot and are best avoided. The winters are mild but the weather is very unpredictable and there are occasional rains. The weather will just be perfect for the beach, a hike or sightseeing! May and October is the best time to visit Israel. The weather will just be perfect for the beach, a hike or sightseeing!
How to get in and around:
Get In:
By Plane: Tel Aviv's Ben-Gurion International Airport serves international flights to the entire globe. It is located at a distance of 12 kilometers from central Tel Aviv and at a distance of 40 kilometers from Jerusalem and hence caters both the cities.
You can then reach either of the cities by bus, train, taxi, or Sheirut (shared taxi). The transportation is very convenient and frequent.
By Road: You can take a bus from Amman, Jordan to Tel Aviv, Haifa and Nazareth. There is also a bus service from Cairo, Egypt to Jerusalem.
Note that while doing this, you cross borders and there can be a mix-up or strict customs that may waste your time. Hence, it isn't highly advisable to take the bus. Vehicles with Israeli number plates aren't allowed to cross the borders and hence rented cars cannot take you to Israel by road.
By Boat: Accessing Israel by Boat is not so simple but you can take a cruise from Limassol, Cyprus to Haifa. These can be reached by local enquiry.
Get Around:
By Bus: Israel has world's second largest bus system and the service offered is cheap and readily available. The service is fast and reliable and the most preferred by the tourists to roam around the country. There are concession tickets for youth and students. The bookings are available on phone and on their website. The bus service however doesn't run during Sabbath i.e. from Friday at sundown to Saturday at nightfall.
By Monit Sherut:These are the shared taxis or mini-vans which are also known a service taxis. Faster than the normal buses and can be hailed from any destination. These are affordable and run for the entire week.
By Train: The newly developing and fast train service provides a has a intercity network from Nahariya to Beer Sheva via Haifa, Tel Aviv and Ben Gurion airport and suburban lines radiating from Tel Aviv to Binyamina, Ashkelon, Kfar Sava, Rishon Lezion, Modiin and Bet Shemesh.
Though the train fare are almost double than the corresponding bus fares, you can be assured of more comfort, safety and speed.
By Taxi: When wanting to hire a private taxi, you should ask for special taxi. These are readily available and make sure you fix the price before you get in or make an agreement to pay according to the meter. It is best to take a taxi from the taxi stand. Tips are not expected.
By Renting a Vehicle: The Israeli roads are well maintained and getting around in a drive-yourself vehicle is not at all a bad idea. You can rent a car from international car rental companies like Hertz, Avis, Budget and Sixt Israel or local Israeli companies like Eldan or Traffic and Tamir. Be prepared to pay for the insurance on rental cars which can get quite expensive sometimes.
By Thumb: Israel is a great place to hitchhike but it is more popular in rural areas.
What to see and What to do:
See:
Jerusalem: When in Israel, this mesmerizing city will keep you hooked with its poise and the old city in itself has amazing things in store like The Church of the Holy Sepulcher, The Temple Mount, Al-Aqsa Mosque, Qubbat Al-Sakhra and the Jewish quarter. Apart from these landmarks, there are a number of museums, religious places and tombs that you can visit.
Tel Aviv and Jaffa: This is a huge place and there is a huge list of attractions in and around. Old Jaffa, Rabin Square, Tel Aviv University, Bialik Square and Tel Aviv Museum of Art are some of the renowned milestones of the place. Shopping in Tel Aviv is also a great experience. And so are the amazingly scenic beaches.
The Dead Sea: This is the lowest point on the earth and the water being 10 times more saline than the other ocean's, you can float on this Sea. Make sure you don't get the water into eyes as it might be very obnoxious.
The Galilee and Sea of Galilee: This is the momentous place where Jesus walked on water and is located in the northern part of the country. The beautiful highland with ancient cities of Tiberias, Sefad and Acre and the Jordan River are worth visiting.
Caesarea Maritim: One of the most enchanting archeological sites of Israel, Herod the Great built this place over 2,000 years ago. The ancient amphitheatre overlooking the sea is tantalizing and takes you to the Roman and Crusader periods.
Do:
You can go snorkeling and Scuba diving in the red sea.
Visit the mountain fortress of Masada.
Have a night out in Tel Aviv. It has one of the most chic nightlife in the world.
Walk around the Machtesh Ramon, A naturally carved, heart shaped crater on the Israeli desert.
Have a day out in the Baha'i gardens in Haifa.
Where to stay and eat:
Stay:
Israel has lot of budget options like Israel Youth Hostel Association, ILH - Israel Hostels and home stay. These options are readily available at cheap rates and are the best if you are travelling independently.
There are a number of luxury hotels in Israel, the country being a tourist's favorite. This includes Waldorf Astoria Jerusalem, the American Colony Hotel, the international chain of Le meridian hotel, the Herods Hotel and Spa Eilat and many more. These classy hotels offer you a quintessential stay and are priced accordingly.
Eat:
When in Israel, you should try the most popular street food of the country, the falafels. With the accompaniment of Hummus, Tehina, salad and wrapped in a delightful pita bread, this yummy snack is a vegetarian's joy.
The Shawarma is also a favorite dish served with lamb meat or turkey sliced and served in pita pockets with hummus, tehina and salad. If you are a meat lover, the Me'orav Yerushalmi and Schnitzel are also worth trying at least once.
Krembo is a sweet dish of Israeli cuisine which contains a chocolate cookie layered with cream and dipped in chocolate again. This is a popular desert in Israel and you can also eat if as a meal if you have a sweet tooth.
Cafe Afuch, an upside-down cappuccino is a must try when in Israel. So are the fruit shakes and mint lemonade.
Israel is a place where you can taste the authentic Jewish cuisine which is a colorful spread that will awaken your taste palette and leave you with a startling food experience.
DO'S and DON'TS:
Do's:
Israel is a politically sensitive country, so ensure the current happenings before planning your trip.
If you are visiting any of the Arab countries before or after Israel, make sure that your Israeli Visa stamp doesn't appear on the passport.
Carry all your documents carefully, especially while crossing the border.
If you are driving, beware of the local rash driving.
Do keep your travel insurance updated and keep yourself hydrated to beat the heat and stay healthy.
Dress appropriately while entering any Jewish or Islamic religious sights and follow the code on conduct even in churches so as to not hurt anybody's religious sentiments.
Don'ts:
Do not leave any of your belongings unattended as that may be considered as a bomb. Also, do not touch any unknown objects and report you find any unattended ones immediately.
Do not discuss about sensitive topics like The Holocaust or the Arab-Israeli Conflict even if the topic is raised. Israelis always claim their side to the right one and are not open to criticism on these subjects.
Searching for something specific?