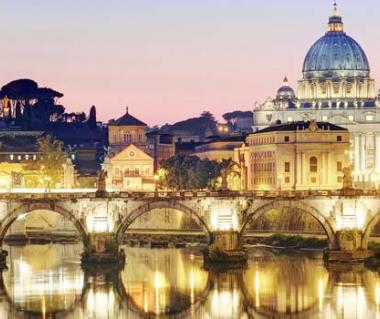 Italy Trip Planner
Plan your customized trip plan for Italy. Choose from Top Toursim cities and tourist attarctions of Italy using trip planner.
Italy Overview
Planning a trip to Italy. Italy may not take up much space geographically on the globe, but it consistently ranks among the top vacation destinations on the planet. Italy is home to the greatest number of UNESCO World Heritage Sites - art and monuments are everywhere around the country. In few places do art and life intermingle so effortlessly? This may be the land of Dante, Michelangelo, Da Vinci, and Botticelli but it's also the home of Salvatore Ferragamo, Giorgio Armani, and Gualtiero Marchesi. Customize your travel as per your travel preferences. Despite incessant praise, Italy continues to surprise and delight. If you get it right, traveling in the bel paese (beautiful country) is one of those rare experiences in life that cannot be overrated. Have a wonderful visit here with the help of this Italy travel itinerary building tool.
Places to Visit in Italy
Sightseeing:
All of Italy really is famously attractive. There's natural scenic beauty and landscape imbued with rich hues in pastoral Toscana. The cities beckon with their innumerable monuments to an ancient and always colorful history. The beaches are sun-kissed and the Italian Riviera is as glamorous as its French counterpart. The golden tourist circuit involves the cities of Rome, Florence, Turin, and Venice. Begin your Italian voyage by heading for Rome to view the rubble of an ancient empire, the cathedrals of high Christianity and the art of Renaissance. The city of Milan, the capital of style, is where Italy trots out its hip, happening and hottest stuff. The city of Venice, the capital of romance, hardly needs an introduction. Its famous canals and the gondolas that travel the network have inspired die-hard love through the centuries and Venice continues to be a favorite with couples even today.
Italy is a nation that hosts unique and fascinating events of international resonance throughout the year, providing innumerable opportunities for experiencing intense emotions.
Best Time to visit Italy
When it comes to the climate of Italy, it is a land of sunny, mild weather. The best period to visit Italy is from April to June. The weather then is sunny without being stifling, the countryside bursts with spring flowers, and the flood of summer tourism, largely dictated by school holidays, has yet to crash over the peninsula. Most Italians hit the road in July and August, so those two months – in which prices soar, tempers flare and the country broils – are best avoided.
The vision of Italy as the land of eternal Mediterranean sunshine is a trifle distorted. In the Alps, winters are long and severe. First snowfalls usually occur in November and freak falls in June are not unusual. The ski season is high season in the Alps. Those mountains shield Lombardy from the extremes of the northern European winter, but cloud and rain are common – Milan comes close to being Italy's London. Don't hesitate!
Getting in and Around Italy
By Air: There are international airports in Rome, Milan, and Florence. Most international airlines fly to destinations in Italy and it's possible to get a flight to Italy from most major cities in the world.
By Rail: Train journeys into Italy take you through some of the most beautiful countrysides. You could enter Italy from the neighboring countries. Eurail passes are accepted within Italy. The Ferrovie Dello Stato (FS) is Italy's state railway service. It has a comprehensive network of routes and the trains usually run on time.
By Road: You can drive into Italy from the bordering countries of Austria, France, Slovenia or Switzerland. Some mountain passes close in winter, so travelers must be prepared accordingly and get snow chains and anti-fog lights in the cold season. The Italian superhighway or autostrada has an extensive network be prepared for hefty toll rates. You could purchase a Viacard, which is an automatic toll card that saves you the trouble of looking for change every time you hit a toll post. There is a system of minor highways that fall into the categories of 'national' (strade statali), 'provincial' (provinciali) and municipal (communali) that are toll-free.
By Sea: There are ferry services to Bari, Brindisi, and Ancona in Italy from Greece, to Trieste from Croatia, Tunisia, Turkey, Malta, Spain, and Albania.
Bon Appetito (Eating Out in Italy):
Italy is quite literally a feast of endless courses, but no matter how much you gorge yourself, you'll always feel as though you haven't made it past the antipasti. Even the simplest snack can turn into a revelation, whether you're downing a slice of Slow Food pizza, a paper cone of fritto misto (fried seafood) or pistachio flavored gelato. The secret is an intense, even savage, attention to top-notch ingredients and fresh, seasonal produce. Although the origins of Italian food are earthy and rustic, and the Slow Food Movement aims to protect those artisanal roots, the modern Italian kitchen is also endlessly inventive. Get creative in Eataly's Slow Food supermarket, sample top-class wines at Rome's International Wine Academy and tour vineyards and olive groves to learn the latest production techniques that go into making that award-winning wine and olive oil sitting on your dining table. Customize your travel as per your travel preferences. See and do what you'd like to do in Italy. Make your trip plan now using Italy trip planner.
Shopping in Italy:
Glass sculptures from Murano, delicate porcelain masks from Venice and swishing fabric in designer couture at the glitzy arcades of Italian cities will be tempting. Every town has a special local ware; it could be handcrafted coral products in Sardinia or violins from Lombardy, it could be silk of Como or pottery from Faenza, a local wine or a cheese, or even a souvenir of the local attraction. Budget travelers, however, should be aware that shopping in Italy is an expensive business.
Local Attractions:
Float through canals in a gondola, wander the labyrinthine alleys and admire the golden gleam of St Mark's Basilica.
The high point in Venice's social calendar, Carnevale is a masked extravaganza, and your chance to spend 12 days looking like the Phantom of the Opera. The world's best-known baroque fancy-dress party, it's as extravagant as Rio's Carnaval is riotous, celebrating the approach of spring with refined gusto.
Venetians have been celebrating Carnevale since at least the 15th century. In those days private clubs organized masked balls, and popular entertainment included such gentle fun as bull-baiting and firing live dogs from cannons.
I'm looking for a trip to Rome, Florence, and Sienna

Answer

Report Abuse

I am looking for an itinerary for Italy for 15 days. Includes Rome and possibly Venice and Florence. Possibly coast and/or tuscany.

Answer

Report Abuse

Hey, you can check different Italy itineraries and trip plans and then finalize your own after checking where other tourists are preferring to travel.

Report Abuse

how to search itinerary with multiple cities

Answer

Report Abuse
Searching for something specific?