Best Time To Visit Jaco
Explore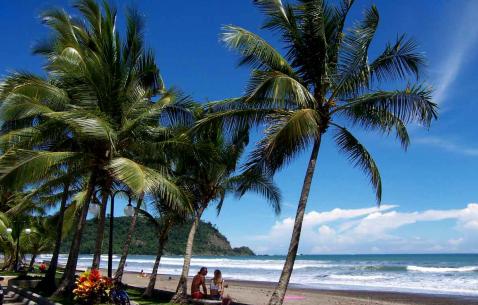 Accommodations with

See All
Best Time To Go To Jaco
Jaco is a seaside town so the weather tends to be humid with temperatures that go up to 32 degrees Celsius. June is the muggiest month of the year with August-December being the rainiest months of the year.
The best time to go is from late December till early April, when the climate is relatively dry and humidity is at an all-time low.
Explore the best travel planner for your visit to Jaco and create a flawless plan in few simple steps!
Best time to go to Jaco Attractions

: Everyday 24 Hrs
: Everyday 24 Hrs
: Everyday 24 Hrs
: Everyday 24 Hrs
: Everyday 24 Hrs
: Everyday 24 Hrs
: Everyday 24 Hrs
: Everyday 24 Hrs
: Everyday 24 Hrs
: Everyday 24 Hrs
: Everyday 24 Hrs
: Everyday 24 Hrs

: Everyday 24 Hrs
: Everyday 24 Hrs
: Everyday 24 Hrs
: Everyday 24 Hrs
: Everyday 24 Hrs
: Everyday 24 Hrs
: Everyday 24 Hrs
: Everyday 24 Hrs
: Everyday 24 Hrs
: Everyday 24 Hrs
: Everyday 24 Hrs
: Everyday 24 Hrs

: Everyday 8:00 AM - 9:00 PM
: Everyday 8:00 AM - 9:00 PM
: Everyday 8:00 AM - 9:00 PM
: Everyday 8:00 AM - 9:00 PM
: Everyday 8:00 AM - 9:00 PM
: Everyday 8:00 AM - 9:00 PM
: Everyday 8:00 AM - 9:00 PM
: Everyday 8:00 AM - 9:00 PM
: Everyday 8:00 AM - 9:00 PM
: Everyday 8:00 AM - 9:00 PM
: Everyday 8:00 AM - 9:00 PM
: Everyday 8:00 AM - 9:00 PM

: Everyday 8:30 AM - 2:30 PM
: Everyday 8:30 AM - 2:30 PM
: Everyday 8:30 AM - 2:30 PM
: Everyday 8:30 AM - 2:30 PM
: Everyday 8:30 AM - 2:30 PM
: Everyday 8:30 AM - 2:30 PM
: Everyday 8:30 AM - 2:30 PM
: Everyday 8:30 AM - 2:30 PM
: Everyday 8:30 AM - 2:30 PM
: Everyday 8:30 AM - 2:30 PM
: Everyday 8:30 AM - 2:30 PM
: Everyday 8:30 AM - 2:30 PM

: Everyday 8:00 AM - 5:00 PM
: Everyday 8:00 AM - 5:00 PM
: Everyday 8:00 AM - 5:00 PM
: Everyday 8:00 AM - 5:00 PM
: Everyday 8:00 AM - 5:00 PM
: Everyday 8:00 AM - 5:00 PM
: Everyday 8:00 AM - 5:00 PM
: Everyday 8:00 AM - 5:00 PM
: Everyday 8:00 AM - 5:00 PM
: Everyday 8:00 AM - 5:00 PM
: Everyday 8:00 AM - 5:00 PM
: Everyday 8:00 AM - 5:00 PM

: Everyday 24 Hrs
: Everyday 24 Hrs
: Everyday 24 Hrs
: Everyday 24 Hrs
: Everyday 24 Hrs
: Everyday 24 Hrs
: Everyday 24 Hrs
: Everyday 24 Hrs
: Everyday 24 Hrs
: Everyday 24 Hrs
: Everyday 24 Hrs
: Everyday 24 Hrs

: Everyday 24 Hrs
: Everyday 24 Hrs
: Everyday 24 Hrs
: Everyday 24 Hrs
: Everyday 24 Hrs
: Everyday 24 Hrs
: Everyday 24 Hrs
: Everyday 24 Hrs
: Everyday 24 Hrs
: Everyday 24 Hrs
: Everyday 24 Hrs
: Everyday 24 Hrs

: Everyday 24 Hrs
: Everyday 24 Hrs
: Everyday 24 Hrs
: Everyday 24 Hrs
: Everyday 24 Hrs
: Everyday 24 Hrs
: Everyday 24 Hrs
: Everyday 24 Hrs
: Everyday 24 Hrs
: Everyday 24 Hrs
: Everyday 24 Hrs
: Everyday 24 Hrs

: Everyday 7:45 AM - 4:00 PM
: Everyday 7:45 AM - 4:00 PM
: Everyday 7:45 AM - 4:00 PM
: Everyday 7:45 AM - 4:00 PM
: Everyday 7:45 AM - 4:00 PM
: Everyday 7:45 AM - 4:00 PM
: Everyday 7:45 AM - 4:00 PM
: Everyday 7:45 AM - 4:00 PM
: Everyday 7:45 AM - 4:00 PM
: Everyday 7:45 AM - 4:00 PM
: Everyday 7:45 AM - 4:00 PM
: Everyday 7:45 AM - 4:00 PM

: Everyday 7:00 AM - 4:00 PM
: Everyday 7:00 AM - 4:00 PM
: Everyday 7:00 AM - 4:00 PM
: Everyday 7:00 AM - 4:00 PM
: Everyday 7:00 AM - 4:00 PM
: Everyday 7:00 AM - 4:00 PM
: Everyday 7:00 AM - 4:00 PM
: Everyday 7:00 AM - 4:00 PM
: Everyday 7:00 AM - 4:00 PM
: Everyday 7:00 AM - 4:00 PM
: Everyday 7:00 AM - 4:00 PM
: Everyday 7:00 AM - 4:00 PM

: Everyday 9:00 AM - 7:00 PM
: Everyday 9:00 AM - 7:00 PM
: Everyday 9:00 AM - 7:00 PM
: Everyday 9:00 AM - 7:00 PM
: Everyday 9:00 AM - 7:00 PM
: Everyday 9:00 AM - 7:00 PM
: Everyday 9:00 AM - 7:00 PM
: Everyday 9:00 AM - 7:00 PM
: Everyday 9:00 AM - 7:00 PM
: Everyday 9:00 AM - 7:00 PM
: Everyday 9:00 AM - 7:00 PM
: Everyday 9:00 AM - 7:00 PM

: Everyday 8:00 AM - 7:00 PM
: Everyday 8:00 AM - 7:00 PM
: Everyday 8:00 AM - 7:00 PM
: Everyday 8:00 AM - 7:00 PM
: Everyday 8:00 AM - 7:00 PM
: Everyday 8:00 AM - 7:00 PM
: Everyday 8:00 AM - 7:00 PM
: Everyday 8:00 AM - 7:00 PM
: Everyday 8:00 AM - 7:00 PM
: Everyday 8:00 AM - 7:00 PM
: Everyday 8:00 AM - 7:00 PM
: Everyday 8:00 AM - 7:00 PM

: Everyday 8:00 AM - 5:00 PM
: Everyday 8:00 AM - 5:00 PM
: Everyday 8:00 AM - 5:00 PM
: Everyday 8:00 AM - 5:00 PM
: Everyday 8:00 AM - 5:00 PM
: Everyday 8:00 AM - 5:00 PM
: Everyday 8:00 AM - 5:00 PM
: Everyday 8:00 AM - 5:00 PM
: Everyday 8:00 AM - 5:00 PM
: Everyday 8:00 AM - 5:00 PM
: Everyday 8:00 AM - 5:00 PM
: Everyday 8:00 AM - 5:00 PM

: Everyday 8:00 AM - 5:00 PM
: Everyday 8:00 AM - 5:00 PM
: Everyday 8:00 AM - 5:00 PM
: Everyday 8:00 AM - 5:00 PM
: Everyday 8:00 AM - 5:00 PM
: Everyday 8:00 AM - 5:00 PM
: Everyday 8:00 AM - 5:00 PM
: Everyday 8:00 AM - 5:00 PM
: Everyday 8:00 AM - 5:00 PM
: Everyday 8:00 AM - 5:00 PM
: Everyday 8:00 AM - 5:00 PM
: Everyday 8:00 AM - 5:00 PM

: Everyday 24 Hrs
: Everyday 24 Hrs
: Everyday 24 Hrs
: Everyday 24 Hrs
: Everyday 24 Hrs
: Everyday 24 Hrs
: Everyday 24 Hrs
: Everyday 24 Hrs
: Everyday 24 Hrs
: Everyday 24 Hrs
: Everyday 24 Hrs
: Everyday 24 Hrs

: Everyday 9:00 AM - 7:00 PM
: Everyday 9:00 AM - 7:00 PM
: Everyday 9:00 AM - 7:00 PM
: Everyday 9:00 AM - 7:00 PM
: Everyday 9:00 AM - 7:00 PM
: Everyday 9:00 AM - 7:00 PM
: Everyday 9:00 AM - 7:00 PM
: Everyday 9:00 AM - 7:00 PM
: Everyday 9:00 AM - 7:00 PM
: Everyday 9:00 AM - 7:00 PM
: Everyday 9:00 AM - 7:00 PM
: Everyday 9:00 AM - 7:00 PM

: Everyday 24 Hrs
: Everyday 24 Hrs
: Everyday 24 Hrs
: Everyday 24 Hrs
: Everyday 24 Hrs
: Everyday 24 Hrs
: Everyday 24 Hrs
: Everyday 24 Hrs
: Everyday 24 Hrs
: Everyday 24 Hrs
: Everyday 24 Hrs
: Everyday 24 Hrs

: Everyday 9:00 AM - 5:00 PM
: Everyday 9:00 AM - 5:00 PM
: Everyday 9:00 AM - 5:00 PM
: Everyday 9:00 AM - 5:00 PM
: Everyday 9:00 AM - 5:00 PM
: Everyday 9:00 AM - 5:00 PM
: Everyday 9:00 AM - 5:00 PM
: Everyday 9:00 AM - 5:00 PM
: Everyday 9:00 AM - 5:00 PM
: Everyday 9:00 AM - 5:00 PM
: Everyday 9:00 AM - 5:00 PM
: Everyday 9:00 AM - 5:00 PM

: Everyday 8:00 AM - 10:00 PM
: Everyday 8:00 AM - 10:00 PM
: Everyday 8:00 AM - 10:00 PM
: Everyday 8:00 AM - 10:00 PM
: Everyday 8:00 AM - 10:00 PM
: Everyday 8:00 AM - 10:00 PM
: Everyday 8:00 AM - 10:00 PM
: Everyday 8:00 AM - 10:00 PM
: Everyday 8:00 AM - 10:00 PM
: Everyday 8:00 AM - 10:00 PM
: Everyday 8:00 AM - 10:00 PM
: Everyday 8:00 AM - 10:00 PM

: Tuesday, Wednesday, Thursday, Friday, Saturday, Sunday 6:30 PM - 10:30 PM
: Tuesday, Wednesday, Thursday, Friday, Saturday, Sunday 6:30 PM - 10:30 PM
: Tuesday, Wednesday, Thursday, Friday, Saturday, Sunday 6:30 PM - 10:30 PM
: Tuesday, Wednesday, Thursday, Friday, Saturday, Sunday 6:30 PM - 10:30 PM
: Tuesday, Wednesday, Thursday, Friday, Saturday, Sunday 6:30 PM - 10:30 PM
: Tuesday, Wednesday, Thursday, Friday, Saturday, Sunday 6:30 PM - 10:30 PM
: Tuesday, Wednesday, Thursday, Friday, Saturday, Sunday 6:30 PM - 10:30 PM
: Tuesday, Wednesday, Thursday, Friday, Saturday, Sunday 6:30 PM - 10:30 PM
: Tuesday, Wednesday, Thursday, Friday, Saturday, Sunday 6:30 PM - 10:30 PM
: Tuesday, Wednesday, Thursday, Friday, Saturday, Sunday 6:30 PM - 10:30 PM
: Tuesday, Wednesday, Thursday, Friday, Saturday, Sunday 6:30 PM - 10:30 PM
: Tuesday, Wednesday, Thursday, Friday, Saturday, Sunday 6:30 PM - 10:30 PM

: Monday to Thursday 8:00 AM - 9:00 PM; Friday, Saturday 8:00 AM - 10:00 PM; Sunday 8:00 AM - 8:00 PM
: Monday to Thursday 8:00 AM - 9:00 PM; Friday, Saturday 8:00 AM - 10:00 PM; Sunday 8:00 AM - 8:00 PM
: Monday to Thursday 8:00 AM - 9:00 PM; Friday, Saturday 8:00 AM - 10:00 PM; Sunday 8:00 AM - 8:00 PM
: Monday to Thursday 8:00 AM - 9:00 PM; Friday, Saturday 8:00 AM - 10:00 PM; Sunday 8:00 AM - 8:00 PM
: Monday to Thursday 8:00 AM - 9:00 PM; Friday, Saturday 8:00 AM - 10:00 PM; Sunday 8:00 AM - 8:00 PM
: Monday to Thursday 8:00 AM - 9:00 PM; Friday, Saturday 8:00 AM - 10:00 PM; Sunday 8:00 AM - 8:00 PM
: Monday to Thursday 8:00 AM - 9:00 PM; Friday, Saturday 8:00 AM - 10:00 PM; Sunday 8:00 AM - 8:00 PM
: Monday to Thursday 8:00 AM - 9:00 PM; Friday, Saturday 8:00 AM - 10:00 PM; Sunday 8:00 AM - 8:00 PM
: Monday to Thursday 8:00 AM - 9:00 PM; Friday, Saturday 8:00 AM - 10:00 PM; Sunday 8:00 AM - 8:00 PM
: Monday to Thursday 8:00 AM - 9:00 PM; Friday, Saturday 8:00 AM - 10:00 PM; Sunday 8:00 AM - 8:00 PM
: Monday to Thursday 8:00 AM - 9:00 PM; Friday, Saturday 8:00 AM - 10:00 PM; Sunday 8:00 AM - 8:00 PM
: Monday to Thursday 8:00 AM - 9:00 PM; Friday, Saturday 8:00 AM - 10:00 PM; Sunday 8:00 AM - 8:00 PM

: Tuesday, Thursday 7:00 AM - 7:00 PM; Monday, Wednesday, Friday, Saturday, Sunday 7:00 AM - 9:00 PM
: Tuesday, Thursday 7:00 AM - 7:00 PM; Monday, Wednesday, Friday, Saturday, Sunday 7:00 AM - 9:00 PM
: Tuesday, Thursday 7:00 AM - 7:00 PM; Monday, Wednesday, Friday, Saturday, Sunday 7:00 AM - 9:00 PM
: Tuesday, Thursday 7:00 AM - 7:00 PM; Monday, Wednesday, Friday, Saturday, Sunday 7:00 AM - 9:00 PM
: Tuesday, Thursday 7:00 AM - 7:00 PM; Monday, Wednesday, Friday, Saturday, Sunday 7:00 AM - 9:00 PM
: Tuesday, Thursday 7:00 AM - 7:00 PM; Monday, Wednesday, Friday, Saturday, Sunday 7:00 AM - 9:00 PM
: Tuesday, Thursday 7:00 AM - 7:00 PM; Monday, Wednesday, Friday, Saturday, Sunday 7:00 AM - 9:00 PM
: Tuesday, Thursday 7:00 AM - 7:00 PM; Monday, Wednesday, Friday, Saturday, Sunday 7:00 AM - 9:00 PM
: Tuesday, Thursday 7:00 AM - 7:00 PM; Monday, Wednesday, Friday, Saturday, Sunday 7:00 AM - 9:00 PM
: Tuesday, Thursday 7:00 AM - 7:00 PM; Monday, Wednesday, Friday, Saturday, Sunday 7:00 AM - 9:00 PM
: Tuesday, Thursday 7:00 AM - 7:00 PM; Monday, Wednesday, Friday, Saturday, Sunday 7:00 AM - 9:00 PM
: Tuesday, Thursday 7:00 AM - 7:00 PM; Monday, Wednesday, Friday, Saturday, Sunday 7:00 AM - 9:00 PM